Classic Italian
Chef Riccardo Ullio, of Sotto Sotto in Atlanta, Georgia, returned to his roots and found that the most familiar thing can sometimes be the most delicious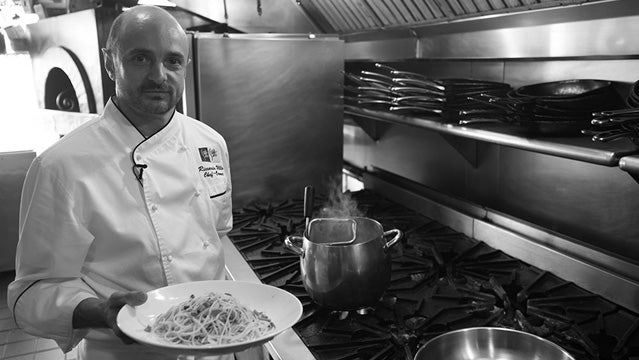 Heading out the door? Read this article on the new Outside+ app available now on iOS devices for members! Download the app.
Italian chef Riccardo Ullio's career in the restaurant business began in the most manufactured way. When he was a 17-year-old high school senior in Conyers, Georgia, he went into the bathroom of the grocery store where he worked and poured a California Cooler into a Mountain Dew bottle. He purchased the bottle and got away with his ruse, the first time. "The next time they pulled us in the office and they fired us from Kroger," he says. "At that point I decided to get a job waiting tables, and I waited tables all throughout my college career."

Spaghetti Cacio E Pepe.

Spaghetti Alla Bottarga.
He worked nights while earning a bachelor's and a master's degree in engineering from Georgia Tech. After graduating, he discarded the idea of a 9-to-5 existence. His mother had taught him to cook and a friend wanted to partner on a restaurant. They opened a casual pasta joint in Atlanta in 1993. Ullio created all of the recipes and worked as the chef. The partnership didn't work, and Ullio ended up cooking at a restaurant called Pano for six years.
During vacations, he traveled to Northern Italy. He grew up there, and the flavors and simplicity of much of the cuisine inspired him. The Italian food in Atlanta did nothing of the sort.
Ullio wanted to share the cuisine of his youth with Atlanta, so he opened Sotto Sotto in 1999. Atlanta Magazine now ranks the restaurant as one of the city's best. Ullio has opened two more restaurants—a pizza place called Fritti and a Mexican tequila bar and cantina called Escorpion. Those are works in progress. Sotto Sotto is a finished product, which, to Ullio, is the simplest thing. "For me, this is easy," he says. "I know it, and I know it really well, so it comes natural to me."
We sat down with Ullio this winter to learn more about Northern Italian cuisine.
What was the idea behind Sotto Sotto?
Well, the idea behind Sotto Sotto was to do a regional Italian restaurant that would be Italian food like I know it to be, or like I think it should be. This was 1999, so it was a time when people still put parsley on plates—big sprigs of parsley. You'd have big veal chops with rosemary sticking out of the bone and stuff like that. It was still a little bit baroque, the approach to cooking. I brought a very minimalistic approach to Italian cooking. My idea was to use the minimal amount of Italian ingredients, use them to the best of my ability, and to make food that is truly simple. A lot of people are simple, simple now, but then you see it and it's not that simple.
Is that simplicity something that comes from Northern Italy?
It depends. I think there are all kinds of influences in Italian cooking. Some of it can be more complex. There is a bit of a split between peasant cooking and high cuisine, or noble cooking. If you look at some of the recipes that are from the bygone era, some of them can be very complex because they come from nobility banquets. There are recipes that are mind-boggling. They are so complex and so complicated that the flavors don't even work to modern taste. It just depends on where you go and what kind of food you want to eat. Seafood tends to be cooked very simply. Meat tends to be cooked fairly simply, but some of the pasta, some of the stuffed pastas can be fairly complex. It goes from dish to dish.
How did you pick out what dishes to feature when you were opening this place?
I just picked out what I thought would be a good sort of range of dishes, and what people would like. It's evolved. Originally, this was all seasonal. We would do the mushrooms in the fall, the onion in the winter, but people liked the dishes so much that they are on the menu all the time. The menu changes very little, just because people would come here with their favorites and then we didn't have what they liked. They would complain and be upset. We still change two or three items seasonally, but the menu still pretty much stays the same.
In terms of your philosophy of cooking simply, are there certain things you should never do?
I just think you have to do things the right way. You never cook pasta in water without salt. You just have to follow a proper cooking technique, at least if you want to make it the way I make it, or the way that Italian people make it. We have certain, pretty simple ways.
How much are you sourcing from Italy and how much are you sourcing locally?
Well, most of the stuff that we can source from Italy, we do. Like the pasta, the rice, the cheeses, because those are key to having it taste like Italian food. You can't make Italian food without Italian cheese or Italian rice. As far as the produce, we source it as locally as we can. Though some stuff, like arugula, has to come from California. Lettuce has to come from California, except for some times in the spring; local farmers in Georgia grow some really great lettuces.
What's been the biggest challenge for you in terms of keeping this place popular?
There's nothing I can think of. People like this food. They like what we do with it. They like the way it tastes. They like the consistency of it. They just keep coming back. There's not really a challenge. There's been a lot more challenges in other restaurants. This has been the easiest restaurant. I think to a certain degree the food is what I know how to make the best. The pizza, it's not really my thing. Other cuisines I've delved into they weren't really my thing.
Was there any one element of learning to cook this type of cuisine that stands out for you?
I think all Italians always learn flavors from their mom and from where you grow up, because it's where you eat. Italy has a very home-centered cooking culture. Everybody eats at home all the time, so whatever your mom is cooking or your grandma is cooking is what you're eating. So to some degree, you can't help but be influenced by that, because that's what you eat growing up. You go to a restaurant maybe once a month. It's not like here where you dine out constantly. That's not what we do. It's a very different thing.
How has your job changed since you went from running this restaurant to running three restaurants?
It's more of a supervisory role. I've got my guys. Some of my cooks have been here for the best part of 10 or 12 years. Since we don't change the menu drastically, they know what to do. They know what to make and how to make it. It's fairly easy. All I have to do is come in and taste it and make sure it tastes right and make adjustments as needed. You know, just do this a little bit different or do that a little bit different.
What's the most rewarding part of this job for you?
There are a lot of rewards. The best part of this business is that you make money by making people happy. People want to come here and have a good time and so you're showing them a good time. There's the hosting part of it that is very rewarding. Your restaurant is successful if people are having a good time and people are enjoying themselves. In the end it's always a good vibe, because they come in, they like it, and they leave happy. So you are always around a positive attitude and positive things. That's the best part of it, I think—you're kind of surrounded by a lot of positive reinforcement.
You took a huge career turn to go from engineering to being a chef and the owner of a restaurant. What do you think you get out of being a chef that you wouldn't have gotten out of being an engineer?
Oh, I can't imagine. There are all kinds of things. There's a lot of stuff about this job that is very, very rewarding. You get to be a bit of a celebrity. You get the sort of adoration. You get to be your own boss. I get to travel when I want to travel. I get to come in when I want to come in. I get to go home when I want to go home. It's just a completely different thing. It's much more artistic, challenging.
Although I've never worked as an engineer, so I wouldn't know exactly, but the thing about working in the restaurant business is that you have so many aspects of it. It's multi-faceted. I design my own restaurants, so there's that aspect of it, too. I designed this [points at the dining room of Sotto Sotto]. I designed the kitchen. I designed the layout. So you have that aspect, which is very much engineering like. You have the financial aspect of it, the food cost management, which is pretty much like being a CFO. You have the creative part of doing the menu. You have the people management. You've got the marketing. It is an encompassing sort of thing.
A lot of people just deal with one issue for work. Whereas, in the restaurant business you're doing two dozen or three dozen different things. You are always multi-tasking, which is good and bad. If you like it, it's great. If you don't, it will drive you crazy and it will burn you out. I thrive on it. I like it. I have a lot of different interests, so in a lot of ways it works for my personality.
SIMPLE ITALIAN DISHES
Watch chef Riccardo Ullio prepare three favorites from Sotto Sotto: