Food Hacking With Tim Ferriss
Considering that he's already devised miracle shortcuts for jobs (The 4-Hour Workweek) and fitness (The 4-Hour Body), you might think Tim Ferriss, king of life hacking, would find few challenges in cooking. Wrong. It "kicked my ass so many times," he writes in the first chapter of his latest book, The 4-Hour Chef, out this month from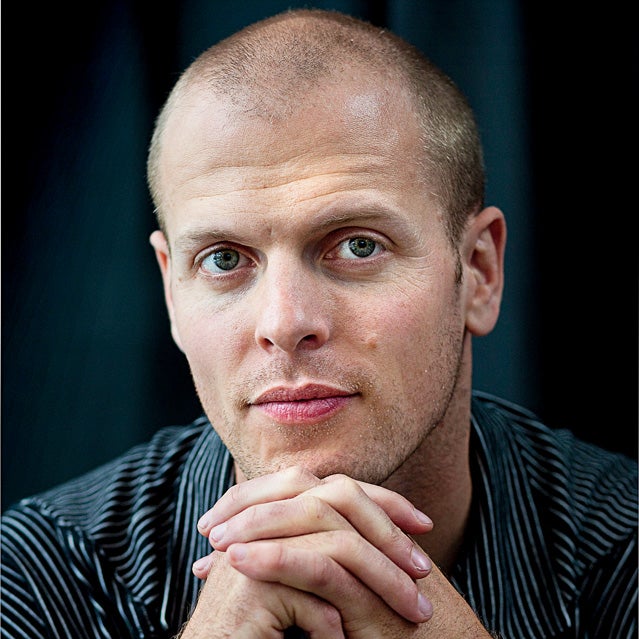 Benjamin Sklar/Aerobie/Harry Bischoe/Glow Images/Corbis
Heading out the door? Read this article on the new Outside+ app available now on iOS devices for members! Download the app.
TOOLS
ThermoWorks Original Cooking Thermometer and Timer, $19
This is the easiest way to avoid under- and overcooking. No more prodding a steak to see if it's done. For most meats (always double-check), an internal temperature of 140 degrees should do the job.
Rada Cutlery Chef's Dicer Knife, $13
Why not use the cheapest knife while you hone your skills? Of everything I've tested, that is the Rada. It has a five -inch blade and a lifetime warranty against defects.
This Book Will Change Your Life
Expert advice on happiness, meaning, and secrets to success

AeroPress Coffeemaker, $26
Armed with an AeroPress and a small hand grinder, you can make world-class coffee on an airplane meal tray—no mess, no fuss.

ESSENTIALS
Vinegar
Most "balsamics" are fakes; I suggest sherry vinegar and champagne vinegar instead. Use the sherry with fatty meats and the champagne with foods you don't want to stain.

Fresh Lemon Juice
If something's missing, it's probably acid.

D-Ribose Powder
Dust this supplement on red meats before grilling for an unparalleled meaty flavor. It also improves cardiac energy levels.

RECIPES
Hotel-Sink Salmon
Get a thin fillet. Fill your sink with the hottest water possible. Season salmon and seal inside an airless ziplock bag. Submerge bagged fish. If it's a small basin, you'll need to keep the water running to maintain a temperature above 122 degrees. Leave it alone for 20 minutes. You're done.

Muscle Cricket Protein Bars
These are now mandatory in children's lunch boxes in southern Japan. Kidding. But bugs are high in protein, vitamins, and iron.

Ingredients
1/4 ounce Fluker Farm crickets
1 and 1/2 cups unflavored whey protein
1/2 cup uncooked rolled oats
1/2 cup unsweetened shredded coconut
1/2 cup water
2 teaspoons vanilla extract
1 cup unsweetened almond butter 

Put live crickets in a freezer for a couple of hours to kill them. Preheat oven to 200 degrees. Place crickets in cast-iron skillet and roast one to two hours, checking at 60 and 90 minutes (you want dried and crunchy, not burnt). Put roasted crickets in a ziplock bag and roll a wine bottle over them until they become a coarse powder. Add all ingredients into a mixing bowl. Blend by hand. (Wet hands first.) Press the mass into an eight-inch square baking pan. Cover and refrigerate for at least 30 minutes, then cut into bars. Wrap in plastic.

IN A PINCH
Get Drinkable Water With the Shirt Off Your Back
Sweep up the morning dew with a cotton T-shirt and wring it out into any vessel. If there's enough dew, you can easily collect a day's worth in an hour.

Catch a "Street Quail"
Why? Because pigeons are ubiquitous and delicious. Pick a park where people feed pigeons. Create a feeding frenzy (at least five birds) with whatever seed is available. Hold your snatching hand at knee height. Pin, don't grab; use your fingers as a cover, not a clamp. Once the bird is trapped, hold it as if you're going to hike it like a football, then stick it headfirst into your jacket pocket. It'll calm down. If it's illegal to trap pigeons where you live and a cop stops you, you can always set it free. "Just taking him for a walk, officer."
Trending on Outside Online