Race Food: Bacon and Maple Rice Cakes
How do professional bike racers stay fresh and fit during grueling stage races? By eating meals perfectly tuned to deliver maximum performance and optimized recovery. Here are five of them.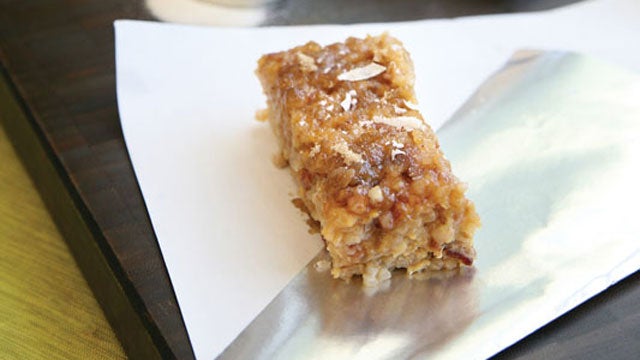 Heading out the door? Read this article on the new Outside+ app available now on iOS devices for members! Download the app.
Out of a mobile food-truck, Thomas offers the racers a selection of rice cakes they can consume during the ride. The sweet and salty bacon and maple syrup variety tends to be the rider favorite. They're preferable to some pre-packaged bars, says Thomas, because they pack in more liquid, and they don't require a swig of water to swallow.
Nutritional Data Per Cake
Energy 225 cal • Fat 8g • Sodium 321mg • Carbs 30g • Fiber 1g • Protein 9g
The bacon may also help riders feel strong for longer. According to some exercise physiologists, "fatigue may be mediated in the brain, not the muscles," says Applegate. "Some protein during a long intense ride may ward off fatigue by altering neurotransmitter levels."
Servings: 10
Time: 10 Minutes
Ingredients:
2 cups uncooked calrose or other medium-grain "sticky" rice
3 cups water
8 ounces bacon
4 eggs
2 tablespoons liquid amino acids or low-sodium soy sauce
brown sugar
salt and grated parmesan (optional)
1. Combine rice and water in a rice cooker.
2. While rice is cooking, chop up bacon before frying, then fry in a medium sauté pan. When crispy, drain off fat and soak up excess fat with paper towels.
3. Beat the eggs in a small bowl and then scramble on high heat in the sauté pan. Don't worry about overcooking the eggs as they'll break up easily when mixed with the rice.
4. In a large bowl or in the rice cooker bowl, combine the cooked rice, bacon, and scrambled eggs. Add liquid amino acids or soy sauce and sugar to taste. After mixing, press into an 8- or 9-inch square baking pan to about 1½-inch thickness. Top with more brown sugar, salt to taste, and grated parmesan, if desired.
Cut and wrap individual cakes. Makes about 10 rice cakes.
Time: We always use calrose rice, a strain of medium-grain rice common in Asian cooking. This variety cooks fast (in 20 minutes or less), retains a nutty flavor, and is just sticky enough to hold our cakes together. If you can't find it, use another medium-grain rice or any kind marked "sushi rice."
This recipe republished with permission of VeloPress.
Lead Photo: Chef Biju Thomas