I Raced 142 Miles with Only Six Weeks of Training
How far can professional coaches and a revamped diet take an average off-the-couch gravel cyclist? Pretty far, apparently.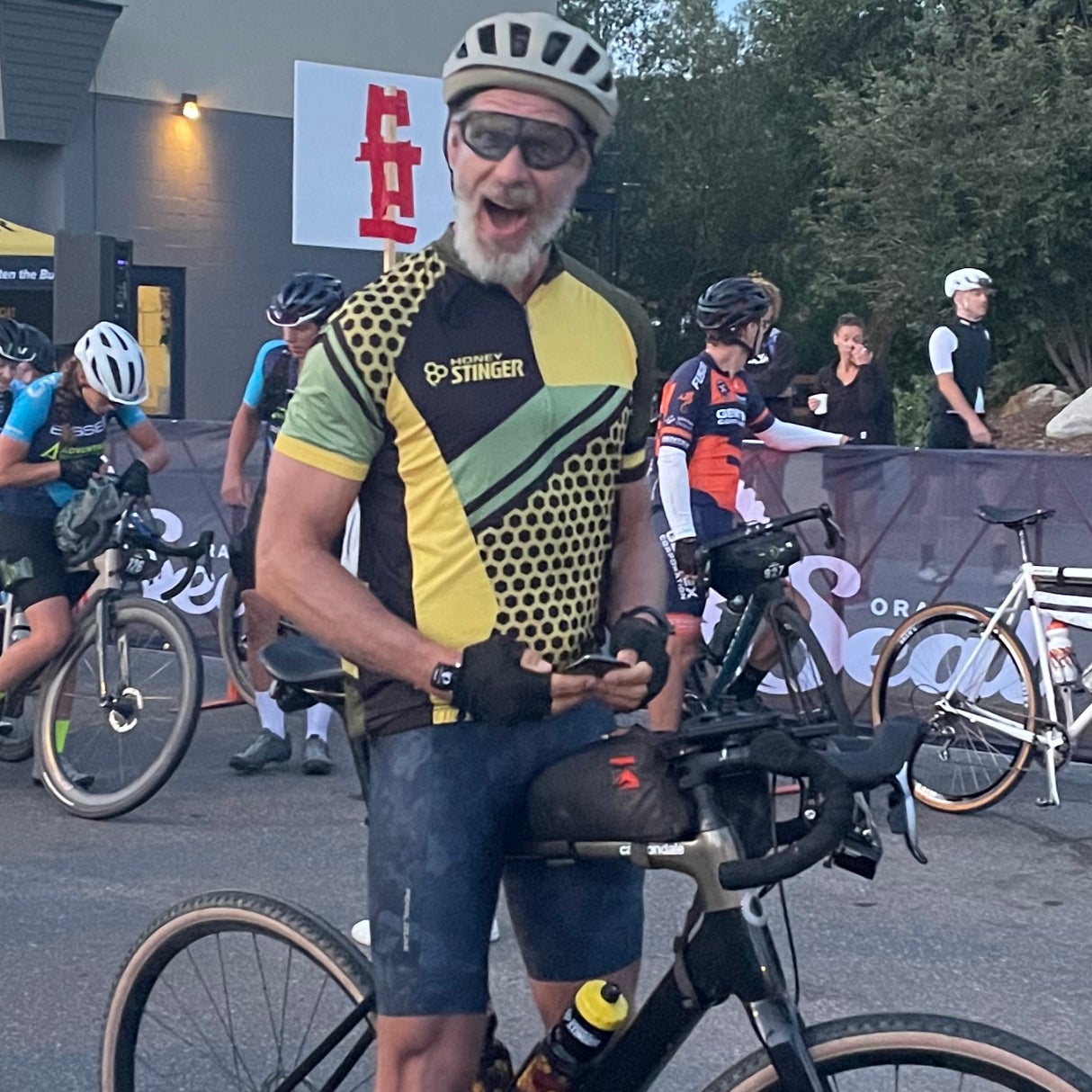 Courtesy Graham Averill
Heading out the door? Read this article on the new Outside+ app available now on iOS devices for members! Download the app.
The nightmares started three weeks before the race. Middle school-type dreams where I'm at the starting line at the Steamboat Gravel Black Course without my jersey and have to race shirtless. You don't have to be Freud to figure out I was worried about being ready for the 142-mile event that climbs almost 10,000 feet while traversing mostly gravel roads through ranchland around Steamboat Springs, Colorado. I've never ridden 142 miles before, let alone on gravel at elevation. Of course I'm having nightmares.
But that uncertainty was also what drew me to the race. I've ridden some hard multi-day bikepacking adventures and pedaled 100 miles exactly once on mellow roads. Steamboat Gravel presented the perfect opportunity to attempt something I wasn't sure I could finish, like ordering the 24-ounce porterhouse at a steakhouse. So what if I hadn't ridden my bike in a year and had only six weeks to train? I had a solid plan: beg some of the best coaches in the business for help and cram as much training and expertise as possible into the short window.
Then came the wake-up call. "Cramming only works in college," said Matt Cramer, the former senior director of high performance at the U.S. Olympic Committee and partner at United Endurance Sports Coaching Academy, after I asked him to help me form a training plan. "You can't miss two days and double up on a Saturday. Your body doesn't adapt that way." He went on to say that a 12-week training period for a race like Steamboat Gravel would be good. Sixteen weeks would be better. "You're presenting what we call a coach's conundrum. I want to help, but we have to be realistic about what we can accomplish in such a short period of time."
Ouch. But I wasn't trying to win the race. I just wanted to finish and not be miserable in the process. How far could professional coaching get an average athlete in that scenario? Cramer was game to find out, so he laid out a rigorous training plan that had me riding five days a week, two to five hours a day, mixing in intervals with longer endurance rides. There were regular email and phone check-ins, where Cramer said things like "forced adaptations" and "lactate threshold." It was, without a doubt, the most time I'd ever spent on a bike; I was logging 14 to 16 hours a week, enough time for a person to learn the basics of a second language. I mostly listened to trashy vampire novels on my rides.
I'd never had a cycling coach before, but I liked the set workouts and accountability. I also liked having a professional to bounce ideas off of:
Can I play golf on my rest days?
Yes.
Should I shave my beard to reduce wind drag?
No.
If Cramer was the sobering voice in my head, then Anthony Zamora, the director of performance nutrition for the Utah Jazz, was my hype man, somehow convincing me that managing my caloric intake can have transformative benefits. "I love taking a look at performance—what you need to accomplish—and turning that into a plate of food," Zamora said via Zoom from his office.
Nutrition has always been my Achilles heel. I eat well, but not when I'm on an adventure or competing in an endurance event—typically, I drink very little and limp across the finish line cramping and sore. But Zamora gave me a detailed daily meal plan that had me weighing my protein and carbs on a food scale and eating pre-determined snacks, like greek yogurt with fruit and honey or Honey Stinger bars, at specific times during the day. Surrendering my dietary choices was somehow liberating. I no longer had to wonder what or when I should eat. Zamora told me, and I listened.
On the bike, I had a prescription for how much I should drink and what I should eat every hour. On rides more than three hours, Zamora wanted me to drink two 16-ounce bottles of rapid hydration mix an hour and mix pretzels with energy chews on the reg. The idea was to replace all of the salt I was losing, based on the fact that I would drop five pounds of water weight during each big ride.
We did regular Zoom calls to talk about how I was sleeping. Zamora told me to pay attention to my poops and chastised me for not drinking a gallon of water a day. I had daily weigh ins. There were selfies with my shirt off. It was exhausting. And it totally worked. Even though I was riding long, hard miles every day, I felt good on the bike. I finished my training rides strong and knocked out several PRs on Strava.
But it wasn't all roses. With such a short training window, I couldn't afford to miss any days on the bike, which meant I had to drag a bike trainer to the beach for my family's annual summer vacation and spin for hours. And while I enjoyed the results of following a nutritionist's guidelines (look honey, abs!) the daily weigh-ins and the shirtless selfies had me feeling like a wannabe Instagram influencer.
As the race drew closer, I worried that all of my efforts wouldn't be enough. The shirtless nightmares started. For guidance, I called last year's Black Course winner, pro cyclist Alex Howes.
"Go full gas from the gun and never look back," Howes said.
"Really?"
"No, you should do the opposite of that," he said, explaining that riding 142 miles in the middle of summer at elevation is going to be hard, no matter how much training I put into it. "There will be some low points. You'll be at mile 128 and your ass and hands will hurt and you can't drink anymore 'cause your gut's a mess…but at the end of the day, it's just a bike race."
The race itself was more of a scene than I expected. Some 3,000 cyclists registered for the event, choosing distances from 30 miles to 142. Almost 1,000 of them opted for the 142-mile Black Course. We lined up in downtown Steamboat Springs just before sunrise, and I got nervous when I noticed I'm the only racer without freshly shaved legs. The MC didn't help matters by telling the crowd that Steamboat Gravel is one of the hardest single-day races in the country.
There was a lot of talk among the cyclists about Steamboat's fast gravel roads. They call it "Champagne Gravel," and rumor has it that the city grooms the dirt roads with magnesium chloride to maximize compaction. The rumors are true; the gravel roads were smooth and fast, and I made it to the first aid station, about 25 miles into the race, faster than I expected. But I was a bundle of nerves for that first leg, worrying about holding my line in the peloton, wondering if I was going to spend 14 hours on the bike and finish after the race crew had taken down the finish line.
Throughout the day, I found small packs of stronger riders to draft behind on stretches of pavement. I ate Pringles, Cokes, and PB&Js at aid stations and drank three bottles of a concentrated carb/electrolyte mix between each of the stations.
The course was gorgeous, passing through expansive cattle ranches on mostly smooth dirt with taller peaks on the horizon. On a lonely stretch of backcountry gravel, I spooked a baby elk standing in the middle of the road. At mile 75, someone handed me a shot of bourbon as I was cresting a climb. At mile 90, I decided to listen to a few chapters of my vampire novel. The 100-mile mark passed without ceremony and I felt fine. I was tired, but I wasn't hurting.
(That's not to say there weren't low points. I spent a solid 30 minutes pedaling through a hatch of crazed, yellow crickets that flew across the road, hitting me in the face. Around mile 110 or so, I found myself working on my Matthew McConaughey impression while talking to nearby cows.)
With about 25 miles to go, I decided I have nothing to lose and started attacking, standing and hammering up the climbs and pushing it on the rolling straightaways. I passed bikers at a steady clip, pedaling faster as I watched the miles accumulate on my Garmin, crossing the finish line. I came in at the back of the pack, with a non-competitive but perfectly respectable 10:51 finish time, easily a couple of hours faster than I expected. What was even more shocking was that I felt like I could ride more—142 miles might be the longest distance I've ridden, but it's definitely not my limit.
After I clipped out of my pedals and hugged my wife, I was seized with an overwhelming urge to pull out my phone and open the notes app:
How to ride 142 miles and have fun: Draft early, draft often. If someone offers you a shot of bourbon, take it. When the climbs get tough, crank Wu Tang Clan. Wear sunglasses to protect you from aggressive crickets. Pringles are your friend. Eat lots of them. Have a mantra you repeat out loud when you get low. Mine was Wu Tang Clan ain't nothing to f@$k with. But the most important key to success? Hire a coach and nutritionist and do everything they say.
My Training Plan
It was pretty straightforward: log hours on the bike and mix intervals with endurance rides. Here's what a week of work looked like.
Monday: Rest
Tuesday: 75-minute tempo ride including two 20-minute intervals with eight-minute rest between hard efforts.
Wednesday: 60-minute endurance ride
Thursday: 75-minute tempo ride with two 20-minute intervals.
Friday: Active rest (golf!)
Saturday: 150-minute endurance ride
Sunday: 150-minute endurance ride
My Nutrition Plan
I focused on mixing protein with healthy carbs and snacking at the right times. I was also supposed to drink a gallon of water a day, which I never accomplished. Here's what a day of eating looked like.
Breakfast: 2 to 3 eggs, bacon, fruit, coffee
Lunch: 7 oz. protein, 1 cup cooked starch, 2 cups veggies
Snack: Smoothie with whey protein, mango, avocado, baby kale, chia powder, and milk
Dinner: 7 oz. protein, 1½ cup cooked starch, 1½ cup veggies
Snack (two hours before bed): Honey Stinger Nut and Seed Bar
Lead Photo: Courtesy Graham Averill