Don't Follow Masters Marathon Champ Molly Friel
The fleet 50-year-old runner took the pavement less traveled—directly to an unprecedented berth at the 2020 U.S. Olympic Trials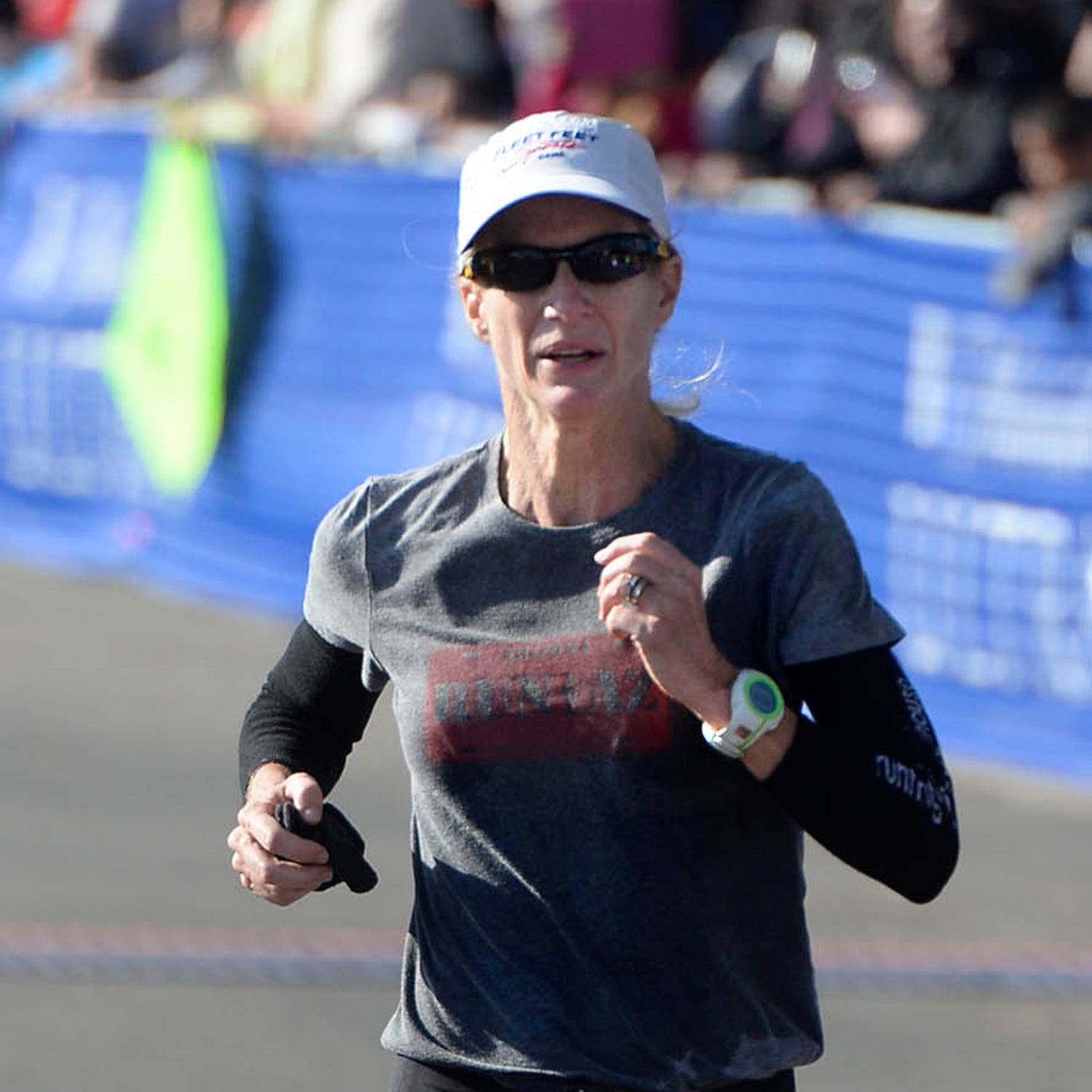 Mark Crosse/Fresno Bee/TNS via G(Photo)
Heading out the door? Read this article on the new Outside+ app available now on iOS devices for members! Download the app.
As a runner, aging marathoner Molly Friel seemingly does a lot wrong. She doesn't put much thought into her diet. She never stretches. Hates speed work. Can't train much on hills or in crystalline air. Owns a bunch of foam rollers, all of which go unused. And yet, back in late 2016 and probably between handfuls of Doritos, Friel told her coach that in 2017 and at 50 years old, she wanted to qualify for the 2020 U.S. Olympic Marathon Trials.
Then she did something very right. On December 3, Friel became the second-oldest woman ever to land a spot at a trials marathon. She finished Sacramento's California International Marathon in a swift 2:43:57, well under the qualifying time of 2:45 and far faster than the time then-54-year-old Sister Marion Irvine ran (2:51:01) to qualify for the 1984 U.S. Olympic Marathon Trials. Friel ran virtually each of the flat CIM's 26.2 miles in 6.25 minutes.
But Friel is not exactly the freewheeling John Daly of masters marathoning. She's consistent. Friel also qualified for the trials in 2004 and 2016. She's workwomanlike, logging 100-mile weeks in an era when many of her peers opt for less. She's also unfettered. Friel trains and competes as she does only to please herself. "I'm not sure that these stupid-crazy finishing times get me anything," she says, "except self-satisfaction."
Well, such "stupid-crazy" results also gain Friel entry into America's most selective women's marathon. In the trials, Friel will no doubt lose to athletes who are a fraction of her age. But don't lose sight of the cool truth that Friel, who was running high school track before a lot of her competition were born, gets the honor of being in the mix. You don't see 50-year-olds playing Wimbledon or racing in the Tour de France. Older athletes generally have lost more than their world-class abilities. They've lost the desire to push themselves ridiculously hard.
"I've never met this woman, but clearly she loves to run," says Robert Andrews, founder of the Institute for Sports Performance, a Houston-based organization that focuses on mental performance and works with myriad pro athletes and Olympians. "Her authentic self seems to mesh with her natural talents."
"Love and passion for what you do are their own kind of fuel," says mental performance coach Andrews. "In some cases, that can be better than the right diet or whatever was your target number of training reps."
Friel's age isn't the only quality that distinguishes her from her competition. Take her approach to traditional speed work: Friel has always disliked the track sessions that are often part of a marathoner's training mashup. In the buildup to Friel's CIM race, her coach devised workarounds. Ian Torrence, who heads up the Flagstaff, Arizona–based coaching company Sundog Running, often forced his athlete to dig deep during, for example, a 17-miler. Friel would run a few miles at a 6:10 pace, and then a few more at 6:20. Then she would repeat and repeat. She says she suffered plenty.
"On paper, you'd think Molly would be able to run a fast 5K," says Torrence, who has coached Friel for five years. "Not her thing."
For her age, Friel also logs a lot of distance. She believes her peers don't approach her mileage, and guidelines indeed exist for "older" marathoners to log as little as one-third of Friel's biggest weeks. On and off, she's been running a lot since she was a kid growing up in Great Falls, Montana. "I'll see a lot of women saying quality, not quantity. But some people's bodies can't hold up to more stress," says Friel. "I'm a mileage junkie. I'm on the odd end."
What's even weirder is where such a prolific runner lives. Friel, who works part-time as a legal secretary, resides and trains in Fresno. The hot, flat, and smoggy central California farming hub has been home to Friel and her husband for 14 years. In prepping for CIM, she deepened her groove in the Lewis S. Eaton Trail inside Woodward Park. Friel pounded up and down the mosquito bite of a climb that is Hospital Hill. "You make do with what you've got," says Friel, who sometimes trains alone and sometimes with her Dalmatians, Buster and Flynn. "That little bit of extra particulate matter in the air is my form of altitude training."
As her A-race approached, Friel did some push-ups, snacked on Doritos, and never stretched. "Though sometimes I pretended," she says.
Then, on a mild Sacramento day last December, Friel had a great race. She set out with a pace group purposed to finish in 2:45. Friel knew the pacesetter, and when she fell back at mile 11 and again at mile 15, Friel said to herself, "I know I can run with him."
Torrence hadn't given his client a backup strategy. "The goal was to qualify," he says. "If she blew up, she blew up."
Somewhere after mile 15, however, Friel found a rhythm. While she downplays her competitiveness and her connection to running, it's highly likely that the athlete who seemingly does so much wrong enjoyed what gets her out there every day. Before mile 20, Friel dropped her pacesetter pal and his group.
"Love and passion for what you do are their own kind of fuel," says mental performance coach Andrews. "In some cases, that can be better than the right diet or whatever was your target number of training reps."
Now Friel waits for which of four cities, come the winter of 2020, will host the Olympic Trials. Torrence says that even without the help of a foam roller or a better diet, the 50-year-old Friel will show that she belongs. "She's going to do better than what people think," he says. "She won't be bringing up the rear."
Shortly after Andrew Tilin, our Masters Athlete columnist and longtime contributor, wrote this story, he was killed in a traffic-related accident in Austin, Texas. He was 52.
Lead Photo: Mark Crosse/Fresno Bee/TNS via G
Trending on Outside Online