In Stride
Joan Benoit Samuelson on Shalane's Historic Win
For the winner of the inaugural women's Olympic marathon, watching younger women triumph keeps her inspired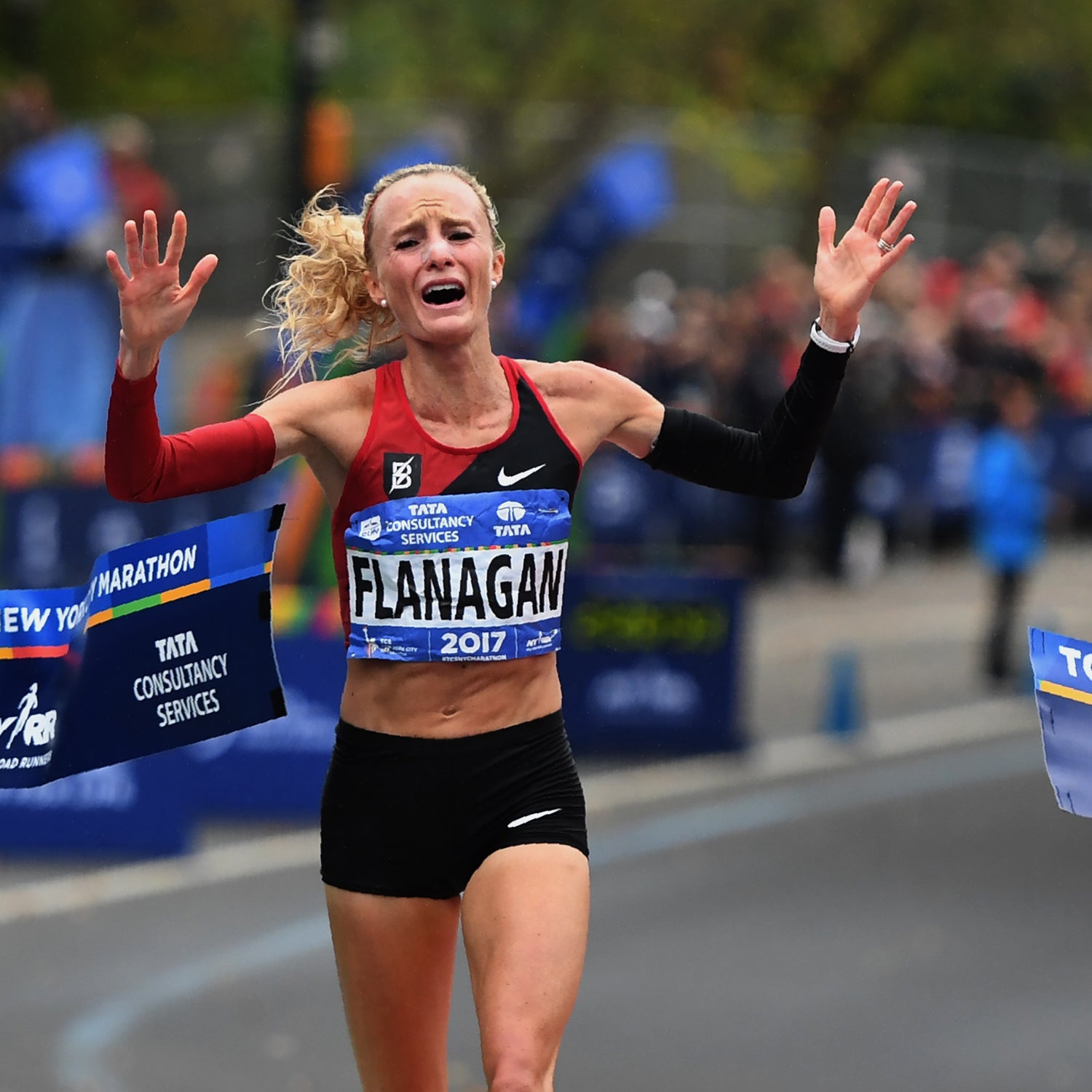 Heading out the door? Read this article on the new Outside+ app available now on iOS devices for members! Download the app.
Please forgive the cliché, but Shalane Flanagan's win at Sunday's New York City Marathon was one for the ages. After rolling with three-time defending NYC champ Mary Keitany and 66-minute half marathoner Mamitu Daska until final miles of the race, Flanagan broke away as she entered the east side of Central Park. She covered mile 25 in around five minutes flat, en route to becoming the first American woman in 40 years to win New York.
Her face as she crossed the line said it all. "I've been dreaming of a moment like this since I was a little girl," Flanagan, 36, said afterwards.
 
As it happens, one of the dominant marathoners of Flanagan's childhood was present on Sunday. Sitting in the bleachers flanking the finish line was none other than Joan Benoit Samuelson, who won the inaugural women's Olympic marathon in Los Angeles in 1984. Samuelson, 60, wanted to run last month's Chicago Marathon in a bid to become the first woman over 60 to run a sub-three hour marathon, but an injury forced her to withdraw. We have no doubt that she will be back.
 
We reached out to Samuelson to get her thoughts on the significance of Flanagan's historic win.
---
"I was in the bleachers, right near the finish line, so I saw Shalane pass in front of me. I knew she was going to run well, based on how well Amy ran in the World Champs and Jordan's run in Chicago. [Amy Cragg, Flanagan's training partner, won a bronze medal in the marathon at last summer's IAAF World Championships, while Jordan Hasay just ran the second fastest marathon by an American woman last month.] The athlete's mind in me told me that she'd have something to prove now. I wouldn't say it was pressure to prove something, so much as desire. To go out there and say, 'Hey! I can do this, too!' She's had some injuries and she's had some disappointments, but she's a heck of an athlete. She ran a really smart race and looked strong the whole way through. So strong!
It's great for the sport. Great for women everywhere regardless of their passions, and just a huge win on center stage.
Shalane was capable of a big win. She's come so close. I know Boston was a heartbreaker for her [in 2014, Flanagan finished seventh in the Boston Marathon after leading the field for most of the first part of the race. She was slated to race again earlier this year, but an injury kept her from competing.] She really wanted to come back and win this one. I'm just delighted to see it happen, absolutely thrilled. She was so emotional at the end and you couldn't help but be emotional with her.
 
Both Mary [Keitany] and Shalane ran the TD Beach to Beacon race this summer in my hometown. [Samuelson is the founder of this prestigious 10K.] They both ran great races. Mary won, but Shalane wasn't too far behind and I knew she was training right through because all her focus was on New York.
 
Those women keep me young. They just go after it, and to see them go after it keeps me in the game. Shalane's mother, Cheryl, was running when I started my career, so it's gone full circle. To see her do what she did on Sunday and break that 40-year drought was just so inspiring to me. I see running as a two-way road. Perhaps Shalane gained some inspiration from me—what I did in L.A. and during my career—but, you know what? She gives it right back. All the young runners give it back.
 
So many people have just come up to me on the street and said, 'What a race!' and I just beamed. She so deserves it. It's great for the sport. Great for women everywhere regardless of their passions, and just a huge win on center stage.
 
There's no substitute for hard work. Sometimes we go over that fine line and it fails us. Shalane's gone over that line, and I went over it when I was hoping to run Chicago, but you learn from your mistakes. We've all been there, and we'll all go there, and hopefully all come back from there.
 
I had a blessed career. I've been at it for a long time. Being able to run at my level—five sub-3s in five different decades [Samuelson ran her first sub-3 marathon in Boston in 1979]—I can't ask for any more. I still have the heart and the passion. I still want to get back in and try to tell the story. And Shalane's success has inspired me to do that.
 
My wish was for Shalane to hit the race that she wanted to hit while the whole world was watching. And the whole world was watching. The world won't forget, nor will Shalane."
This interview has been condensed and edited for clarity.
Lead Photo: Timothy A. Clary/AFP/Getty Image