Runner Lauren Fleshman on How to Master the Side Gig
It's hard to make a living from just one thing. The champion middle-distance runner, cofounder of Picky Bars, coach, and mother of two lets us in on how she juggles it all.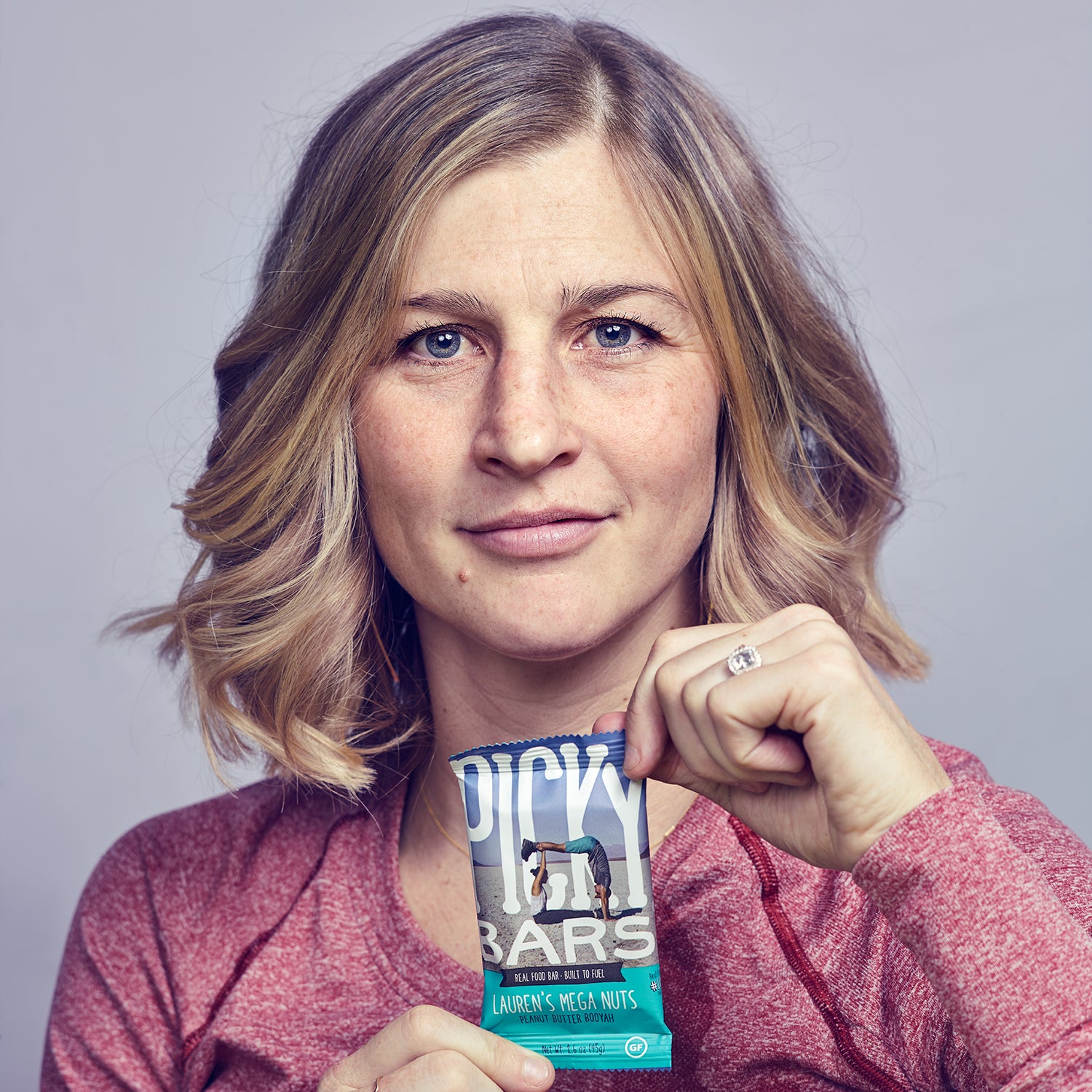 Heading out the door? Read this article on the new Outside+ app available now on iOS devices for members! Download the app.
Lauren Fleshman agonized as she was deciding whether to end her career as a professional distance runner—but not because she was nervous about money. While amassing an impressive array of podi­um finishes at national and international races, she was also cultivating a few passion projects on the margins. By 2016, when she retired from competing at 34, she had lined up enough work for a new career.
Fleshman had the advantage of a brand name, but she's part of a growing trend in the American workforce. Nearly a third of U.S. workers now have side gigs, including 41 percent of those under 35, according to a 2017 survey commissioned by the online employment clearinghouse CareerBuilder. "The side hustle is the new job security," writes author Chris Guillebeau in Side Hustle: From Idea to Income in 27 Days. "More income means more options. More options mean more freedom."
For Fleshman, the whole thing started with a blog. In 2009, she launched ­Ask Lauren Fleshman, sharing behind-the-scenes stories with fans and offer­ing something of value even when she was recovering from injuries. Her authenticity—Fleshman doesn't shy away from discussing topics like body image, performance pressure, and even post-pregnancy thighs—quickly earned her a devoted following. It also fueled her motivation to race, helped her find her voice, and clarified her mission: to help amateur runners improve and to influence sportwide change in issues like sponsorships and anti-doping.
Fleshman, who lives in Portland, Oregon, grew up outside Los Angeles in a sometimes volatile alcoholic household; she believes that her childhood environment possibly helped prepare her for entrepreneurship. "I spent a lot of time trying to figure out how to anticipate what's going to happen, how to avert disaster," she says. "From a young age I was training my brain to problem-solve." Now noticing unmet needs and masterminding solutions is a reflex.
One challenge she noticed among many racers was perfecting the mental game. Most competitive runners Fleshman knew still recorded their workouts on paper but haphazardly sought out inspiration and training plans online. Together with Irish Olympic steeplechaser Roisin McGettigan-Dumas, who excels at organizing and logistics, she developed the Believe Training Journal, a $22 logbook that also features motivational essays, quotes, and racing tips.
The duo marketed it using social media and the e-mail list from Fleshman's blog, selling the journals directly from their website, Believe I Am. The first print run, numbering 1,500, sold out in months in 2011. The second run, of 2,500, was gone by the end of 2012, prompting a publishing deal with Velo­Press. Now the journal is one of Fleshman's main sources of income, yet it requires work only around the new year, when people are buying calendars.
At the same time, she also started Picky Bars with her husband, triathlete Jesse Thomas. "I didn't think it would be a viable business," she says, laughing. The problem in this case was simple: she wanted to help her husband with the gassiness caused by his training diet. They couldn't find any snack bars that were nutritionally balanced for athletes and also gluten- and dairy-free. The company netted more than $2 million in 2017, now has 11 employees, and will launch a line of organic Picky Oats performance oatmeal this year. Fleshman stepped away from daily operations but still helps with product development and planning.
After the birth of her son, in 2013, Fleshman kept competing. Now that she's retired, she rounds out her income with sponsorship deals with the sock brand Stance and women's running-apparel maker Oiselle, in which she has an equity stake. She speaks at races and corporate events, netting between $2,000 and $10,000 per gig. She writes for Strava, serves on the board of USA Track and Field, and volunteers her time coaching an elite-level team of women runners. Her latest brainchild is Wilder, a series of running and writing retreats she started last year. Her blog and social-media presence—50,000 followers on Twitter and 61,000 on Instagram—help get the word out.
"I know I'll work harder if I'm in alignment with my purpose," Fleshman says. "The theme connecting my projects is: How do I help share the things I've worked really hard to learn with a larger audience?" With the birth of her second child, a daughter, in October, she's reevaluating her commitments so she can make more time for her children. Then she'll see what comes next. "I'm always open to new directions," Fleshman says. "I'm not happy unless there's space in my life to dream."
Correspondent Kate Siber (@katesiber) wrote about ­cyberbullying in November.