Rickey Gates Is the Rambling Poet of the Running World
It's not easy to make a living as a professional mountain runner, but the globe-trotting Coloradan is doing it on his own terms. We sent our writer on a weeklong bus trip with Gates (and a bunch of sweaty strangers) to find out more.
Heading out the door? Read this article on the new Outside+ app available now on iOS devices for members! Download the app.
Within minutes of meeting the mountain runner Rickey Gates, I am asked to name my spirit animal. I don't have a go-to answer for this particular request. Fortunately, it looks like I'll have a moment or two to peer into my soul to determine where I fall on the spectrum from mynah bird to mastodon. 
It's a Sunday morning in early August, and there are more than 20 of us assembled for a meet and greet session in the common area of San Francisco's Green Tortoise Hostel. We are about to embark on a weeklong journey on a sleeper bus that will shuttle us to various trail-running destinations across the American West. The itinerary is ambitious: four states, three national parks, 2,000 miles of driving, and over 100 miles of running for those who are up for it. It is not a trip for those who have strong feelings about personal space. The online brochure notes that this is a chance to spend time with "30 of your closest friends." Most of us are meeting today for the first time. You get the idea.
"This is the first-ever Bus Run Bus trip," Gates announces to the group, before adding wryly that it might also be the last one. "But that makes it all the more special." 
Gates is 38 years old and has the lean physique one might expect from someone who once ran across the country unsupported, which he did during the spring and summer of 2017. Bus Run Bus is his idea, the most recent addition to a growing number of multi-day running extravaganzas that he organizes throughout the year. Since 2013, he has been putting on Hut Run Hut (HRH), a six-day excursion that links up various mountain outposts from Aspen to Red Cliff, Colorado. In 2019, in addition to three separate iterations of HRH, Gates also cohosted a running trip in Oaxaca, Mexico. The day after our current trip is scheduled to conclude, he will get on a plane to Tokyo, where he will lead another group of runners on an extended excursion through the Japanese Alps. 
As a veteran of such communal running experiences, Gates knows that it helps to break the ice on day one. Hence the spirit animals. 
Linda Hawke, a 52-year-old artist and dog walker from Philadelphia, says hers is a gazelle. Majell Backhausen, 32, a Salomon-sponsored ultrarunner from Australia, says his is a sloth. Other choices include the lion and platypus. It promises to be an interesting week.
When it's my turn, I wonder if Minotaur would be an acceptable answer—my role in a fifth-grade musical. I realize, however, that in a few hours we will all be shoulder to shoulder in a bus, riding through the Northern California night en route to Yosemite National Park. I don't want anyone to think that there might be a raging psycho in their midst, so I decide to go with "some kind of goat." No one is impressed.
Half an hour later, we are outside the Green Tortoise, ready to run. Today's 12-miler around the northern tip of the city is the only urban route scheduled. We've been outfitted with hydration vests from Salomon, Gates's main sponsor, and I feel self-conscious about coming off like an overaccessorized jerk. 
Gates is wearing shades, a floral-pattern running cap, a green T-shirt bearing the slogan "Double Rainbow: More Than One," fire-engine-red running shorts, and a fanny pack. He looks like a PE teacher on sabbatical or the world's fittest cruise-ship tourist.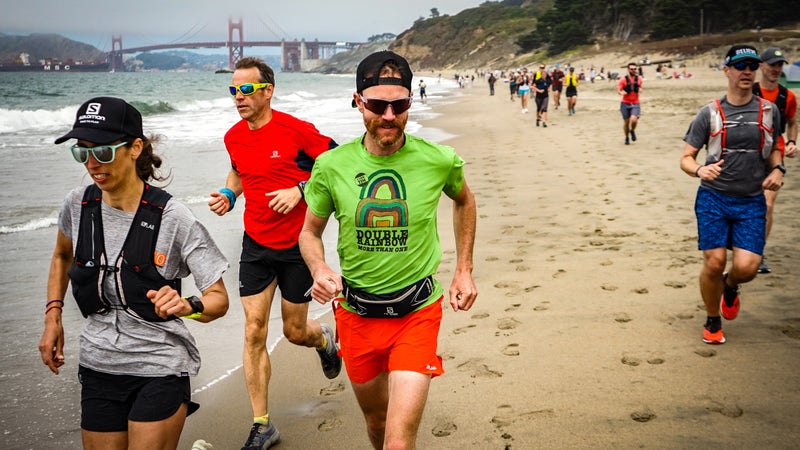 "You done much running around here, Rickey?" someone asks.
This is meant as a joke. In the fall of 2018, over the course of 46 days, Gates ran every single street in San Francisco in what was conceived as a condensed version of his cross-country journey the year before. According to Strava, he covered 1,303 miles and 147,000 feet of elevation change for the project, which he documented on Instagram using the hashtag #everysinglestreet. The idea has inspired other runners to engage in similar efforts around the world, much to Gates's delight. One such disciple has even signed up for Bus Run Bus.
"I'd lived in my zip code for 14 years, and I hadn't seen the majority of it," 45-year-old Chris Malette told me. He is in the process of covering the entirety of his hometown of Tampa, Florida, on foot—along with another local #everysinglestreet enthusiast who lives on the opposite end of town. "Most of the time in your life, you go from point A to point B and you don't see the side streets," says Malette, who works as a team leader at a local Target. 
That won't be an issue today. As we set out from the hostel, Gates takes his first right on Kearny Street, and immediately we are on one of those ludicrous San Francisco hills. I'm wondering whether it would be a wise idea to hike this initial ascent, but then I see Gates flitting along effortlessly up ahead, and I decide to stop being such a baby. 
Before long we have summited Telegraph Hill and are gazing at 1930s murals in the art deco edifice known as Coit Tower. One thing to know about the Rickey Gates Weltanschauung: if you're going to be running for hours, you might as well give yourself ten seconds to take in Maxine Albro's famous depiction of the California orange harvest. 
"There. We've done culture," Gates says once we're back outside. I notice that one of my fellow runners is using the front pocket of her hydration vest to provide easy access to a bottle of Fireball whiskey. The hooch will be passed around freely during the course of today's run, as we wrap our way around the Presidio and down onto Baker Beach, where visual highlights include views of the Golden Gate Bridge and a local nudist.
---
Before he became an evangelist for what one might call the experiential side of the sport, Rickey Gates was an accomplished endurance athlete—at least by the hardcore hobbyist standards of the mountain-running scene in the mid-2000s. Among other things, he is a two-time winner of the prestigious Mount Washington Road Race in New Hampshire and multiple podium finisher at Alaska's Mount Marathon and the Pikes Peak Ascent in Colorado. In 2007, he was named USA Track and Field's Mountain Runner of the Year. 
Gates's relationship to running has since evolved. Although he is careful not to dismiss the value of racing and its singular, adrenaline-soaked rush, he says that these days he views running more as a form of meditation or prayer than as a competitive pursuit. In the same vein, Gates told me that he is interested in figuring out ways to use running to better understand "our culture, our country, and our planet." 
That might sound like the kind of insight you'd have after eating a peyote sandwich, but Gates is nothing if not sincere. He has been compared to Jack Kerouac on several occasions—a comparison that Gates certainly hasn't tried to discourage—and like the doomed idol of the Beat generation, Gates is not afraid to romanticize his rambling lifestyle. (When he ran all of San Francisco, Gates told me that he made a point of greeting every homeless person he met and looking them in the eyes.) And it's hard not to be seduced. Gates emanates the conviction of a person who, when they come up with a slightly loony idea, actually goes out and does it.
The third of five children, Gates grew up in Aspen, Colorado. Despite what that might suggest, his family didn't have a lot of money. They did have easy access to the Rockies, however, and Gates had the kind of mountain-kid childhood that sounds like the aspirational fantasy of Forester-driving suburbanites: camping, skiing, alpine club. One of his first jobs, as a high schooler in the late nineties, was working as a caretaker for the Tenth Mountain Division backcountry huts—the same huts that are now used for his annual trips. 
William Gates, Rickey's father, owned a small computer business, specializing in Macintosh sales and repair. One time he made his son read The Fountainhead as a punishment for skipping curfew and staying out all night. While it is difficult to assess the extent to which Ayn Rand might secretly be responsible for his brand of individualism, Gates is unequivocal about the fact that he inherited his wanderlust from his mother, Patricia, who spent most of her early twenties hitchhiking around the country.
After his freshman year of college, Gates took two years off to travel, ski, and work in the Aspen service industry, where during the busy season he could take home $300 to $400 a day. At 19, Gates spent five months traveling in South America. A few years later, as a sociology and photography major at the University of Colorado Boulder, he signed up for a study-abroad program in Chile. Since he'd already spent a fair amount of time in the Southern Hemisphere, Gates figured the best way to expand his boundaries was to buy a 1979 Honda CX 500 motorcycle ($500) and ride from Aspen to Santiago beforehand. The trip took him two months.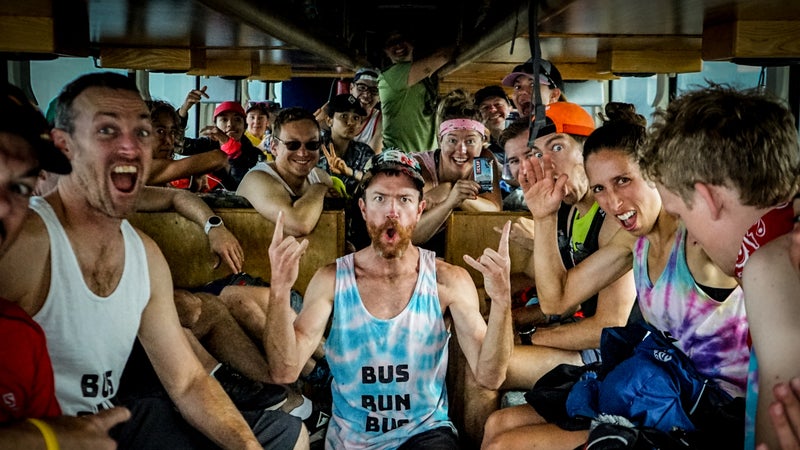 "I arrived as the other people from my study-abroad group were getting off the bus from the airport in their pressed shirts and nice loafers," Gates says. "Meanwhile, I'd just gone through 12 different countries on this 25-year-old motorcycle. I was covered in grease and wearing a leather jacket. With full immersion like that, I was already speaking Spanish fluently." The journey proved formative in more ways than one. 
"That was by far the biggest thing I'd ever done in my life," Gates says. "And it just kind of occurred to me that there's so many of these things that we think that we may or may not be able to do, but they're really just about doing it day after day after day."
Not that Gates's consistency was always rewarded. He repeatedly tried and failed to make the University of Colorado's cross-country team as a walk-on. He'd been a decent runner in high school, but the Buffaloes had one of the top Division I programs in the country. At the time, there was an early-season five-mile race that was open to the public. Any Colorado student who could run the cross-country course (which sat at around 5,000 feet elevation) in under 27 minutes could stay on and train with the team. For three years in a row, Gates ran just under 28 minutes. No dice. 
As a senior in 2005, after once again missing the cut, Gates changed tack. That September he entered a 17.1-mile mountain race known as the Imogene Pass Run. The course blasts ten miles uphill from Ouray, Colorado, to the 13,114-foot pass and then seven miles down to Telluride. It was a topographical challenge that Gates proved well suited for; he won the race on his first try, effectively launching his career as a mountain runner. 
Things got off to an auspicious start. In 2006, Gates finished third at Mount Washington, which qualified him for the USA Track and Field national mountain-running team. That September he finished 25th in the World Mountain Running Championships in Bursa, Turkey. Two years later, he signed a sponsorship deal with Salomon U.S. and spent three summers bumming around the European mountain-race circuit. 
Since mountain running doesn't exactly reward its heroes with Formula One levels of wealth, Gates would return to Colorado in the winter for seasonal work. Over the years, he has been employed as a waiter, barista, and bartender. He has also delivered pizza on his motorcycle and been a product rep for Sombra mezcal. (A buddy of his used to own the distillery in Mexico.) However, according to Gates, the most competitive job he ever successfully applied for was to be a dishwasher at the South Pole Station.
He wanted the gig because it would enable him to participate in an annual event called the Race Around the World—a two-mile run which passes through every line of longitude and in which only South Pole Station employees are allowed to take part. On Christmas Day, 2010, Gates won the race. Officially, his prize was automatic entry into the Antarctica Marathon about three weeks later on Ross Island, but poor weather conditions prevented him from making the trip. Figuring he wouldn't get another chance to do a marathon in Antarctica, he solicited the help of two station surveyors to map out 26.2 miles and wound up mostly running up and down the South Pole Station runway. It was, he says, simultaneously the most unique and most boring marathon he'd ever run. 
---
By Wednesday, the bus has visited Yosemite, Zion, and Grand Canyon National Parks. I have run from Yosemite Valley to Tuolumne Meadows, hiked the sandstone ridge of Angels Landing at daybreak, and soaked my bones in mountain streams. I've also had a few wipeouts, once narrowly avoiding smashing my face against a granite boulder. 
One night while camping on the North Rim, we are ambushed by a rainstorm. After the deluge passes, everyone congregates around an ersatz campfire scene: a few candles, some half-eaten muffins, PBR, and two bottles of Sombra. This is meant as an ad hoc birthday celebration for Evgeni Peryshkin (spirit animal: manatee), a 37-year-old software engineer from San Francisco.
We are also joined by Patricia Gates, Rickey's mother, who has driven down from Aspen to join us for the Zion/Grand Canyon portion of the trip. At 72, she appears to have retained her enthusiasm for the road and generally comes off as a total mensch. Earlier in the evening, as we were getting hammered by the rain, she spearheaded efforts to help several campers relocate their tents to higher ground, while the weak-kneed among us retreated to the sanctuary of the camp store. Her freewheeling energy notwithstanding, there are moments where she betrays glimmers of maternal concern. 
"Well of course I wonder," she told me at breakfast one morning when I asked her about her son's roving lifestyle. "What is he going to do when the running runs out?"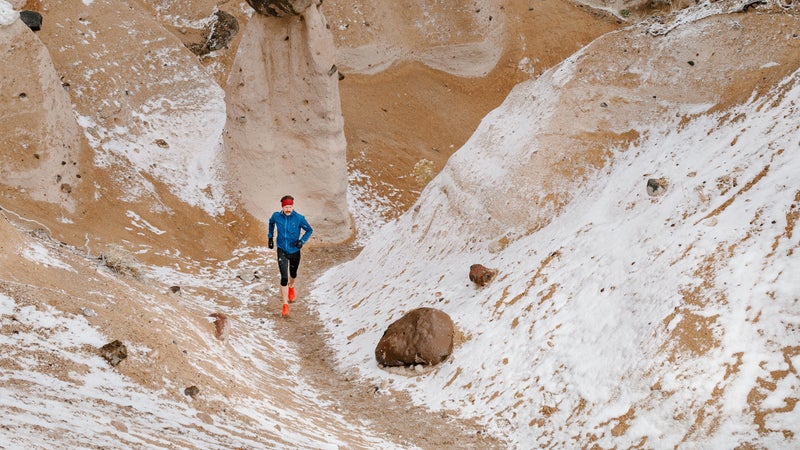 In his own way, it's a question that Gates has been grappling with for years. His competitive sweet spot was always in shorter distance events like Mount Washington, which is "only" 7.6 miles—albeit with a vertical gain of 4,650 feet. But as trail running has become increasingly mainstream over the last decade, it's the hundred-milers, like the Ultra-Trail du Mont-Blanc and Western States, that dominate the spotlight. 
"The whole sport shifted to ultras," says Buzz Burrell, who managed La Sportiva's trail-running team for years and who first told Gates about the U.S. mountain-running team in 2005. "That really isn't Rickey's forte. He's a real mountain runner. He can charge up and run down real fast. It's too bad that the sport went so ultra-centric." 
For his part, Gates remembers making a conscious decision to move out of his competitive comfort zone as ultras became the order of the day. "It occurred to me at a certain point, maybe eight years ago, that if I wanted to keep making a name for myself in this sport, and keep doing it and keep getting people interested in what I'm doing, I had to start going with longer distances," Gates told me.
So he did. In 2011, Gates ran his first ultra, a 125-kilometer event in Alberta, invitingly called the Canadian Death Race. He won in a record-setting time (12:15:54), in what Gates claims is still his best performance in an ultra to date. Gates began entering some of the better-known U.S. ultras, like the Speedgoat 50K, and 50-milers, like Lake Sonoma and the North Face Endurance Challenge. His results were respectable, but he was ultimately not in the same league as fellow Salomon-sponsored athlete Kilian Jornet and the other titans of the ultrarunning world. No shame there, but, unfortunately, the fringe scene of mountain-ultra-trail running has little room for also-rans—at least as far as publicity and sponsorship money is concerned. If Gates wanted to continue making a living in the sport, he would have to redefine what it means to be a professional athlete.
"The bottom line is, after trying many, many times, I'm not going to beat Kilian in a race," Gates told me. "I still enjoy racing, but I just knew that it wasn't sustainable for my lifestyle and for my love of the sport. So I knew that I sort of needed to step back a little bit from the racing scene and kind of figure out what else I could contribute."
Gates has long been a proponent of what he calls the "beyond the bib" approach to running—a belief that the sport's most compelling narratives usually have little to do with who finishes where on the podium. And while it's one thing for him to feel that way, what is perhaps most impressive about the trajectory of Gates's career is that he has convinced Salomon to buy into his creative vision. 
"With somebody like Rickey, it's very difficult to put a label on what he does, but the way I would describe it is that he's a modern journey runner," says Scott Jurek, a good friend of Gates's who won Western States seven consecutive times from 1999 to 2005. "In the seventies and eighties, people would refer to journey running—maybe some people would call it adventure running—where you just go for a run and see where you end up. You didn't have this purpose or this goal." 
In 2014, after a sixth-place finish in the Run the Rut 50K in Montana, Gates went to recuperate in a natural hot spring not far from Yellowstone National Park. He was joined by Greg Vollet, the global sports and marketing manager for Salomon Running. It was in this tranquil environment that Gates first told Vollet that he was becoming disillusioned by the competitive, racing-oriented side of the sport. 
Vollet was not entirely surprised. "Years ago I saw in him a big potential as a storyteller," Vollet told me. "He had the perfect profile to create amazing stories outside of competition and the ability to reach more people than just those who are interested in competition."
But it is the image of a middle-aged man gleefully thrusting his pelvis in front of a busful of erstwhile strangers that prompts a pseudo epiphany.
The following year, Gates was the driving force behind a gorgeous, Salomon-produced short called Of Fells and Hills about the history of fell running in northwest England's Lake District. The film feels like the trail-running equivalent of ski porn: evocative, aerial shots of the Cumbrian landscape, old guys staring out the window, and slow-motion close-ups of Salomon-shod feet striding through the heath and flicking up beads of water and mud. It's enough to make you want to you bust out the Wordsworth—you almost forget that you're watching an ad. 
In an era of globalized professional running, Of Fells and Hills also speaks to the way the sport can still have deep roots at the hyper-local level; the film's main subjects are the old-timers whose fastest known times have stood for decades and who appear phlegmatic, almost bashful, about their contributions to the lore. 
"I'm still scratching my head at how they achieved what they achieved, why they chose to pursue these monumental feats that really don't mean anything beyond the valleys where they're living right now," Gates says in the film's narration. "I think perhaps the most amazing part about those feats is that they don't really seem to care if people understand what they've accomplished." 
Gates has continued to collaborate with Salomon on other projects that foreground running's spiritual and cultural relevance—whether that's a film of him traveling in the Japanese Alps with Kiwi ultrarunner Anna Frost or one about the carnival-style spectacle of the Mount Marathon race in Seward, Alaska. A feature-length movie about Gates's run across the country is currently in the final stages of production. His book about the journey will be published in April. 
"For me, he is kind of a poet of trail running," says Vollet. 
Of course, being a poet doesn't usually pay the rent. (Gates would not disclose how much he is paid by Salomon.) Any impulse to emulate the Gatesian lifestyle might be tempered by the fact that he was on Medicaid until last year, and for most of the past 15 years, he didn't have any health insurance at all. When I asked him if he ever worried about the future, Gates, who got married in October and now lives in Santa Fe, confessed that there were moments when he just wished he had a "real job" with a 401(k). For now, however, he is enjoying the ride.
"I still love it a lot," Gates says. "If I ever do get kind of down about it, it's almost inevitable that I'll get a little note from someone who says, 'Hey. I just want to let you know that your lifestyle is really inspiring. I just quit my job and I'm gonna go travel for four or five months.' And that's where it's like, Fuck yeah. I'm psyched. Ninety-five percent of the time, my lifestyle is gratifying. It's just that 5 percent of the time where I feel like, you know, I should probably go to the dentist."
---
It's around 7 A.M. on the final morning of our trip as the bus pulls into a turnout near Jade Cove, on the California coast. We need to be back in San Francisco by midafternoon, so the agenda for the day is relatively low-key—a quick breakfast, followed by a few quad-busting miles up and down a nearby fire road. 
As we disembark, we are confronted by the driver of what appears to be the only other vehicle parked in this lonely patch of concrete overlooking the Pacific. He is wearing a star-spangled hat and matching T-shirt, and he is not thrilled about sharing the moment with a bunch of groggy weirdos.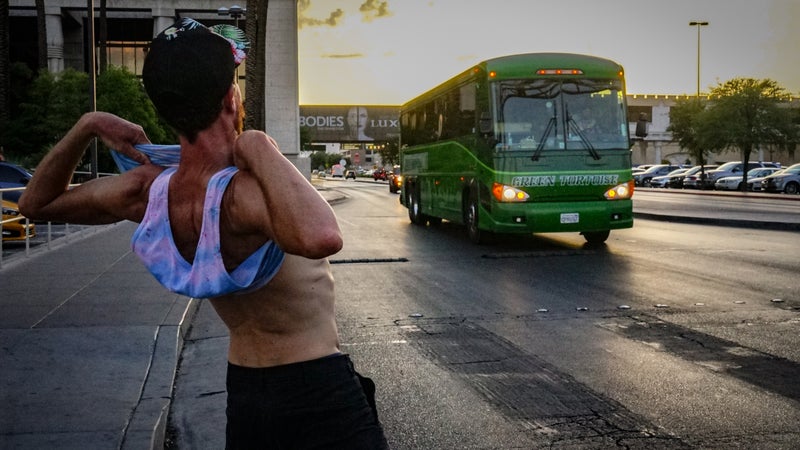 "Is this one of those acid buses?" the man asks disapprovingly, noticing, perhaps, that several of us are decked out in groovy, tie-dyed Bus Run Bus tank tops that we made while camping in Zion. Gates tries to placate him with a cup of coffee, but he is having none of it. For a moment, it feels like things might be headed for an Easy Rider–style clash of ideologies on the great American roadway, but then our friend gets into his pickup and drives off. 
Later that afternoon as we are rolling north on Highway 1, Gates announces that he has a few Grateful Dead T-shirts to give away. There aren't enough to go around, so anybody who wants one has to earn it by taking part in an impromptu dance-off. Soon, Michael Kearns, 43, a construction project manager from Massachusetts and father of three, is gyrating in the aisle to "Sexy and I Know It." Over the past seven days, I have glimpsed the immortal splendor of Half Dome and seen the sun rise over the Grand Canyon. But it is the image of a middle-aged man gleefully thrusting his pelvis in front of a busful of erstwhile strangers that prompts a pseudo epiphany. It's a beautiful thing, I think, to create an excuse for others to push back against the staidness that can creep into life when one isn't careful.
"Where the hell did he come up with a 'bus run' trip?" Rickey's father, William, asked me when we spoke on the phone a few weeks afterward. "The whole idea of it sounds dumb to me. But it's absolutely perfect. It's wonderful." 
Maybe it's dumb and wonderful at the same time—kind of like attempting to run down every single street of a major American city. Either way, in the era of social-media-fueled turbo narcissism, there's a certain appeal to running initiatives that prioritize communal journeys over personal ones. 
"There's a very high possibility that I'm not only not going to make money on this trip but actually lose money—which is OK with me. The excitement of putting something together like this overrides that," Gates told me at one point during the week. "I wouldn't want to do it year after year and not make money on it, but sharing an experience with other people, that part is really important to me."
Corrections:
(09/28/2023) This story has been updated to correct the description of the Race Around the World—the race passes through every line of longitude, not latitude. Outside regrets the error.
Lead Photo: Brad Trone