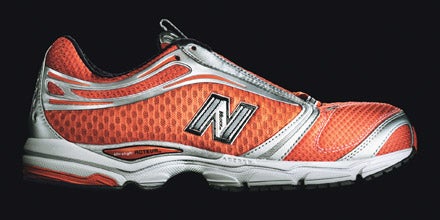 Heading out the door? Read this article on the new Outside+ app available now on iOS devices for members! Download the app.
Speed of Light

Eight testers. Twelve weeks. And a combined 3,800 miles logged on pavement, concrete, and smooth dirt paths in and around Boulder, Colorado. We put this year's best new road shoes through their paces, and then some. You get: The final word on the latest innovations—like improved rear-foot cushioning and motion control, and the no-compromises weight-cutting achieved by the Gear of the Year New Balance 902. Read on for complete reviews of the season's ten top models. Whether you're a high-cadence speedster or a high-mileage jogger, you'll find your running mate here.
New Balance 902 (10.1 oz) $100 newbalance.com


1. A handful of shoes boast construction this light, but most are minimalist racing flats without much structure. Not so with the 902. Thanks to new-tech, lightweight materials—in the cushioning, foam, and even the breathable mesh of the upper—the 902 supports your foot better than many midweight shoes.
2. The outsole is broken into segments to minimize weight and maximize flex. Where you need extra cushioning, along the medial side of the heel and the forefoot, you'll find greater amounts of soft blown rubber. Higher-wear areas, like the heel-strike pad, are reinforced with a more durable compound.
3. Every tester was impressed with the 902's support-to-weight ratio, but it was our most nimble runners—those with efficient, upright running form—who got the most out of the shoe's cushioning. "To have a lightweight trainer with this much cushioning is astounding," said one tester.
4. The bane of most lightweight shoes is often tongue migration or bite. The 902 solves that problem with a smartly positioned soft foam insert and a secure daisy-chain lace guide. And, because the tongue is also lined with a moisture-wicking fabric, testers never complained of sweaty feet.
5. The 902's fit is snug and lean, but not spartan. An exoskeleton support system offers lateral support, which is why testers loved this shoe in varied terrain. "You can slam the downhills with abandon," noted one tester, "but it won't bog you down on the flats." Bonus: The 902 is available in multiple widths.
Trail Runners
Adidas J S3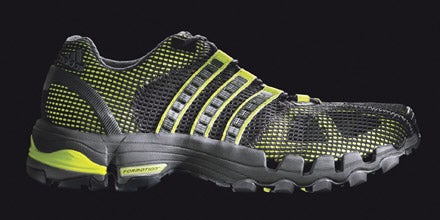 Ground Control

As trail runners get more and more sophisticated, there are fewer models that are simply scaled-down light hikers—or up-armored and earth-toned roadies. From the aggressive lugs to the water-resistant uppers to the reinforced toe caps, this year's best trail runners are the meanest and leanest yet. Some are specialists, like the crazy-light New Balance 790 (eight ounces!) and La Sportiva's Fireblade, which excels on rocky, technical trails. Others, like the Gear of the Year Adidas J S3, simply do it all.
Adidas J S3 (11.3 oz) $95 adidas.com


1. An awkward name may be the J S3's only weakness. It has a perfect blend of agility and support: An airy top half made from a durable, ultralight mesh nylon keeps weight down—and debris out—while an innovative wraparound tongue provides an exceptionally secure fit.
2. Flexibility is key to the J S3's performance, thanks to cut-away channels in the EVA midsole. The result is an accordionlike pliability that allowed our feet to achieve a full range of motion. Testers felt noticeable spring as they bounded off even the gnarliest sections of Colorado's Dakota Ridge Trail.
3. The detached heel technology (called ForMotion, for those taking notes) effectively absorbs rear-foot impact, compensating for the foot's natural tendency to twist and roll when it hits rocks and uneven ground. "For such an agile shoe, it has a superstable platform," said one tester.
4. It's nimble enough to blitz hardpacked trails, but there's no compromise on underfoot protection for true mountain running—testers suffered no stone-bruising, thanks to a protection plate. Even better: A tri-density rubber outsole with multidirectional lugs ensures that agility isn't sacrificed on technical terrain.
5. You'd have to put ice in your shoes to get better cooling. Breathability comes from above and below the foot, thanks to the meshy uppers and perforated, antimicrobial moisture-wicking footbeds. Caution: The air conditioning works so well you won't want these shoes in chilly, damp weather.
Road Bikes
Kestrel RT700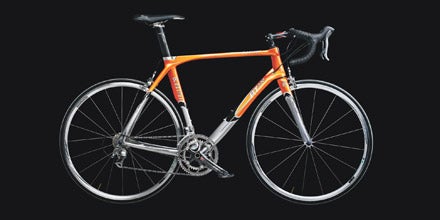 Pace Setters

So much of cycling is mental. If you feel faster, you'll go faster. Not only do this year's best new roadies look NASCAR quick, but after months of testing we're happy to report they really do scream. On everything from all-day crushers to quick little hill climbs, we dropped more riding partners than ever before. But none will turn friends into enemies faster than this year's Gear of the Year winner, the so-swoopy-it-hurts Kestrel RT700.
Kestrel RT700 (16.8 lbs, 55 cm) $3,300 kestrel-usa.com


1. Twenty-one years after introducing the world's first all-carbon production frame, Kestrel continues to put a premium on stiffness and aerodynamics. But unlike true aero bikes, the RT700 loves to climb and descend; plus it's comfy enough for long-haul speed. And, damn, doesn't it look good on the rack?
2. Because Kestrel engineers designed the RT700's fork in-house—instead of outsourcing it, as many companies do—they were able to take into account the rest of the bike's specific geometry and handling characteristics. You can tell. The RT700 was the most agile and responsive bike we tested this year.
3. The RT700 isn't as aerodynamic as Kestrel's tri-specific bikes, but its shaped tubes and airfoil-like seat tube still slice through the wind much better than typical road frames. If you want a bike that can handle twitchy criteriums and, with a set of aero bars, the occasional triathlon, this is it.
4. The sleek seat-tube cluster and proprietary aero seatpost provide the bike's most visually stunning moment. But there's also function to the beautiful form: The design means you'll never have to worry about centering your saddle—a constant headache with standard round tubes.
5. Think a steady din of rattles and pings is just part of the deal with race frames? Think again. Thanks in part to the RT700's elegant internal cable routing, this is one of the quietest rigs around. Plus, like all Kestrel bikes, the RT700 comes with a lifetime warranty against defects in materials and workmanship.
Mountain Bikes
Felt Virtue Two
Easy Rider

Don't be afraid. That's the best advice we can give you. No kidding. From full-suspension rigs with rear shocks that self-adjust on the fly to the most nimble 29er we've ever tested, this year's crop of mountain bikes inspires confidence on any terrain. Some, like Gear of the Year winner Felt Virtue Two, can no longer be easily categorized at all. Is it a cross-country racer or a freeride bike? After months of test-riding from Moab to Tucson, we're happy to report that it really doesn't matter.
Felt Virtue Two (27.4 lbs, 19.5 in) $3,500 feltracing.com


1. The Virtue Two debuts a radical new suspension system (dubbed Equilink) that offers more than five inches of active travel but has none of the drawbacks—no pedal feedback, no bob, and no extra weight—that plague most long-travel systems. It's super-plush and, amazingly, still handles like a hardtail.
2. The Equilink system rides superbly yet requires virtually no TLC. I adjusted the sag on the rear shock once, then rode all manner of trails for a month without any fine-tuning. Easy. "I don't want to know the physics of how it works," said one tester, "I just want it to work. And it does. Beautifully."
3. The value can't be beat. With a complete Shimano XT/XTR drivetrain (including the sexy new XTR rear derailleur), Avid Juicy Seven hydraulic disc brakes, and the new, even-easier-to-adjust Fox Float RP23 rear shock, everything on this bike is built to perform well in all conditions—for years to come.
4. The Virtue performed just as well on technical trails with television-size boulders and three-foot drops as it did on buffed-out singletrack with whoop-de-do rollers. Credit the Virtue's geometry, which rides firm—stretched forward, and hard-charging—yet still feels stable and cushy in the rough.
5. At 27.4 pounds, the Virtue Two is plenty light for most riders, and a screaming deal for a five-inch bike of this caliber. For an extra $2,700, the Virtue One offers the same great ride in a 25.7-pound package, thanks to component upgrades like carbon-fiber Juicy brakes and a CrossMax wheelset.
Soft Shells
The North Face Cipher Windstopper
The North Face Cipher Windstopper

The North Face Cipher Windstopper
Ignore the Forecast

Keeping out the weather has never felt better. From a waterproof-breathable soft shell that costs a hundred bucks to one of the most eco-friendly storm shells ever made, the latest jackets deliver on all fronts. And none more so than Gear of the Year winner The North Face Cipher Windstopper, a soft-shell hoody that, because it performs so well in such a wide variety of conditions, quickly became our go-to jacket for everything from hiking and skiing to running and canoeing.
The North Face Cipher Windstopper (18 oz) $149 thenorthface.com


1. The best soft shells are jackets that rarely spend time in the closet—they're always in use. Such was the case with the Cipher. Its chest, tops of the arms, and part of the back panel are armored with Gore Windstopper fabric, while the rest of the jacketis cut from lighter- weight, more air-permeable house-brand material. The result is a surprisingly weatherproof jacket that rarely let our testers down.
2. The keys to the Cipher's versatility are its hood and chest pocket vents. With the massive, mesh-backed chest pockets cracked (and hood down), the Cipher kept me cool and dry hiking in 50-degree temps and running in sleety, just-above-freezing conditions. Battened down—vents closed, hood up, warmer midlayer underneath—the Cipher fended off wet snow and biting wind in Wyoming.
3. The adjustable hood fits equally well with or without a helmet. Even so, the Cipher's overall cut is athletic, and it fits best over light to midweight base layers. Plus, the base of the hood—from the chin to the back of the neck—is lined with a soft micro-chamois. But the real clincher is the price. Until recently, you had to pay almost twice as much to get a jacket with such high-performance fabrics.
Light Hikers
La Sportiva Sandstone GTX-XCR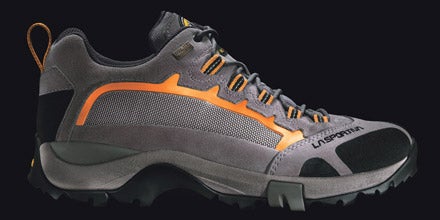 Trail Blazers

Forget everything you know about shoes. That's what we determined after months of tromping around in the latest kicks. Proof? Timberland's steel-cabled Vaporate forgoes laces. Patagonia's Huckleberry is made with significant amounts of factory scraps and recycled materials. And La Sportiva's Gear of the Year Sandstone really does have sand in it. But design tweaks and eco-stories are just subplots, really. The big news this year is durability: Across the line, this is the toughest crop of light hikers we've ever tested.
La Sportiva Sandstone GTX-XCR $120 sportiva.com


1. The Gore-Tex XCR–lined Sandstone has a strip of airy mesh along the tongue (where it can best release the foot's heat) and leather/tightly woven mesh along the sides, where durability is key. The upshot: No sweaty feet or blisters—even after four back-to-back 12-mile days—and no blowouts.
2. Adjacent lugs are positioned at opposing angles. When the shoe strikes the ground, the lugs deform slightly, absorbing energy throughout the heel-to-toe motion. Sportiva calls it the "impact brake system." We call it regenerative braking for humans—our legs felt better than expected at day's end.
3. That spring in your step? It's actually an arc of TPU plastic that runs along the sides of the shoe. In addition to transferring energy from heel to toe, it prevents your foot from rolling on rocky terrain. Compared with other reinforcement materials, molded TPU is less clunky; it doesn't stiffen your stride.
4. A typical toe bumper made of thick rubber can make a shoe feel cumbersome. So La Sportiva sprayed a lightweight mixture of sand, glue, and rubber directly onto the Sandstone's toe box. The stuff saves weight, and its low profile and tacky grip afford an approach-shoe feel when you're scrambling.
5. The Sandstone ages better than Mick Jagger. After weeks of abuse, the rubber-reinforced midsole was as springy as on day one, while the rock-solid upper showed only the slightest (and most superficial) signs of wear. Or as one tester more bluntly put it, "It's a tough bastard of a shoe."
Backpacks
Granite Gear Nimbus Meridian
Granite Gear Nimbus Meridian

Granite Gear Nimbus Meridian
Carry On
From day hikes in canyon country to soggy treks in the Cascades to dusty trail runs in New Mexico, more than a dozen testers carried loads big and small—and everything in between—to find the best packs of the year. In every category, we discovered daypacks and overnighters that strike a near-perfect balance between weight and performance: No pack that made the final cut weighs more than 4.5 pounds, yet none requires TLC when the going gets rough. Exhibit A: Gear of the Year winner Granite Gear Nimbus Meridian, which is as comfortable as it is tough.
Granite Gear Nimbus Meridian (3.7 lbs, 3,800 cu in) $250 granitegear.com
1. Comfort: Go ahead, try and overload it. On treks in New Mexico's Pecos Wilderness and even ski touring in the Tetons, testers were unanimous: The Meridian carries like a champ. Credit the firm yet flexy composite frame-sheet that moves with your body, dual-density foam in the hipbelt that cushions luxuriously, and a precision fit (both torso-size and interchangeable suspension parts) that you can dial in with a few turns of a screwdriver.
2. Versatility: It's light enough to use as a weekend pack yet big enough for a week's worth of supplies—and you won't feel you're compromising in either case. How? An array of compression straps means you can under- and overload to your heart's content, a panel zip allows instant rummaging in the main compartment, and the top lid converts to a lumbar pack for base-camp duty. Stretchy side pockets will accommodate a small sleeping pad.
3. Durability: The Meridian may weigh less than four pounds, but there's nothing gossamer about the construction. There's no easily abraded mesh to be found, and its big-toothed, water-resistant zippers are sturdy and easy to operate. Siliconized ripstop nylon shaves ounces and makes the pack extremely weather-resistant—while a few key high-stress areas, like the bottom and compression panels, are made with tough 210-denier Cordura.
Tents
Big Agnes Emerald Mountain SL 2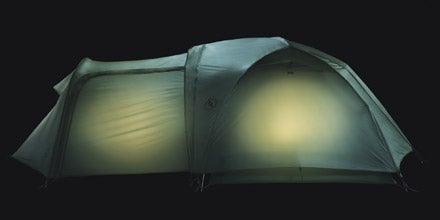 New Building Code

Only 50 percent of the tents we tested made the final cut this year. And that's a good thing. It's a transition time for backcountry shelter, and the models that made the grade benefit from significant innovations that have changed the game. Half of the tents reviewed here have precurved, variable-diameter poles (a technology developed two years ago by Sierra Designs), which radically improve a tent's interior space. Most also have integrated—or hubbed—pole sections, which make for a sturdier pitch and faster setup—with less weight. Not familiar with either concept? Perhaps it's time for a new tent.
Big Agnes Emerald Mountain SL 2 (4.2 lbs) $349 bigagnes.com


1. Loads of space for little weight: Thanks to a three-pole, cantilevered design, the Emerald Mountain is packed with features—two doors, a massive vestibule, a six-pocket gear loft, and a respectable 29 square feet of interior space—but still weighs just a few stakes over four pounds.
2. What really sets this tent apart is an optional vestibule that provides more shelter—for cooking, dogs, excess gear, or an extra buddy or three. Simply zip off the standard vestibule (already generous) and zip on the pole-supported version ($129, 14 ounces). At 27 square feet, it's nearly as big as the tent itself.
3. Setup is a snap. Shake out the one main, double-hubbed pole and you're halfway there. Attaching the body is just as easy, thanks to the remarkably user-friendly pole clips. Not only are these clips lighter than standard, but their ergonomic design beats all others in the easy-on, easy-off department.
4. Anodizing aluminum tent poles (to make them stronger) is an inherently toxic process. But Korean pole maker DAC has figured out a way to do it that uses just a fraction of the polluting chemical products, and the Emerald Mountain is one of a handful of tents on the market that use the new poles.
5. Thanks to its 100 percent mesh canopy, two doors, and two overhead vents, we never experienced any condensation. And it's plenty stable for a three-season shelter; it had no problem weathering high winds and a few inches of snow in New Mexico's Pecos Wilderness. Bonus: It comes in a three-person version too.
Sleeping Bags
Mountain Hardwear UltraLamina 32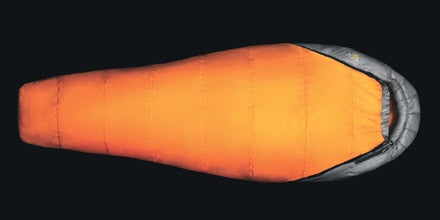 Rest Assured

Whether you need a waterproof-breathable toaster for the worst conditions or an ultralight summer sack for the best, we've got good news: This year's bags are tricked out with a host of features that will let you sleep—and even cook and read—more comfortably. Exhibit A: the Gear of the Year Mountain Hardwear UltraLamina 32, a fast-and-light bag with dual-entry zips that allow you to use your arms without sacrificing precious body heat.
Mountain Hardwear UltraLamina 32 (32°F) $175 mountainhardwear.com


1. Last year, Mountain Hardwear wowed the sleeping-bag world (OK, us gearheads) with its welded-insulation Lamina series. Even non-sleeping-bag geeks will appreciate this upgrade: The UltraLamina 32 is lighter (2.1 pounds) and compresses down to almost two-thirds the size of its predecessor.
2. Hardwear chopped up its synthetic insulation into smaller pieces. The new stuff (called Thermic Micro) compresses tighter and springs back faster—which allows the UltraLamina to use a bit less fill and still get the necessary loft. It's also more comfy, draping around the body in the same way down does.
3. The benefit of welded insulation: With glued rather than sewn seams, fill doesn't get pinched together to create cold spots. As a result, the UltraLamina squeezes even more warmth out of less insulation than traditional sacks. Welded construction also helps improve the shell's water resistance.
4. Cup of coffee sounds good, getting out of your warm bag sounds bad? Make your joe without braving the cold. The UltraLamina's dual-entry zippers allow you to stick your arms out of the bag so you can sit up—and read or play cards or boil water—without losing trapped body heat.
5. Features include the most snag-free zippers we've seen, a stash pocket big enough for a headlamp and iPod, and a mummy cut that testers deemed just right—efficient, not claustrophobic. Warning: Most bags are optimistically rated—and this one's no different. If you're a cold sleeper, consider the UltraLamina 15.
Surfboards
MR 1979 Retro Single-Fin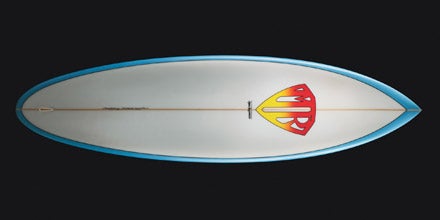 Lip Service

When the dust settled following the surprise closing of Clark Foam in late 2005—which seemed to mean the instant death of surfboard blanks, the building blocks of hand-shaped boards—it turns out it wasn't such a big deal after all. Surfers kept surfing. New foam companies popped up. And shapers kept shaping. Fittingly, this year's Gear of the Year winner, the single-fin MR 1979, proves that a perfectly shaped board is timeless.
MR 1979 Retro Single-Fin (5'10″–6'8″) $700 lostenterprises.com


1. Can you imagine a tent from the 1970s making it into these pages now? Not a chance. But a good surfboard is a good surfboard, and the retro shape of the single-fin MR, which was designed by surf icon Mark Richards, was hands-down this year's most stable, predictable, and smooth ride.
2. The MR's defining attribute is its single fin. While multi-finned boards let you turn more quickly and can give you more drive, getting on a single-fin board is like taking the training wheels off a bicycle. And it gets better as you gain confidence: The bigger the waves, the smoother the MR performs.
3. "Paddles great. It feels like you can catch anything on this board," said one tester. The MR has minimal rocker and plenty of thickness (three inches of foam) to help you slip into waves early, while the single-to-double-barrel concave and shallow spiral V bottom give it amazing natural speed.
4. The rounded pintail design provides good control in bigger surf—I felt solid and unwavering dropping into overhead beach-break waves. But it's also versatile. I surfed it in a wide variety of conditions and, thanks to its floaty smoothness, had fun on it in everything but tiny, gutless waves.
5. Caution: not for beginners. "Takes some getting used to, for sure," said one tester. "It's not like most boards people are surfing these days." But once you learn how to surf the MR from rail to rail, we guarantee your performance and flow will improve on every other board you surf.
Kayaks
Jackson Kayak Fun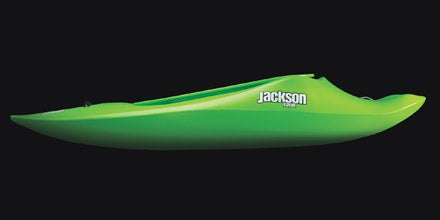 Just Add Water

This year's best new whitewater boats and sea kayaks don't so much break the mold as perfect it. Some excel in specific conditions—like throwing tricks at the local whitewater park, or nimbly exploring sea caves with weeks of supplies on board. Others, like Current Designs' Willow and this year's Gear of the Year winner, Jackson Kayak's Fun, manage an even more impressive feat: They'll put a smile on your face regardless of where you are on the water.
Jackson Kayak Fun (54 gal) $995 jacksonkayak.com


1. Jackson Kayak rolled out 11 models this year—more than all the other domestic boatmakers combined. But our favorite was the completely redesigned 54-gallon Fun, which somehow manages to be a comfy, low-maintenance playboat that's no slouch on performance: It won last year's World Cup.
2. Most boat plugs these days are shaped by computers. Because Jackson's foam plugs are shaped by hand, the Fun's lines are a bit softer, with few sharp edges to catch water and flip you upside down. On eddy lines on the Colorado River, the Fun was as easy to spin flat as it was to take vertical.
3. The Fun's surf-optimized hull is, well, fun. It strikes the ideal balance between slippery and tippy, thanks to a seven-eighths-inch drop chine (the rise of the micro-stairstep between the rail and the planing surface). The boat released easily for spins on small waves on the Arkansas River.
4. The no-hassle fit is a godsend. The cockpit features an air-bladder system (called Happy Feet and Sweet Cheeks, no less). Result: Instead of having to tediously shape foam and adjust straps to achieve the perfect fit, it takes only a few puffs of air to snugly mold the boat to your body.
5. At six feet three inches, the Fun is stubby enough for big aerial loops. But owing to its lengthened waterline and water-shedding, inverted-V-shaped deck, it's plenty stable to take downriver. Plus, like all of Jackson's new performance boats, the Fun is made out of 100 percent recyclable cross-link plastic.
Sunglasses
Oakley Radar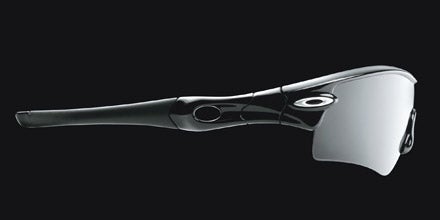 Bright and Mighty

After testing heaps of shades on road and trail and water, here's what we can tell you: Glare-cutting polarizing filters, photochromic lenses that auto-adjust to brightness, and exotic coatings are now standard-issue on high-quality sunglasses. You have to pay for them, of course. With a couple exceptions (which you'll find on the pages that follow), the too-cheap-to-be-true line now hovers around a hundred bucks. Which—if you consider that sunglasses affect both how you see the world and how the world sees you—really isn't that much.
Oakley Radar $155 oakley.com


1. The fashion statement says, more or less, "Prepare to lose, girlie man!" But over-the-top style is not new to Oakley. The main reason the Radar crushes the competition is its truly remarkable lenses, with their anti-everything-that-screws-up-the-view surface treatment (see #2).
2. Mash your thumb against the lens. No, really. The print is oddly faint, isn't it? A fast swipe with the T-shirt and it's gone: no smudge, no cloudiness, no nothin'. Credit goes to a new proprietary lens whose permanent surface treatment repels oils from your skin, sunscreen, bug dope, and even dust.
3. The bowed-in nylon temple and nosepieces, both of which are clad with a bit of hydrophilic (stickier when wet) rubber, keep the Radar secure when things get sweaty. Which is why we loved this model for any sort of fun in the sun, but flat-out adored it for cycling and running.
4. In all kinds of conditions, Oakley's standard Iridium tint shows the world in dramatic clarity, sharpening edges and detail. But if you need puddles to appear—and not disappear—or simply prefer a more amber view of the world, you can swap in an array of optional (and polarized) alternatives.
5. The sculpted cutout at the temple serves as both O-branding and a tiny air scoop to deliver a cooling breeze above the ears. Runners won't feel it, but cyclists will. Either way, you've got to love the declaration of speedworthiness, which the Radar delivers on, even at highway velocities.
Cameras
Panasonic DMC-LX2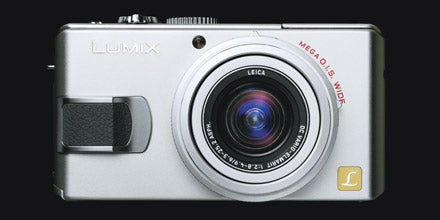 Big Shots

Radical evolution. That's the best way to describe how digital cameras are improving. This year's crop of digicams and DSLRs are smaller, faster, and cheaper than ever—yet are also decked out with big, bright screens. But that's not all. In addition to upgrading the basics, these cameras are also crammed with luxe features, like face recognition, image stabilization, and smart flashes. Intelligent design indeed.
Panasonic DMC-LX2 $500 panasonic.com


1. The LX2 is one of the rare pocket digicams that offers the manual exposure control and instant shutter response required by serious photographers. Add a proven image-stabilization system, a high-res movie mode, an ultraclear LCD screen, plus sharp Leica optics, and the LX2 is a clear standout in every way.
2. While shutter lag and lethargic autofocusing plague many pocket-size digicams, the LX2 responds quickly—aided by a nearly instantaneous high-speed autofocus mode that helps to capture truly candid moments. Like control? Manual mode allows for quick shutter-speed and aperture adjustments.
3. Not only does the LX2 have both a wide-angle lens and viewfinder, but it can take photos with a 16:9 aspect ratio (like a wide- screen TV). It's also one of the few pocket cams able to capture uncompressed RAW files, which for the photo geek means complete post-processing freedom.
4. The LX2's internal image stabilization pulls double duty, steadying the live LCD image for easier framing—in both still and movie mode—and creating sharper final images. Even at 1/15 of a second—a shutter speed that would usually result in blur—I was able to handhold perfectly sharp natural-light portraits.
5. Megapixels are just part of the equation when it comes to sharp images. What really sets the LX2 apart is its 4x Leica zoom lens. Combined with the 10.2-meg sensor—already high-resolution for a pocket cam—it produced razor-sharp, 11-by-14-inch prints that rival those from much more expensive DSLRs.
Luggage
REI Stratocruiser 25
REI Stratocruiser 25

REI Stratocruiser 25
Transit Authorities

When man first invented the wheel, it was a big deal. When man invented wheeled luggage, it too was a big deal (remember suitcases?). And now, transportation evolves yet again with the latest crop of adventure travel luggage. From indestructible carry-on-size packs to massive duffels capable of consuming several weeks' worth of gear to the Gear of the Year–winning, do-it-all REI Stratocruiser, these load haulers are the most versatile we've ever tested.
REI Stratocruiser 25 $230 rei.com


1. The Stratocruiser 25 is a chameleon. It's stylish enough to wheel inconspicuously through swanky hotels, but still tough enough for epic-trip abuse. After 18,000 air miles and a half-dozen rattling safari drives in South Africa, it posted a perfect unscathed score: no tears, breaks, or blown zips. Credit the ballistic-grade nylon and a high-density plastic base, which together make this pack an absolute fortress.
2. With 3,450 uninterrupted cubic inches of storage in the main compartment, there was room for extras like my high-cut boots and telescoping trekking poles. Smaller items have their place, too. The pack's two zippered panel sleeves and the detachable daypack's various enclosures are a neat freak's nirvana. For day tripping, the twin side pockets and organization sleeve on the 1,200-cube daypack allow you to access essentials quickly.
3. A sturdy aluminum handle, shock-absorbing wheels, and low center of gravity all add up to a sweet and stable ride. And when the path gets rough, a legit suspension with stiff aluminum stay is just a few zipper tugs away. In backpack mode, padded shoulder straps and adjustable load-lifters take some of the sting out of long schleps, while the canted andwell-padded waist belt is comfortable—and protects hips from wheels.
GPS
Magellan CrossoverGPS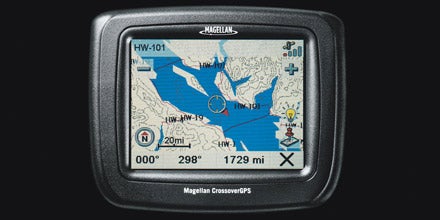 Search and Enjoy

Manufacturers have been cramming GPS technology into everything from phones to bike computers. But too often these devices are clunky, complicated, or both. Times have changed. You no longer have to be a tech-savvy early adopter to use sleek and intuitive GPS-enabled devices like the ones here. Nothing demonstrates this navigational fact of modern life better than this year's Gear of the Year winner, the Magellan Crossover. Which—just like you, undoubtedly—is equally at home on highways and hiking trails.
Magellan CrossoverGPS (8.5 oz) $549 magellangps.com


1. Eliminate extra gadgets: The Crossover is the first unit on the market with outdoor, marine, and advanced vehicle capabilities all crammed into a single lightweight unit. Even with the broad functions, the Crossover is simple to use, thanks to an intuitive, icon-based menu system paired with one of the largest (3.5 inches) and clearest screens we've seen. In other words, the do-it-all age has finally arrived.
2. Menu navigation works directly through the touch screen, so there's no need to remember which button does what. We found our way through several cities before we even bothered to crack the owner's manual. There's a detour feature that helps you re-route around traffic jams and—our favorite—a simulator mode that lets you plug in departure and destination info, and then preview the route being "driven" onscreen.
3. Off the dashboard, the Crossover is up for mellow backcountry trips, thanks to wilderness-friendly features like eight to ten hours of battery life, a simple backtrack function, and a 1.5GB internal memory loaded with North American topo (and street) maps. Plus, with its media-specific SD memory-card slot (cards sold separately) and earphone jack, it doubles as a digital audio player and portable photo album.
Trending on Outside Online