The Best Cardio Machines for Outdoor Athletes
Hack your indoor training to help you set new PRs in the wild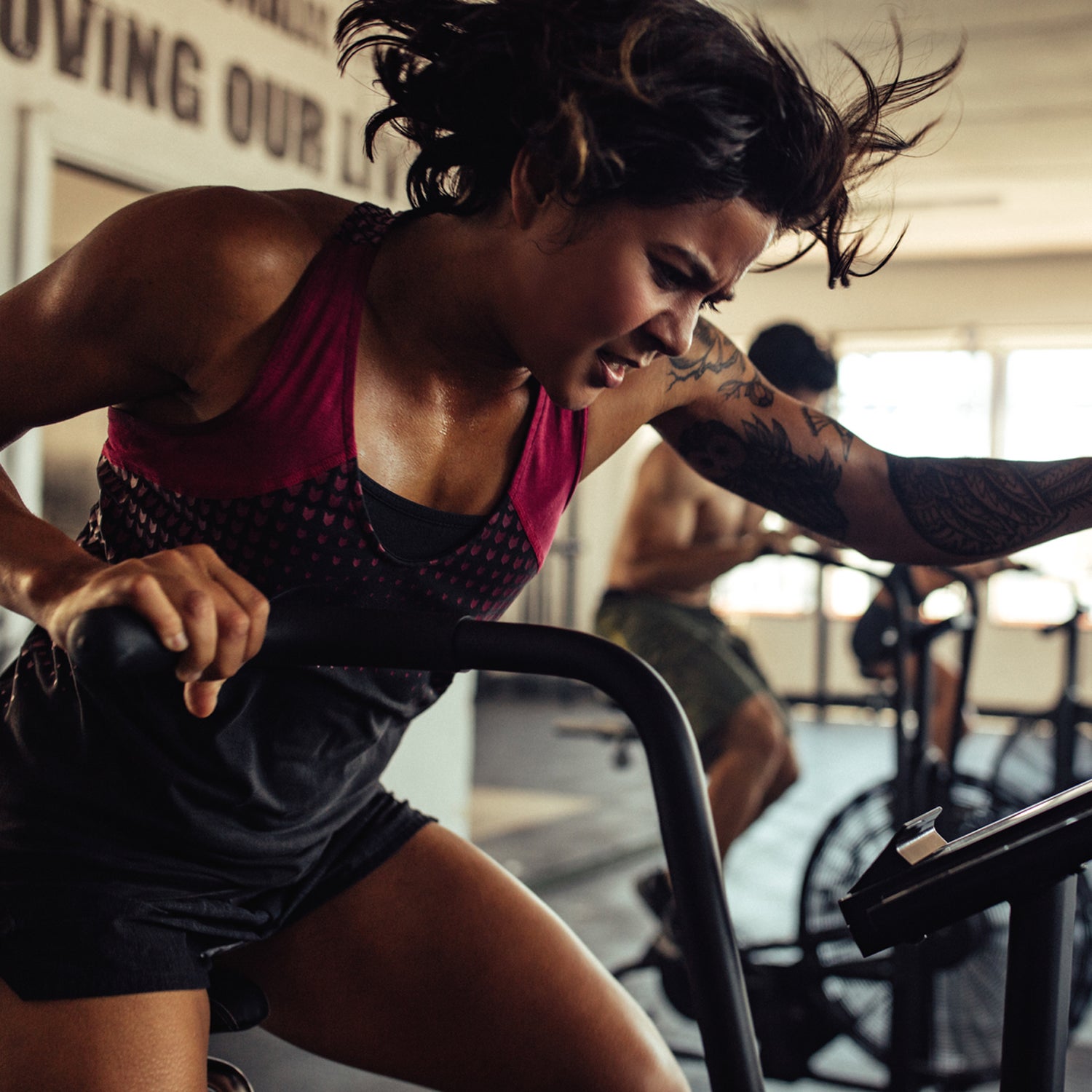 Heading out the door? Read this article on the new Outside+ app available now on iOS devices for members! Download the app.
Theoretically, the beauty of machine-based cardio is that you can improve your fitness in a temperature-controlled building while binge-watching Netflix with easy access to a bathroom, drinking fountain, and smoothie bar. Problem is, people tend to go less hard on cardio apparatus than they'd push outside, according to a study in the journal Gait Posture. What's more, many of those machines don't mimic real-life movement and therefore don't build better fitness. (Cue thoughts of the elliptical.)
But a gym workout doesn't have to be a total wash. In the obscure, lonely corners of your gym lie machines that will create a killer workout, says Peter Park, trainer and founder of Platinum Fitness in Santa Barbara, California.
Those items: the SkiErg, VersaClimber, weighted sled, and fan bike. "No one uses these things because they're so damn hard," says Park. "You can't read a magazine or mess around on your phone, so you get the hardcore people."
But in that pain is promise: that you'll be able to safely push your comfort level and increase your top end, balance your strength and cardio, and build fitness that translates to the real world.
---
The SkiErg
The Benefits: Running, riding, hiking, skiing—nearly every outdoor sport and cardio machine works your lower half harder than your upper. Enter the SkiErg, which mimics the upper-body motion of cross-country skiing. By hammering your upper body and core, the SkiErg balances your bottom-heavy fitness.
"You have to link your upper half to your lower half," says Park. Efficiently transferring power between your two halves is key for everything from skiing and climbing to golf and tennis. "I've put some of the strongest athletes I work with on the SkiErg, and until they learn to link their body together, they go nowhere."
How to Use It: Look at your sport and determine what kind of cardio it entails. Does it center around sessions that are long and steady, like hiking or road biking? Or does it entail quick, all-out burners followed by laid-back lulls, like mountain biking or bouldering? If the former, plug 15,000 meters into the unit's computer and cruise. If the latter, set the computer to count down from 100 meters. Finish the 100 meters as fast as you possibly can. That's one round. Do ten.
---
​VersaClimber
The Benefits: You spent the first six to ten months of your life totally immobile. Then you learned to crawl, a fundamental human movement pattern that requires coordination, mobility, and strength throughout your entire body. Once you went bipedal, you improved your efficiency but became relatively weaker since your legs do most of the work. The VersaClimber takes the crawling motion and turns it vertical, working all your muscles and their ability to move well at once, says Jason Walsh, founder of RiseNation, a gym in Los Angeles that features VersaClimber-based workouts.
Because you use your upper and lower body to cover vertical feet, the VersaClimber is a particularly great machine for climbers. It's also a good pick if you're only in the gym to work off your lunch and get out—you'll burn more calories in less time compared to most standard machines. That's because you work every muscle and can't tap into momentum like you do on something like an elliptical. "It's a great machine for people who like to suffer," says Park.
How to Use It: Hundred-foot climbs are the gold standard for jacking your heart rate; simply climb 100 feet as quick as you can—it should take anywhere from 14 to 30 seconds, depending on your fitness level. "Do them as part of an interval workout," says Walsh, "or as a finisher after your normal routine." For the latter, start with three to four intervals, and try to tack on an extra interval once a week.
---
Dead Sleds
The Benefits: Pushing and dragging a weighted sled, also known as a prowler, rounds out your fitness. "Sleds? Holy hell. Talk about strength and conditioning," says Walsh. But your gym might not have the equipment because it requires a long strip of open space.
Enter what Walsh calls "dead sleds," which mimic the impact of the weighted sled by using a powered-down treadmill. "With the treadmill off, place your hands on the railing, lean into it, and push the track with your legs," says Walsh. The motion cranks your legs and builds the same strength used to move heavy stuff over ground, which is why it's a particularly smart drill for backpackers and mountaineers who carry heavy packs uphill.
How to Use It: If your gym has a sled, push the sled down the length of the gym, then immediately pull it back to the start, walking backward. That's one round. Do five. No sled? Get on that treadmill. You can do sprints like this for up to 20 seconds or a few sets of slower, three-to-five-minute marches.
---
Assault Bike
The Benefits: You will suffer on the fan bike, but its short, lung-bursting repeats will help keep you from bonking on your next endurance endeavor. The old-school bikes get their resistance from wind, which means that the harder you pedal, the harder pedaling becomes. In other words, the fan bike pushes back at you—something you don't get from a regular spin bike.
"It can be brutally hard," says Park. But having super-high spikes in heart rate and power are what can help you finish an event strong. And even though you might hurt your ego when you need to take a break to hyperventilate, you won't hurt your body—fan bikes are one of the safest machines out there. Regular old spin bikes don't have handles, either, so you'll see a bigger upper-body benefit as well since you push and pull the handlebars to help turn the fan.
How to Use It: Use it as a finisher and take a grip-it-and-rip-it approach—hop on, clench the handles, then drop the hammer, pedaling and pushing and pulling the handles as hard as you possibly can. Try the original tabata protocol: Go as hard as you can for 20 seconds, then rest for ten seconds. That's one round. Do eight.
Lead Photo: Jacob Lund/Stocksy