The Paraplegic Marathon Man
At the 2019 Los Angeles Marathon, Adam Gorlitsky will set out to become the first American paraplegic to walk 26.2 miles—and bust his British rival's 36-hour time in the process. But his real dream is to bring assisted mobility to people with disabilities.
Heading out the door? Read this article on the new Outside+ app available now on iOS devices for members! Download the app.
When he was 19 years old, Adam Gorlitsky never wore his seat belt because—well, what could possibly happen? Life was good. He was a sophomore at the University of South Carolina and a fit guy. In high school, he'd run a 4:50 mile and played varsity basketball. Now he was a pickup-game star, a talented outside shooter, a business major, and an esteemed brother at Sigma Chi. On the day it happened—December 30, 2005—he'd just signed the lease on a sweet new apartment.
Gorlitsky moved furniture into the place that day, and then, just after nightfall, climbed into his dad's Chevy Tahoe to make the two-hour journey home from Columbia to his parents' house in Charleston. He was sober, but he was also weary, and he says that when he was careening along Highway 26 at 80 miles per hour, he nodded off for a second. An instant later, his car was rolling down the grassy slope of the median. It smacked sideways into some trees. The accident threw Gorlitsky around the inside of the vehicle until he lay, finally, in the back seat, spitting up blood. He was unable to move. Soon afterward he was airlifted to the Medical University of South Carolina, in Charleston, where X-rays revealed that he'd suffered a T9 spinal fracture. He was paralyzed from the belly button down.
By the time Gorlitsky got into rehab, he had lost 45 pounds from being on a ventilator and still had a tracheotomy tube in his throat. He was so weak that he needed to be lifted into his wheelchair. In a flash, his unformed young life had been inflected with a question he never anticipated: how could he become an adult now that it seemed he would never walk again?
But beginning on March 22, he plans to walk 26.2 miles. At the Los Angeles Marathon, Gorlitsky, now 32, will attempt to become the first American paraplegic ever to walk a full marathon. Relying on an $80,000 robotic exoskeleton, he'll commence the race in the dark, after 10 P.M., more than 24 hours before any other competitors, and then hobble out of Dodger Stadium and along Sunset and then Hollywood Boulevards.
American marathons have been including wheelchair athletes for more than 40 years, but Gorlitsky's 26.2 debut comes as the races are growing more welcoming to athletes with disabilities, and also more lucrative. At next month's Boston Marathon, wheelchair athletes will vie for $125,000 in prize money, up from $84,500 in 2018. (The total purse of last year's race was $830,500).  
Racing the Los Angeles Marathon in an exoskeleton, Gorlitsky will only be chasing after glory. If he finishes in less than 36 hours and 37 minutes, he'll become the fastest paraplegic marathoner in the world.
So is this another feel-good inspirational story about a disabled guy?
Yes. And also no. If only it were that simple.
---
"When you're permanently disabled," Gorlitsky says, "you wake up every day battling against two things—your spinal-cord injury and also society's perception of who you are. You're constantly playing from behind."
Gorlitsky had an uphill road after the accident. He finished nine weeks of rehab, then graduated from USC a year behind schedule. But when he tried to launch a career, it didn't materialize. He was passed over for an internship with a TV production company because, he thinks, he couldn't climb the stairs to the office. He produced some short films, including a moody and ambient music video for the Charleston roots-gospel rock ensemble Stoplight Observations. He set out to create a feature film, but the only money he made came from working for his parents' successful mail-order business, Allergicpet.com, which sells holistic products for dogs and cats. "When I posted pictures of myself on Tinder," he says, "I cropped out my wheelchair. I didn't want people to see it."
But then, in 2015, Gorlitsky says, came the moment that would lend him both agency and self-esteem. At a spinal-cord-injury clinic in Charleston, Gorlitsky tried out a space-age apparatus—the ReWalk exoskeleton, designed to let paraplegics walk again. For the first two weeks, all he could do in the ReWalk was stand there. The stabilizing muscles in his core, unused for a decade, were so taxed that they would ache deeply for days, steeping him in a pain he'd never known as a high school runner. Ten weeks passed before he could walk a city block. Still, he'd regained a part of his old self. "Suddenly," he says, "I went from a seated four foot nine to a standing six foot one."
Released in 2011 after years of development by Israeli engineer Amit Goffer, the ReWalk is an ungainly 60-pound assemblage that consists of two heavy, black leg braces, each containing a whirring motor. Each motor angles forward the hip that it's attached to, bringing the leg along with it. You activate the motors by throwing your weight forward onto low crutches, thereby tripping a sensor in the ReWalk.
Wearing the ReWalk, he felt he'd regained a part of his old self. "Suddenly," he says, "I went from a seated four foot nine to a standing six foot one."
The ReWalk is slow—rarely much faster than one mile an hour. But soon after Gorlitsky took his first few steps, lurching like a landlubber on a heaving boat, he hatched a new career plan. "Instead of trying to make a movie about someone's else's life," he decided, "I'll turn my own life into a movie."
L.A. will be Gorlitsky's 35th road race. Three years into his racing life, he's already walked 10K portions of both the Marine Corps Marathon and the Walt Disney World Marathon, landing himself on the CBS Evening News and ESPN SportsCenter. He's well-known in his native Charleston, and once, when he found himself with a dying ReWalk battery at a 5K on the South Carolina shore, a half-dozen soldiers came to his rescue and carried him atop their shoulders a quarter mile to the finish.
The metaphors surrounding Gorlitsky's journey are monumental, and he works it. In 2016, he abandoned film and launched a nonprofit, I Got Legs, with a proclaimed mission of "improving the lives of the disabled community." I Got Legs has always been a one-man enterprise, but it now has a board of five directors, drawn largely from the Charleston business community, and a budget plan that prays for $150,000 in 2019, as compared to the $52,832 it reported on its most recent tax forms, which document 2017 revenues.
But what thrills Gorlitsky is storytelling and human drama. The stylish website of I Got Legs, shaped by Gorlitsky himself, highlights an I Need Legs campaign set up to raise funds to help other people with disabilities purchase assistive technology. The photos show Gorlitsky sitting in a wheelchair, then rising, half-bent, and finally standing erect, towering and sturdy, vanquishing frailty in his exoskeleton—as if, thanks to robotics, humans could evolve to a new plane of existence.
---
The first time I reached Gorlitsky, on a late-night phone call in November, I found him simmering with disdain for the man he calls his arch nemesis: Simon Kindleysides, the 34-year-old Brit who ReWalked the London Marathon in 36:37 last April.
Like Gorlitsky, Kindleysides is paralyzed from the belly button down (his paralysis was caused by a brain tumor). Gorlitsky's beef with him is that, on Facebook, Kindleysides said he finished in 27:30, a time that excludes numerous stops for battery changes and mechanical fiddling. "When I read his post," Gorlitsky said, "I thought, Oh my God, that's so lame! I told him, 'If we to go by your logic, anyone could take breaks whenever they wanted, and it wouldn't count toward their overall time.'"
"I want to race this guy one-on-one," Gorlitsky said to me. "I'm thinking the New York Marathon next fall. I want it to be intense—just like the World Wrestling Federation!"
Gorlitsky and Kindleysides stand together atop a tiny worldwide community of six or so exoskeletal long-distance racers, competing in a sport so nascent that it lacks codified timing standards. Can't Gorlitsky just try to get along? He is, statistically speaking, the slower athlete: in his only half marathon, in Portland, Oregon, last year, he finished in just under 20 hours. Beyond that, Kindleysides presents himself as a soft-spoken guy. He's a rising pop singer who recently joined Geri Horner, once Ginger Spice of the Spice Girls, as a singing judge on a season of the BBC One show All Together Now. "I tried to be nice and polite with him," Kindleysides told me in December. "But he kept writing me on Facebook, saying things like, 'I'm going to kick your ass.'"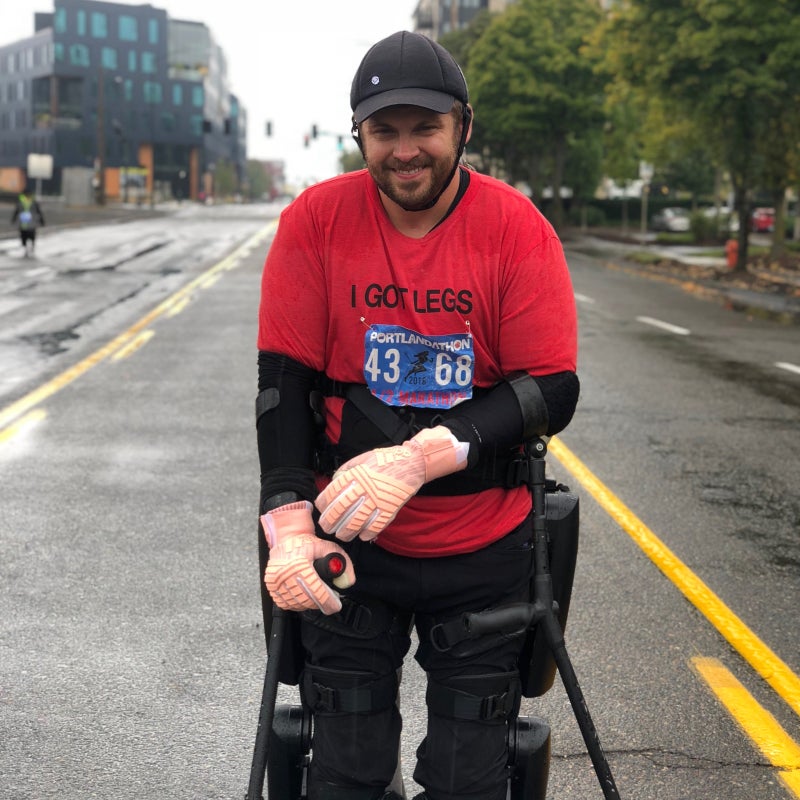 Gorlitsky, it seems, is inclined toward the grand statement. On the phone he told me, "I Got Legs isn't some pat-on-the-back nonprofit. I run it like a Fortune 500 company." He said that he sees himself as the social entrepreneur version of Amazon founder Jeff Bezos. He envisions building a Got Legs! digital network built, as he puts it, "around entertainment, retail, and fund-raising."
But as the public face of U.S. exoskeleton walking, Gorlitsky hasn't convinced everyone who has a disability. Bill Fertig, a paraplegic who serves as director of the New York–based Spinal Cord Resource Center, argues that for most paralyzed people, ambulation is not a paramount concern. "Walking is overrated," Fertig says. Indeed, when the North American Spinal Cord Injury Consortium reported early this year on a survey of 1,800 constituents, it found that their principal hope was not to walk, but to restore bowel, bladder, and sexual function. The majority of paraplegics rely on catheters.
Gorlitsky sees himself as the social-entrepreneur version of Amazon founder Jeff Bezos, building a Got Legs! digital network built around "entertainment, retail, and fund-raising."
Fertig blames the glorification of walking on well-meaning but clueless able-bodied types who use terms like "wheelchair bound." A former police officer who was injured in an off-duty motorcycle accident in 1999, he devotes his time to other pursuits: he swims and also water skis, using a padded extrawide ski topped by a metal cage for stabilization. Winters, he takes to the slopes on a sit-ski. "I don't have time to worry about walking," he says.
Fertig concedes that walking is good for the human body, pointing out that it's crucial for bone density and bowel function. "We're meant to be upright," he says. "But exoskeletons are so expensive that I just can't see them getting much play." Only about 500 ReWalks are in use worldwide. Other manufacturers also make exoskeletons, but they're not as robust and race ready. ReWalk dominates a small market, and while the company does have plans to release faster units, few ReWalk buyers are eligible to be reimbursed by their insurance.
Fertig just doesn't see the ReWalk changing the game for paraplegics. "This thing," he says, "is for the skydivers and the spelunkers of the disabled world."
---
I arrive in Charleston in mid-December, on the eve of I Got Legs' second annual gala, a road race. But this isn't just another boring 5K—it's a beer mile, a four-lap chugalug sprint of the city block surrounding Commonhouse Aleworks.
Gorlitsky's alluring race poster (an exoskeleton sporting Nikes) announces that it's the Betty Carlton Beer Mile, a nod to his late grandmother, who was a chain-smoking roller-derby queen. There is even a Betty Carlton Beer Mile Queen, real estate agent and former TV reporter Sydney Ryan, who delivers just the right amount of ironic ohmygod squealing when a faux-solemn Gorlitsky crowns her with a tiara. Just under a hundred competitors, most of them around Gorlitsky's age, and at least as many spectators have gathered not out of a piteous sense of obligation but rather because, well, where else would a Charleston hipster quaff ales at 11 on a Saturday morning?
Everyone here is, it seems, a Gorlitsky fan, and he works the crowd with aplomb, grinning, dropping wry one-liners, pausing dutifully each time someone asks him to pose for a selfie. "He's got a really good cause," says Howard Thomas, a police officer working the scene. "We see a lot of bad accidents, and it's nice to see something positive come out of one of them."
"He's a good model to anyone in a wheelchair," says beer miler Thomas Sessions, an engineer who is paralyzed from the armpits down. "He's motivating me to become an activist and to think about getting an exoskeleton."
When I join Gorlitsky out on the race course, shuffling beside him as he picks his way to a sub-one-hour mile, I find myself in the midst of a happy family drama. Gorlitsky's dad is walking behind him, holding his hand at times, lest his son falls. Stan Gorlitsky, 69, was a veterinarian before he started Allergicpets.com, and in a thick accent redolent of his native New York, he tells me, "I do this every race. Every race. And I have to train for this, you know. I'm on the treadmill five times a week. At my age, it's a pain in the ass."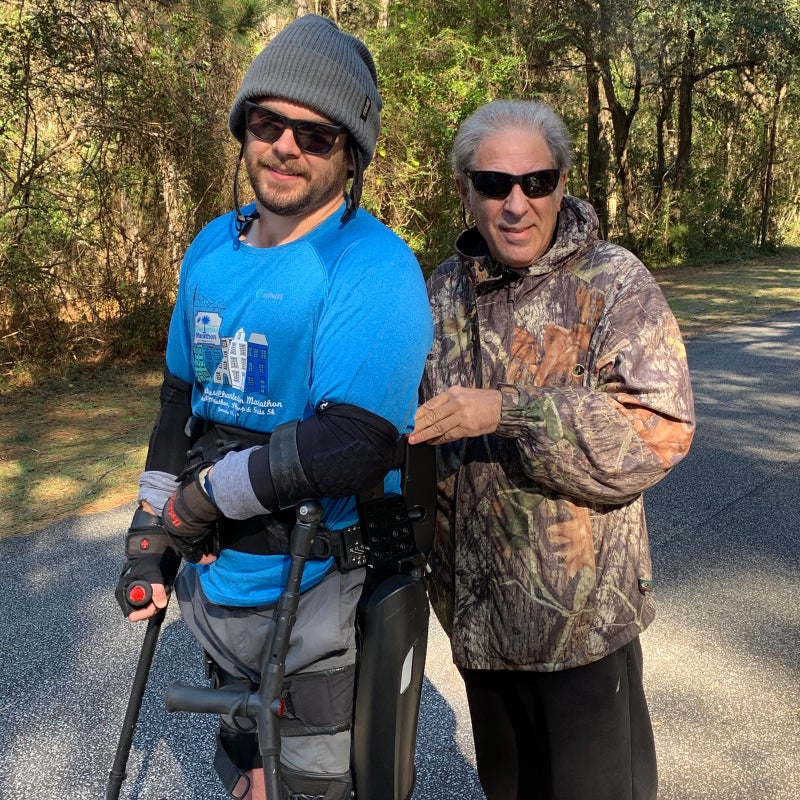 "I'm not drinking today," says Stan, who has three other sons, including one who's living at home with Asperger's. "I'm the designated driver. If he slips and I don't catch him, he'll go down like a cut tree. And it's a bitch to stand him up again."
Gorlitsky pokes his crutches forward, one at a time, as a handful of admirers fan out behind him, their own race long over as they sip beer.
We round a corner. "Any tilts, any sand, any cracks in the pavement, any grates or walkways," Stan says, "forget about it. I have to concentrate. A lot of times, I just tune out conversations."
Today he's not missing much. After the second lap (and third beer), Gorlitsky says, "I'm already drunk!" After the third lap, he says of his exoskeleton, "I wouldn't wear it on a first date. I'm a little self-conscious in it. It takes up a lot of space. But on a second or third date? Definitely!"
Just before Gorlitsky crosses the finish line, he allows himself to dream of next year's beer mile. "I want to have bands," he says. "I want it to be a relay race, a festival. I want to make it a love letter to Charleston."
---
Gorlitsky's emergence as a public figure in Charleston was filled with sparkle and hope. In April 2016, Julian Smith, the longtime director of Charleston's premier road race—the Cooper River Bridge Run, a 10K that draws 40,000 racers each April—welcomed Gorlitsky into the event, even though he knew that the man would be out on the course posing traffic issues for much longer than the average runner. After Gorlitsky finished, in just under seven hours, Smith invited him to speak at a national conference for race directors. Gorlitsky, in turn, got a tattoo on his right arm that reads "17,932"—the number of steps his ReWalk took in the race.
But last year, Smith contracted glioblastoma, an aggressive brain cancer, and in January he decided to step down. Before the 2018 race, Gorlitsky locked horns with the race's deputy director, Irv Batten, who (in the interest of time, permitting, and insurance issues) wanted him to race in a wheelchair. Gorlitsky refused—"I probably dropped some f-bombs," he acknowledges—and was ultimately picked up, ingloriously, by the race's sweep van near the two-mile point, unable to complete the course in the three hours allotted all racers.
Batten declined to comment for this story, but when I visit Gorlitsky at the comfortable two-bedroom house he rents from his dad in the suburbs of Charleston, he has no qualms about describing his feud with another Bridge Run luminary, Marka Danielle Rodgers, a 62-year-old quadriplegic. Rodgers, a ballet instructor and disabilities advocate, has an incomplete spinal injury, meaning that she retains some motor skills and was able to finish the 2016 Cooper River race in just over two hours, using a less elaborate (but still uncommon) set of $20,000 mechanized leg braces made by the German company Ottobock. In 2017, she began to wonder what I Got Legs had actually accomplished, 18 months after incorporating as a 501c3.
"What is actually happening with your foundation?" she wrote Gorlitsky on Facebook Messenger in late November. "Where is the money going? Who are you helping?"
He wrote back, calling her "passive-aggressive," and said that her "emotional statements" called to mind Donald Trump, who both he and Rodgers abhor.
Rodgers is reluctant to criticize Gorlitsky, focusing her concerns instead on the ReWalk. "To put it out there to the public that you can just go to your doctor and get a scrip for this device and go walking—that's misleading," she says. "It's almost dangerous. It takes half an hour just to put a ReWalk on. It takes a lot of work to learn how to use one. It's very frustrating." And for people whose spinal injuries are incomplete, Rodgers says, a ReWalk won't work. "It's jerky on the body. If I tried to use one, it could induce muscle spasms."  
Still, Rodgers's principal question is a good one. What's happening at I Got Legs?
Logistics will be complicated in L.A. Gorlitsky will need to travel the first 20 miles on the sidewalk—over the cracked pavement and patches of sand that give his father, Stan, nightmares.
When Gorlitsky started the nonprofit, he hoped to help other paraplegics buy exoskeletons. Soon, though, he realized that the demand for such devices was low. "They're too expensive," he says, "and they wear out after only a few years." Instead he decided, "We need to help others toward their own version of getting legs."
In recent months, I Got Legs has helped promote a fund-raising dinner for a 13-year-old paraplegic girl who needs an elevator in her home. It also made plans to aid two other mobility-related campaigns: One, set up by a Charleston physical-therapy student, aims to teach Ugandans how to build wheelchairs inexpensively. The other involves a disabled Ohio woman trying to scrape together $2,000 for a hand bike.
The latest tax documents of I Got Legs reveal that it received $38,117 in contributions in 2017, along with $14,715 in program revenues. Much of this went toward the 2016 Ford Explorer that Gorlitsky uses to drive around Charleston and to races. I Got Legs received a deep discount on the vehicle, along with a Braunability wheelchair ramp, from Charleston-based Ilderton Conversion Company, which adapts vehicles for people with disabilities. As for the remaining contributions, "almost all came from sponsorships," Gorlitsky says, "meaning that a business contributes money and in exchange they receive signage or advertising at our events or on the car."
Gorlitsky says that I Got Legs spent the sponsorship funds on two awareness programs: One is his own One Million Steps Tour, which sees him trying to log that many paces at road races (he's currently up to 217,189). The second is what he's dubbed the ReEnabled Racing Circuit, which includes the beer mile and two Charleston-area events that are not run by I Got Legs—a Turkey Day 5K and a July Fourth Firecracker Run.
Thus far, Gorlitsky says, about ten athletes with disabilities have joined him—in wheelchairs, in leg braces, and wearing prosthetics—to compete in the ReEnabled Circuit. I Got Legs has not yet given money to any mobility-impaired individuals, though it plans to in 2019, through a Got Legs! Give Back Fund. It has, however, already launched a program, I Need Legs, designed to help disabled people raise funds. Last year, in its first effort, I Need Legs helped a Charleston-based blind woman—Gina Applebee, a graduate student pursuing a Ph.D. in psychology—raise about $10,000 for a tiny home she described on her GoFundMe page as the "perfect fit for my blind feng shui." I Got Legs helped Applebee by, for instance, hosting a happy-hour fund-raiser at a local bar and introducing her to news reporters.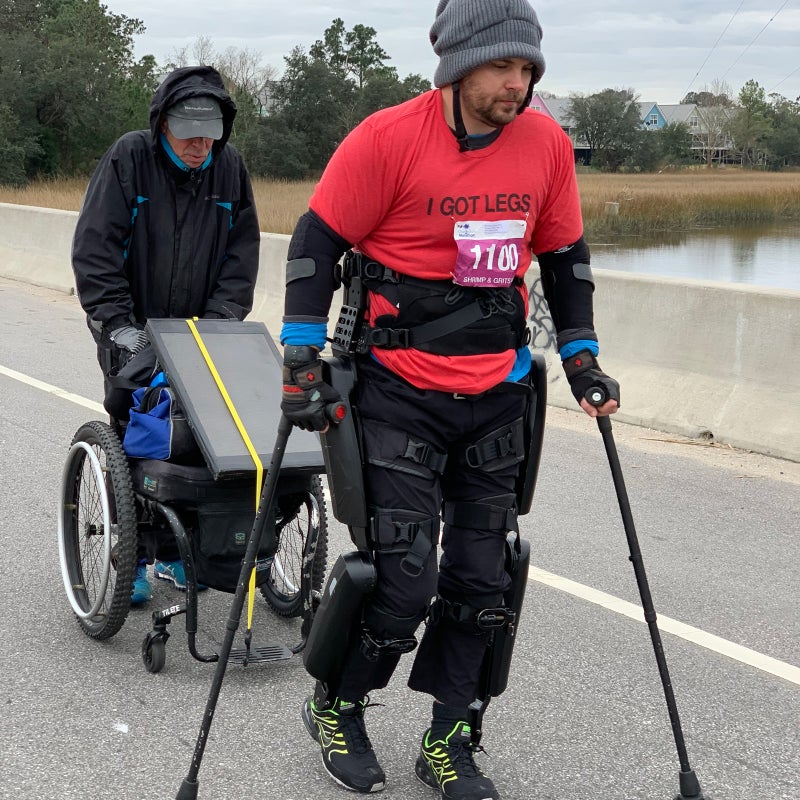 Throughout 2018, Gorlitsky worked with a pair of Charleston consultants, Sandy Morckel and Frank Sonntag, whose outfit Solutions for the Greater Good helps nonprofits with organizational management. As Sonntag sees it, Gorlitsky is a "big thinker" whose vision surpasses I Got Legs' tiny budget, and who's already looking to fund stem-cell research and create an endowment. Sonntag would like to see I Got Legs focus on aiding the mobility impaired. But he tells me, his tone judicious, "Adam isn't a pushover. He doesn't just flatly follow our lead."
Gorlitsky says he arrived at his $150,000 budget for 2019 with the help of Sonntag and the board. Without divulging specifics, he claims he's got some large donors lined up. "I'm into big rhetoric for sure," he says, "but people are starting to see that I'll live up to the rhetoric."
"From day one, my philosophy has been: You have to raise public awareness. From there, you can leverage fund-raising money," Gorlitsky says. "We're a content-driven nonprofit," he adds, alluding to the thousands of autobiographical videos he's uploaded to Facebook and other platforms. "We create content, and we leverage it to build community and educate people. I don't give a shit about money. If your nonprofit places too much emphasis on giving money away—well, then you're just a GoFundMe. "
---
On the morning after the beer mile, I join Gorlitsky for what is his first marathon-training sesh—a ten-mile hand-bike spin through a quiet suburban neighborhood. He's on the hand cycle; I'm on wheeled roller skis. As we glide along, he tells me that soon he'll be walking about ten miles a week and also doing frequent hand-cycling and gym sessions. "I'd like to walk more," he says, before considering his training partner. "But I have to be mindful of my dad's body, too."
Stan has been training on the treadmill, and he says, "I'm 99 percent sure I'll make it. Bottom line: I'm his roadie. He needs me."
Logistics will be complicated in L.A. In December, Gorlitsky received a legalistic 11-paragraph letter from the Los Angeles Marathon office green-lighting his participation but also making clear that its officials were not about to stop traffic for 30-plus hours. "You will start at the 32K mark at 6:30 A.M.," the letter reads. "Your walk to the start line is not sanctioned."
In other words, Gorlitsky will need to travel the first 20 miles on the sidewalk—over the cracked pavement and patches of sand that give Stan Gorlitsky nightmares. He'll move with an entourage—at least one ReWalk technician, a few supporters, and also a filmmaker, Caitlin Weiler, who's including Adam's journey in a documentary on her late father, a quadriplegic. Gorlitsky's crew will carry some food and water on the back of his wheelchair.
Simon Kindleysides navigated London with a team as well. He did the last 18 miles of his marathon on sidewalks, alongside streets streaming with traffic. Which means that when Gorlitsky guns for Kindleysides's record, he'll be ReWalking onto a level playing field. "I'd say I have an 80 percent chance of beating Simon's time," he tells me. "I ran a 4:50 mile in high school. I played varsity basketball."
Gorlitsky questions Kindleysides's claim to have moved along at a 62-minute-mile pace at the London Marathon. "How's that even possible?" he asks. Kindleysides says he told Gorlitsky, "Look, every disabled person has different abilities."
A ReWalk service engineer, Wai Li, sheds a little light on this question. "Gorlitsky is not too smooth," says Li, who walked the Portland half marathon beside him. As is true to a certain extent for all exoskeleton users, he says, "When Adam gets tired, he leans in many directions. He leans over the crutches so much. Supposedly, they are just there for balance, but his hands got bruised. In the end, he had to stop every block and rub them." Kindleysides, who is better able to recruit his core muscles, walked more upright. His hands were sore but not bruised after his marathon.
"Simon has huge trunk control," Gorlitsky tells me at the tail end of my visit. We're at his house, and he begins scrolling through his rival's Facebook feed. "There's a lot of selfies," he says. "There's a boy-band thing going on. He's got the tattoos, the hair."
As I drive toward the airport, I remember something Gorlitsky said in an e-mail early on: "Every time I say the F-word to someone," he wrote, "I do give them a big hug and tell them I'm sorry immediately after." Gorlitsky gets it. He's young, and he's had a life freighted with more frustrations and challenges than most. Perhaps it is only a matter of time before he learns to channel the frustration within.
Simon Kindleysides may already be there. When I call him to ask for his thoughts on Gorlitsky's upcoming race, his voice is cheery as his kids squeal and cavort in the background. "He says he's going to beat me," Kindleysides says, "that's he going to smash my record. Well then, why doesn't he just bring it on? Isn't that what competition is all about? I wish him good luck."
Lead Photo: Courtesy Adam Gorlitsky