The Best Advice of 2016, from the World's Best Athletes
We spent a year picking the brains of the best performers alive about the secrets to their success. Here's what we learned.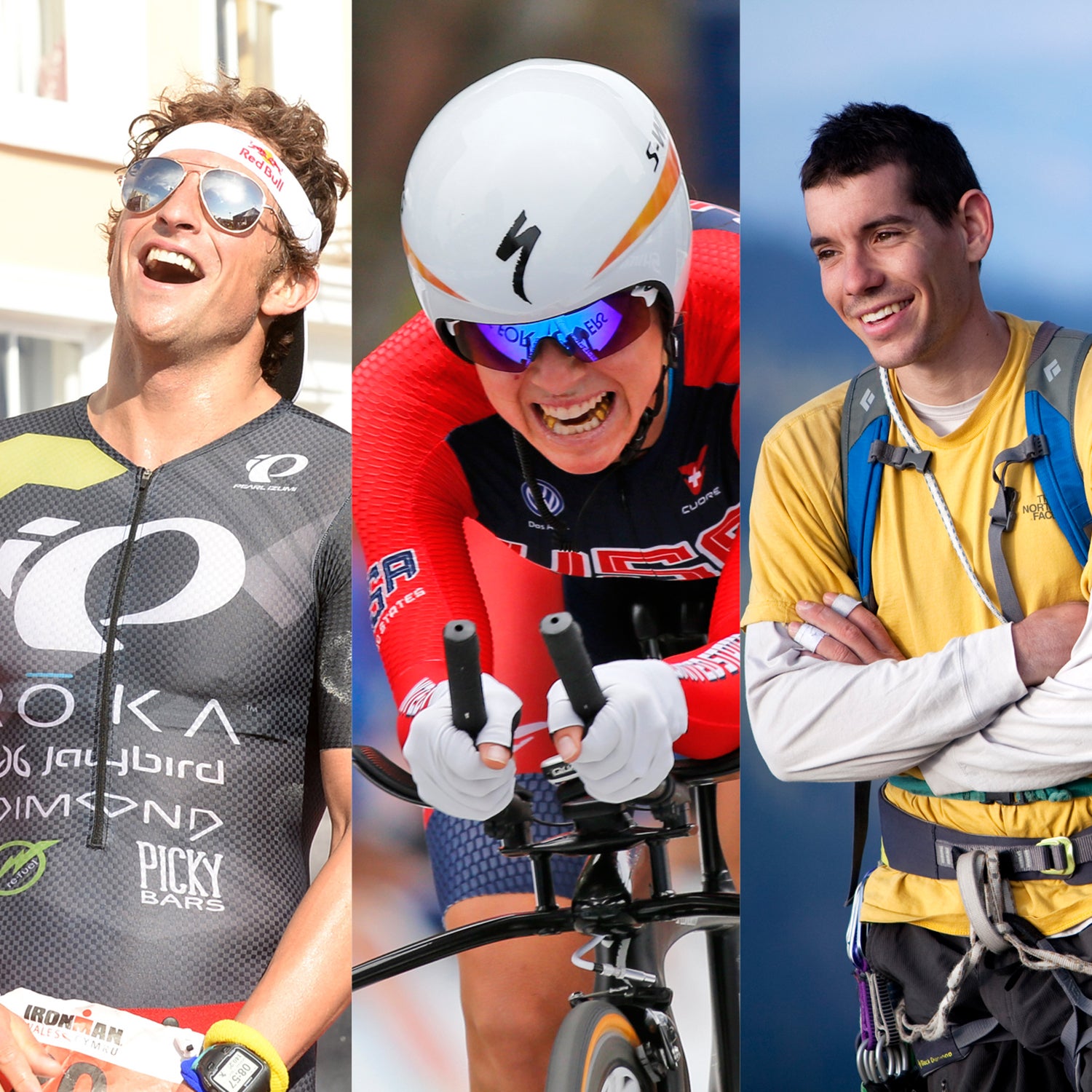 AP/Corey Rich/Aurora(Photo)
Heading out the door? Read this article on the new Outside+ app available now on iOS devices for members! Download the app.
Over the past year, I've had the privilege of interviewing over twenty of the world's best performers for my Fitness Coach column: people like big-mountain climber Jimmy Chin, Olympic marathon runner Des Linden, CrossFit guru Kelly Starret, big-wave surfer Nic Lamb, and NFL strength and conditioning coach Brett Bartholomew. While each of these conversations was fascinating in its own right, what struck me most was the emergence of a few themes that cut across just about every discipline. I learned that whether someone is trying to win an Ironman triathlon, write a best-selling book, or shatter a free-diving record, many of the practices underlying their success are the same. And these practices can be harnessed by anyone. 
In 2017, Fitness Coach will be transitioning to Science of Performance. I'll still be interviewing athletes living on the razor's edge, but I'll also be covering broader topics related to the physiology and psychology of pushing our bodies to the limit, and the philosophy behind why we do so. But first, in a finale to this series, I leave you with these seven keys to peak performance, as told by the world's best. 
---
Eat Real Food
"A performance diet is comprised of loads of produce, high-quality fats and proteins, and whole grains—in other words, real foods. Before you start supplementing with amino acids and measuring out cumin and cinnamon, ask yourself: are you getting six to eight servings of vegetables per day? Are you eating a lot of fruit? Focus on mastering the basics." —Kelly Starret, mobility expert and CrossFit coach 
"I don't do anything fancy or count calories. I just try to avoid eating stuff that comes in bags or boxes." —Des Linden, elite marathoner 
"When it comes to daily nutrition, I aim for a B-plus or A-minus. I'm good—limiting processed foods, avoiding sugar, eating mindfully, not stuffing myself—but I'm not perfect. I never go full-out A-plus. That kind of rigidity and restriction just isn't sustainable." —Jesse Thomas, six-time Wildflower Triathlon champion and CEO of Picky Bars
---
Get Comfortable with Pain 
"During really hard training intervals, instead of thinking 'I want these to be over,' I try to feel and sit with the pain. Heck, I even try to embrace it." —Evelyn Stevens, elite cyclist 
"It's only when you step outside your comfort zone that you grow. Being uncomfortable is the path to personal development. It is the opposite of complacency." —Nic Lamb, big-wave surfer
"Hard workouts are an opportunity for learning how to deal with the inevitable pain and discomfort of running 100 miles. When I'm really going to the well in training and I want to slow down or adjust the session, I remind myself that it's like putting a deposit in the bank: suffer now, race better later." —Dylan Bowman, North Face and Red Bull-sponsored ultrarunner 
---
Sleep 
"Sleep is the most important thing you can do for recovery. And it's free. In a 24-hour period, I'll get nine to 10 hours. Usually, I'll sleep for seven to eight hours at night and then take a two-hour nap during the day, but sometimes I'll sleep for 10-11 hours straight." —Mirinda Carfrae, triathlete 
"Sleep is a part of my job; I take it very seriously." —Brenda Martinez, Olympic middle-distance runner
---
Prime for Performance 
"I focus on priming my system prior to races so I can be ready to go right out the gate. I'll spin on the bike for 10 minutes when I wake up and do some core work, too. It's all about activating the muscles I'll use during the race early and often." —Ted Ligety, two-time Olympic gold medalist skier
"I visualize all the moves and memorize the sequences to make sure I can physically climb the route. I also think about various positions, especially those that could be scary. I imagine every aspect of the climb beforehand so that nothing surprises me while I'm up there." —Alex Honnold, free-solo climber. 
"Find a routine to repeat before you race. For me it's yoga. I do the exact same yoga routine every time. It only takes about 20-25 minutes, and it predictably puts my body and mind in race mode." —Megan Gaurnier, cyclist 
---
Accept Fear
"Fear is always there, it's a survival instinct. You just need to know how to manage it. It's about sorting out perceived risk from real risk, and then being as rational as possible with what's left. Am I in control of the situation? Do I possess the skills and capabilities to succeed? If you answer yes to these kinds of questions, go. But if you answer no, have the guts to turn around. Don't get paralyzed; get rational." —Jimmy Chin, mountaineer
"I don't hide from fear or try to ignore it. I feel the fear and channel it to help me focus, to nail the line or to put up the biggest ride I can. And when it's all over, the fact that fear was with me the entire time makes the run that much more of an accomplishment." —Dane Jackson, whitewater kayaker
"Focus on what you are doing in the moment. Experience is key here. The more you are in a certain scenario, the more comfortable you become." —William Trubridge, freediver
---
Embrace Rest
"Rest is a weapon. What was once seen as a weakness is now a strength. There are all kinds of ways to recover, what I call regenerative strategies. They range from listening to calm music, to massage, to aroma therapy—anything that helps you relax and transition from the stress of a workout to a more restful state." —Brett Bartholomew, NFL strength and conditioning coach
"If the thought of a hard workout brings you close to tears, skip it. It's better to take a few days off now than to put yourself in a hole that takes weeks to dig out of later." —Megan Gaurnier, cyclist
"Recovery starts with smart training and understanding your body's natural rhythms and cycles. How many easy days do you need after an intense day? How many weeks can you train hard before taking a break? How often can you race? If you listen to your body and are honest with yourself, you'll be able to answer these critically important questions." —Amby Burfoot, veteran marathoner 
---
Prioritize Mental Fitness 
"Focus on what you can control, like the effort that you put in, and don't waste energy on the things you cannot control, like the outcome of an event. This is especially important in athletic endeavors, where conserving energy is of the utmost importance." —Ryan Holiday, author
"Whenever I get down and catch myself with negative thoughts, I pretend I'm saying those things aloud to another person. I ask myself, would you ever say, 'Well, it looks like you're really blowing up, your day is over,' to a training partner who is struggling? Of course not! You'd tell him, 'Keep pushing and just make it through the next five minutes.' Or maybe you'd say, 'Eat, drink, and hang in there until the next aid station.' Going through this exercise helps me replace negative thoughts with positive ones." —Rebecca Rusch, world-champion adventure racer
"There is such a difference between asking yourself, 'Oh gosh, can I do it?' and saying 'I'm going to do this.' The former breeds self-doubt and almost always stifles performance. The latter sets you up to go all-in and have no regrets, even if things don't pan out." —Sarah Piampiano, triathlete
---
Brad Stulberg (@Bstulberg) is a coauthor of the forthcoming book Peak Performance.
Lead Photo: AP/Corey Rich/Aurora