How Rituals Could Help You Win
Don't feel bad about your semineurotic prerace protocol. It might be one of the keys to your success.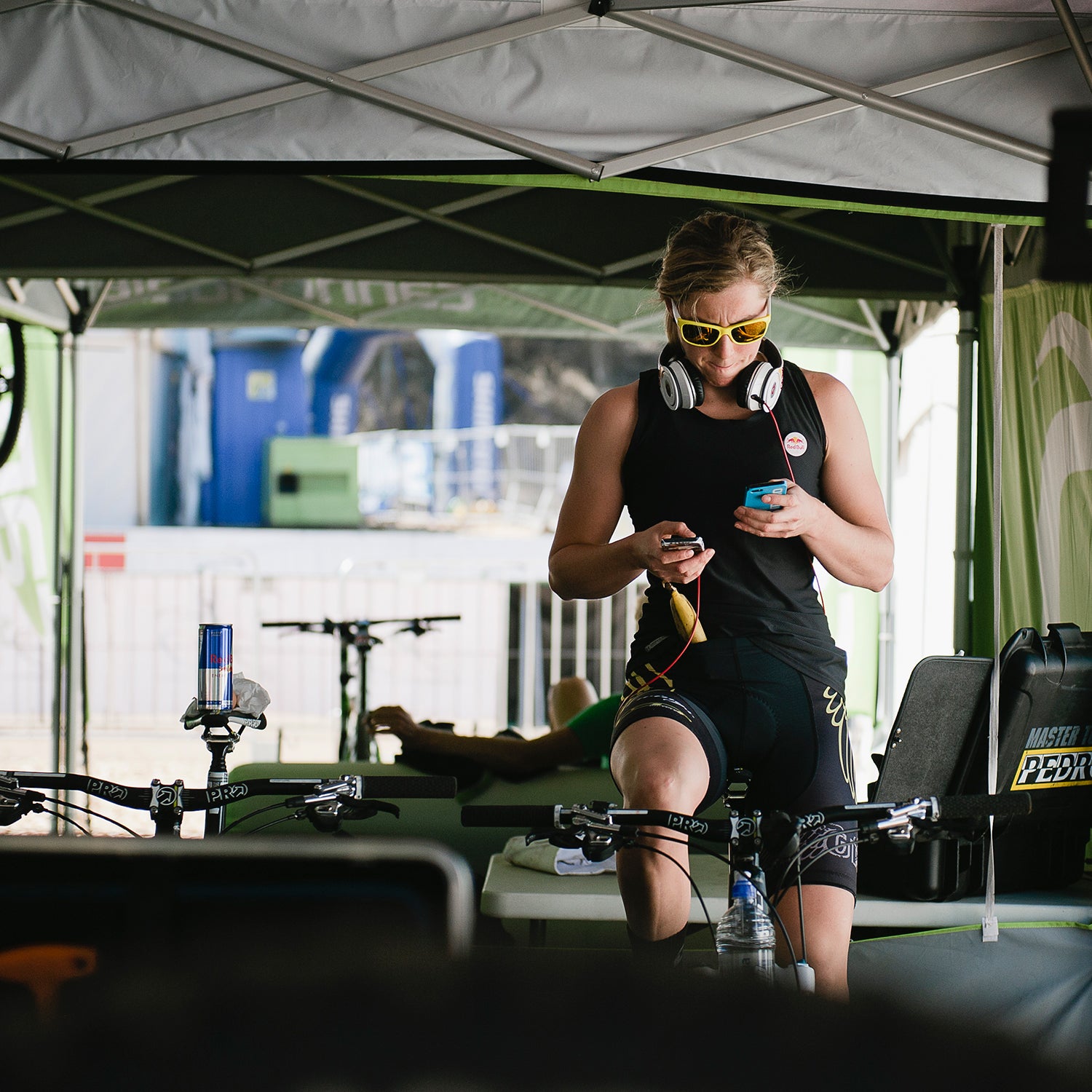 Tyrone Bradley/Red Bull Content(Photo)
Heading out the door? Read this article on the new Outside+ app available now on iOS devices for members! Download the app.
Downhill mountain bike world champion Rachel Atherton thrives on ritual, from what she eats for breakfast to which shoe she puts on first. "It's all part of a chain of events," she says. "Sometimes I stand there with my shoe in my hand, and I wonder if I could risk putting my right shoe on first. But the left always wins." Those rituals, fringy as they may seem, help Atherton bomb down the gnarliest mountain tracks in the world at blistering speeds. Atherton currently has 33 World Cup wins to her name. If she makes it to 41, she will become the most successful athlete, male or female, in mountain bike history. At last year's World Cup Championships in Mont Sainte-Anne, Atherton clocked a speed of 45 mph—faster than all but three of the 78 male riders.
While rituals have played a prominent role for hunters, military officers, and religious members for centuries, their prevalence among athletes has been explored only more recently. New research doesn't just draw a connection between rituals and positive performance outcomes; it also explains why it is that athletes who follow rituals—defined as "steps occurring in a fixed episode sequence" and occurring with "a high level of rigidity and formality"—are more successful. In short, rituals keep anxiety and nerves at bay by giving athletes a reliable set of actions to fall back on, and it diminishes the power negativity has on your brain after a mistake or misstep. The form that these rituals take, however, varies widely among elites, each with their own eccentricities and quirks.
Some involve words or other forms of communication rather than individual action. For more than a hundred years, Hawaiian surfers have started their competitions with a chant circle, known locally as a "pule." Before every race, multiple Ironman champion Danielle Mack says the same prayer. The last person world champion steeplechaser Emma Coburn talks to before every race is her husband (now coach), either via text or in person. It's been that way since she was in college. Atherton skips the words and goes for a special handshake with her team manager instead. "We have to do it until it's perfect. I look him in the eyes and look for that confidence and belief in me. If he knows it, I feel it." And while it's not a chant per se, the last song Atherton always listens to during her warmup is is Britney Spears' "Circus."
What an athlete does with a space can also be considered ritualistic. For mountain bike cross-country champion and Stanford student Kate Courtney, tidying up her hotel room the night before a race increases her confidence. For ultra-endurance rower Carlo Facchino, it's about creating a familiar environment in unfamiliar territory. Often when he travels to a new place—like another university for a regatta during his collegiate career or the Arctic shelf as part of the record-breaking Polar Row team—Facchino brings a bottle full of water from his home port. "We pour the bottle into the body of water where we are competing to signify that even though we are away from our home, we are still rowing on our water."
In short, rituals keep anxiety and nerves at bay by giving athletes a consistent set of actions to fall back on.
Many athletes have made clothing an essential part of their rituals. Before every race, ultrarunner Dylan Bowman puts on a new pair of knee-high compression socks. "The socks feel so cozy that I automatically feel quicker," he says. "It's especially helpful when you're staring down the barrel of a 100-mile race." In addition to the new compression socks, Bowman also likes to wear brightly colored (orange is his preference) tight-fitting clothing when he has a hard workout. "It helps me feel speedier when I'm wearing tighter clothing—like a ninja. And when you feel fast, it bleeds over into the actual reality of the workout. You are faster," he says. Bowman's speedwork wardrobe rituals seem to be paying off. This summer at the UTMB, Bowman finished seventh with a time that would have won the race 13 out of the past 15 years. To encourage himself to go legitimately easy on recovery days, he wears baggy earth-toned clothing.
Perhaps the most storied object of ritual fixation is food. While peanut butter and banana on toast may not seem like a consecrated meal, Coburn eats this 30 minutes before every race, no questions asked, and has since high school. Atherton goes for the sugar rush, popping a few Haribo gummy bears and swigging down some apple juice while she warms up on the turbo trainer before a race. 
In June, Atherton's historic 13 World Cup winning streak came to an end when she dislocated her shoulder at a race practice. When a streak is broken, how does an athlete so steeped in ritual return to winning when winning is part of the ritual? "So much pressure has built. Maybe it's my own fault for having won so much. The first couple wins you have are better than anything you can get. That's why you keep racing—to try to recapture the feeling of that first win."
Until then, though, you start with what you know—putting on your left shoe first, wearing neon orange for speed days, organizing your hotel room the night before a race, or whatever your thing is. Keep doing that and, as these athletes demonstrate, you might just be better for it.
Lead Photo: Tyrone Bradley/Red Bull Content