Jenny Fletcher
No, you haven't met her somewhere before, and neither had we. Fletcher, a 33-year-old triathlete from Red Deer, Alberta, has spent the last five years coming up through the amateur-triathlon ranks, consistently winning her age group, and is poised to go pro in 2009. How does she practice jockeying against other hard-bodied type-A women who occasionally kick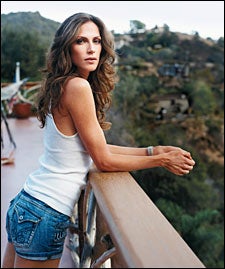 Heading out the door? Read this article on the new Outside+ app available now on iOS devices for members! Download the app.
OUTSIDE: Athlete/model or model/athlete?
Jenny Fletcher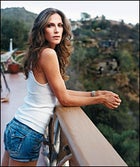 FLETCHER: I'm as much a model as a triathlete. I grew up hardcore into sports and then went into modeling at 15. But the whole time, I was always competing. Now I'm combining the two, and that's even better.
You mean like training on a diet of cigarettes and salad?
I like to eat a lot. That's half the reason I? do sports. In modeling, like triathlon, you want to take care of yourself first.
It seems like triathlon is better than most sports for building a good physique.
You know, what I love about triathlon is how your body appears balanced. If I were just a swimmer, I'd get this huge upper body and walk around like a football player. And if I were just a runner or cyclist, I'd get big calves. It's cool to combine the three.
Do you prefer heart-rate monitors or pain threshold for training?
I keep it natural, but in order to take it to the next level, I've become addicted to the bike computer. I want to see my speed, my RPMs that pushes me.
What's the next level? The Olympics?
Who doesn't want to go to the Olympics? That's been my dream since I was a little girl. I have to take one year at a time, but that's my long-term goal.
Do you ever get dirty looks at the starting line?
I'm a model; it's nothing new. I know there'll be people who think, She's just a pretty girl, but that only makes me want to become an even stronger athlete. Besides, once people get to know me, they see that I'm as raw and natural as any of them. And I love the sport.