The Pre-Workout Cooling Routine
An easy, dramatic performance boost based on an old science is catching on. It's about time.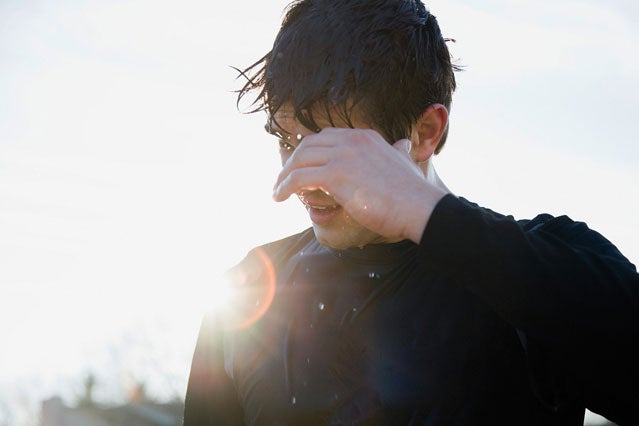 Maisie Paterson
Heading out the door? Read this article on the new Outside+ app available now on iOS devices for members! Download the app.
American cyclist Peter Stetina, a two-time national champion who rides for team Garmin-Cervélo, recently adopted one of the sport's more bizarre pre-race rituals: freezing his butt off. Before the starting gun, Stetina will drink slushies from the team's support vehicle, wear ice packs, and drape himself in wet towels. "I try to get myself as cold as possible," says Stetina. "That way I don't overheat as fast." He's not alone. In an effort to control body temperature, cyclists, triathletes, runners, and even race-car drivers have taken to slugging bottles of ice­ ­water, covering their arms in Liquid Ice (a menthol cream that cools the skin), blasting fans in their faces, even draping ice-filled panty hose around their necks.
The basic principle is simple: Most people's central organs—specifically the liver, kidneys, and intestines—rise above 101 ­degrees during exercise. When that happens, water and blood begin to leave your muscles and race to the skin in an attempt to cool you down. This depletes the muscles of oxygen and dehydrates them, causing fatigue. Yet while most athletes reach the 101-degree threshold after just 20 to 30 minutes of exercise, recent studies have shown that cooling beforehand can delay the process significantly.
"Endurance athletes who precool can keep their body temperature below that threshold and perform at their highest level 10 to 20 percent longer than those who don't precool," says Stacy Sims, a Stanford University sports physiologist who works with a number of professional athletes and is one of the ­nation's top authorities on thermoregulation.
While testing the effects of hydration on core temperatures last year in ­Hawaii, triathlete Craig Alexander, who has won the Ironman World Championship three times, most recently in October, says he was able to improve performance simply by keeping his body cool. To do that, he drank cold water and slushies, then swallowed a microscopic thermometer and tracked his core temp on a handheld device. "The thing I noticed most," says Alexander, "is that you don't dehydrate as quickly, because you're just not sweating as much."
If this all seems obvious, it should: NASA confirmed the science as far back as 1986. But the sports community, usually keen to embrace any new (even unproven) theory in order to gain an edge, was slow to react. Icing was for after the race. Recent studies demonstrating just how dramatic the effect is, however, have rapidly changed minds in the endurance community, and now the freeze frenzy is spreading. In August, Sims published a report showing that athletes who do power sports—activities like weight lifting or rock climbing—also benefit from precooling. She found that people given water chilled to 40 degrees were able to jump as much as 15 percent farther than when they'd ingested room-temperature water. In another study, published last June by the Centers for Disease Control (CDC), researchers found that the head, forearms, inner thighs, and neck are the ­places that respond best to external cooling. That study also found that cooling vests, a popular device now offered by a number of companies hoping to cash in on the cooling craze, are worthless. "They don't work," says Aitor Coca, a physiologist with the CDC, "because the best way to cool the core from the outside is by cooling areas with blood vessels close to the surface of the skin."
That makes sense to Jeff Louder, a cyclist on the BMC Racing Team. He ­thermoregulated his core through 100-degree temperatures at the 2008 Commerce Bank International Championship, a bike race in Philadelphia, by "putting ice right on my groin, basically right on the femoral artery, so that cool blood was being pumped directly into my core." Louder says it made riding in hellish conditions feel comfortable.
None of this is to say you won't break the 101 barrier eventually. It's inevitable, in fact, during longer races. Coca says it's fairly easy to tell whether your core is too hot. In the summer you'll experience profuse sweating, fatigue, and worsening cognition; in the winter you'll deal with cold skin and swollen red hands. Sims has also developed a test for runners and cyclists looking for another use for their heart-rate monitors. "If your heart rate has remained steady or gone up, but your wattage on your bike or your running pace has gone down, you're probably overheating," she says. "It's time to cool off." Her recommendation? "A slushie works great."
Can Cryotherapy Help Athletes Recover Faster?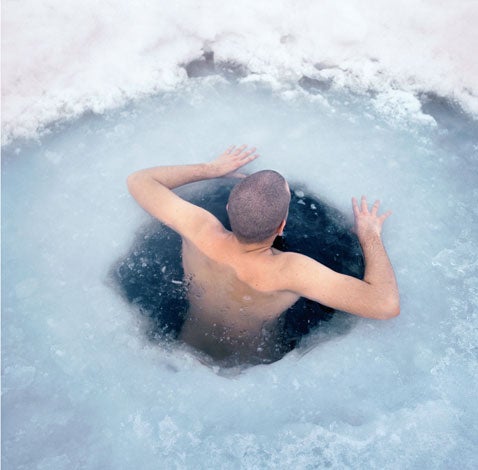 In August, when 2004 Olympic gold medalist sprinter Justin Gatlin arrived at the World Outdoor Track and Field Championships with frostbite on his feet, an obscure recovery technique called whole-body cryotherapy (WBC) entered the spotlight. The therapy, which involves standing in a cryosauna—a shower-sized metal chamber that's pumped full of nitrogen-gas-cooled air, lowering the ambient temperature to minus 160 degrees Fahrenheit—is one of the trendiest in sports: everyone from running coach Alberto Salazar to the NBA's Dallas Mavericks have experimented with it. Gatlin had, too—but this time he entered the cryosauna wearing wet socks.
The therapy, developed in Japan in the 1970s, has been promoted for everything from quicker injury recovery and decreased muscle soreness after exercise to, paradoxically, ­increased sexual stamina. And thanks to a proliferation of cryosaunas—Millennium Ice, the largest company offering them in the United States, has more than a dozen throughout the country—amateur athletes are signing on at $75 a pop. The idea is that the brutally cold air will cause blood to flow out of the skin and muscles as the body uses that heat to protect its core, thereby reducing muscle inflammation. But the science is still catching up with the hype. The latest study on WBC, published in July, found that a key protein that marks muscle damage stayed at the same levels in patients who were treated with WBC after an intense workout but spiked in those who didn't receive the therapy. The question now is whether inhibiting inflammatory signals could actually be worse for an athlete
"We know nothing about the long-term effect of cryotherapy, nor its effect on the training response," says François Bieuzen, a scientist at France's National Institute of Sport, Expertise, and Performance and a coauthor of the study. "But this therapy can be useful during an event like the Tour de France, where the main objective is to limit fatigue rather than continue to improve." As for increased libido, it's probably best to stick with the little blue pill.