Rebecca Rusch Never Lets Herself Get Bored
The pro mountain biker recently completed a 1,000-mile trip around Arkansas in eight days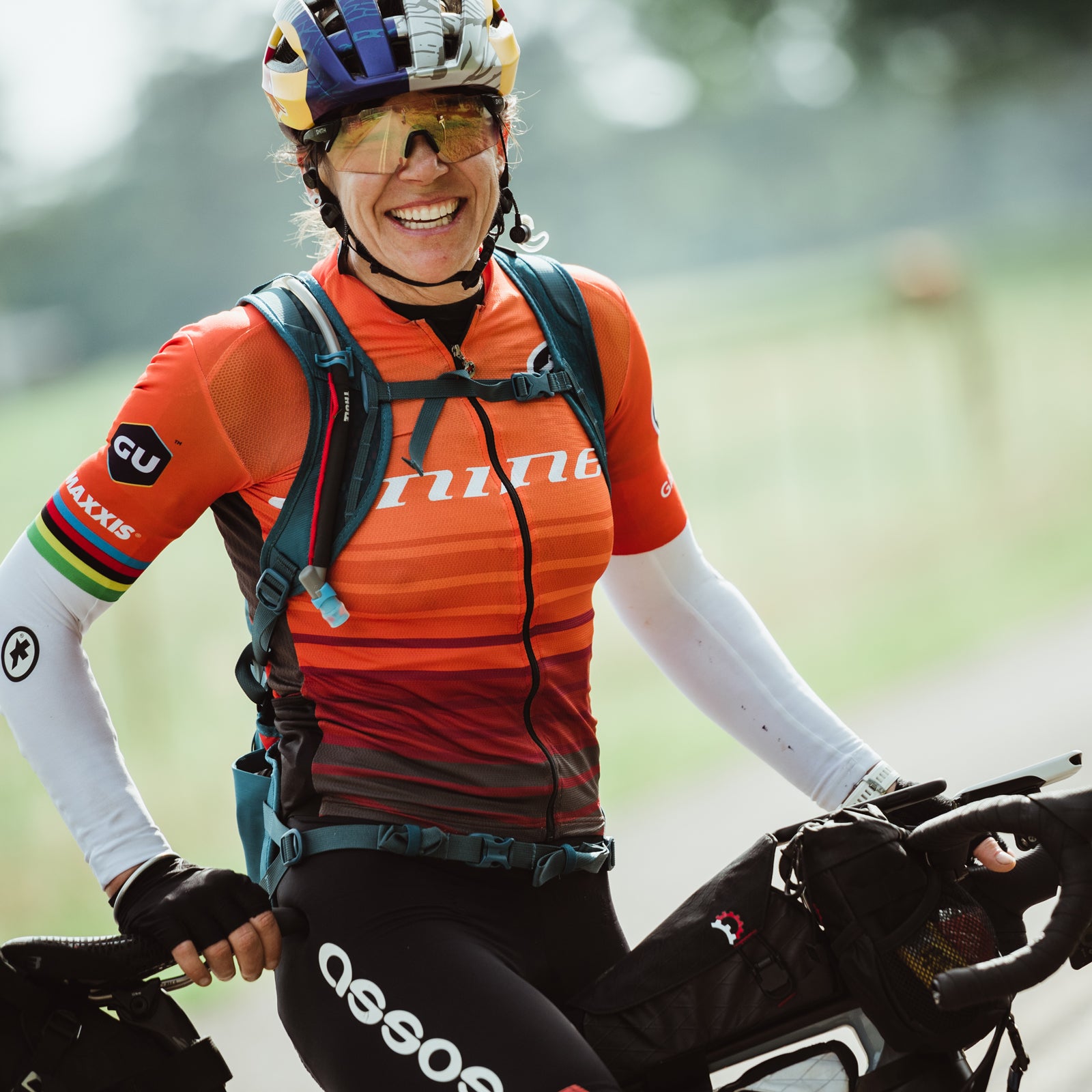 Pat R. Notaro/Red Bull Content P(Photo)
Heading out the door? Read this article on the new Outside+ app available now on iOS devices for members! Download the app.
Rebecca Rusch just finished the longest bike ride of her life. Although the 50-year-old professional mountain biker has dominated a variety of disciplines in her 30-year career, this adventure at the beginning of May was easily her biggest single effort: breaking in the newly created Arkansas High Country Route, a 1,041-mile loop circumnavigating the entire state that mixes lonely gravel and paved roads. "It's the most hours I've ever spent on a bike, basically pedaling for 12 to 15 hours a day continuously," Rusch says. "I honestly didn't know how my body would react to that much time in the saddle."
The Arkansas High Country Route was created by the Adventure Cycling Association, a nonprofit that develops and promotes long-distance cycling routes. It connects some of the state's most picturesque and remote destinations, including Buffalo National Scenic River and the Ouachita and Ozark Mountains. At the beginning of 2019, the organization invited Rusch to test the route and set the inaugural fastest known time, a feat that proved tougher than Rusch expected. "There isn't a flat road in the entire state," Rusch says. "I live in Idaho, so I'm no stranger to mountains, but the climbing in Arkansas was tough."
Still, Rusch's body reacted just fine to all that climbing (80,000 feet) and time in the saddle (107 hours in eight days). Her knees and feet were sore during the first two days of the ride, but the deeper she got into the adventure, the better she felt and the stronger she rode.
Like her Arkansas High Country Route ride, Rusch only seems to get better with time. "Endurance sports are like any job—someone who's been at it for 30 years knows more, is more efficient," she says. "Even though I'm not the same physically as I was at 25, the experience that I have and the knowledge and strength in my mind that I've accrued… it all offsets the sheer benefits of being 25."
In her long career, Rusch has competed in 24-hour solo races, where bikers pedal the same cross-country loop for a day straight; gravel grinders; and televised EcoChallenges, a multi-day expedition-style race that has competitors route finding, paddling, biking, and climbing across vast landscapes. She's had the most success in cross-country mountain biking, though, winning several national and world championships and the coveted Leadville 100 mountain-bike race twice.
Like her Arkansas High Country Route ride, Rusch only seems to get better with time.
Recently, she's turned her attention to long-distance gravel grinders and bikepacking routes. Last year she won the inaugural Dirty Kanza XL, a 350-mile version of the storied 200-mile gravel race through backcountry Kansas. "I'll always consider myself a mountain biker first, but I really like these gravel rides," Rusch says. "They tap into that basic motivation to explore and get off the beaten path. Ultimately, I'm still that kid in my backyard that wants to explore and dig in the dirt."
As a Red Bull athlete, Rusch says she has access to the most cutting-edge training facilities and philosophies in the world. But the thing that has changed Rusch's riding the most is the humble power meter. "Having that clear measure of your output is a revelation. You realize that your heart rate, or perceived exertion, isn't a good measure of the work you're actually doing," Rusch says. "It taught me that more miles on the bike isn't necessarily better, because if your power output isn't there, the effort isn't worth it."
While Rusch's training has gotten more efficient over the years, she's also learned that preparation isn't everything when gearing up for big escapades. "So many people think they can't do a 100-mile ride or multi-day bikepacking trip because they haven't logged long training miles on the bike," Rusch says. "You don't have to train for 15 hours a day to do these sorts of adventures. It's more about the commitment to being fit and doing a little something every day. You'll be surprised what you can accomplish when you get out of your comfort zone."
Every time Rusch steps out of her own comfort zone—like riding 1,000 miles across Arkansas—she gets inspired. Fresh off the exploratory ride, she's already planning a series of follow-up adventures, where she hopes to tackle some of the biggest bike routes in the country, like the Lewis and Clark Trail and the 1,000-mile long Idaho Centennial Trail.
"What I've learned, being an athlete for decades, is you have to do what excites you," Rusch says. "Let your goals morph and change. There was a time when Leadville excited me. Now it's these long expedition rides. I don't like to be bored."
Lead Photo: Pat R. Notaro/Red Bull Content P