How Surfer Taylor Knox Stays Sharp at 47
After adopting a meditation practice a decade into his career, Knox is near the top of his athletic game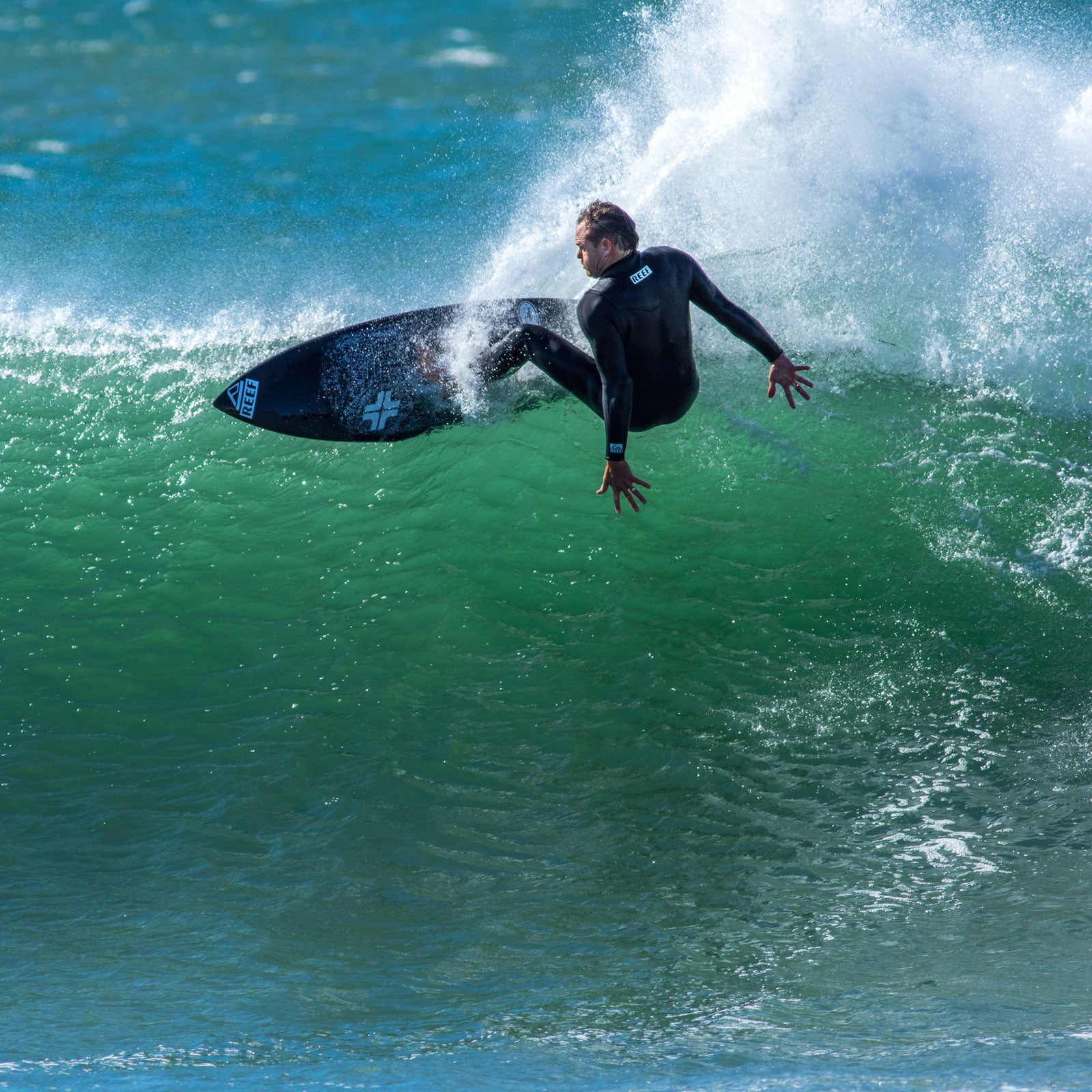 Heading out the door? Read this article on the new Outside+ app available now on iOS devices for members! Download the app.
Taylor Knox shouldn't surf as well as he does. Watch him in one of his most recent edits, Apply Pressure, getting barreled in the man-made waves of Surf Ranch, and you'll have a hard time believing the burly surfer with a handlebar mustache is pushing 50.
Known as a power surfer, carving big, forceful turns that cover the entire face of the wave, Knox, 47, still contains as much energy as athletes half his age. But he knows a thing or two about longevity. The Southern California native and key member of the Momentum Generation in the 1990s has enjoyed one of the longest pro surfing careers in history, racking up 22 years on the World Tour before retiring from competition in 2012. He's still sponsored by Reef, free-surfs around the world, and drops at least one mind-blowing edit every year. Forget retiring to cruise on a longboard. Knox prefers to rip.
"I'd say I'm doing some of the best surfing I've done in my career right now," Knox says. "I feel like my surfing is getting better and better."
While Knox has always made physical fitness a priority, he credits his long-lasting success to the state of his mind. During a pivotal point in Knox's career, he discovered Kelee meditation, developed by amateur surfer Ron Rathbun in the late 1970s and '80s. "I got to a point with training where I hit a plateau on the physical side of things. I was stagnant," Knox says. "So I started learning about how the body follows the mind, and how, if you have a toxic mind frame, it doesn't matter how much you work out. You still won't be able to perform." Instead of focusing on a single point or mantra, practitioners of Kelee meditation try to focus on nothing for just a few minutes every day. "It's the 80/20 principle, where 20 percent is about training and nutrition and 80 percent is mental," Knox says.
What differentiates Kelee from other meditative methods is the Kelee itself, described as the energy field inside all of us. Sure, it's a little bit New Age woo-woo, but the goal, according to Rathbun, is to let go of the thinking process and connection to the five senses. "You're shutting down all of the negativity in your mind and all of the physical tension in your body," he says. Rathbun sent me a video that breaks it down into a few steps. First, you imagine your thoughts as a horizontal plane of energy gradually lowering from the top of your head to the center of your head. Then you allow this energy to drop toward your heart. After that, it's a matter of spending a few minutes in that state, which Rathbun says is deeply healing. Like anything, reaching this state takes practice. "Meditation is not easy," Knox says. "When I started, I couldn't understand why it was so hard to do. But even if it's just for a few seconds, having no thought going through your head is a big win."
"Meditation prolonged my career for a decade. But the surfing was a byproduct of how meditation helped my whole life."
Many athletes may find parallels with Knox's rocky path to meditation. Knox uses the phrase "toxic mind frame" often to describe the pivotal period before his mental clarity; a decade into his pro career, he started suffering from anxiety and depression. Just when his career was peaking, he was ready to quit the tour. "From the outside, it looked like my life was great," Knox says. "I had a brand-new contract. I was successful. I just had a baby, a nice house—how can I not be happy? But I wasn't."
Knox's internal struggle began to affect his surfing, with anxiety creeping into every set. "It was a nightmare. I was second-guessing myself too much and not enjoying the surf. I was burned out, and life felt like Groundhog Day. I needed a new inspiration, and it couldn't come from outside—a new wave or new destination wasn't going to keep me going. It had to come from within."
After hearing about Kelee from a friend, Knox was intrigued. It was the perfect medium for him, offering, like many mainstream meditation practices today, the benefits of meditation without a spiritual context, which Knox never found appealing. After a couple months of practice, Knox began to experience a few seconds of thoughtlessness. He also noticed an immediate difference: His surfing improved, he was sleeping better, and he says he had the clarity to make important decisions in his life. "I just felt like stuff was bouncing off me. Things that used to bother me didn't bother me anymore," Knox says. Anxiety no longer followed him into the lineup, and he developed a patience that he never had before. "Meditation prolonged my career for a decade. But the surfing was a byproduct of how meditation helped my whole life," Knox says.
There's some research to back up these positive effects. Meditation in general has been shown to improve stress resilience, reduce blood pressure, and ease anxiety. The research on Kelee specifically is more limited, but in 2010, researchers at UC San Diego conducted a clinical trial to determine if 46 HIV-positive subjects showed improvement on the Depression Anxiety Stress Scale (DASS) after practicing Kelee for 12 weeks. They were anticipating a five-point improvement among the subjects, but they experienced a mean overall change of more than 15 points. The results were significant enough to get the meditation on the curriculum. UCSD currently teaches Kelee to its medical students to help them deal with stress.
Kelee is now a regular part of Knox's day, like brushing his teeth. A few minutes in the morning and at night, he sits in a comfortable position and works to have no thoughts going through his head. "The greatest tool you get from Kelee is detachment," Knox says. "Detachment from negative thoughts, detachment from things that used to trigger you. It gives me a perspective I never had before."
Lead Photo: Courtesy Celeb Bjergfelt