The Wassner Twins
Triathlon's fiercest twins.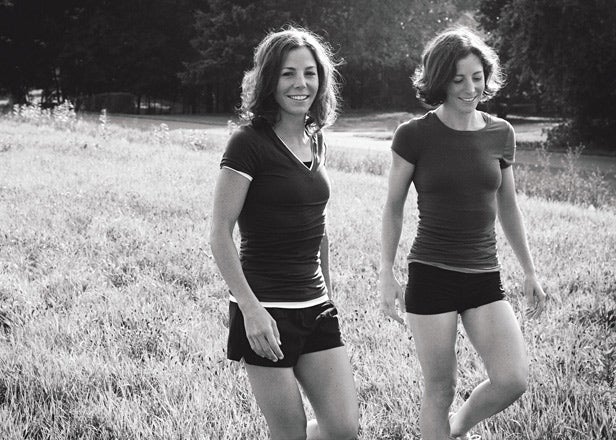 Heading out the door? Read this article on the new Outside+ app available now on iOS devices for members! Download the app.
In August, Rebeccah and Laurel Wassner, 35-year-old twins based in New York City, finished first and second, respectively, at the NYC Triathlon. To them it wasn't so much a surprise as another goal accomplished, one in a recent string: USA Triathlon's rookie of the year (Rebeccah in 2004, Laurel in 2008); multiple wins at national races (a combined eight in 2009); and, most important, Laurel's success in overcoming Hodgkin's in 2006. So far in 2010 the sisters have won seven races, and they're hoping to peak during next year's qualifying events for the 2012 Olympics.
Outside: Is Rebeccah always faster?
LAUREL: Well, I took third in Chicago in August, and Bec placed fifth. But I didn't beat her fair and square, because she had a foot injury.
REBECCAH: She passed me on the bike, and that never used to happen. She's taken minutes off her bike times since last year, so that makes me think I'll have to work a lot harder to keep my edge.
So it's fair to say you're competitive with each other.
LAUREL: Only in training. There was a workout last week where it came down to an all-out sprint finish.
REBECCAH: But we're not beating ourselves up over it. It helps to have somebody that you can yell at in practice, and afterwards, you're sisters again.
Laurel, when you did you know you were ready to race again after cancer?
LAUREL: In 2006 I went to the world championships to watch Bec. That was when I was like, OK, I can do this. I'm just as fast as these other athletes.
Seems like the comeback made you both faster.
REBECCAH: If you look at my results, last year was my best year and that was the first year after we started training and racing together. We push each other. No one else knew I had an athletic twin, so it was a shock to a lot of people when they finally found out there were two of us.
Are two racers really better than one?
REBECCAH: It's helpful to have the other one out there because we can give each other splits or tell each other how the competition is doing. Usually that's something only a coach can do.
LAUREL: Bec always says something that gets me going right before we start, and no one else has that on the starting line. So I definitely think it's an advantage but not unfair.
You must get sick of one another sometimes.
REBECCAH: Yeah.
LAUREL: But only in a good way.