What Can the NBA Playoffs Teach You About Performance?
Turns out, even if you don't play basketball, you can learn a lot from the sport and its athletes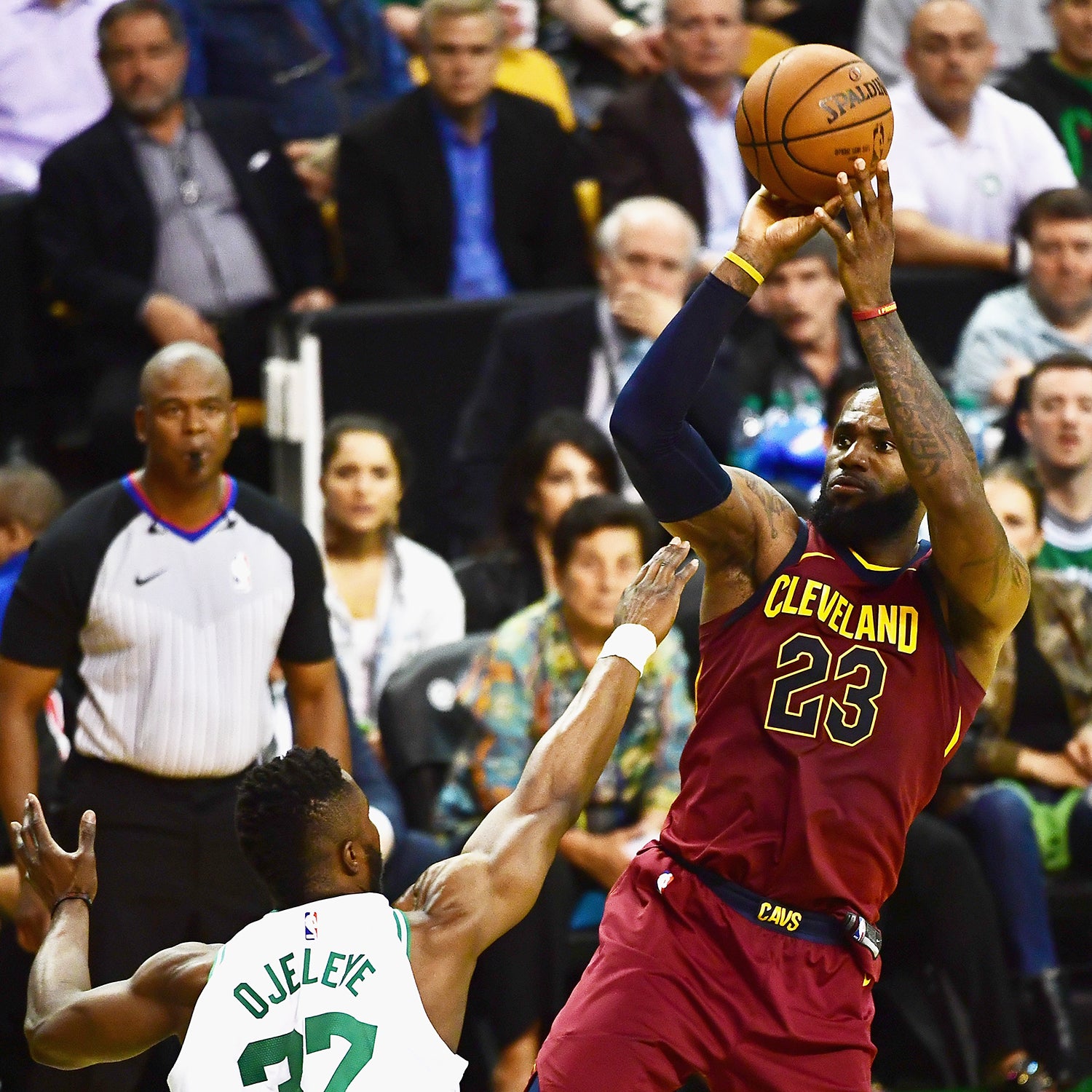 Billie Weiss/Getty(Photo)
Heading out the door? Read this article on the new Outside+ app available now on iOS devices for members! Download the app.
I know, I know. I'm a columnist at Outside, and here I am, writing about a sport that is played exclusively in indoor domes. In the midst of spring no less. But I've got to admit, the NBA playoffs are pretty damn fun. You have arguably the best all-around athletes in the world going as hard as they can every night. And you also have a storyline so dramatic it might as well be the next Marvel movie: the super-human all-star carrying his downcast city (maybe downcast team, too?) on his shoulders; the young and scrappy underdogs with the mastermind coach whose powers are so invisible he looks like he could be the guy in the cubicle next door; the confident squad whose just-throw-the-ball-near-the-basket approach is as equally stunning as it is reckless; and the best team on the planet that's been the best team on the planet and lost before. So, yeah, I've been watching a bit of basketball lately.
But, for the most part, I've been able to justify my binge watching. Some of the themes coming out of this year's NBA playoffs are every bit as applicable off the hardwood as they are on it. They are tried and true performance principles. So, what can you, Outside reader, learn from the NBA playoffs? Turns out, a lot.
When Shit Hits the Fan, Adapt
The Boston Celtics have advanced to the Eastern Conference finals without their two best players, Kyrie Irving and Gordon Hayward. No one gave them a chance. But instead of freaking out or despairing, they've accepted their reality and are making the most of it. 
"Through the regular season, there were so many changes with our group… different injuries, a lot of things like that. Once we were able to settle down and find what fits this group, that's when we were able to play better offensively," says Celtics forward, Al Horford. "And then you've just got to give credit to coach, because he ends up making adjustments… giving us options to go out there and execute."
The ability to adapt is integral to performance in both team and individual sports. The Celtics' injuries are really no different than the weather changing during a big climb or puncturing a tire in the midst of a triathlon. When unforeseen events occur, research shows it's better to assess them as challenges rather than threats, which promotes problem-solving rather than anxiety. Or in more philosophical terms: Focus on what you can control, and don't waste energy on the things you can't.
Have Confidence—But Backed by Evidence
The Houston Rockets may have finished the regular season with the best record in the Western Conference, but just about everyone expects the Warriors to beat them. Everyone except for the Rockets, that is. "We all have the confidence in one another," says Rockets guard Chris Paul. "Every night we say it, but it's really the truth."
After the Rockets beat the Warriors in the regular season, their center, Clint Capela, put it simply: "We are better than them." 
Meanwhile, the Rockets' top player, James Harden, recently told ESPN: "This is the year. For sure." 
It would be one thing if these guys were saying stuff like this out of the blue, but they've got the game to back it up. The Rockets won more games than the Warriors in the regular season. Whether that translates to a playoff series victory, we'll have to wait and see. What is certain, however, is that playing to win with confidence, or what sports psychologists call a performance-approach mindset, leads to a showing that exceeds expectations—so long as that confidence is rooted in evidence. 
Experience Is Everything
When the Cleveland Cavaliers had their backs up against the wall in their first round matchup against the Indiana Pacers, LeBron James was asked why the team started who they did, despite the fact that some of the guys on the bench had objectively better stats. "We started the game with a unit that we knew what we could get out of each other," he said, speaking of the roster that had played together in three NBA finals. "We've played in big games before. So that's a comfort to start the game." 
Experience is important, especially in clutch situations. James and the Cavs remind me a of a conversation I had with world-record-holding free-diver William Trubridge. "The most important thing [before big dives] is to stay relaxed," Trubridge told me. "Experience is key here. The more you are in [a certain] scenario, the more comfortable you become."
You can be a champion of training (in this case, the NBA regular season) but when it's competition time (the playoffs) experience is everything.
Have Fun! It Makes You More Resilient
The Golden State Warriors may be the defending world-champions of basketball. But they are also world-champions at having fun. The team is known both for their three point shooting and their laid-back demeanor. This remains true even after three long seasons that ended in Championship appearances. "It's still there," Golden State General Manager Bob Myers told the New York Times, referring to the Warriors' joyful nature. "We're still us, don't worry."
The team's coach, Steve Kerr, holds joy as one of his fundamental core values. "The joy of coming to practice every day is important for our guys to remember," he says.
One of the team's many stars, Draymond Green, understands that being a part of this team is special and, like his coach, he strives to experience joy. "I think a lot of times in life we forget to live in the moment, especially in our day and age [with] social media," he says. "You forget to enjoy the moment."
Experiencing moments of joy isn't just sweet when you're in them, but it also gives you strength down the road, according to Adam Grant, author of Option B: Facing Adversity, Building Resilience, and Finding Strength. When things aren't going well, you can fall back on happy memories to gain the resilience you need in order to move forward, he says.
Not to mention, research shows that one of the best things you can do when you're in a jam is to smile. In a study published in the journal Psychological Science, which I wrote about two years ago, researchers found that even in unpleasant situations, smiling lowers physiological markers of stress and increases positive feelings. 
Brad Stulberg (@Bstulberg) writes Outside's Do It Better column and is the author of the book Peak Performance: Elevate Your Game, Avoid Burnout, and Thrive with the New Science of Success.
Lead Photo: Billie Weiss/Getty
Trending on Outside Online