Why Your Warmup Matters More In Winter
The right moves make you faster and more resilient. Here's how to get the most important part of your training routine right.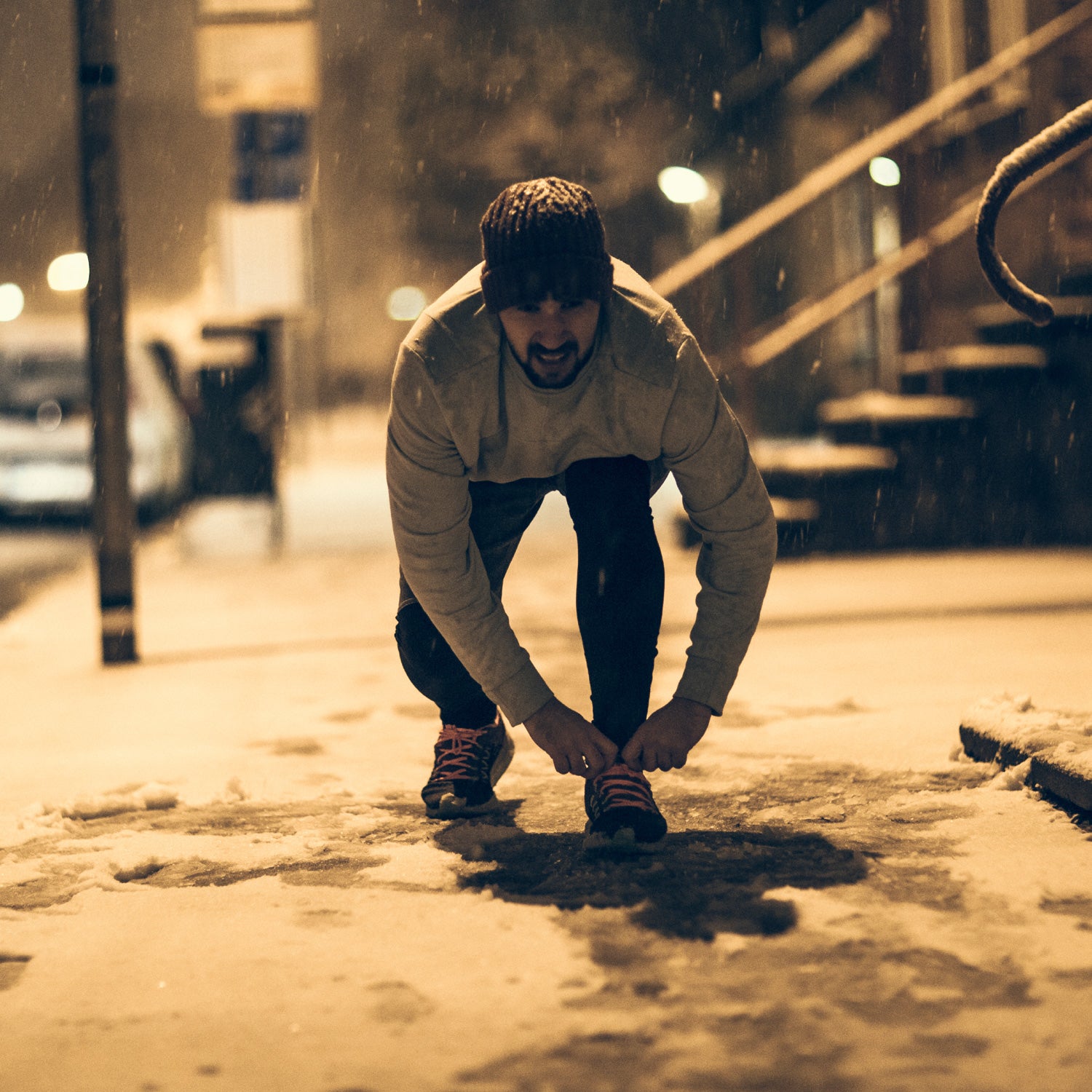 Geber86/iStock(Photo)
Heading out the door? Read this article on the new Outside+ app available now on iOS devices for members! Download the app.
Warming up is important, no matter the weather. It primes your muscles and cardiovascular system for exertion. And while researchers aren't sure it'll help prevent injury in straight line sports like road running and cycling, they do know it can improve performance. Below, experts outline three key reasons to warm up, and how to nail it when temps drop.  
#1. Increased Coordination
"The coordination required by the brain to contract and relax different muscles and muscle groups is incredibly complex," says Dr. Jonathan Dugas, an exercise physiologist at The Vitality Institute whose doctoral research focused on human temperature regulation. "Neuromuscular and aerobic warm ups, one thing they do is help the brain prepare for those movements, which likely leads to a more successful execution of those things."  
Heat up: Just as you would when it's warm, add dynamic movements into your warm up that target the muscles you'll use in your workout. "It doesn't have to be much," says Jackson Hole-based multisport coach Eric Orton, who famously trained Christopher McDougall to run his first 50-miler in the book Born to Run. He recommends doing a few jumping jacks, burpees, squats, jumping up and down, and some mellow plyometrics like butt kicks and high knees before heading out for a run in the cold, for example. "Not enough to get sweaty, but just to warm up the body, then go out immediately after," he says.  
#2. Amped Up Power
"When you change the temperature of the muscle, biochemically things happen more rapidly," Dugas says. "By priming those biochemical pathways, you'll enhance the muscle's ability to do its job, which is to contract and produce force."  
Heat up: Once you're outside, start off slow. Really slow. "If you do a 10-minute warm up [when it's not cold], do 20 minutes of not forcing it," Orton says. "Keeping it comfortable will help you feel really good" as you get into the meat of your workout. If you train with a heart rate monitor, expect to see numbers five beats lower during your warm up and subsequent training, he says. "It's just harder for your body to work in the cold."  
#3.  Reduced Injury Risk—At Least in Certain Sports  
"In skilled sports like soccer, it's fairly clear that a standard neuromuscular and aerobic warm up has been shown to reduce injuries," Dugas says. That's because in complex movements, like kicking a ball, the muscles involved "contracting and relaxing at just the wrong time—like by miliseconds" can lead to injury. Because warming up can improve coordination, it can help reduce that risk.  
In less dynamic activities like running and cycling, warming up could help prevent injuries, Dugas says, but it's harder for researchers to prove it. Still, the established benefits of warming up should be enough for all athletes to develop a pre-workout routine.  
Heat up: "Look at the wind direction," Orton says. Starting your workout with a tail wind should help you warm up faster. "Then fight the wind coming back when your body's already warm."
Lead Photo: Geber86/iStock
Trending on Outside Online