Will an Infrared Sauna Help My Joint Pain?
I saw a Groupon for a trip to a local infrared sauna. How's that different from the dry sauna at my gym, and will it help my achy knees?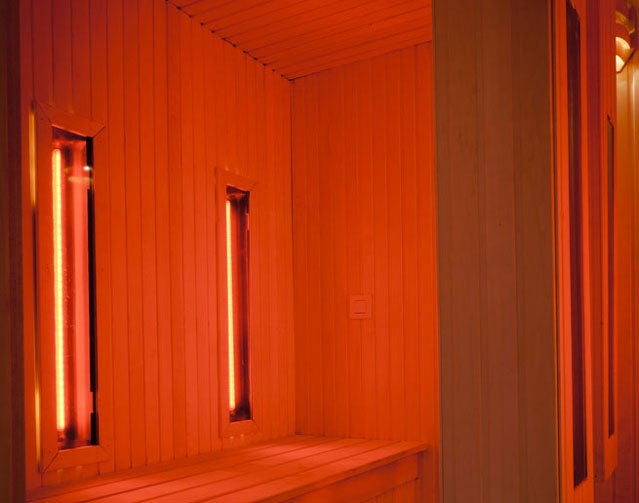 Heading out the door? Read this article on the new Outside+ app available now on iOS devices for members! Download the app.
You might want to nab that Groupon. Here's why:
Regular saunas traditionally use wood stoves or large heaters to warm the air around you to around 185 degrees Fahrenheit. Far-infrared saunas use heating elements that emit infrared waves instead, which penetrate the body more deeply than hot air, allowing you to sweat more and to warm up your joints while sitting in a lower temperature (around 140 degrees) than in a traditional sauna. If you look at the electromagnetic spectrum, infrared waves fall between visible light and microwaves, making the far-infrared sauna a people-heater rather than a cooker.
A 2009 review of studies involving far-infrared saunas found that people with chronic pain who spent 15 minutes per day for one month in this type of sauna showed improvement in their symptoms.  
For another 2009 study, published in Clinical Rheumatology, arthritic patients sat in a far-infrared sauna for 30 minutes twice a week for one month. During that time, the subjects' pain and stiffness improved, however the effects were not proven to last once they stopped going to the sauna.
The far-infrared infrared saunas that have been popping up in metropolitan areas also boast that they can make you burn up to 700 calories per hour. This claim is a bit more dubious. At 158 degrees, these types of saunas have been able to raise test subjects' heart rates up to 58 beats per minute above their resting heart rates. Though in several studies involving the use of far-infrared saunas, subjects never experienced significant weight loss.
Far-infrared saunas have also been used to help people with congestive heart failure, and are generally thought to be safe. As with any sauna use, be sure to keep hydrated and not stay in for too long.
BOTTOM LINE: If you have arthritis, it might be worth trying it out. Far-infrared saunas have been shown to help with chronic pain, though the effects may only be temporary. (Of course, check with your doctor before jumping into a sauna if you have any health concerns.)