How to Conquer a Spartan Race
Everything you need to complete one of the hardest races on earth, including a 16-week training program developed by Spartan's own Dr. Jeff Godin; the ultimate Spartan nutrition plan; and advice from Hobie Call, the winningest Spartan racer of all time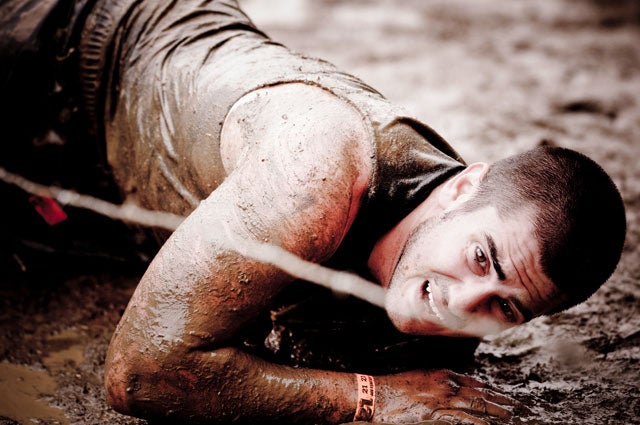 Spartan Race(Photo)
Heading out the door? Read this article on the new Outside+ app available now on iOS devices for members! Download the app.
Welcome to the log-hauling, wall-scaling, mind-twisting test of endurance, where you never know what happens next.
Interactive Training Plan
Track your workouts, get email reminders, and more by signing up for our
interactive 16-week training plan
from Spartan's own Dr. Jeff Godin.
Don't call it a mud run, buddy run, or dirt dash. A Spartan Race is a timed obstacle course event created to be the ultimate mental and physical challenge. "It's not a party, it's an athletic event," says series founder Joe DeSena. "This would be the Olympics if obstacle course racing were an Olympic sport."
Sure, some obstacles are guaranteed to pop up at every event, like the barbed-wire crawl, the eight-foot wall, and the rope climb. But this series has roots in the Death Race, a 48-hour-plus adventure race where competitors never know what's coming next. So don't try to study maps of the approximately three-mile Spartan Sprint, eight-mile Super Spartan, or 12-mile Spartan Beast events; maps don't exist. And don't expect exceptional physical prowess to guarantee a podium spot. Top athletes can watch competitors pass them by when, just before the finish line, they fail to spear a target or solve one side of a Rubik's cube.
"It's that excitement factor, the unknown, that makes it so challenging but fun at the same time," says Hobie Call, the winningest Spartan racer of all time with 17 victories so far.
Do expect some fierce competition. Though the series began with less than 10,000 racers in 2010, more than 150,000 people will take on 34 events in 2012. The Spartan Races even won our Outside Reader Poll for best obstacle course series.
"It's fun to watch and fun to do," Call says. "Expect to have the time of your life."
Ready to toss tires, jump through fire, and get pummeled by real life gladiators?
Conquer a Spartan Race: The Top 10 Spartan Race Tips
Prepare for the unexpected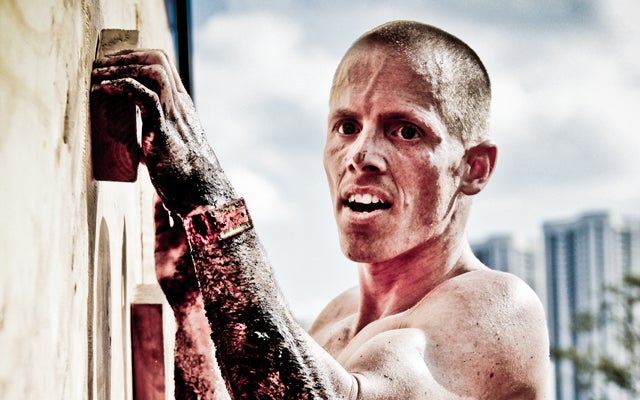 Interactive Training Plan
Track your workouts, get email reminders, and more by signing up for our interactive 16-week training plan from Spartan's own Dr. Jeff Godin.
A Spartan Race is unpredictable. Posted distances are approximate, unidentified obstacles abound, and aid station placement is not guaranteed. Presenting 10 tips to prepare you for battle, no matter what distance you're up against.
YOUR ADVISORS:
Hobie Call, winningest Spartan Racer of all time
Joe Desena, Spartan Race founder
Jeff Godin, Ph.D., C.S.C.S., Spartan coach certification director, professor and chair of exercise and sport science at Fitchburg State University
10. Come ready to race
A Spartan Race is not a prelude to an afternoon of drinking. It's a timed competition with cash prizes at stake for the best competitors. Athletes earn points in the Spartan Point Ranking System for their top four performances, and the top 300 men and women at the end of the season will be eligible to share a prize purse, which grows throughout the year. "Spartan Races have a very professional atmosphere," Desena says. "Not many people dress in costume at our events."
9. Dress accordingly
"The less you can get away with, the better," Call says. "You'll be getting wet and muddy and a shirt won't keep you warm when you're wet." Of course, you have to wear something, particularly if you're concerned about cutting up your bare skin while crawling through the trenches. Call suggests wearing form-fitting clothing made of lightweight synthetic material that won't weigh you down when wet. Under Armor's synthetic tops should work. And leave the sunglasses at home; they're usually the first casualty on the course, with iPods, wallets, and car keys a close second.
Bonus Tip: Train in your race outfit to make sure it is comfortable and doesn't chaffe, Godin says. A wardrobe malfunction should be the least of your worries on race day.
8. Don't forget your feet
"Cross country racing shoes are the best," Call says. "They weigh next to nothing, they fit snug so they won't come off in a mud pit, and they have great traction." If for any reason this type of shoe doesn't suit you, reach for the least bulky shoe you can handle. "The less of a shoe you're wearing, the better, because they'll hold onto less water and mud," Call says.
7. Stay in shape
Got more than 12 or 16 weeks until your race? Start training now by following the Spartan Race's Workout of the Day (WOD). Developed by Desena and endurance athlete Jason Jaksetic, the WOD is designed to keep Spartans in shape and to be done anywhere, no gym access necessary.
6. Learn to love the burpee
Even if you don't follow the WOD, it's in your best interest to start practicing burpees ASAP; a failed or skipped obstacle will result in punishment of 30 burpees or more. "We're infamous for burpees," Adams says. Check out Call's instructional burpee video. Fastforward to 2:40 to see the exercise.
5. Stay positive
It may be difficult to smile when, after more than two hours, 20-plus obstacles, and dozens of burpees, a Spartan warrior beats you with a foam-padded stick or shoots you with a paintball gun. "Don't let anything get you down," says Call. "It's supposed to be tough. That's what makes it even greater when you're done—knowing that you've truly been challenged, that you hit a wall and finished anyway."
4. Buddy up
Yes these are timed races, but that doesn't mean you have to go into battle alone. Register with an army of buddies and go for the team title. The first four finishers on your team will count toward your team's time. But don't slack off if you're not up front; you'll still get timed and be eligible for individual awards.
3. Get a routine
If the unpredictability of Spartan races makes you nervous, control the things you can, like your pre-race routine. "I'm so structured it's ridiculous," Call says. First thing race morning, Call downs a protein drink made with raw eggs. One hour before the gun goes off, he drinks a protein wheatgrass drink, then does a 40-minute dynamic stretching and plyometric routine—the same warm-up he does before each and every race. "It helps make sure I have a good day," Call says.
2. Flirt a little
"Hands down this is the best place to find a mate," Desena says. "The men and women look like gods and goddesses." So play nice on the course. Get out of the way for faster racers and say "thank you" when you pass. You never know which dirty, bloody Spartan might be your match.
1. Stick around
"At road races, nobody talks about the race itself because it's boring," Call says. "But everybody talks about the Spartan Race," Once you cross that coveted finish line, stick around to share war stories while downing your free beer and watching fellow Spartans face the final obstacles. As the series' tagline goes: You'll know at the finish line. Back in the real world, your family, friends, and coworkers who have never seen that finish line just won't get it.
Conquer a Spartan Race: The Ultimate Spartan Race Nutrition Guide
Fuel the beast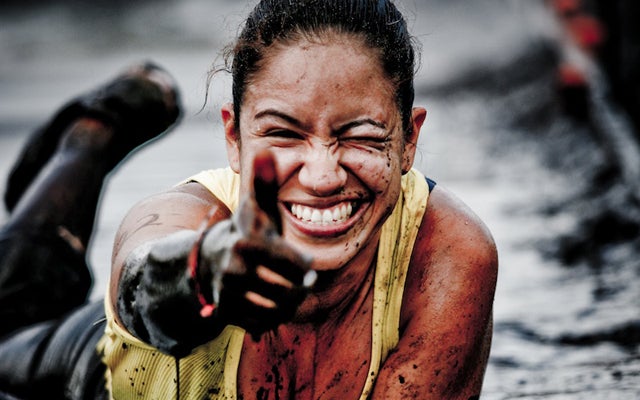 Interactive Training Plan
Track your workouts, get email reminders, and more by signing up for our interactive 16-week training plan from Spartan's own Dr. Jeff Godin.
Aid stations at Spartan Races are notoriously, well, Spartan. You never know where they'll be, exactly, or what they'll offer besides water. Below, Virginia-based dietician and obstacle course veteran Mary Perry outlines a fueling strategy to keep you strong out on the course.
NIGHT BEFORE:
"You definitely want to have a high carb meal to fill your liver with glycogen," Perry says. But carbohydrates shouldn't be the only thing on your dinner plate. "Protein helps with muscle recovery and slows down carb digestion to keep your energy more stable," Perry says. Chicken and veggie stir fry served over brown rice, or pasta with a chicken breast or turkey meatballs, tomato sauce, and some veggies would make great pre-race dinners. "Chose things that sit well with you and that you like," Perry says. If you're eating Paleo and the thought of pasta makes you queasy, try substituting sweet potatoes for the pasta. "Most importantly, don't try any unusual foods the night before," Perry says. "And don't eat too much fiber either as it can cause gastrointestinal distress."
Also, start hydrating now. "If you start the race dehydrated, it's like filling up a bucket with holes in it—you'll always be behind the curve," Perry says. An easy way to tell if you're well hydrated: check your urine. It should be pale yellow. If it's darker, drink more.
RACE MORNING:
Try to eat a breakfast with carbs and some protein two to three hours before your race start, Perry says. Some examples of a good pre-race meal include oatmeal with lowfat milk, walnuts, and fresh fruit; a whole grain bagel with almond or peanut butter and a banana; and toast with Greek yogurt and almonds. Start hydrating right away by drinking a cup or two of water when you wake up, and sipping on water or a sports drink until your race begins. "Practice the timing of your meal and figure out what foods work for you during training," Perry says.
If your race starts in the afternoon, eat breakfast when you get up, then eat a snack two hours before your wave goes off. "You don't want to eat a big heavy meal right before your race," Perry says. Examples of good pre-race snacks include a sports bar and Gatorade; a peanut butter and jelly sandwich; Greek yogurt with a piece of fruit; or graham crackers with peanut butter and milk.
DURING THE RACE:
Chances are you'll be racing for more than an hour, even at a Spartan Sprint. To keep yourself going for more than 60 minutes, you'll need to refuel. "Focus on simple carbs like sports drinks, bananas, and gels," Perry says. You should take in between 30 to 60 grams of carbs (120 to 240 calories) per hour by eating or drinking every 30 to 40 minutes. Don't want to rely on aid stations? Wear a hydration pack or fuel belt, or pin gels to your clothes so you'll have food with you when you need it. "You don't want to put in all of that training then get stuck because you're hungry or dehydrated," Perry says.
As for on-the-course hydration, "monitor your thirst and drink when you're thirsty," Perry says. That's the easiest way to stay hydrated.
POST RACE:
Your body is primed to repair muscle tissue and fill up glycogen stores in the 15 to 30 minutes after you cross the finish line. "The more time you wait, the more glycogen replenishment and muscle repair is compromised," Perry says. She recommends taking in 15 to 25 grams of protein (60 to 100 calories) and at least 40 to 50 grams of carbohydrates (160 to 200 calories) during that time. Some post-race fuel options include a glass of chocolate milk, a peanut butter sandwich with Gatorade, or a baggie of cereal with milk or yogurt.
Conquer a Spartan Race: Training Plan
Success in just 16 weeks

Whether you're aiming to race the Spartan Sprint, Super Spartan, or Spartan Beast, we've got you covered. Follow the simple, scalable plan above, or head over to Training Peaks for a detailed 16-week plan straight from Spartan HQ that'll prepare you to take on the Beast.
Lead Photo: Spartan Race
Trending on Outside Online