The 50 Best Places to Work in 2018
What does it take to land on our annual list of the country's best employers? Perks like on-tap kombucha, free gym memberships, and company-sponsored ski trips certainly help. But it's a commitment to fun and supportive work environments that really makes these companies stand apart.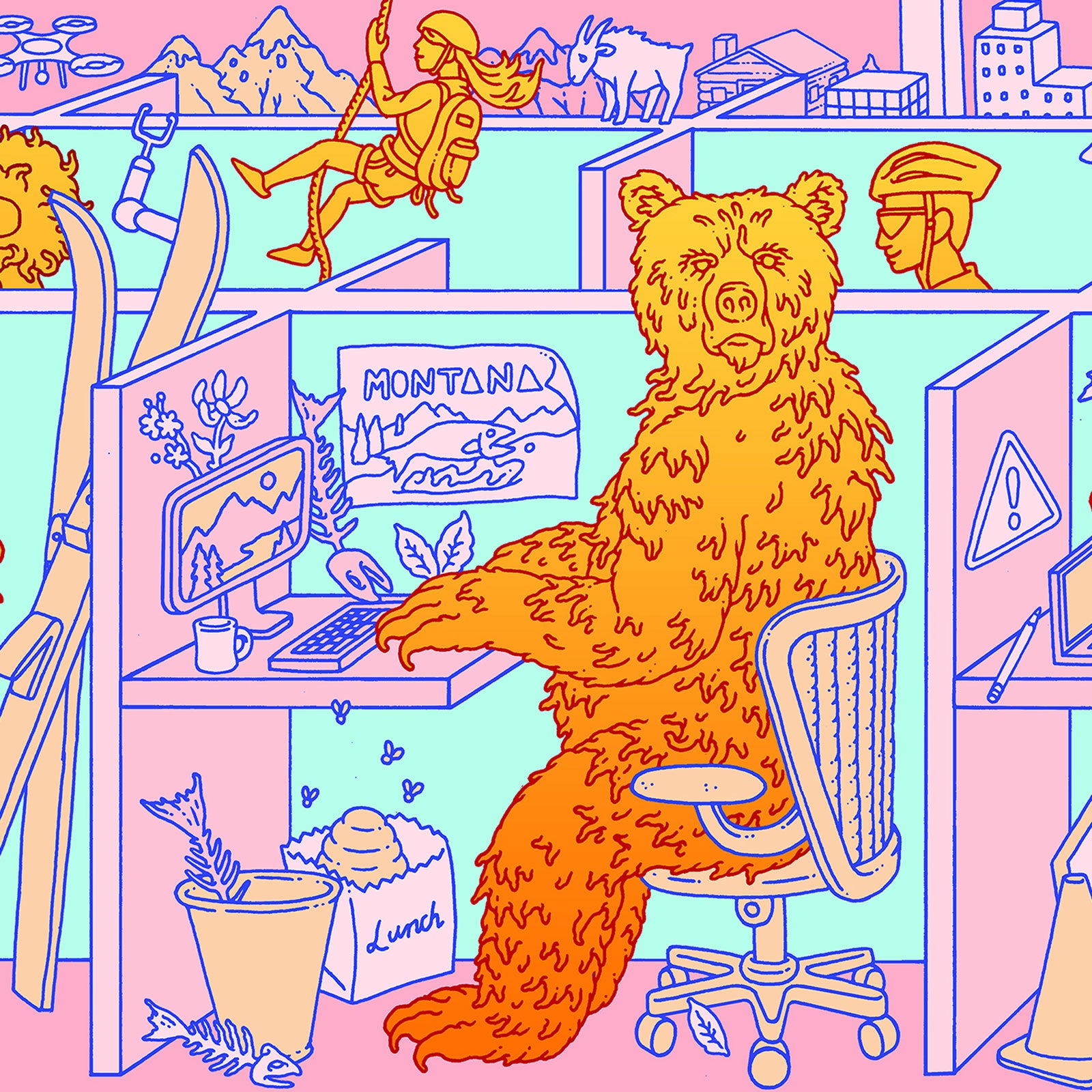 Heading out the door? Read this article on the new Outside+ app available now on iOS devices for members! Download the app.
1. Southwest Michigan First
Location: Kalamazoo, Michigan
What they do: Economic development organization
Number of employees: 25
Average salary: $97,000
Vacation time: 15 days paid time off; 18 after five years
Perks: Fully stocked kitchen, half-day summer Fridays, and chair massages.
What they say: "We give small gifts to each team member at unexpected times. These offerings are occasionally left as a morning surprise. For example, on a morning before the Fourth of July, our team arrived to find a box of sparklers on our desks, and this past autumn, our team arrived one day to find a small pumpkin and a baked seasonal treat. It's our intent that team members always feel appreciated."
2. Peak Design
Location: San Francisco, California
What they do: Travel bags and camera accessories
Number of employees: 36
Average salary: $100,000
Vacation time: Unlimited PTO
Perks: Countertops that convert into ping-pong tables, hanging bike storage racks, a home-brewing station, and a monthly brew day.
What they say: "We have unlimited vacation, and we can work from anywhere. If you want to go climbing or golfing on a Wednesday afternoon, just do it. If you want to visit your family in Wisconsin and work from there for a week, no sweat. We're instilled with the trust and freedom to make our jobs conform to the lives we want to live, not the other way around."
3. Whipplewood CPAs
Location: Littleton, Colorado
What they do: Accounting, business consulting, and tax services
Number of employees: 25
Average salary: $94,800
Vacation time: 16 days PTO; 21 after 15 years
Perks: Half-day summer Fridays, a private room for meditation and power naps, access to a private trail system in the Rocky Mountain foothills, and professional massages for all employees during tax season. Employees are encouraged to practice self-care with a monthly wellness raffle: post-work runs, healthy meals, finishing a good book, and other activities earn an entry for the $50 gift card toward workout clothes, equipment, or other wellness items.
What they say: "After the tax deadline, we close the office in the afternoon for a stress-relief event. This year, we did ax throwing. Last year, we raced go-carts."
4. Adaptive Sports Center
Location: Crested Butte, Colorado
What they do: Outdoor adventure nonprofit for people with disabilities
Number of employees: 15
Average salary: Not provided
Vacation time: Ten days PTO per year for the first two years
Perks: Free season pass to Crested Butte Mountain Resort and a paid ski, camping, or hiking trip somewhere in Colorado at the end of each season.
What they say: "Powder days find the office pretty quiet some mornings, as we allow employees to flex their time. This is the kind of office where bikes and skis share space with our stand-up desks and you stash dog treats in your drawers so you can snuggle with the pets that roam the building."
5. Ergodyne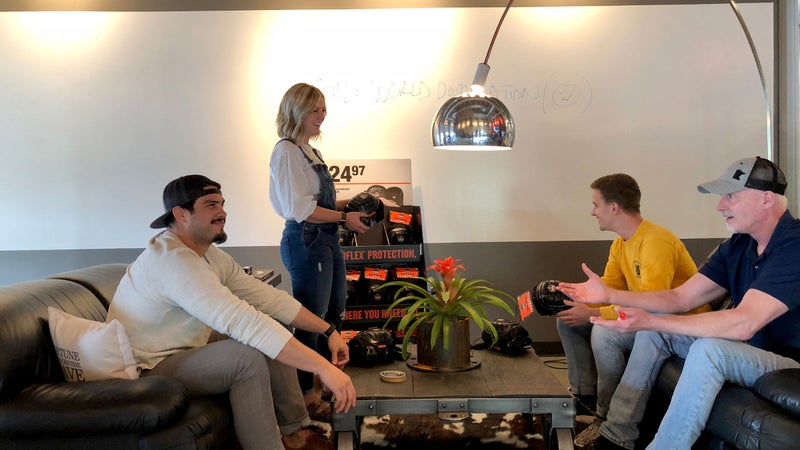 Location: St. Paul, Minnesota
What they do: Work and safety gear
Number of employees: 51
Average salary: Not provided
Vacation time: Unlimited PTO
Perks: On-site gym facilities, weekly yoga and personal training sessions, and a "wear clothes" dress code.
What they say: "We have fun team outings, such as canoe trips down the St. Croix and throwing axes at Bad Axe Throwing. From 'bring your dog to work' days to the concert and sports tickets, espresso, sodas, beer, lunches, and eclectic Spotify mixes playing overhead, it's the tangibles and the intangibles."
6. BSW Wealth Partners
Location: Boulder, Colorado
What they do: Financial advisory firm
Number of employees: 23
Average salary: $130,000
Vacation time: Ten days PTO after one year; 20 days after five years; unlimited unpaid days
Perks: Annual, all-inclusive Colorado ski trips in winter and whitewater rafting, climbing, and laser tag outings in summer; paid three-month sabbaticals for employees who've stuck around for ten years; and a fridge stocked with local beer.
What they say: "We have employees who compete in Ironman competitions, surf sand dunes, lead international yoga retreats, scuba dive to haunting depths, climb jagged crags, and more. The shared spirit of adventure permeates into the workplace."
7. Global Citizen Year
Location: Oakland, California
What they do: A gap-year program that offers cultural-immersion fellowships in Ecuador, Brazil, Senegal, and India
Number of employees: 17
Average salary: Not provided
Vacation time: Unlimited PTO
Perks: A $500 annual stipend for professional development courses, a trip to a host country after two years, a monthlong paid sabbatical after three years, and periodic staff retreats in a host country. Plus, Bollywood workout classes.
What they say: "Each year, you get to pick something personal that you've wanted to learn, and the organization will pay for it. People have taken a cheesemaking class and guitar lessons. Someone else took a succulent arrangement class. It's a fun nod to the fact that you do have a life outside work."
8. GroundFloor Media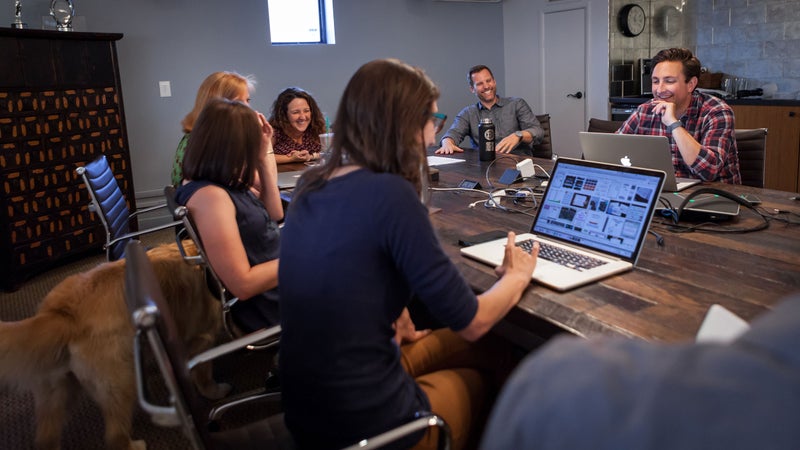 Location: Denver, Colorado
What they do: Advertising, public relations, marketing
Number of employees: 24
Average salary: $86,500
Vacation time: Unlimited PTO after one year
Perks: Full-time employees get $600 each year to put toward gym memberships, fitness classes, outdoor recreation, and gear. An annual Outward Bound Professional team-building event is often held off the grid in the Rocky Mountains.
What they say: "During the summer months, we check out B-Cycles and ride to grab lunch at food truck hot spots, and we've taken our weekly beer club on the road to experience Denver's multitude of craft breweries in person. During the winter months, powder days are encouraged if you don't have meetings, but we're also okay with taking conference calls from a chairlift."
9. Choozle
Location: Denver, Colorado
What they do: Digital advertising software platform
Number of employees: 64
Average salary: $80,000
Vacation time: 15 days PTO; two months PTO after four years
Perks: Flexible Fridays; a yearly summer camping trip; summer and winter team trips to Breckenridge with free days for activities like snowshoeing, skiing, or horseback riding.
What they say: "Although we do have perks such as local beer taps, ping-pong tables, office dogs, team outings and summits, and cool swag, none of that can replace knowing that we really are a family."
10. Power Digital Marketing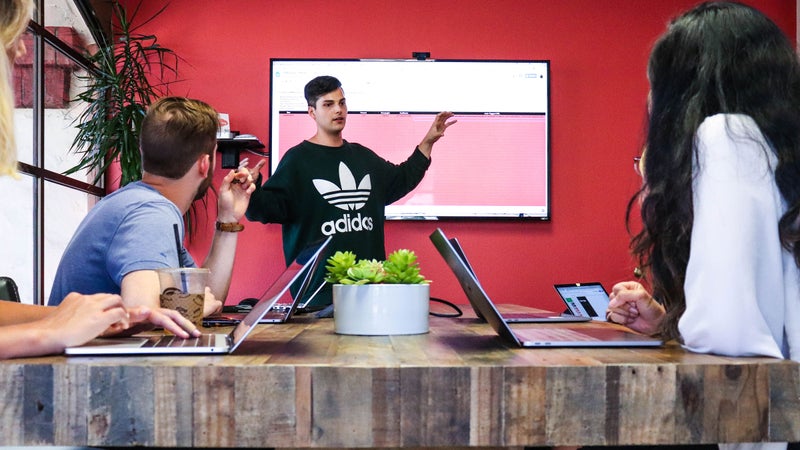 Location: San Diego, California
What they do: Digital marketing agency
Number of employees: 60
Average salary: $65,000
Vacation time: Unlimited PTO
Perks: Healthy catered lunches, monthly team outings to breweries or a party bus to a yacht, and an annual company-wide paid trip as a reward for meeting goals.
What they say: "We draw a line in the sand and set aggressive goals every year. When we hit those goals, we celebrate with a trip. Past trips have included Hawaii, Costa Rica, and Jamaica. Next year, we're headed to Cabo San Lucas, Mexico."
11. Avid4 Adventure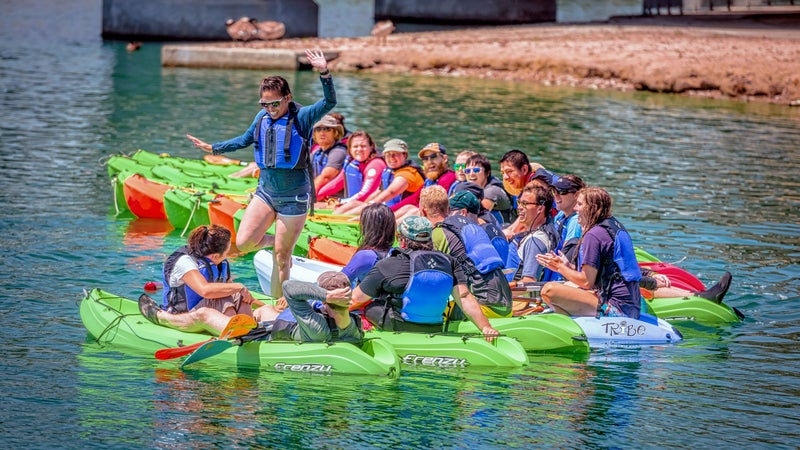 Location: Boulder, Colorado
What they do: Operate day and overnight camps, expeditions, school programs, and events in Colorado, California, and Oregon
Number of employees: 20
Average salary: Not provided
Vacation time: Unlimited PTO
Perks: Monthly outings to local crags and trails, free gear rentals and bike tune-ups, reimbursed gym memberships, an annual multiday adventure in Moab, and a chance to win two round-trip tickets and a stipend to complete a dream adventure.
What they say: "Our mission is to empower others to be healthy in the outdoors, and we've got to walk that talk. Part of our work on a weekly basis is to get outside as a group and adventure together. It's built into the job and is part of what we're getting paid for."
12. J&A Racing
Location: Virginia Beach, Virginia
What they do: Event management company that organizes running races
Number of employees: 16
Average salary: Not provided
Vacation time: Two weeks PTO to start; one week added every five years
Perks: Flexible schedule, summer Fridays out of the office, plus free memberships to gyms and yoga studios.
What they say: "We're greeted daily with three yellow labs, one black lab, and an English bulldog. Dogs make our office fun and exciting."
13. Hailey Sault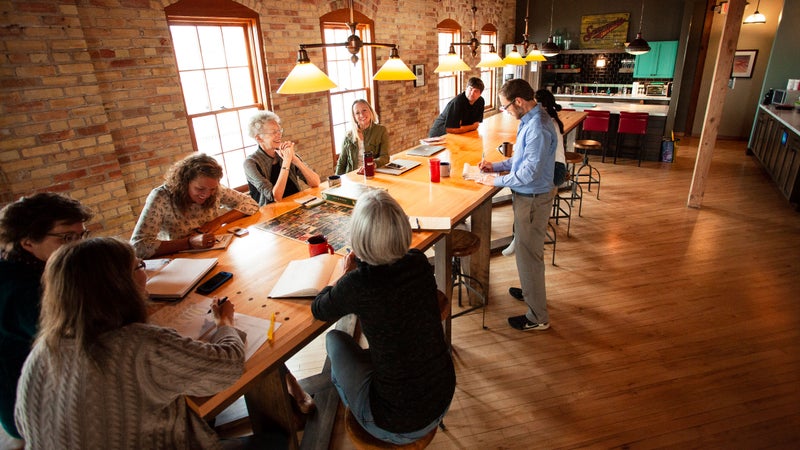 Location: Duluth, Minnesota
What they do: Health care marketing agency
Number of employees: 22
Average salary: Not provided
Vacation time: Two weeks PTO; four weeks PTO after five years
Perks: Lunch-hour yoga, quick access to Lake Superior trails, office gym with trainer-led workouts, and an annual retreat to northern Wisconsin to ski, snowshoe, play a little pond hockey, and hang out by the fire.
What they say: "There are the ungodly views. Definitely plural. There's the endless view of Lake Superior. There's the one-of-a-kind view of the iconic Aerial Lift Bridge, with 1,000-foot ships passing underneath. There's the working harbor with lighthouses punctuating the concrete piers where sailboats and tugboats linger. And then there's the forest-meets-city hillside of Duluth."
14. Spawn Ideas
Location: Anchorage, Alaska
What they do: Advertising, public relations, marketing
Number of employees: 42
Average salary: $83,500
Vacation time: 15 days PTO after one year
Perks: An office kegerator, in-office gym, half-day summer Fridays, access to the 11-mile Tony Knowles Coastal Trail, and a $200 annual bonus to put toward state park passes, ski passes, and race entry fees.
What they say: "Spawn's social committee has a constant schedule of activities for our team, including camping, fishing, kayaking, picnicking, and potlucks."
15. Asia Transpacific Journeys
Location: Boulder, Colorado
What they do: Travel agency and tour operator
Number of employees: 26
Average salary: $60,000
Vacation time: Three weeks PTO per year for the first three years
Perks: Flexible and remote scheduling, plus discounts on airfare, hotels, guides, car rentals, trains, and more.
What they say: "We all contribute and are a close-knit group. We have great office space, well-rounded benefits, and, most important, we have flexibility in our schedules. Meeting great people and exploring is part of what we do."
16. TDA Boulder
Location: Boulder, Colorado
What they do: Full-service advertising agency
Number of employees: 22
Average salary: $98,000
Vacation time: Two weeks PTO per year for the first two years
Perks: Half-day summer Fridays and an annual stipend toward gym, yoga, or ski passes.
What they say: "When an employee climbs one of Colorado's 14ers, we donate $1,000 in their name to the charity of their choice. We also have three beverages on tap: one nitro cold-brew coffee, one kombucha, and one beer."
17. SmartEtailing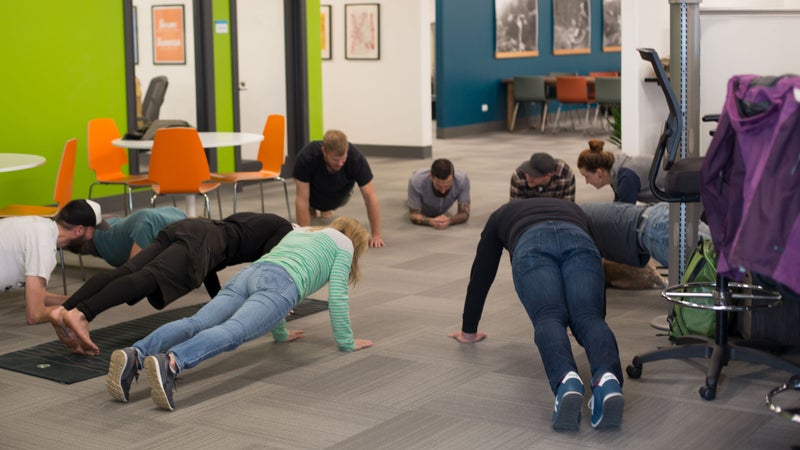 Location: Boulder, Colorado
What they do: Websites, marketing, and integrations for independent bike shops
Number of employees: 55
Average salary: Not provided
Vacation time: 14 days PTO
Perks: Every three years, employees get $100 to $200 toward the purchase of a bike frame. Commuting by bike, carpool, or your own feet earns up to $3 a day toward cycling gear and bike purchases.
What they say: "We have a weekly putting challenge in the office where you win the coveted trophy and get to design the course the following week. And, of course, daily planks, because a team that planks together stays together."
18. Mathys + Potestio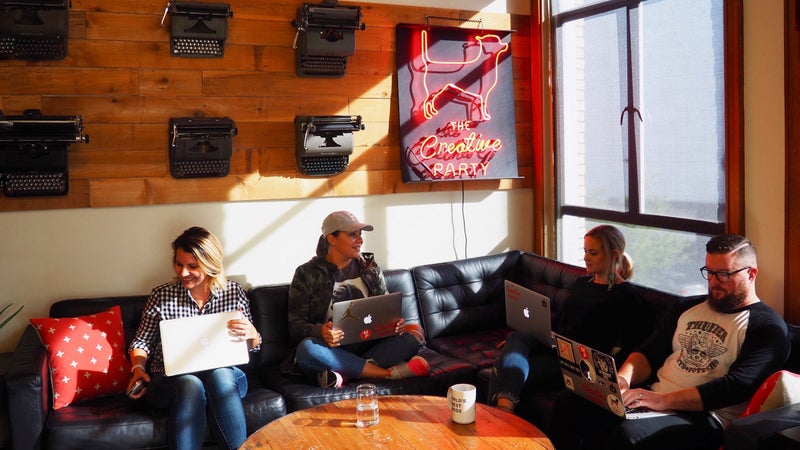 Location: Portland, Oregon
What they do: Temporary creative staffing and placement
Number of employees: 22
Average salary: $64,360
Vacation time: Unlimited PTO
Perks: Every other Friday off each summer, a commuting stipend, and summer fun days for whitewater rafting, hiking, and wine tastings.
What they say: "We subscribe to what we call a 'people-positive culture.' Yes, we have all the perk stuff, but it's more about providing a supportive work environment where people feel empowered to do the best work they can."
19. The Garrett Companies
Location: Greenwood, Indiana
What they do: Development, construction, and asset management
Number of employees: 46
Average salary: Not provided
Vacation time: Four weeks PTO
Perks: A 24-hour fitness center, weekly yoga classes, massage therapy, oil changes, and haircuts, all on-site. Half-day summer Fridays and an annual ski retreat to Telluride.
What they say: "Office Feats of Strength are random challenges we do to blow off steam, bond, and ultimately earn some bragging rights. Past events have included the standing long jump, 100-meter dash, Mario Kart, and the cliché ping-pong."
20. Backbone Media
Location: Carbondale, Colorado
What they do: Brand marketing and PR agency
Number of employees: 61
Average salary: Not provided
Vacation time: Three weeks PTO
Perks: A gear closet filled with the latest products from the company's clients, kombucha and craft beer on tap, Blue Bottle espresso, and plenty of whiskey and tequila on hand.
What they say: "The office empties out every day at midday so employees can recharge on group rides, trail runs, and Nordic ski sessions or at the gym and in the yoga studio. In summer, we have Dirty Thursday group mountain bike rides. In winter, we have a powder-day clause that encourages employees to ski if there's fresh snow. We don't do retreats, but we do plan semiannual company charges that feature whitewater rafting and a campout in summer and a ski trip to Aspen in winter."
21. Development Counsellors International
Location: New York City, New York
What they do: Economic development and tourism marketing
Number of employees: 52
Average salary: Not provided
Vacation time: 16 days PTO to start
Perks: Employees can schedule an annual agency exchange to visit other regional offices in Denver, Los Angeles, or Toronto. Each employee can work remotely once a week.
What they say: "Group activities designed to promote company values of pursuing happiness and being a knowledge sponge have included kickboxing, sushi making, hiking, aerial yoga, and fitness boot camps."
22. Montana Wilderness Association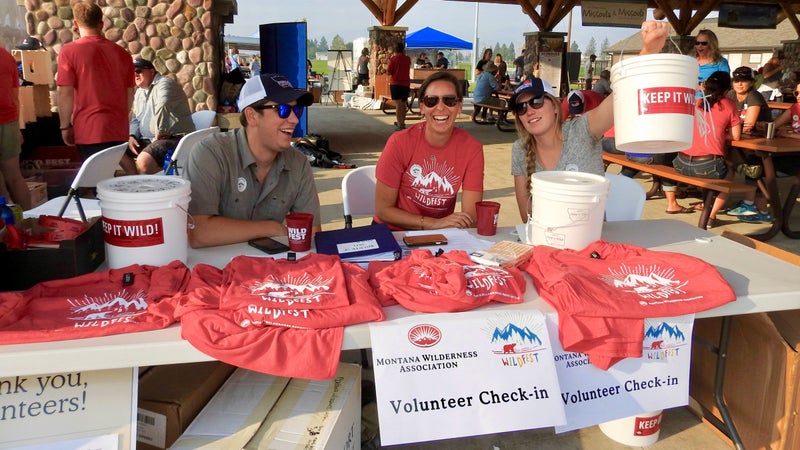 Location: Helena, Montana
What they do: Nonprofit conservation organization
Number of employees: 24
Average salary: $51,600
Vacation time: 16 days PTO to start, plus 15 paid holidays
Perks: Office dogs, outdoor meetings, four additional paid "trail" days, and bonuses for green commutes and exercise.
What they say: "You start your career at MWA with a total of 35 paid days off every year. Throw in the three-day staff backpacking trip, which counts as 'work,' and a paid three-month sabbatical after five years, and you'd be fair to wonder how we get so much done."
23. Foundant Technologies
Location: Bozeman, Montana
What they do: Grant management software
Number of employees: 85
Average salary: $75,000
Vacation time: Unlimited PTO
Perks: Healthy lunches, office sports teams, Mountain Bike Mondays on nearby trails, and wellness benefits to offset the cost of fitness and ski passes.
What they say: "Everyone latches on to our unlimited vacation, but that's pretty common. We went ahead and implemented a 'paid' paid vacation. Not only do our team members get PTO, if they take two consecutive days off, they're eligible for a $1,000 bonus to use toward that vacation. After five years, that bumps up to $1,500 annually. We encourage truly unplugging and getting away."
24. SportRx
Location: San Diego, California
What they do: Custom prescription sunglasses and snow goggles
Number of employees: 35
Average salary: Not provided
Vacation time: Unlimited PTO
Perks: Annual Mammoth and Big Bear ski trips, Padres games, nearby road and mountain bike trails, and free or discounted bike and snow gear.
What they say: "We have this strange, unique philosophy about being nice. We're nice to each other. We're nice to our vendors. We're nice to the UPS guy. It's a small thing that goes a long way. And we always have two great beers on tap, so that helps."
25. Salsify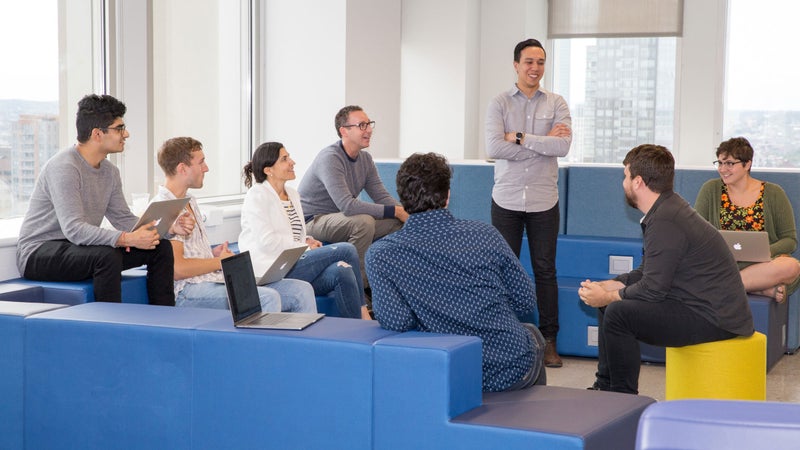 Location: Boston, Massachusetts
What they do: Product information management platform
Number of employees: 223
Average salary: $112,000
Vacation time: Unlimited PTO
Perks: Two months paid maternity/paternity leave, Friday lunches, and a fully stocked kitchen. Plus, shuffleboard, cold-brew kegerators, in-office gym membership, on-site dental and eye exams, and a $5,000 employee referral bonus.
What they say: "In partnership with Boston Public Schools and the City of Boston, Salsify regularly hosts a group of middle school students for daylong field trips in our office. We guide students as they design, build, and speak about initial prototypes for their own problem-solving software. They spend the day learning what it's like to work in the tech community and, most important, have fun while doing it."
26. N2 Publishing
Location: Wilmington, North Carolina
What they do: Neighborhood publishing
Number of employees: 230
Average salary: $62,655
Vacation time: Ten days PTO after one year, plus the two final weeks of the year
Perks: There's Gainzville, the in-office gym complete with a full-time fitness instructor, plus a surf club, a walking club, and a volleyball team that competes at a local brewery. Competitive employees can find more fitness outlets in the dodgeball and ping-pong tournaments, plus an annual $100 bonus to put toward registration fees.
What they say: "Being so close to the beach, no one looks twice if you show up to the office with sand between your toes and a pair of board shorts on."
27. Pairin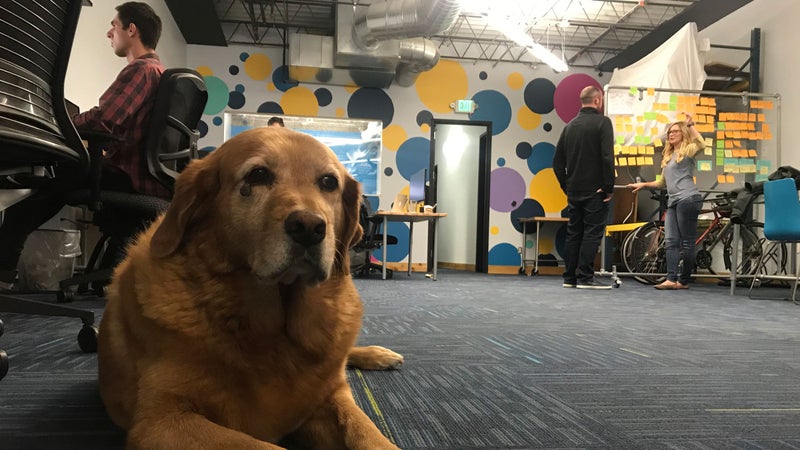 Location: Denver, Colorado
What they do: Professional development and hiring software
Number of employees: 17
Average salary: $88,000
Vacation time: Unlimited PTO
Perks: Team hikes, local craft beer, indoor bike racks, employer-paid health care, and an annual mountain retreat.
What they say: "As a part of a company founded by coaches, the Pairin team really walks the walk of professional development. Each manager is trained as a coach, and each employee is individually coached to grow professionally and personally."
28. Sterling-Rice Group
Location: Boulder, Colorado
What they do: Brand consulting and creative services
Number of employees: 128
Average salary: Not provided
Vacation time: 17 days PTO
Perks: Paid fees for sports teams like kickball, basketball, and volleyball, and extra PTO for those who compete in the 200-mile Ragnar Relay. Plus, an all-company powder day at the local ski hill, company bikes, and on-site massage and acupuncture.
What they say: "Twice a year, we get together as a company for a summit, which is an opportunity to connect, learn, and share great work. Examples include a scavenger hunt in Denver, zip-lining or whitewater rafting, trips to Red Rocks Amphitheater, a day at a local biodynamic farm, and much more. Last year, SRG used the summit as an opportunity give back to the community by partnering with Wish for Wheels to build bikes for the first-grade class at Whittier Elementary in Boulder."
29. GeoEx
Location: San Francisco, California
What they do: Adventure travel
Number of employees: 56
Average salary: Not provided
Vacation time: Three weeks PTO to start
Perks: Twice-weekly office yoga, office keg of local brew, camping and kayaking trips on the Russian River, Giants baseball games, bike parking and showers, annual familiarization trips to GeoEx destinations, offices in San Francisco's Presidio National Park.
What they say: "Our familiarization trips can find you hiking in the Himalayas, mountain biking in Chile's Atacama Desert, or on safari in Africa. Around the office, there's yoga, pints of local craft beer from the company keg at the end of the day, and a weekend camping trip together."
30. Bonusly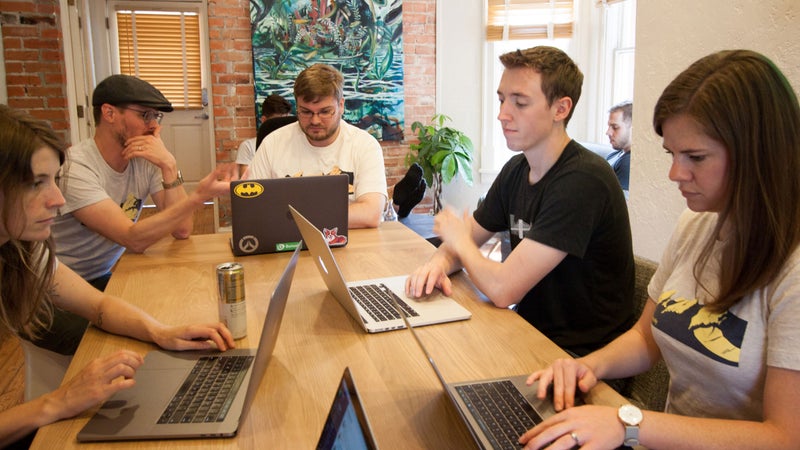 Location: Boulder, Colorado
What they do: Recognition and rewards software for enriching company culture
Number of employees: 21
Average salary: Not provided
Vacation time: Unlimited PTO
Perks: Employees get up to $200 to put toward gym memberships and yoga classes, year-round bonuses for fitness gear, and local beer and kombucha on tap from the office kegerator.
What they say: "Our flexible work policy empowers our outdoorsy employees to organize outings, like twice-weekly afternoon climbing sessions, hikes around Boulder, and winter ski trips. Small groups of employees also take afternoon breaks for meditation, while others go for walks around the neighborhood to rejuvenate."
31. EverCheck
Location: Jacksonville Beach, Florida
What they do: Health care license monitoring
Number of employees: 29
Average salary: $67,798
Vacation time: 15 days PTO
Perks: 12 weeks paid parental leave, monthly fitness stipend, plus organic produce and juices stocked in the kitchen.
What they say: "We're about one block from the beach, and our casual atmosphere lends itself to walking meetings and lunchtime surf sessions. You'll frequently see surfboards and wet baggies stacked in the hall. We also have beach cruisers so we have another means of transportation besides our vehicles when we're at the office."
32. JRF Ortho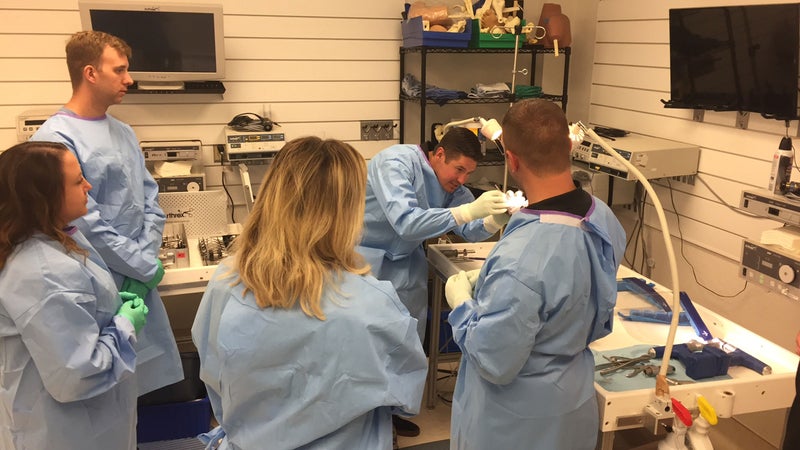 Location: Centennial, Colorado
What they do: Match tissue donors to patients for cartilage, meniscus, and ligament reconstruction surgeries
Number of employees: 22
Average salary: Not provided
Vacation time: One month PTO
Perks: Employees get $600 a year for fitness activities and free visits to a local health clinic.
What they say: "We're lucky because we're 20 minutes from the mountains, and there's a state park a few blocks away for mountain biking or trail running. And ropes course outings—it's all about building teamwork and trust. We're really good at that."
33. Young & Laramore
Location: Indianapolis, Indiana
What they do: Full-service advertising
Number of employees: 64
Average salary: Not provided
Vacation time: Two weeks PTO to start
Perks: Company bikes for riding around downtown; showers and lockers for workday runs, rides, walks, and exercise; subsidized YMCA membership; and a room for meditation, prayer, or quiet time.
What they say: "We host Beer Thursdays, where we get the whole agency together to review, celebrate, and raise a glass to recent work we've produced for clients. Each spring, we shut down for two days and hold an all-agency retreat at a state park in the hills of southern Indiana to soak up nature and remind ourselves who we are, what we do, why we do it, and how lucky we are to do it together."
34. Turner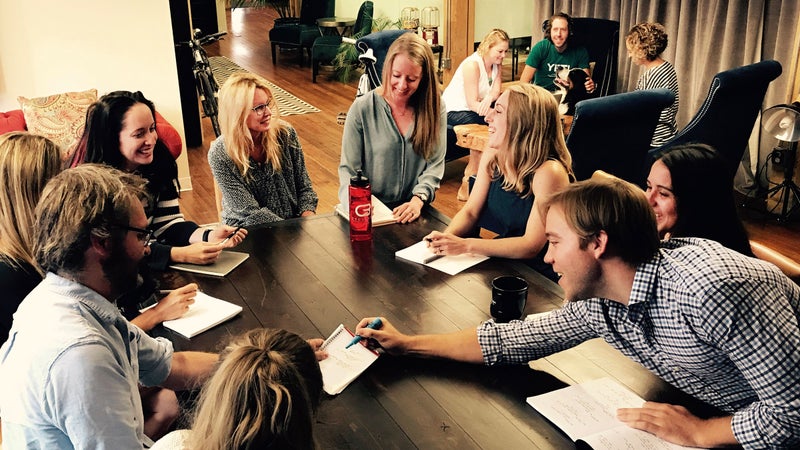 Location: Denver, Colorado
What they do: Public relations, social media, and digital communications
Number of employees: 45
Average salary: $90,578
Vacation time: Two to three weeks PTO to start, plus three days PTO for volunteering
Perks: Employees are encouraged to engage in "sweatworking platforms," such as skiing, cycling, and sailing with clients and journalists. They also have access to free and discounted gear and a professional development program that includes "life skills" like meditation sessions and a sommelier-led Wine 101 series.
What they say: "We make our offices as comfortable—and as fun—as possible. Dogs are welcome. There are kegerators, wine fridges, and games and lounges for more casual meetings and creative brainstorms. We also take group fitness classes and enjoy craft beer swaps."
35. Powder7
Location: Golden, Colorado
What they do: Retail ski equipment
Number of employees: 19
Average salary: Not provided
Vacation time: Five days PTO after one year
Perks: Biking and running trails near the office, ski pass reimbursement, an annual ski trip to Wolf Creek, and impromptu foosball tournaments.
What they say: "We're constantly finding ways to enjoy time together: skiing, biking, running, playing softball, going to concerts and outdoor films, and hitting happy hours. The kicker is that many of these bonding times are supported in one way or another by the company itself."
36. CampMinder
Location: Boulder, Colorado
What they do: Web-based platforms and solutions for summer camp operators
Number of employees: 47
Average salary: Not provided
Vacation time: Unlimited PTO
Perks: Weekly seasonal produce deliveries, a meditation room, and a $300 annual wellness allowance.
What they say: "True to our core value to 'give joy,' we plan regular opportunities to unwind and have fun together. Over the past year, these events have included a holiday party at a local brewery, a spring outing to play bar games at Punch Bowl Social, and an end-of-summer celebration at the Boulder Reservoir, where we broke into two teams and participated in a camp-inspired relay race."
37. Koru
Location: Carbondale, Colorado
What they do: General contractor specializing in high-end homes in Aspen
Number of employees: 20
Average salary: Not provided
Vacation time: 15 days PTO to start; unlimited PTO after five years
Perks: Season pass at Aspen; powder days when there's ten inches or more; annual skiing, rafting, and camping trips; and opportunities for a three-week "trip of a lifetime" to places like New Zealand, Argentina, or Spain or floating the Grand Canyon.
What they say: "A true Colorado company, we love our pups, and we enjoy bringing them to work."
38. Geocaching HQ
Location: Seattle, Washington
What they do: Publish a geocaching adventure app
Number of employees: 81
Average salary: Not provided
Vacation time: Three weeks PTO to start
Perks: Two hours of paid geocaching outings a month, access to a stocked gear closet, unlimited ski and snowboard lift tickets, internal geocaching program with global travel opportunities, and a paid four-week sabbatical every seven years.
What they say: "There are few places where you'd actively choose to spend your free time with your co-workers, but Geocaching HQ is one of them. When you love the people you work with and the people you work for, it's a recipe for happiness."
39. Small Giants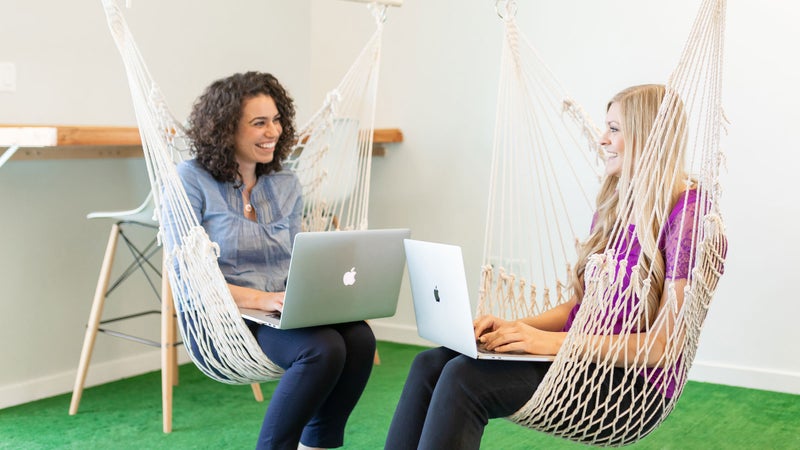 Location: Scottsdale, Arizona
What they do: Full-service marketing for commercial real estate
Number of employees: 16
Average salary: Not provided
Vacation time: Two weeks PTO to start
Perks: Stocked kitchen, free biweekly yoga sessions, sponsored continuing education, annual two-day retreat, 16-week maternity leave, swing-set meetings, and a campfire brainstorming area.
What they say: "We truly live our commitment to a collaborative culture. Our midyear retreat is a check-in on our progress on strategic initiatives. Last year, it concluded with kayaking and a winery tour and tasting."
40. Beach Cities Health District
Location: Redondo Beach, California
What they do: Preventative health care
Number of employees: 75
Average salary: $81,147
Vacation time: Three weeks PTO to start
Perks: A 9/80 work schedule with every other Friday off, discounted personal training, community exercise center, and a wellness program with participation rewards like exercise apparel and Fitbits.
What they say: "Employees are encouraged to start walking groups—or moais, as we call them—and have access to indoor and outdoor meditation spaces. Because we get more than 300 days of sunshine a year, employees frequently take walking meetings or wellness breaks and participate in free community fitness events hosted by BCHD, including Zumba in the park and yoga on the beach."
41. Bluetent
Location: Carbondale, Colorado
What they do: Digital agency for travel and tourism
Number of employees: 65
Average salary: Not provided
Vacation time: 12 days PTO to start
Perks: Powder mornings, afternoon hikes and mountain bike rides, a pup-friendly office, yoga and fitness classes, annual travel stipends, a kegerator, and a microbrew fridge.
What they say: "Bring together engineers, marketing guides, copywriters, designers, sales ninjas, extroverts, introverts, and outdoor extremists under the same roof in the heart of the Rocky Mountains, and what do you get? An inventive and curious team that influences the best kind of chaos."
42. Ascent360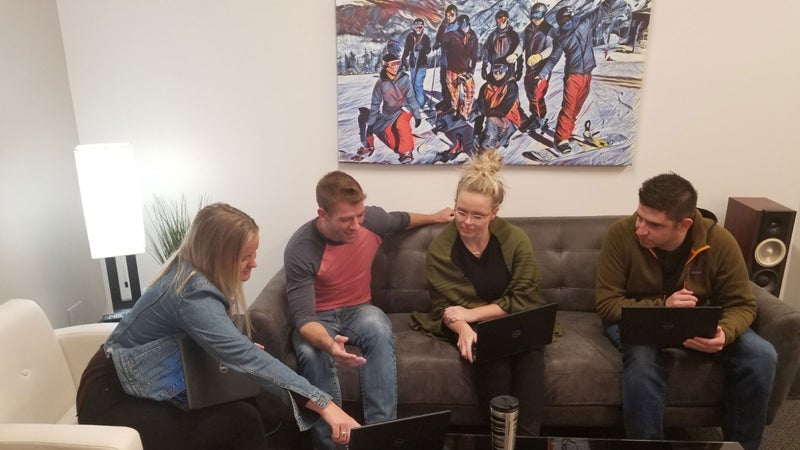 Location: Golden, Colorado
What they do: Digital marketing and customer data mining
Number of employees: 29
Average salary: $89,224
Vacation time: Three weeks PTO
Perks: Hump Day hikes, annual ski trip to Copper Mountain, and a $500 referral bonus for new hires. Plus, a weekly Beer 30 Club, where employees gather around the keg near the end of the day to socialize.
What they say: "We name our conference rooms after cool destinations. An employee can go to that destination to get on our 'Wall of Victors,' and then they get to rename the room. They also get to expense part of their trip. We've had employees go to Machu Picchu and the Grand Canyon. The new names they chose? The Great Barrier Reef and the Ajanta Caves in India."
43. Camp + King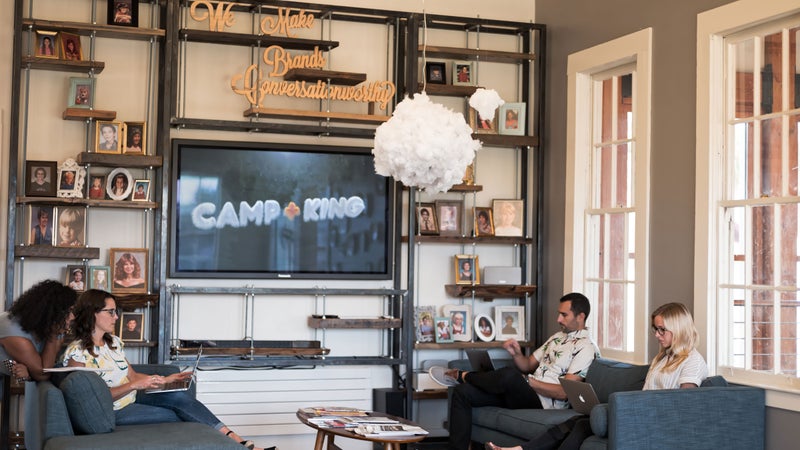 Location: San Francisco, California
What they do: Creative advertising agency
Number of employees: 41
Average salary: Not provided
Vacation time: Unlimited PTO
Perks: Subsidized commutes, a stocked bar cart, and a program that invests in employees' personal growth and talents.
What they say: "We take time to make lunch together with fresh groceries brought in every week. We sit around the farm table or outside on the lawn to eat and catch up. There are trails into a eucalyptus grove and to the bay that afford us a chance to clear our heads and lungs just steps away from the office."
44. GoSpotCheck
Location: Denver, Colorado
What they do: Management software for improving workforce operations
Number of employees: 152
Average salary: Not provided
Vacation time: Unlimited PTO
Perks: Catered Friday breakfasts; local beer, kombucha, and cold brew on tap; paid gym memberships; a dog-friendly office; and an annual retreat in the Rockies.
What they say: "Our founders set out to create a culture that emphasizes open, honest communication, taking ownership and having fun, staying sane, and taking care of yourself inside and outside of the office."
45. Haberman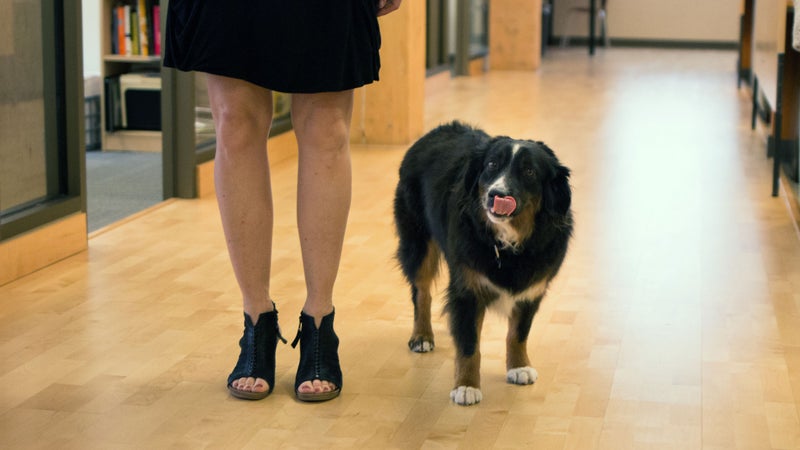 Location: Minneapolis, Minnesota
What they do: Advertising, public relations, and marketing
Number of employees: 52
Average salary: Not provided
Vacation time: 15 days PTO to start
Perks: A certified organic garden tended by cross-departmental teams, a fall harvest party, equine experiential learning, and summer parties. "This year, we hung out at a local vineyard playing bags and bocce ball."
What they say: "Summer in Minnesota kicks booty! We love getting out of the office early to water ski, boat, hike, bike, camp, paddleboard, and more."
46. Rustic Pathways
Location: Willoughby Hills, Ohio
What they do: Student travel, education, and philanthropy programs
Number of employees: 91
Average salary: Not provided
Vacation time: 14 days PTO to start
Perks: Travel, the opportunity to work from home, plus free spring break and summer programs for children of the staff and 50 percent off for children of friends and family.
What they say: "Our flight leader program allows staff to travel for free each summer as they accompany students to countries around the world. Our in-country operations teams take over when they land, giving our staff up to three weeks on their own, often with a friend or family member, who also travels for free."
47. Mondo Robot
Location: Boulder, Colorado
What they do: Creative digital agency
Number of employees: 29
Average salary: $98,650
Vacation time: Three weeks PTO to start
Perks: A $300 wellness benefit, two-tap kegerator with local brews, annual brew tour, loaner bikes, pet-friendly office, and an annual snow day at Arapahoe Basin Ski Area.
What they say: "We have a Kick Ass Award where employees can nominate each other for doing a great job on project. Winners get a $250 gift certificate to something they like."
48. Infinite Energy
Location: Gainesville, Florida
What they do: Natural gas utility company
Number of employees: 304
Average salary: $92,076
Vacation time: Two weeks PTO after one year
Perks: On campus 24-hour gym; CrossFit, yoga, and healthy cooking classes; outings to zip lines, local springs, and ropes courses; chair massages; on-campus food trucks; and free concert tickets.
What they say: "Attending a meeting doesn't necessarily mean reporting to a conference room. Many meetings across most departments take place on our walking trails, which stretch half a mile around our campus."
49. BrainStorm
Location: American Fork, Utah
What they do: Help large organizations adopt and use software
Number of employees: 127
Average salary: Not provided
Vacation time: 12 days PTO to start, plus three paid volunteer days
Perks: Corporate ski passes to a local resort; bimonthly activities, such as floating the Provo River, volleyball tournaments, and snow tubing; bimonthly service activities, like river and park cleanups or volunteering at animal shelters; and a paid sabbatical after ten years.
What they say: "Employees can apply for a grant to go on the adventure of a lifetime. Several winners are chosen every year. Previous winners have filmed documentaries in Ireland, fly-fished in Patagonia, hiked Machu Picchu, and trained as a chocolatier in France."
50. SummitCove Vacation Lodging
Location: Keystone, Colorado
What they do: Short-term vacation lodging
Number of employees: 39
Average salary: $75,000
Vacation time: Ten days PTO
Perks: Ski pass reimbursement at Keystone Resort, discounted gym memberships, access to staff cruiser bikes, and group hiking, yoga, and ski sessions. A monthly fitness challenge encourages health and wellness by rewarding participants with points to spend on Amazon for health and fitness items.
What they say: "Every fall, we host a fun run called the Das Bier Burner 5K that supports a local charity. We've even had a manager's meeting once where we brewed our own beer."
---
Honorable Mentions
Allagash Brewing Company
Location: Portland, Maine
What they do: Belgian-inspired craft beer
Apto
Location: Denver, Colorado
What they do: Web-based software management platform for the real estate industry
Arapahoe Basin Ski Area
Location: Dillion, Colorado
What they do: Winter sports recreation
Baltimore Chesapeake Bay Outward Bound School
Location: Baltimore, Maryland
What they do: Outdoor learning and leadership programs
BG Buildingworks
Location: Lakewood, Colorado
What they do: Consulting services for building and infrastructure design, operation, commissioning, and sustainability
Broadreach
Location: Raleigh, North Carolina
What they do: International educational trips for teens
Buzz Franchise Brands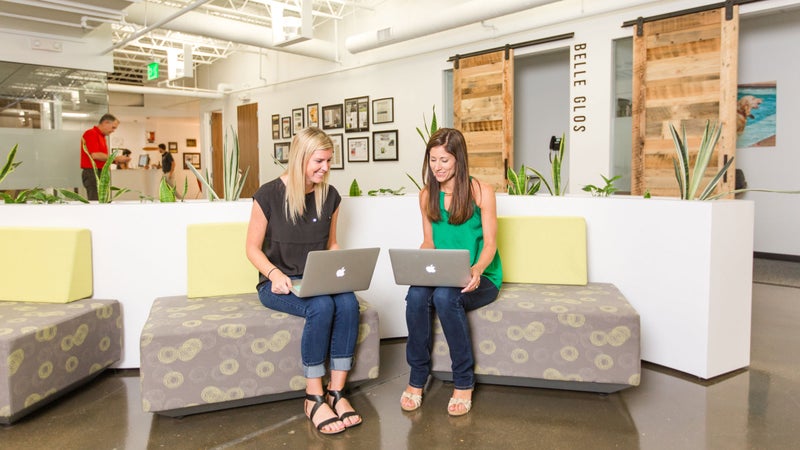 Location: Virginia Beach, Virginia
What they do: Multi-brand franchiser of home services
C1S Group
Location: Dallas, Texas
What they do: Engineering, construction, and sustainability consulting firm
CamelBak
Location: Petaluma, California
What they do: Hydration packs, bottles, reservoirs, and more
Carmichael Lynch
Location: Minneapolis, Minnesota
What they do: Full-service creative agency
CE Broker
Location: Jacksonville, Florida
What they do: Continuing education tracking system
Charles Cunniffe Architects
Location: Aspen, Colorado
What they do: Architecture, planning, and interiors
Colorado Outward Bound School
Location: Denver, Colorado
What they do: Outdoor learning and leadership programs
Creative Alignments
Location: Boulder, Colorado
What they do: Recruitment firm
Digital Operative
Location: San Diego, California
What they do: Full-service digital marketing agency
Eagle Creek
Location: Jackson, Wyoming
What they do: Travel gear outfitter
Evoke at Entrada
Location: Santa Clara, Utah
What they do: Wilderness therapy
Finished Basement Company
Location: Denver, Colorado
What they do: Basement finishing and remodeling
First Descents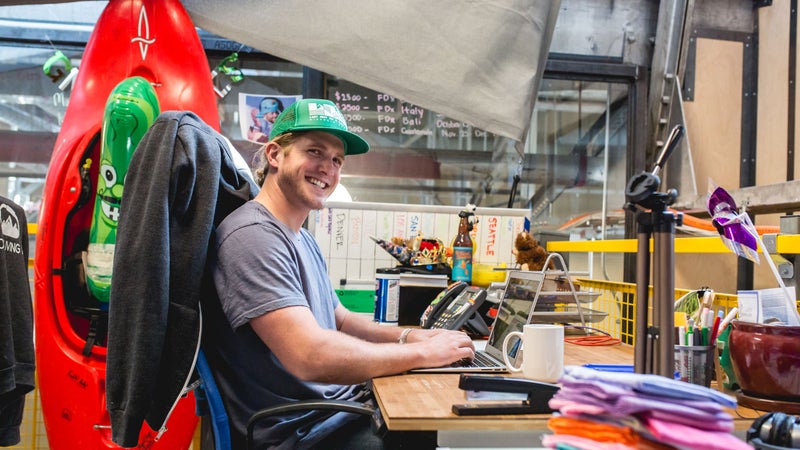 Location: Denver, Colorado
What they do: Outdoor adventure programs for young adults affected by cancer
Forum Phi
Location: Aspen, Colorado
What they do: Architecture, interior design, and land planning services
Fuse
Location: Burlington, Vermont
What they do: Teen and young adult marketing
Grandesign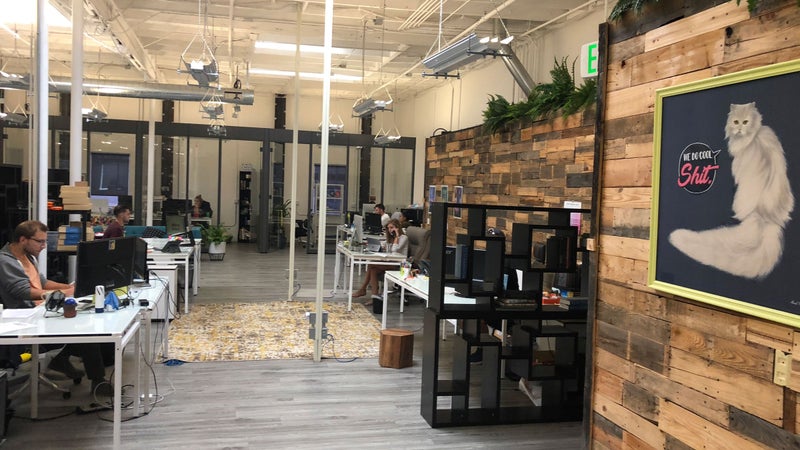 Location: San Diego, California
What they do: Traditional and experiential marketing agency
Greater Yellowstone Coalition
Location: Bozeman, Montana
What they do: Environmental nonprofit
Hanson Dodge
Location: Milwaukee, Wisconsin
What they do: Integrated marketing
IDX Broker
Location: Eugene, Oregon
What they do: Software for the real estate industry
Namasté Solar
Location: Boulder, Colorado
What they do: Employee-owned renewable energy cooperative
Nemo Design
Location: Portland, Oregon
What they do: Advertising and design agency
New Belgium Brewing
Location: Fort Collins, Colorado; Asheville, North Carolina
What they do: Employee-owned craft beer brewery
Nuun Hydration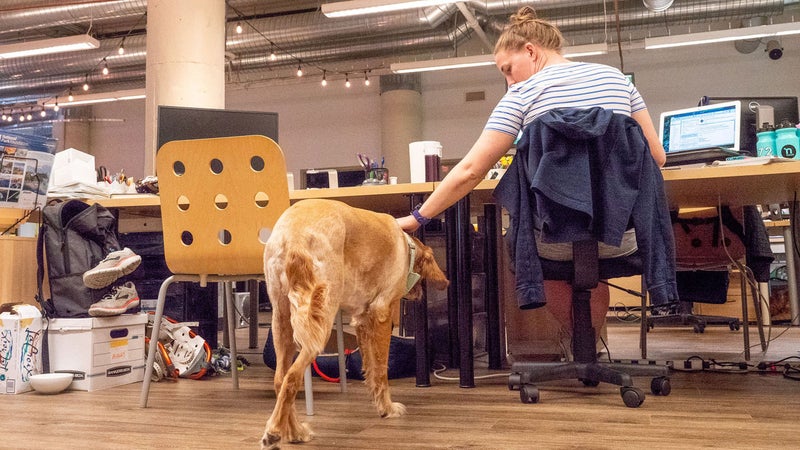 Location: Seattle, Washington
What they do: Electrolyte tablets
Outward Bound California
Location: San Francisco, California
What they do: Outdoor learning and leadership programs
Polar Field Services
Location: Littleton, Colorado
What they do: Global logistics and operations experts
ProtectWise
Location: Denver, Colorado
What they do: Network security
RA Nelson
Location: Avon, Colorado
What they do: Full-service general contractor
Realeflow
Location: Parma Heights, Ohio
What they do: Real estate investing software and education
Room 214
Location: Boulder, Colorado
What they do: Digital and social media marketing agency
Shambhala Publications
Location: Boulder, Colorado
What they do: Publisher of books, audio, and online courses on Buddhism, mindfulness, and more
Shine United
Location: Madison, Wisconsin
What they do: Advertising, public relations, and marketing
SlideBelts
Location: El Dorado Hills, California
What they do: Retail belt maker
Stio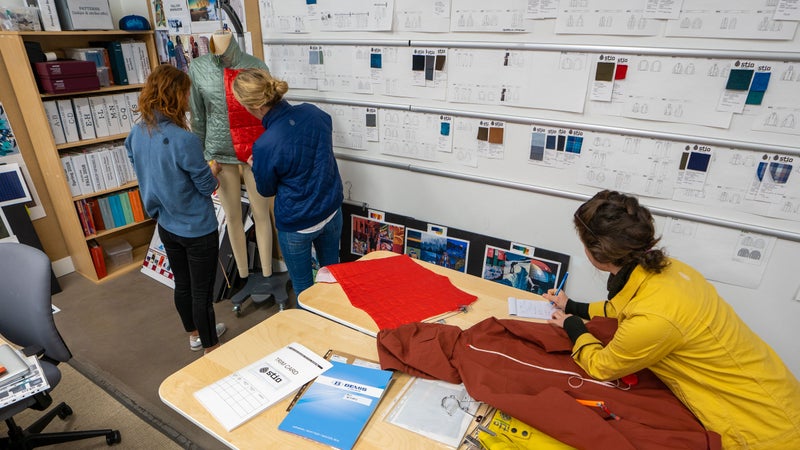 Location: Jackson, Wyoming
What they do: Outdoor apparel
StoneAge Tools
Location: Durango, Colorado
What they do: Waterblast tools
Taptica
Location: San Francisco, California
What they do: Global end-to-end mobile advertising platform
TeamSnap
Location: Boulder Colorado
What they do: Integrated sports team, club, and league management
Tendril
Location: Boulder, Colorado
What they do: Data analytics for residential energy market
The Frontier Project
Location: Richmond, Virginia
What they do: Boutique management consultancy
The Honest Kitchen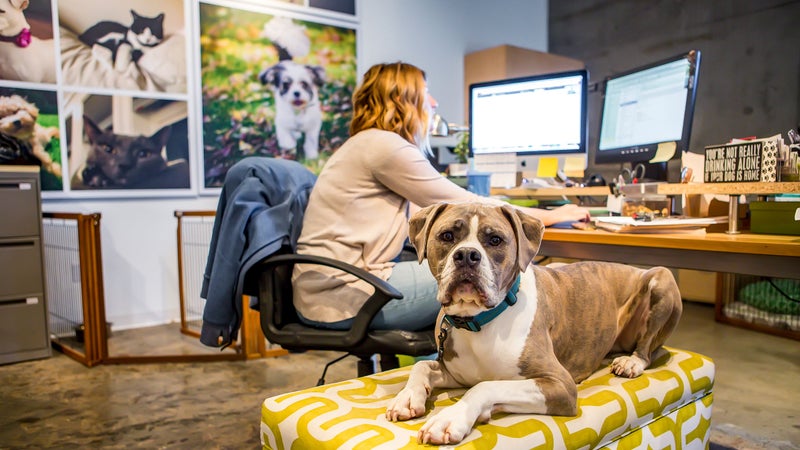 Location: San Diego, California
What they do: All-natural pet food
TrainingPeaks
Location: Boulder, Colorado
What they do: Training apps and services for triathlon, cycling, and running
Uproar PR
Location: Orlando, Florida
What they do: Full-service public relations agency
Voyageur Outward Bound School
Location: St. Paul, Minnesota
What they do: Outdoor learning and leadership programs
Workshop Digital
Location: Richmond, Virginia
What they do: Digital marketing agency
Zen Planner
Location: Highlands Ranch, Colorado
What they do: Management software for the fitness industry