What You Need to Know About This Year's Allergy Season, According to an Allergist
Answers to three of the most common questions asked in the springtime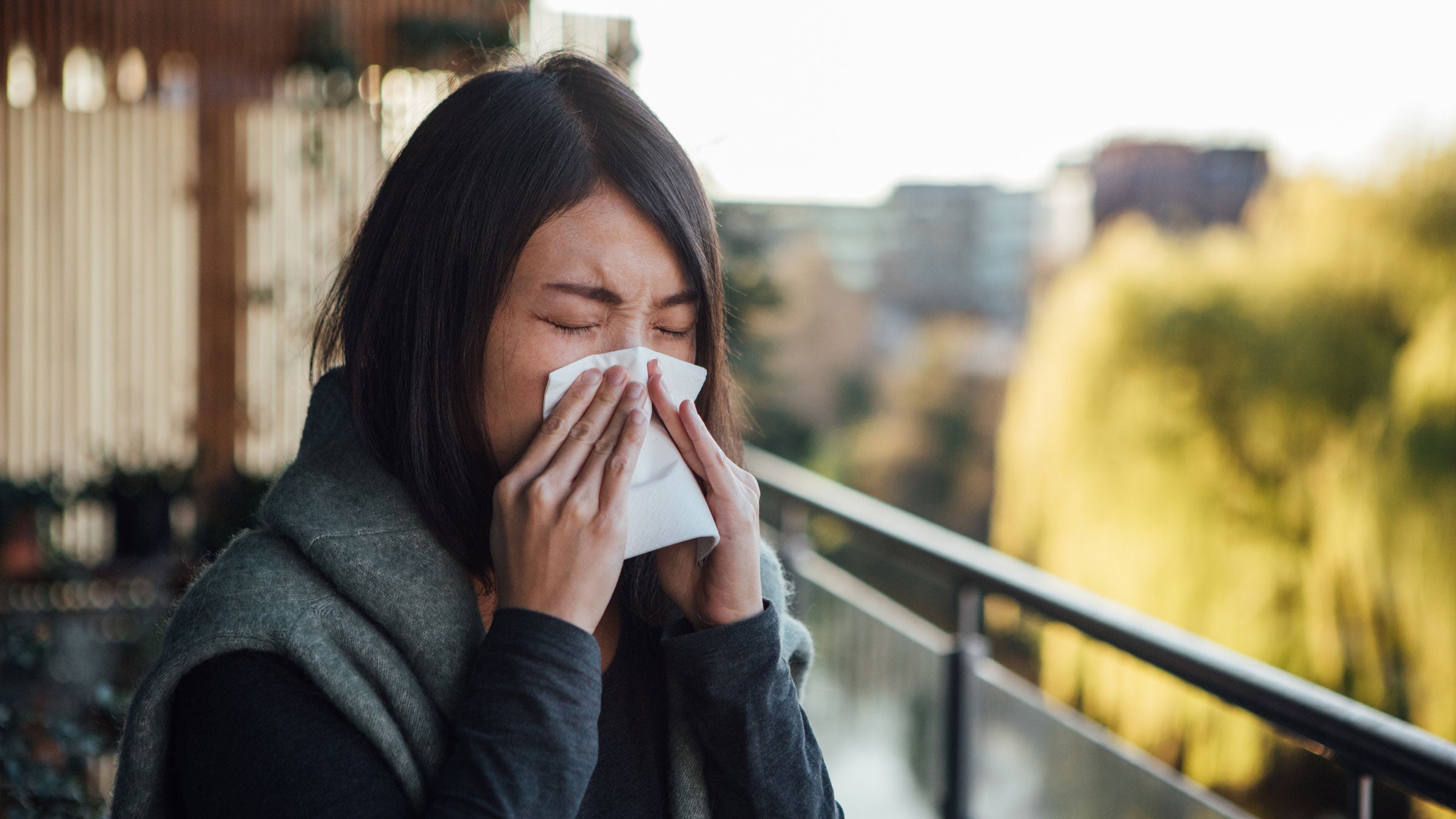 Heading out the door? Read this article on the new Outside+ app available now on iOS devices for members! Download the app.
It's that time of year again: springtime. And with the blooming flowers and occasional rain showers, comes watery eyes, itchy throats, and lots of sneezing. Allergy season is upon us.
Like me, you may have had the same exchange with your friends, coworkers, or even your barista: "This allergy season is brutal!" But is it really more unpleasant than previous years?
Is This Year's Allergy Season Worse Than Usual?
You may think that your area of the country has been hit the hardest by this year's allergy season. And while you may not be wrong, you're not exactly right either. "I think this is a common issue across all of the U.S.," says Jay Jin, an allergist and immunologist at Indiana University School of Medicine. However, in certain areas of the country, weather pattern changes may promote more pollination in our trees and grasses than a typical season, he says.
"Based on what my patients are telling me, it does seem to be a little bit worse than perhaps some of the more recent ones," Jin says. "But I will say, overall, there's a lot of variability from season to season." It's not unusual to have a season with higher pollen counts, followed by one with lower levels, he says, according to historical data. Pollen counts vary city to city.
You also may be dealing with those symptoms for a longer period of time. Data highlighted by the Asthma and Allergy Foundation of America found that recent pollen seasons are almost a month longer than they were 30 years ago.
Can Allergy Medications Become Ineffective?
If you're anything like me, during the springtime months, you take your daily dose of an antihistamine, such as Zyrtec or Claritin, right as your morning alarm goes off. But if you're still in a fog, you may wonder: Is this medication even making a dent?
"If a person's been taking an antihistamine for a long time, they can seem to get less effective," Jin says. In that case, he recommends switching to a different antihistamine. If you've identified as a Zyrtec person for years, you may want to switch to Claritin for a week or two—or vice versa.
When tablet medications don't seem to do the trick at subduing your itchy eyes, Jin says you can discuss the option of adding on more medication with your doctor, such as a steroid-based nasal spray.
However, if the antihistamine and nasal spray treatments aren't cutting it, Jin recommends meeting with an allergist to find out what you're specifically allergic to. After completing those tests, you and your allergist can design a plan for desensitization, which may include allergy shots. "That's a big way we help people manage the allergy symptoms," he says.
I've Never Had Allergies Before. Why Am I Suddenly Being Walloped?
I'll never forget my first time… developing seasonal allergies. It was the spring of 2020 and along with dealing with the start of the pandemic, I was also confronted with itchy and watery eyes. Developing seasonal allergies later in life isn't unusual, according to Jin.
"The development of environmental allergies can occur at almost any time point in a person's life," he explains. Even if it's not well understood why that happens, Jin says he's observed that in countless patients. You—and I—are not alone in our late-stage seasonal allergy development. And while that may not be much of a consolation, here's to hoping for lower pollen counts next season.
Lead Photo: Oscar Wong/Getty