Physical Therapy vs. Chiropractor: Which Treatment Is Best for You?
Training, tools, and techniques vary. What you need to know to choose a physical therapist versus a chiropractor.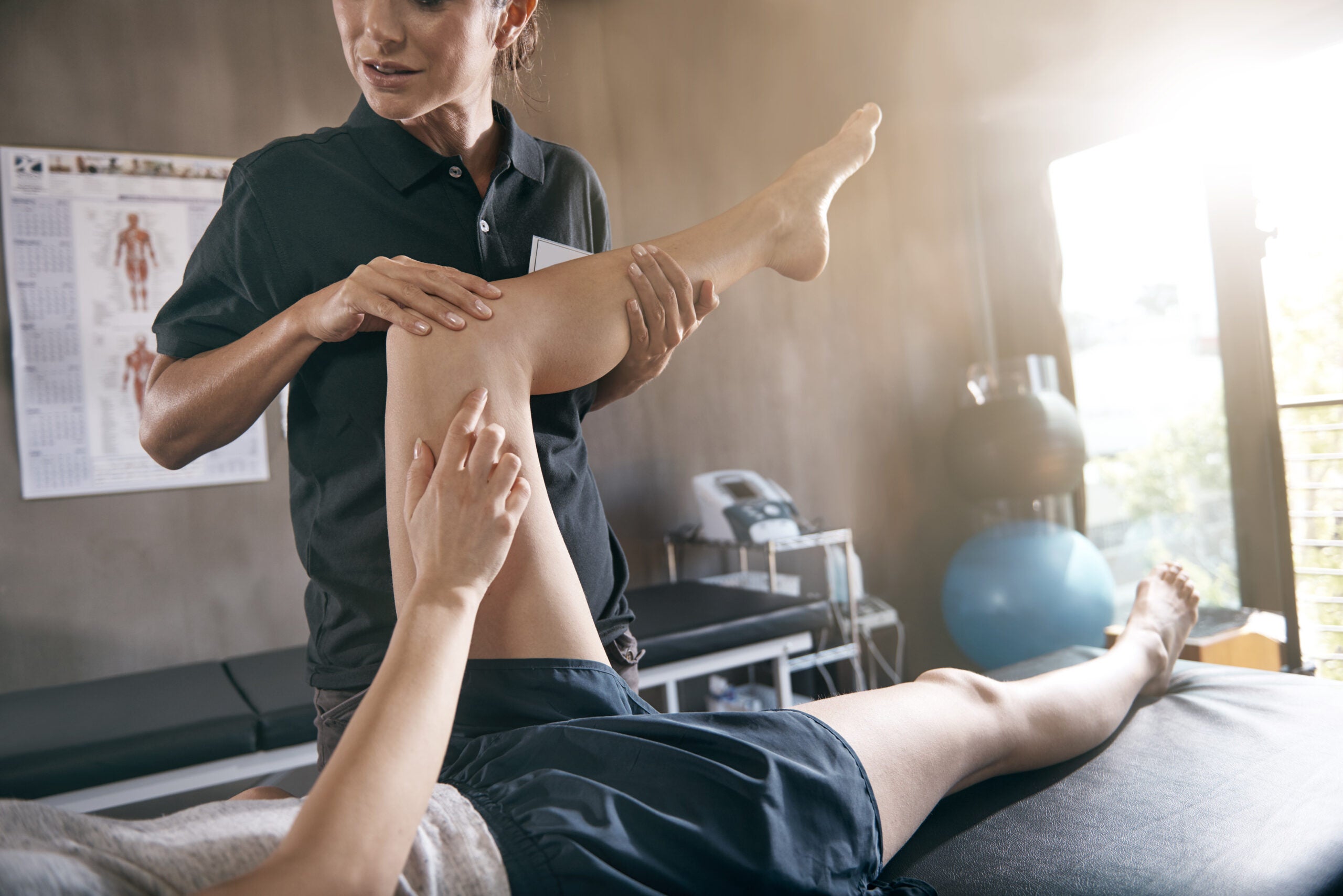 Heading out the door? Read this article on the new Outside+ app available now on iOS devices for members! Download the app.
Aches and pains are inevitable. That's especially true for athletes or anyone who engages in intense physical activity. When an injury happens, you know to go to your primary-care provider right away. But after they address your acute symptoms, you may need someone to treat your chronic pain, restore your structural alignment, and get you back to your full strength and mobility.
That often means you need to make a decision: Physical therapy or chiropractor. But which?
"If you look at chiropractic and physical therapy… they are a category of care, if you will," says Nolan Lee, a board-certified and licensed chiropractic physician, acupuncturist, and yoga instructor based in Chicago. "That umbrella will encompass a lot of overlapping tactics," he says. The common denominators are that they both address musculoskeletal conditions, and both provide care without surgery or meds.
Which you choose depends on your particular situation, needs, and preferences.
Physical Therapy vs. Chiropractor: Basic Differences
Physical Therapy
Physical therapists are licensed health care providers who use exercise, stretching, massage, and other methods to help patients build strength and improve flexibility and function. They can help you "avoid surgery and prescription drugs, maximize your mobility, manage pain and chronic conditions, and improve your physical function and fitness," according to ChoosePT.com, the consumer-information arm of the American Physical Therapy Association.
Though physical therapists also work with people to prevent injuries and improve their fitness, "it's typically pain that brings people in—pain that you are fairly certain is musculoskeletal in nature," says Ariele Foster, a holistic doctor of physical therapy and yoga teacher who practices in Washington, DC. That could include low back, hip, or neck pain; osteoarthritis of the knee; herniated disks; ACL and rotator cuff tears; and other chronic or acute pain.
While some PTs specialize in musculoskeletal conditions, others focus on patients with neurological problems such as ALS or muscular dystrophy. You might go to a physical therapist if you have issues with balance or dizziness, symptoms from cancer, heart disease, respiratory problems, or pelvic floor issues.
Chiropractic Care
Chiropractic care has been available for more than 100 years in the United States. "Our focus is mainly rehabilitation and physical medicine, which is using conservative methods to help treat people," says Lee. That means chiropractors work to relieve pain and improve function and overall health using non-invasive methods.
Research supports the effectiveness of chiropractic for low back pain, neck pain, headaches, and osteoarthritis. There has been some study of the use of chiropractic as a complementary treatment for asthma and even depression.
You may think of chiropractors as focusing on spinal manipulation–and that continues to be a centerpiece of chiropractic care, according to the American Chiropractic Association. Like PTs, chiropractors often use manual adjustments to improve alignment of the spine and joint function. That may include stretching, soft tissue massage, and spinal traction.
But chiropractors also use a variety of other therapies and modalities to address patients' needs. For example, they may use electric nerve stimulation, ultrasound therapy, and light and heat treatments. They can counsel you on nutrition and lifestyle modification. If you need an X-ray, other imaging, or medical labs such as urinalysis or blood tests, they can order and analyze them.
Physical Therapy vs. Chiropractor: Training
Physical therapists must have a bachelor's degree and complete a three-year Doctor of Physical Therapy (DPT) degree program. Foster explains that the doctorate-level training, which is now standard in the field, allows patients to make appointments without a referral from a medical doctor. With some exceptions, most individuals can schedule a visit directly with her, she says. (This is a welcomed change from the days when you had to be referred by an MD before you could make a PT appointment.) Most health insurance carriers cover at least part of the cost, though you should check with your insurance carrier first.
Chiropractors also complete four years of undergraduate study followed by a four-year Doctor of Chiropractic (DC) program. Like physicians and PTs, they learn about anatomy, physiology, and other sciences. They're also required to spend hours working with patients in a clinical setting to gain hands-on experience. When they complete their training, they are known as chiropractors, chiropractic doctors, or chiropractic physicians.
Physical Therapy vs. Chiropractor: Tools
Physical therapists might use heat and cold therapy, electrical stimulation, and other techniques to treat their patients. At a PT session, you may receive passive manipulation to guide your body into various positions, or you may be asked to actively practice certain movements. You'll often receive instructions for exercises you can do at home.
In addition to doing spinal adjustments–manipulating your back and neck—chiropractors like Nolan also employ therapeutic exercise and may give you "homework" that includes movements that can help you increase joint mobility, loosen tight muscles, and even improve circulation and respiration. That treatment might include hands-on therapy, rehabilitation exercises, as well as nutrition counseling.
Musculoskeletal work and rehabilitation is typically covered by insurance, Lee says.
Physical Therapy vs. Chiropractor: Myths and Misconceptions
Foster says there are a lot of misconceptions about physical therapy, including that it is "glorified" massage therapy. While PTs are not considered physicians, they are trained to provide specific health care. "In general, the profession of physical therapy has embraced evidence-based and evidence-informed medicine in a much more robust way," she notes.
Chiropractors have had a reputation as "back crackers," but people may not realize that chiropractors are trained to serve as primary care physicians, according to the ACA. They may have specialties in nutrition, orthopedics, radiology, sports medicine, and other clinical areas.
Physical Therapy vs Chiropractor: When Your Need Something More
If a particular combination of treatments doesn't yield results, Nolan says chiropractors can refer patients for a surgical consultation or other specialized care. "It's very scientific and objective, keeping track of exams, outcomes, and progress to see if we need to move them on to a different therapy or provider," he says.
The same applies to physical therapy. Foster says PTs can refer patients to other providers if a different type of care is needed. She recalls two patients with herniated disks whom she  ultimately referred for surgery.
Physical Therapy vs. Chiropractor: Which Should You Choose?
The bottom line is a patient who is struggling with pain and seeks a non-invasive, non-drug approach could likely benefit from either physical therapy or chiropractic care. Ultimately, your choice comes down to your situation, your insurance, and your comfort level.
Lead Photo: Pixdeluxe/Getty Images