The Adventure Therapy Cure for Survivors
When you take former sex-trafficking victims into the wilderness for a few days of roughing it, know this: they've seen worse. Florence Williams goes on a trip organized by Atlanta-based She Is Able and learns that one size of adventure therapy does not fit all.
Heading out the door? Read this article on the new Outside+ app available now on iOS devices for members! Download the app.
Asta spent her first night in Colorado sleeping in an outfitter's warehouse, replaying in her head the bear growls she'd learned online. She wanted to be ready. Although she'd slept outside plenty of times, usually under a bridge, she'd never camped in the mountains, and she was, to say the least, apprehensive.
"I'm a little nervous, OK?" she says the next morning, practicing how to stuff her winter sleeping bag into the bottom of her loaner pack. She's wearing leggings and a loose sweatshirt; her long hair hangs straight. "I was homeless for four years in Atlanta, so this is a new adventure," she says. "I was afraid of the streets and the men, but this is different. It's the mountains I'm intimidated by. Bears, lions, mountain goats, cheetahs—I don't know, bugs, snakes."
"Are you really more afraid of bears than men?" I ask.
"I know how to survive back there. This is unknown territory."
Asta's southern accent is strong. Her body, she says, not so much. In addition to her fears about wildlife, the 34-year-old is worried about being out of shape, about not being able to carry a 40-pound pack, about holding up the group. And, oh yeah, about the cold October blast that's expected to move in from the north, dropping nighttime temperatures into the low twenties.
For Asta and five other women who've traveled here from Atlanta, this four-day backpacking trip in the Colorado wilderness is part reward and part recovery. (The participants' names have been changed to protect their privacy.) They are nearing the end of various yearlong residential treatment programs for women who have lived in the grip of substance abuse and sex trafficking.
Today the group woke up in the Denver warehouse of Expedition Backcountry Adventures, a company commissioned by the one-year-old Atlanta-based nonprofit She Is Able, which connects women from various recovery centers with outfitters that can take them into nature. The women on this trip range in age from 20 to 38. They are not the image many of us have when we think of victims of sex trafficking. They are all U.S. citizens, for one thing. Four are white; two are African American. Most were born and raised in Georgia; a couple were brought there by their pimps.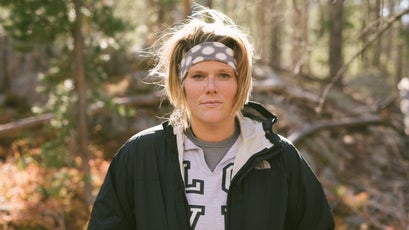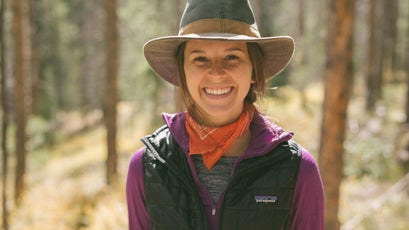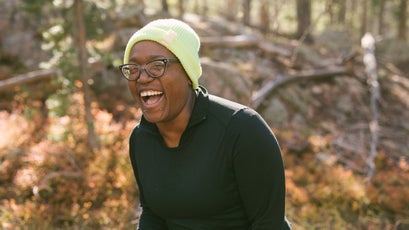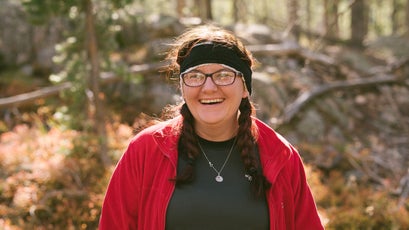 To listen to the women's tales, which they shared last night over plain burgers and plastic cups of water, is to hear a litany of broken promises and broken hearts—pimps who refused to bail them out of jail, husbands or boyfriends killed or imprisoned. They have all been neglected or abused by their parents, and in some cases watched as their own children were taken away by the state.
Between the forecast and the predators, this expedition is looking like yet another ordeal. Today the group will try rock climbing for the first time. Then we'll hike into the Indian Peaks Wilderness, which borders the southern end of Rocky Mountain National Park, to spend three nights in the backcountry. The women will be tested by the fickle weather of the Rockies in autumn—and so will the philosophy of wilderness therapy itself. How much can you recover from psychological scars if you're still profoundly traumatized? What if you're way more easily freaked out than most people who shoulder a pack? And what if you don't want to triumph over nature and the elements so much as get a decent night's sleep, experience some calm, and maybe learn to love yourself again?
Fears can be outsize when you've spent much of your life afraid.
---
From the beginning, Asta's life wasn't so auspicious. Her mother was mentally ill, she says, and her father was a sexual predator. She was adopted by her grandparents as a young girl. The rest of her childhood was pretty typical: suburbs, school, church. She had a daughter when she was 20 and a son five years later, but his father ended up getting deported to Mexico. She became addicted to crack and alcohol, and, she says, "got the wrong attention from a man." He pimped her out through online classified ads for dating and escort services.
Atlanta is an epicenter for sex trafficking, generally defined as a transaction that involves force, fraud, or coercion. According to an Urban Institute report, the city's underground sex economy totaled $290 million in 2007, the most recent year for which figures are available. Many of those offered up on escort sites are minors. Local advocate Mary Frances Bowley, founder of the residential program Wellspring Living, calculated in 2007 that the city's monthly population of underage trafficked girls hovered around 395. Many, she said, were expected to see eight to ten clients per night.
"Your ad is put up," Asta explains. "And men can call and request you, and then they come to your hotel room and you have in-calls and out-calls." For her, she says, using drugs meant that decision-making wasn't really an option. "My choices were made for me, but I allowed that door to open and then I couldn't close it." She lost custody of her two children—her daughter to live with the girl's father and her son to adoption. After four years, she fled to a different set of pimps and became a street prostitute.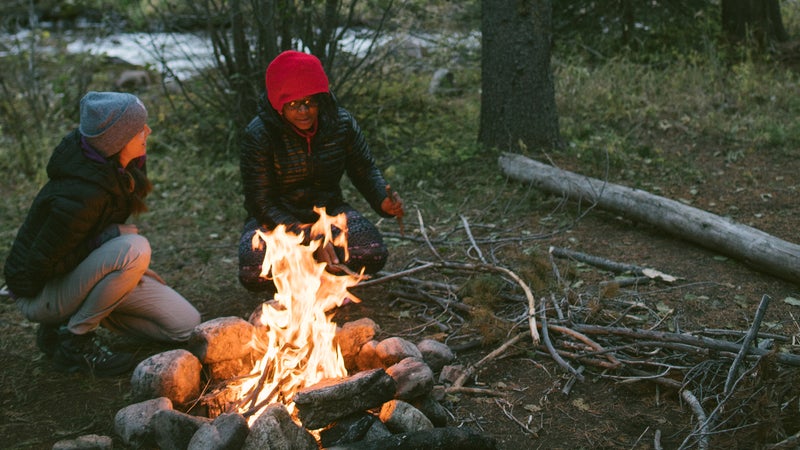 Eventually, Asta was rescued by a worker from a Christian ministry, who scooped her into an outreach van from under a bridge. She endured two weeks of near coma-­inducing detox before entering a residential addiction program. Three other women on this trip are from the same center, and two are from another Atlanta facility. Both places are affiliated with Christian evangelical groups.
This lends the trip a prayerful tone. Last night, Tamara, 31, talked about losing custody of her six-year-old son, who now lives with her grandparents. She started crying quietly.
"Can I pray for you?" asked a woman named Kris. Tamara nodded. Kris offered her hand.
"Lord, please help heal every crevice of her broken heart. Help renew her mind during her absence from her son. Meet her where she is at, whether it's in a warehouse or on a mountaintop. I know, God, you have a purpose for her life." Tamara sobbed harder, then Kris started to cry, and pretty soon the whole group, including the guides, were sniffling amid piles of sleeping bags and Nature Valley granola bars.
Asta climbing into that rescue van, Kris riding out withdrawal: that was bravery. These women don't need to scale a mountain in a blizzard to gain a sense of achievement. But coming to Colorado required an unusual leap of faith.
"I don't welcome or receive. I push away," said Asta. "I'm a runner." She didn't mean the sport.
---
As we pack up for the trip, game faces are back in place. The women pull on hiking boots, colorful knit hats, and fleece jackets, all of it donated, over their street clothes. "Girl, you look good in yellow," says one.
Next come the backpacks, hoisted into place amid much groaning. We pile ourselves and our packs into a roomy white van parked out back. "The van is new and needs a name!" says our guide, Chelsea Van Essen. "What shall we call it?"
"Betty White!" yells Tamara.
"Yes!" replies Chelsea.
Although Chelsea, a chipper, curly-haired 26-year-old, has worked with sexually abused women before, this is only her second trip as a leader for Expedition Backcountry Adventures, and it's the first time the outfitter has worked with trafficked women.
Before loading up the van, Chelsea and fellow guide Hope Swearingen, a 23-year-old part-time mental-health coach, sit the ladies down in a circle for a briefing.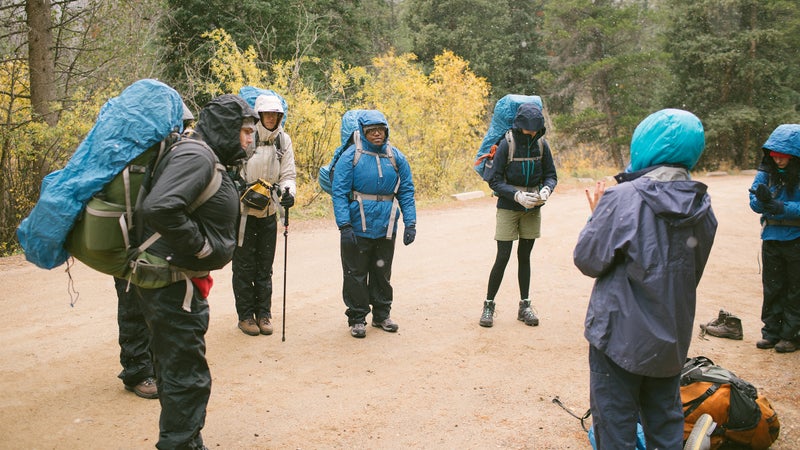 "One thing we want to focus on as a theme of the trip is safety. Every day we will let you know what's coming," says Chelsea, who has a social-work graduate degree focused on trauma from the University of Denver. "If I feel like I don't know what's going on, I don't feel safe, right? I am going to ask you before I put my hand on your shoulder, and if you say no, that's awesome! We're going to respect that. We recognize that if you don't feel safe, then nothing else is going to happen, this power of healing in nature. None of that can happen if our brains are not fully safe."
This fierce defense of emotional safety may seem completely sensible, but it's a radical departure from the way many adventure programs are run. Chelsea, along with other, primarily female outdoor educators, are drawing from a small but deep vein in feminist social science suggesting that the standard story line of "grow through toughness, conquer the peaks and find yourself" just doesn't work for populations who have suffered long-term psychological trauma.
"It has to be understood from the get-go that this is not going to look like a quote-unquote normal trip," Chelsea tells me. In some ways, it is less than normal: fewer miles, fewer vertical feet, fewer vistas. But before long, it will turn into more of a field test than anyone expected.
One thing the women are quite used to is group therapy. After months in rehab, they are so good at it that the trip leaders don't ­always feel the need to step in. "I've learned to let the women do most of the talking," says She Is Able founder Elise Knicely.
In one year of operation, Elise—largely on her own—has commissioned 14 excursions in several states, taking some 100 women on day trips and overnights. Last year, with a budget of just $80,000, she drew heavily on volunteers and partnerships with safe houses. At 27, she has proved successful raising funds, bringing in sponsors, and recruiting a well-connected board. As someone with no training in trauma care, though, Elise says it's easy for her to become invested—perhaps excessively so—in the women's lives. "I'm a very empathetic person," she says. "Sometimes I return from these trips emotionally hungover, truly, for weeks."
At first glance, Elise seems the polar opposite of her charges: tall and wispy, regally poised, an Alpha Chi Omega with crisp outdoor gear and a confident stride.
"I like your cap," Kris says to her later. "What does that mean, Patagonia?"
"Oh," says Elise, smiling. "It's an outdoor brand. I used to work in one of their stores." She played a lot of sports growing up outside Atlanta and worked as a camp counselor during college at the University of Georgia. At 23, during a solo trip around the world, she landed in India, where she shadowed an organization fighting sex slavery in the slums of Mumbai. There she met young women forced to live in caged rooms. "Those encounters changed my life," Elise told me.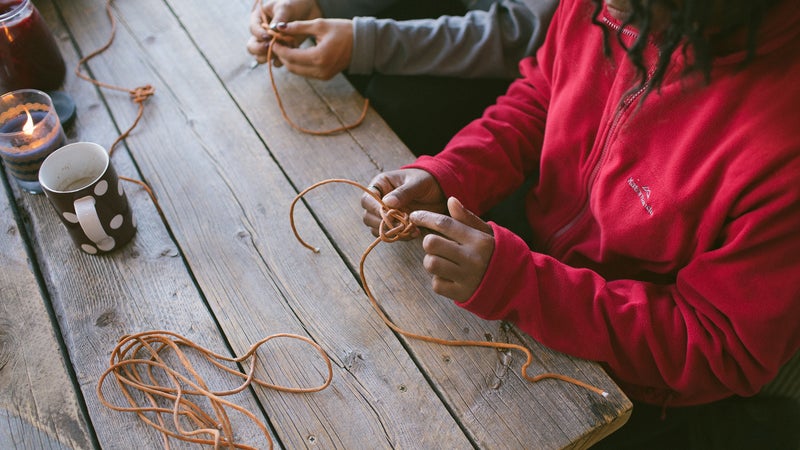 She went back to Atlanta and accepted a job doing corporate consulting. On weekends she took women from a sex-trafficking safe house hiking, then canoeing. The response was overwhelming.
"Oh crap, that got real fast," she recalls of the decision to quit her corporate job. "But how the heck do I begin to turn this into something bigger and more constructive?"
Why did Elise think that a few hours or days in the woods could help course-correct a near lifetime of abuse, addiction, poverty, and exploitation? At first it was just intuition layered with sorority-girl optimism. She's like Legally Blonde's Elle Woods combined with Wild's Cheryl Strayed. Then she started reading research showing that time in nature can help such women develop the tool kit they need to heal: self-regard, peace from the hypervigilance associated with trauma, and better, more connected relationships with friends and family.
Her doubts receded. She decided to found She Is Able in January 2017, offering three levels of outdoor adventure—from half-day trips to multi-day overnights, depending on how long the women had been in recovery.
"A voice inside said, 'E, this is what you're made to do.' "
---
Betty White's first stop on our way to the trailhead is Clear Creek Canyon, which saws up into the Front Range from Golden. The morning is cold, and when we arrive the women huddle behind the van to pull on more layers and lace up their climbing shoes. At a crag called East Colfax, named after a boulevard in Denver that passes through an area known for street drugs and prostitution, we meet up with our climbing guide, Aleya Littleton. Diminutive, energetic, and infinitely patient, 32-year-old Aleya is an adventure therapist who specializes in sexual trauma. She has already fixed ropes on three short routes, and she helps the women into their harnesses.
"I'm just going to watch," says Kris, gazing up at the rock.
"Me too," says Asta.
"It's your choice," says Aleya. But she has soon made participating irresistible. "Listen to your body," she says. "You're going from a horizontal world to a vertical one, so use your muscles in a way you don't usually use them. Settle down into your legs, shift your weight. If I breathe and find my center, I can zoom out, open my focus. If I'm anxious, that focus closes down."
With Littleton belaying her, Tamara practically jumps onto the wall, giddy with the task, a natural.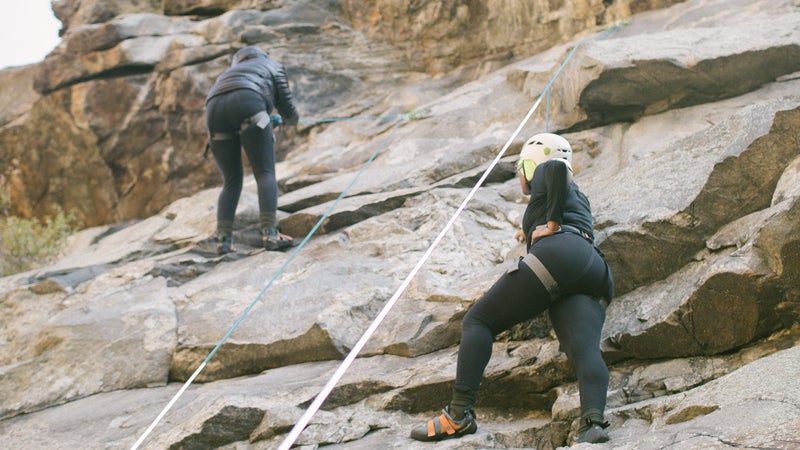 "You are crazy!" calls out Rochelle, 32. But then she too starts to climb on the next route, slowly but steadily.
A third woman, Kim, the youngest of the group at 20 and a recovering alcoholic, grins and starts up the last route. After a bit she looks down and calls out, "I'm rock climbing, y'all!" She looks out over the rocky canyon, where the nearby creek rushes past ruddy willows and yellow aspens.
An hour later everyone has climbed, some twice, to much hugging and high-fiving.
The guide gathers the women into a semicircle. The sun has entered the canyon, and a breeze blows upstream. The women are blinking happily in the light, like they can't quite believe they're here.
"What was that like for you?" asks Aleya.
Rochelle speaks first. "I noticed that once I started trusting, it got a lot better," she says. "What are the odds I'm going to fall down the side of a mountain? Pretty low. When you said, 'Take little steps,' that really ministered to me. Baby steps. That is a truth bomb. Baby steps."
Asta is nodding. "I'm the only one who tells me that I can't do something. I tell myself that too much."
"Yeah," says Kim. "I can help other people, but I'm so bad at helping myself."
"I was reminded that I'm going to be OK," says Kris. Then she starts to cry.
The tough-it-out-to-toughen-up plotline is so familiar, we all assume it's true. Many wilderness-therapy courses conform to the narrative, a male-centric, quasi-militaristic hero story that says that what doesn't kill you, yada yada.
Climbing as metaphor may seem obvious. You have to trust the person holding your rope. You have to find your breath. You move one step at a time while also looking ahead. You pull yourself up and cheer each other on. But the banalities of these points don't make them less profound, and the benefits—from both the mental and physical effort—reach unexpected places.
As Aleya explains it, healing trauma is complicated. That's because the brain wants to hold on to memories of danger. "They're separate from linear, logical thought processes," she says, "so your nervous system acts like it's happening now or is about to." Simply talking about traumatic memories doesn't fully work, because it engages only those neural pathways associated with logic and speech. Healing involves both separating fearful emotions from bad memories and bringing the nervous system back to the safer, quieter present. "Trauma healing happens not only through talking, but also through integrative nonverbal therapies," Aleya says, referring to both movement and mindful­-ness. These happen easily in adventure sports, as long as they feel relatively safe.
Still in their harnesses, the women have taken more risks than they expected. But trust is an unfamiliar feeling. They don't trust others, and they don't trust themselves. Before she enrolled in her current program, Asta had already experienced relapse once, returning to the streets and the bottle after a few weeks in a safe house. "It's always a step away," she says.
Kris has never gone this long—a year—without a drink or methamphetamine since her life started unraveling 12 years ago. She turned to meth as a way to keep her weight down after her third son was born, and she got sucked into prostitution to pay for the drugs. Sexually abused from the age of 11, she never felt that her body was worth protecting. ­Ultimately, she started dealing. She went to prison twice. The last time, her mom agreed to bail her out if she entered long-term rehab. That was just over a year ago.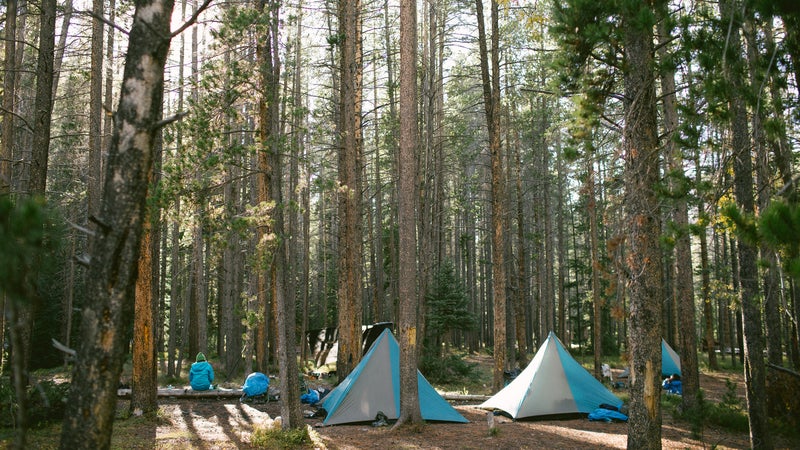 At one point, Kris asks the guides, "Why are you doing this to help people like us?"
"We've screwed every person over, burned every bridge," adds a woman named Joy.
Hope, passing out the last of the granola bars, responds, "I know the power the wilderness has. I can't keep this to myself."
---
It's afternoon by the time we arrive at the Monarch Lake trailhead—our gateway to Indian Peaks—and it's clear that these will be low-mileage days. The first challenge is obvious: the sky is dumping graupel. This, Chelsea explains to the wide-eyed Georgians, is a combination of snow and sleet.
"Well, this is not what I was expecting," says Kris. "It's 90 degrees in Atlanta."
We munch some apples, layer on raingear, and drape our packs with Smurf-blue covers that look like giant shower caps. The trail is narrow and smooth, a yellow brick road of fallen aspen leaves. Over the next few hours, we walk and stop and walk again. There are clothing adjustments, snacks, blister repairs. Asta and Rochelle need to rest at the top of gentle rises. We are near 8,500 feet. "Oh Lord, this pack is heavy!" groans Rochelle.
The fact that she is even feeling her body is progress, according to researchers like Julie Anne Laser-Maira, a trafficking expert and associate professor at the University of Denver. "They've been through so much brutality," she says. To survive those experiences, women often dissociate from their bodies.
Rochelle knows this well. "I came to a place where I had to be OK with being raped," she tells me. "I had to be OK with it because it happened every single day for a really, really long time." Rochelle says she was basically held captive as a sex slave for a year in Boston, then became a street prostitute and meth addict. She tells me this with bright eyes that, she says, were vacant not long ago.
Today she is scanning a marshy area off the trail that looks a little moosey to me. A few minutes later, sure enough, we see a mother and an adolescent moose about 100 feet away. The women fall into a huddle of exclamations and whispers.
"This is my first time ever seeing a moose in person!" says Tamara.
"Same!" says Kim.
No one pulls out a cell phone, because they are not allowed to have them in rehab—one of many restrictions they agree to as part of their treatment. Life back there reverberates into the mountain in other ways. That first night, Kris wouldn't zip up her sleeping bag because she didn't want to feel trapped by it. The women go off to pee or collect water or firewood only in pairs, partly because they don't like being alone out here and partly because it isn't permitted in their treatment centers.
It takes us over two hours to hike the three miles to camp, following Buchanan Creek and crossing into the Indian Peaks Wilderness. White patches of snow glow like spotlights on the forest floor. The temperature keeps dropping, and it's getting dark. We set up tents, and eventually dinner is ready: thin bean soup. I figure this is the first course, but it's the whole deal. Chelsea and Hope look apologetic and whip up some Nutella on tortilla wedges for dessert. We heat water to fill bottles that we slip inside our sleeping bags, then wrap our bodies around the hot plastic and try to sleep.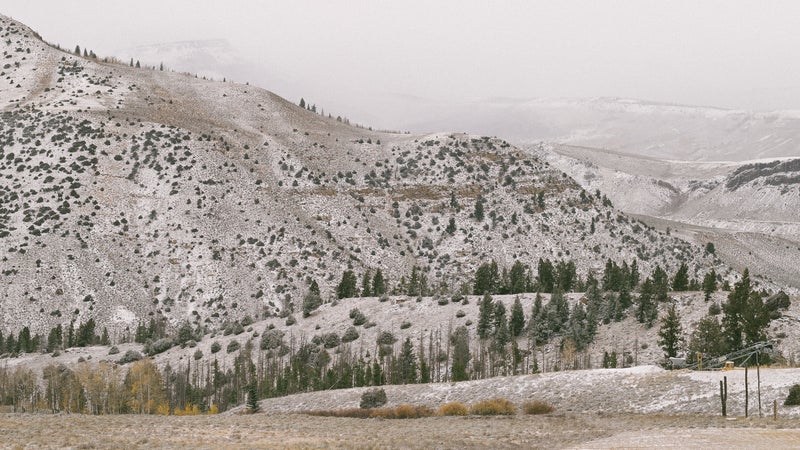 According to the usual outdoor-therapy script, we'd all wake up feeling a little vulnerable, then gradually assume a mantle of fist-pumping, we-made-it-through-the-night badassery. The idea that pushing our limits builds character is as old as the hills. John Muir embraced it. So did Teddy Roosevelt. The tough-it-out-to-toughen-up plotline is so familiar, we all assume it's true. Many wilderness-therapy courses—along with Outward Bound, the National Outdoor Leadership School, the Eagle Scouts—conform to the narrative, a male-centric, quasi-militaristic hero story that says that what doesn't kill you, yada yada.
But for trauma therapists like Chelsea and academics like Denise Mitten, who chairs the master's program in adventure education at Arizona's Prescott College, it's time to rethink the old tropes. They want less Daniel Defoe, more Katniss Everdeen. Not content to be the lone victor, you'll recall, Katniss chose to hold Peeta's hand, and together they freed the slaves of Panem. Well, OK, I guess that's kind of militaristic. But you get the idea.
In the U.S., there is a legacy of woods-for-hoods programs and spartan canyon-country marchathons for troubled teens and young adults. Some of these are more compassion based than others, but most share a central theme of overcoming challenges. According to Mitten, recovery may happen in those programs despite the hardships, not because of them. "People always talk about risk taking and challenge, but I don't think those are the agents for change," she says. "There's still a patriarchal creep in a lot of these groups of getting out of your comfort zone, but in general they're geared toward people who are already comfortable. What about people who aren't comfortable?"
Mitten knows of just a handful of progressive groups specializing in wilderness expe­riences for women with trauma. They include Idaho-based Higher Ground, which runs trips for women veterans, and the Colorado-based Women's Wilderness Institute, which runs LGBTQ and other programs. Aleya, our climbing guide on this trip, is planning to open an adventure-therapy center that will include courses for women suffering from post-traumatic stress disorder.
"Nature should put you in a comfort zone," adds Mitten. "People with PTSD, they don't even have a comfort zone."
---
This morning along Buchanan Creek, ease and repose are not exactly on offer. Water bottles left outside our sleeping bags have frozen. The forecast is calling for snow tomorrow. Then there's the matter of last night's Dickensian rations. Kris, in her unzipped bag, nearly froze. Joy confided in me that she was terrified of the dark. ("It was pitch-black, and the trees started screeching. And I felt like somebody was coming.")
"This just kind of sucks," admits Elise at the morning fire. "This trip for y'all is about healing, and if that's not what's being accomplished, then we as leaders need to reassess and make decisions, and we can't do that unless we're hearing from everyone."
"All right," Asta volunteers, "I'm a little overwhelmed. Sleeping on the streets is way different. I thought maybe I had a little bit of an understanding, but it's definitely different. This is real camping."
"I mean, this is joyous to be out here," adds Kris. "The scenery is amazing. But last night was pretty miserable. I'm like, What have I gotten myself into?"
So while Hope brews oatmeal, Chelsea jogs back to the trailhead to find some cell reception and see about amending the plan. Meanwhile, the women do yoga in down jackets, raid the peanut butter to bulk up their oatmeal, stoke the fire, and watch the pine needles sizzle. When Chelsea returns two hours later, she gathers up the group.
"OK, new plan!" she says. Instead of continuing along to a second campsite, we'll use this one as our base camp and go on a day hike. Tomorrow morning, before the worst of the storm hits, we'll hike the three miles back out and head for a cushy retreat center for our last night. And we'll buy more food. The women express relief and delight. No packs today! A waiting bed!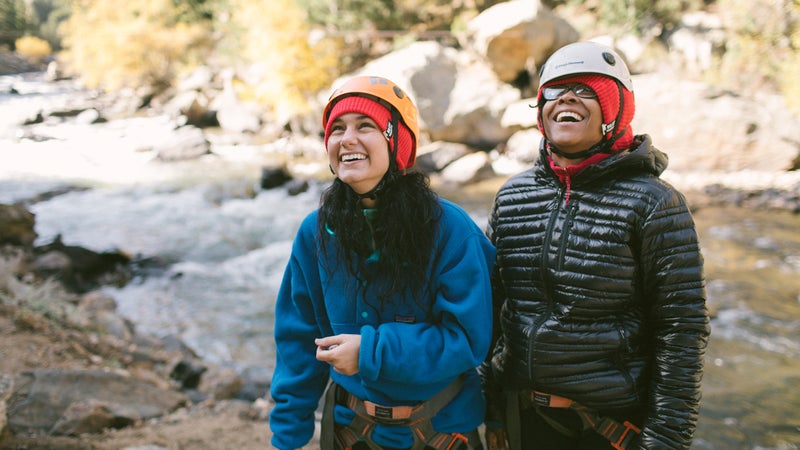 Later, Chelsea tells me why she felt the urgent need to pull the plug on a third, colder night out. It comes down to neurobiology. Everyone has a window of tolerance, she explains, in which they feel emotionally stable and can stretch and grow. "This is where you can stay connected to your frontal lobe, which is where social connections can happen, and abstract thought, creativity, self-concept, and meaning making." People who've experienced trauma can go into a state of hyperarousal, becoming anxious and on edge. Or they may experience hypo-arousal, which can look like listlessness and depression. Either way, emotions hijack the controls. "Their windows shrink quite a bit," Chelsea says. "Their windows are really small."
By midday, though, we all seem to have entered some sort of bliss bubble. The clouds have cleared, the temperature has warmed to the fifties, and the positive benefits of nature arrive on cue. We smell the vanilla bark of a ponderosa, walk across a log bridge over a fast-flowing creek, and picnic in bright sun.
Over bagels and canned salmon, I sit with Rochelle, who has an easy laugh that belies her life before treatment. I ask her how she feels today. She smiles and groans.
"I am feeling a little bit exhausted," she says. "But I am honestly doing a lot of self-reflection." One thing she's noticing is more physical sensation, not all of it pleasant. It's a good reminder that she didn't always take care of her body, and now she wants to. "It's like a loving type of awareness, you know?"
This is one of the main reasons that being active and outside—in a full-sensory environment—can be so powerful. Although there's not much research on how long these benefits last, healing from trauma is a long, slow process, says University of Denver's Laser-Maira. On a trip like this, mind and body finally start to come together again. The hope is that survivors use that base to keep themselves safer and healthier moving forward.
Although She Is Able doesn't formally follow up with participants, the idea is that they'll remain in touch and continue to support each other. For example, Elise and many of the other women will soon be attending Tamara's graduation from her treatment program, though that's still hard to picture from their chilly streamside perch.
---
When we arrive back at the trailhead the next day, snow is falling. We board Betty White and head to 110-acre Toth Ranch, a Christian retreat center nestled into the rangy slopes of Hot Sulphur Springs. The main house is warm, with picture windows, deep plush sofas, and a hot tub. Kris looks around and starts crying, and Chelsea has to tell her it's OK, she is worthy of this place.
The afternoon is spent reveling in hot water, walking to a pond, and cooking up Thai noodles and Nutella cookies. Satiated and toasty, hair freshly washed, the women settle in for the evening debrief.
True to form, it isn't long before the tears and the prayers kick in. As the moon rises and the wind blows against the barren poplars, Elise talks about the many times she felt burned-out this year, desperately seeking funds, facing enormous self-doubt. She has agonized over whether to remain as executive director or move to the board level. (In several months, she will indeed hire a new director with experience treating victims of trauma.)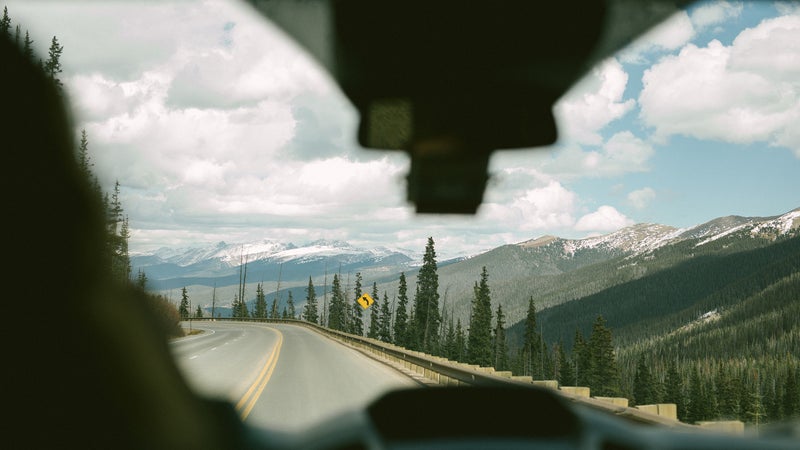 "It's been really hard," she says, sniffling, "but watching you guys, the genuine conversation and the realness that's happened here, you can't beat it. And so you guys have made me want to keep going. This is why I'm here. And how cool, you know?"
All the women tell Elise to keep going.
"I know there's six of us who have walked down a dark, dark path," says Kris, who only 18 months ago crashed a vehicle into a gas station while being chased by a U.S. marshal. "None of us thought that we'd be sitting here today. If you had asked us a couple years ago, the answer would've been no. I mean, this is something that I will never forget."
"I got a lot out of this," starts Rochelle, "even the very uncomfortable parts of not being able to breathe and my back hurting or my muscles aching or not getting sleep or whatever, like the uncomfortable stuff." She takes a deep breath. "It just sent messages to me like, Wow, my body is actually a responsibility." Heads are nodding, slowly.
"I didn't know that I needed any healing physically, or that there was deep, deep, deep wounding there." Now she is crying, but she keeps going. "And I had never grieved the loss that it had caused me. And I realized that my body has never—you know, like, I never really claimed it as mine."
Outside the big windows, the snow keeps falling on the mountains we just left, where, it seems, the women also deposited a few shards of themselves, bits that needed to be abandoned. Rochelle looks out over the range. "I took back my body. I realized it could be mine." 
Contributing editor Florence Williams (@flowill) is the author of The Nature Fix. She wrote about Girl Scouts in May 2017. Mikaela Hamilton is an Outside contributing photographer.