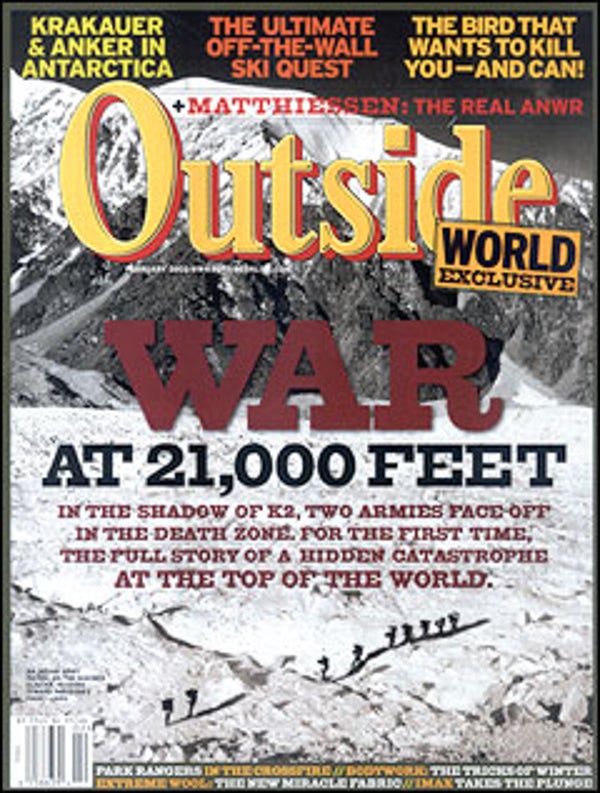 Outside Magazine, Feb 2003
---
F E A T U R E S
EXPEDITION SPECIAL
THE COLDEST WAR
The Siachen Glacier is one of the most forbidding battlefields in history—a ragged ice shelf set amid the 21,000-foot peaks of northern India and Pakistan. In the war over Kashmir, the 19-year-old Siachen conflict has become a grim standoff between two armies that, when not dodging artillery, confront threats like avalanches and cerebral edema. In an Outside exclusive, we go to the front lines, where the scale of human suffering is matched only by the environmental degradation wracking one of the last great swaths of unexplored terrain in the world.
By Kevin Fedarko
BUMMING ON THE POWDER HOUND
Who needs expensive ski trips when you can ride the Dog all over the West and pow down at mom-and-pop mountains? Pack your skivvies and hop aboard! We've got a Greyhound Discovery Pass, a jones for the fresh, and lots of road ahead.
By Jon Billman
FOOTPRINTS IN THE LAST WILD PLACE
As the new GOP-dominated Congress remounts efforts to open Alaska's Arctic National Wildlife Refuge to oil drilling, the dean of American naturalists visits the pristine wilderness—and argues that ANWR is an environmental fight that we can't afford to lose.
By Peter Matthiessen
BIG BIRD GONE BAD
Australia's southern cassowary is a creature right out of Jurassic Park—an avian predator the size of an NFL wide receiver, with razor-sharp talons and no qualms about kickboxing humans. Development may be chewing up its scarce habitat, but this brazen endangered species is not about to go quietly.
By Charles Graeber
D E P A R T M E N T S
DISPATCHES
The Bush administration trims the budget for National Park Service law enforcement, ignoring a flood of PARK VIOLENCE . PLUS: New on Nova, Jon Krakauer and Conrad Anker scale Antarctica's VINSON MASSIF ; how to find a MONKEY IN THE WOODS ; for sale, AMERICA'S CUP racing yacht, slightly used; filmmaking 300 FEET BELOW the Pacific; BOOK REVIEWS ; and this month's RADAR .
THE WILD FILE
Where would a compass needle point in outer space? Why do we name groups of animals "parliament" and "exaltation"? Why do cows have four teats?
By Brad Wetzler
DESTINATIONS
The forgotten Pacific coast of GUATEMALA offers isolated surf breaks, miles of mangrove swamps, hikeable volcanoes, and fishing that would turn Hemingway green. PLUS: Idaho's first backcountry HELI-SKI LODGE ; a new TREK IN SIKKIM .
THE HARD WAY
A dugout-canoe trip down South America's Suriname River, homeland of the Saramaka, reveals a brave people with a horrific past and an uncertain future.
By Mark Jenkins
REVIEW
The WOOL REVOLUTION is stepping up. Companies are spinning the stuff into lightweight, high-performance blends that are nearly indestructible and hardly ever itch. PLUS: A camp stove that starts in a snap ; a sleeping bag stuffed with goose down plus synthetic insulation ; and more.
BODYWORK
Need a few NEW TRICKS this winter? Jump-start your repertoire by learning how to take on the halfpipe, skate-ski past the shuffling mob, pull off sick freestyle ski jumps, and become an ice-climbing acrobat.