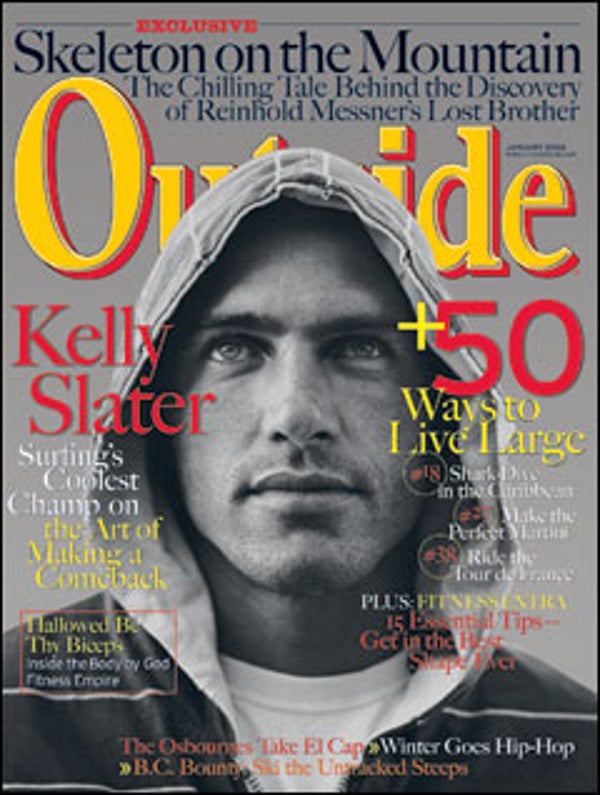 Outside Magazine, Jan 2006
---
F E A T U R E S
COVER STORY
GO BIG
There's no time like now to start living large, and we show you how in our 2006 Adventure Life List: 50 feats, quests, and random acts of adrenaline that are guaranteed to blow your mind.
MAKE A COMEBACK LIKE KELLY SLATER by Michael Roberts // BAG AN 8,000-METER PEAK by Ed Viesturs // SAIL AN OCEAN by Emma Richards // RIDE THE TOUR by Chris Carmichael
PLUS: 15 essential FITNESS TIPS from Paul Scott to get you in the shape of your life, and the most excellent exploits of writers Ian Frazier, Ann Patchett, and more.
CRUSADE
AND THE BUFF SHALL INHERIT THE EARTH
Through a mixture of diet, exercise, and ardent belief, Dr. Ben Lerner is leading a massive fitness revolution driven by Christian faith. His multi-million-dollar empire of bestsellers, videos, and supplements strikes some as Elmer Gantry hucksterism, but not even a heathen can argue with divinely hard abs.
By Jake Halpren
INVESTIGATION
"ES IST MEIN BRUDER!"
Ever since Reinhold Messner lost his brother Güther on Pakistan's Nanga Parbat in 1970, he's fought claims that he abandoned the 24-year-old to go for personal glory. Last July, a heat wave uncovered Güther's body, and mountaineering's greatest living legend seized the chance to clear his name. But does the evidence put this deadly matter to rest?
By Greg Child
D E P A R T M E N T S
D I S P A T C H E S
» Harnessing the cool energy of Snoop Dogg and the BLACK EYED PEAS, adventure goes hip-hop.
» Roly-poly no mo': Rocker spawn JACK OSBOURNE gets trim and knocks off El Cap. PLUS: Innovation or travesty? Arizona's Hualapai tribe plans a glass-bottomed skywalk over the GRAND CANYON.
» Carbs are still the best sports fuel. We scoured the shelves to find six SUPERCHARGED GRAINS, from bulgur to barley.
» Scientists have identified THE DAREDEVIL GENE, giving you a brand-new excuse the next time you try something crazy: "My DNA made me do it!" PLUS: CHRIS CARMICHAEL talks "negative-split" workouts featuring slow starts and strong finishes for ultimate fat-burning performance.
» DAVID MASIEL's new thriller, The Western Limit of the World; Mark Bowen follows climatologist Lonnie Thompson to some of the world's tallest peaks in Thin Ice; KONG SPEAKS: Andy Serkis reveals the secrets behind acting like a 25-foot ape.
» Ice climber INES PAPERT has run out of competitors to beat. Fortunately, there are still mountains to conquer.
» Look to the snowcats of Nelson, BRITISH COLUMBIA, for fresh tracks and 18,000-vertical-foot days.
» A new EASTER ISLAND lodge opens for luxury-seeking adventurists.
» THE WILD FILE goes fly-fishing for bats, explores animal warfare, counts the visible stars, and more.
REVIEW & BODYWORK SPECIAL
AMATEUR HOCKEY is one of winter's fastest-growing sports, combining agility, endurance, and high-speed thrills. We bring you essential skills, the country's 13 best city leagues, and all the gear—from Nike, Easton, Bauer, and others—you need to lace up and take to the ice.
THE HARD WAY
For incurable wanderer Mark Jenkins, the worst part of any adventure isn't the high-altitude bivies or croc-infested waters—it's LEAVING HOME.