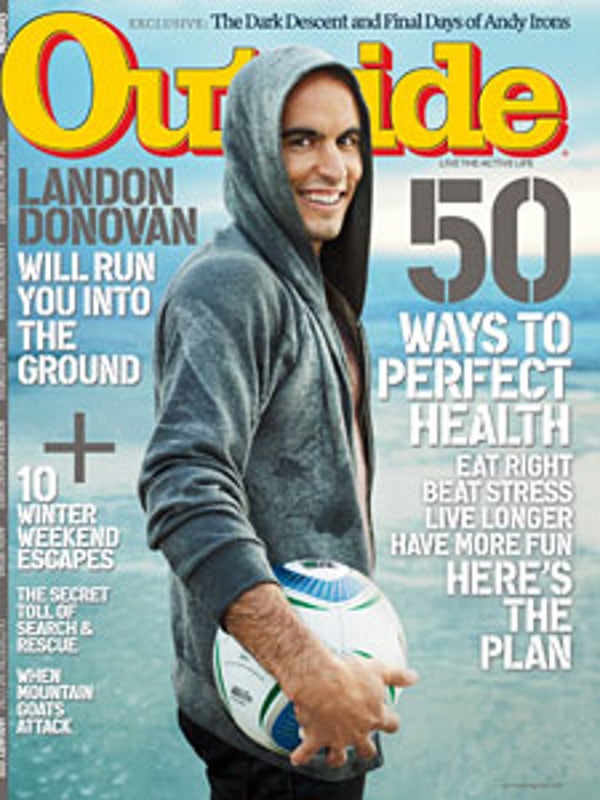 Outside Magazine, Jan 2011
---
health-and-fitness report
THE CAFFEINE-FREE, FULLY CLEANSED, TAKE-YOUR-NAP, BUFF-AS-HELL GUIDE TO A WHOLE NEW YOU
We asked seven of our editors to subtract coffee, alcohol, gluten, and sitting in chairs and add total honesty, naps, socialization and muscle confusion (huh?) to arrive at a whole new them. Behold the results. PLUS: The best of the new year's health lit.
LANDON DONOVAN ISN'T FINISHED
He's the first American in 60 years to make millions of his countrymen go apeshit over fútbol—and he's always the fittest man on the pitch. Josh Dean kicks it with the hero of U.S. soccer to find out what makes him go, go, go.
THE WORKOUT THAT TIME FORGOT
In which you eat lots of meat, run around barefoot, and occasionally wallop somebody. But will living like a hunter-gatherer also make you happier and healthier? Nick Heil heads to West Virginia to find out.
THE MAN WHO SAW TOO MUCH
It's not just soldiers who return from the edge with their sanity shaken. Meet a rescue veteran who witnessed unbearable tragedy in the mountains, got sunk by it…and is now bringing first responders' post-traumatic stress disorder in from the dark. By Hampton Sides
departments
DISPATCHES
First Look: An Aspen socialite swimming across the Pacific is forcing record nerds to rethink what counts as worthy.
News from the Field: Skier Greg Hill's two million vertical feet; cell service comes to Everest; the latest record-book entries.
Technology: The $80,000 bicycle.
Epic: American kayakers tackle one of North America's deepest gorges.
The Wild File: Why mountain goats attack.
Media: A riveting account of the Dalai Lama's flight from Tibet.
DESTINATIONS
Winter Weekend Escapes: Easy retreats, from Oregon to the Bahamas, that will cure any case of cabin fever.
STYLE
Pants: From reinforced to flannel-lined, we've got the perfect pair for you.
THE ESSENTIALS
Covet: A motorcycle that transforms from a highway cruiser to an off-road junkie with the touch of a button.
Winter Jackets: High tech meets high fashion in these instant classics.
Ski Accessories: Don't let the little things ruin your day on the slopes.
Getting Started: All the gear you need for winter running.
columns
DROPPING IN
Angling's new frontier is dodging rent-a-cops and golf balls on Florida's lunker-loaded fairways. By Dave Jamieson
OUT OF BOUNDS
Eric Hansen, GPS in hand, finds that walking a straight line is harder (much, much harder) than you might think.
FIELD NOTES
Andy Irons was surfing's bad boy. But it was still a shock when he turned up dead and alone in a Dallas hotel room in November. For the first time, friends, family, and peers reveal the story of the long, slow death of a surfing legend. By Brad Melekian
plus
EXPOSURE
BETWEEN THE LINES
LETTERS
PARTING SHOT