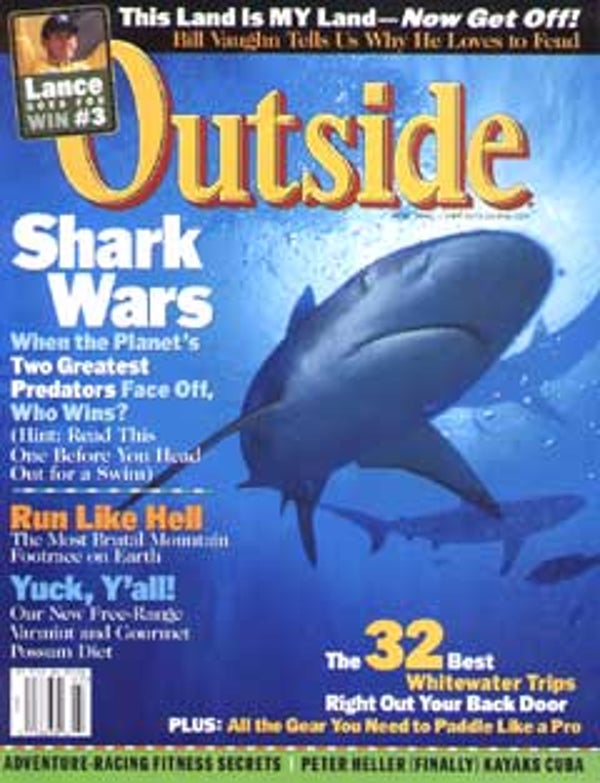 Outside Magazine, Jul 2001
---
F E A T U R E S
It's Gonna Suck to Be You
Each July, a bizarre band of pain junkies jogs out of the tiny mountain town of Silverton, Colorado, and begins grinding out 101 miles of unbelievably remote backcountry. Many vomit. Some are overcome by dehydration. Others temporarily go blind, or simply lose their minds. All of which raises the question: What is it about the Hardrock 100, the most insane long-distance footrace in America, that keeps people coming back for more? By Steve Friedman
Falling in Love with a Killer
On Montauk, Long Island, the shark-hunting capital of the world, fishermen have been hooking thousand-pound makos and great whites since the time of Ahab. But when a primordial rite of sport morphs into a last-ditch quest to bag yet another trophy-sized memorial to an already depleted species, the most cold-blooded predators on the planet can start to look…kinda heartbreaking. By Steven Rinella
Won'tcha Be My Neighbor?
Rural Real Estate 101: When a seemingly level-headed, peace-loving man decides to buy himself 11 bucolic acres of Rocky Mountain river bottom, it's only a matter of time before he fences off his borders, hangs some dead deer in the trees, and starts up a war with everybody else in the neighborhood. Montana's avatar of acrimony offers a frothing ode to the pleasures of feuding with the folks next door. By Bill Vaughn
Bear's Grease, Bullfrog Legs, Back Strap of Wild Hog, Armadillo Cheeks, Roasted Coot, Fried Mink, Turtle Claws… And Did We Mention, for the Main Course, a Nice Braised Shank of Free-Range Possum?
Americans like to think they've come a long way since the days when haute cuisine meant wandering out the back door, shooting some varmint, and frying it up for supper. Well, think again, Cooter! A bold, breathtaking, mildly revolting voyage of discovery down South, during which an enterprising reporter equipped with nothing more than a curious set of taste buds learns that the road to our gustatory future runs straight through the past. By Burkhard Bilger
D E P A R T M E N T S
Dispatches
Sneak Preview: Tour de France 2001 Car crashes! Defections! New drug scandals! Once again, controversy roils the race as Lance Armstrong gears up for an American threepeat.
Also: Can tough new drug tests clean up the Tour?; guided trips that let you pedal behind the peloton; and a behind-the-scenes breakdown of this year's grueling course.
Rock climbers on both sides of the Atlantic battle to break through the sport's gnarly 5.15 barrier.
A farewell to record-breaking Everest climber Babu Chiri Sherpa.
Plus:One man's six-year crusade to freely stroll an exclusive New England beach; a large-arbor fly reel that's at home in freshwater and salt; and Nude Recreation Week comes to a town near you.
The Wild File
How come humans have blurry vision underwater? Why don't insects die while transporting deadly viruses? At certain times of the year, why does the sunset get later at a faster rate than the sunrise gets earlier? What causes an ice-cream headache? By Stephanie Gregory
Field Notes
Smuggling himself on to a Hemingway-inspired junket to hunt birds and fine cigars, the author investigates Cuba's imminent emergence—and limitless potential—as the world's next adventure headquarters. By Peter Heller
Summer Whitewater Special
Destinations
Rolling on the river: From a lollygagging float down Class I riffles on New Hampshire's Saco River to a white-knuckle thrill ride of ten-foot drops on California's Upper Tuolumne, we've scoured the continent to find you summer's wildest rivers, guaranteed to provide sweet relief from the sweltering sun. Now get in your boat and ride!
World-class floats in the backyards of Atlanta, Boston, Chicago, New York, and Portland.
Get skilled: Master your downriver technique at the country's best kayaking, rafting, and canoeing schools.
How to score a permit for America's most sought-after rivers.
Review
Paddlers, choose your weapons: The new wave of river kayaks are shorter, lighter, and easier to handle than their 12-foot, banana-boat ancestors. Whether you prefer a ten-day run on a big Western river or just an afternoon of cartwheeling in the local hole, the latest models from Dagger, Riot, and Wave Sport can take you where you want to go.
Stay warm—or keep cool—in the latest paddling tops, drysuits, and midlayers.
Plus: We test the year's best new spray skirt, paddle, helmet, PFD, and earplugs.
Bodywork
Once a sport reserved for masochistic endurance freaks, adventure racing is booming, and now you should be itching to get in on the fun. To help, we've polled the world's leading racers and harvested their secrets on training, skills, nutrition, equipment, and team building. No more excuses—it's time to get out and race.
Plus: The lowdown on five rookie-friendly races.
Forget six-pack abs, it's your oft-overlooked obliques that need attention. National kayaking champ Eric Jackson divulges his regimen for a tough torso.