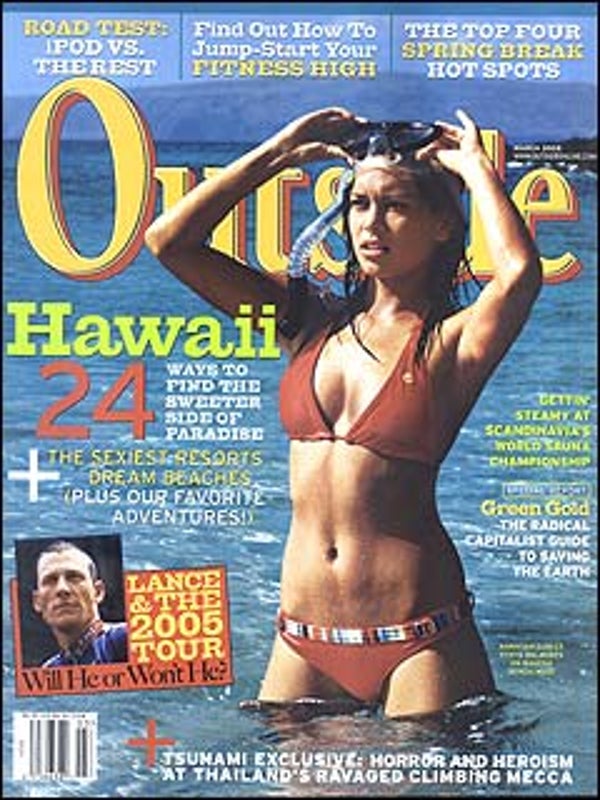 Outside Magazine, Mar 2005
---
F E A T U R E S
COVER STORY
HAWAII O-FIVE
Grab your shades, wax your board, and check out our tropical-paradise smackdown, in which we scour the Aloha State's sweetest shorelines, lushest mountains, coolest adventures, choicest chow, and hippest nightlife—then we let you decide which island is the big kahuna of beach-bound delight.
» KAUAI: Wild Thing By Amy Linn
» HAWAII: Big Island Hot Spots By Kent Black
» LANAI: Luxe Outpost By Ethan Watters
» MOLOKAI: Real Aloha By Joe Kane
» OAHU: Blue Diamond By Alex Heard
» MAUI: A-List Island By Daniel Duane
THE PURISTS
Drop that bolt gun! Alpinist is a glossy, anti-commercial mag that celebrates climbing big, dangerous mountains in the toughest way possible. Its readers and fans may be cultish and doctrinaire, but such are the burdens for artists of high altitude.
By Rob Buchanan
"THERE CAN'T BE A WORD FOR THIS"
One casualty of the South Asia tsunami was a vibrant cluster of sport-climbing beach towns in Thailand. A resident returns to tell a tale of death, survival, and an inspiring alliance of hope.
By Sam Lightner Jr.
AS A MATTER OF FACT, MONEY DOES GROW ON TREES
What does cold, hard cash have to do with red-blooded environmentalism? Research from a band of pioneering economists provides a startling answer: Saving our natural heritage isn't simply a good idea; it's the smartest investment we will ever make.
By Bruce Barcott
D E P A R T M E N T S
DISPATCHES
» Surfing, singing heartthrob JACK JOHNSON on his new album, living in Oahu, and not bowing to critics
» ENVIRONMENTALISTS ATTACK THE WORLD! According to Michael Crichton's latest thriller, State of Fear, that is. (But BILL McKIBBEN thinks it's pretty stupid.)
PLUS: Penelope Cruz and Matthew McConaughey stage their own BIG-SCREEN APOCALYPTIC ADVENTURE in Sahara; and more.
» Look what 'boo can do! BAMBOO —a natural, ultralight, high-performance material—sets a new standard for everything from bikes to clothing.
» JET SET: Surfing's A-Team takes to the sky in tricked-out seaplanes for assaults on any break anytime
» Even if LANCE ARMSTRONG skips this year's Tour de France, you can catch him this spring at Europe's classics
» Sore and suffering after a long day? Flush away the pain and restore your mojo with these EIGHT FEEL-BETTER TOOLS
» Jump on the HAYDUKE TRAIL a new, unofficial 812-mile footpath, which links six national parks in southern Utah and northern Arizona.
» Forget Cancú;n. Four SPRING BREAK ALTERNATIVES
» Vietnam's Magical Motorcycle Tour Mount a Soviet-era Minsk motorcycle and follow the route of Vietnam's historic 1,500-mile HO CHI MINH TRAIL
» THE WILD FILE tells you how eagle-eyed our national bird is, what Earth would be like without the moon, where people live the longest, and more
REVIEW
Whether you're sitting through a transatlantic flight or flying down singletrack, music makes it sweeter. We tune in to the latest DIGITAL AUDIO PLAYERS —and pick the best for your activity. PLUS: A brand-new bag of old-school SNEAKERS from Nike, Adidas, Reebok, and more.
BODYWORK
SLAM-DUNK FITNESS: Our basketball-impaired scribbler's three-month dunk-training regimen shaves 22 pounds off his frame and supercharges his weekend sports. (Getting above the rim is just a bonus.)
OUT THERE
Why are a bevy of burly Fiins and their international commiserators weathering a 230-degree sufferfest in the subarctic summer of Heinola, Finland? It could only be the SAUNA WORLD CHAMPIONSHIPS .
By Lawrence Millman