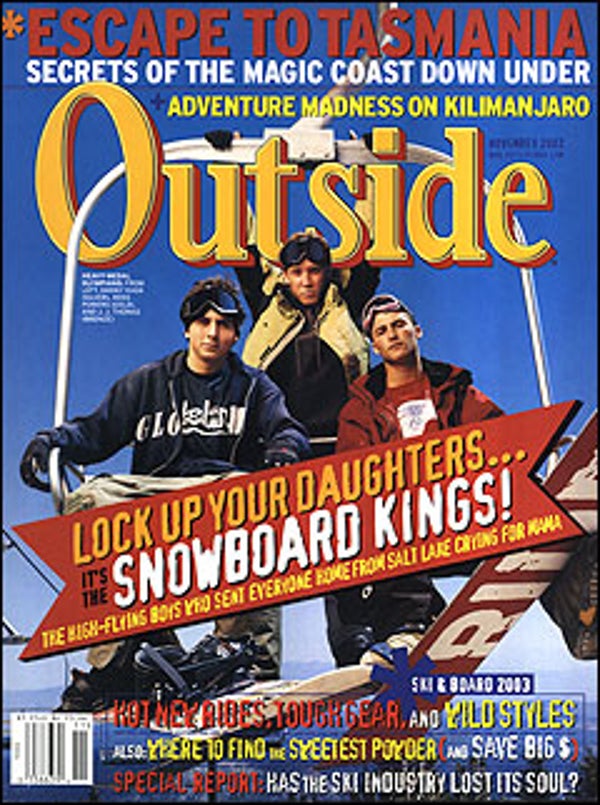 Outside Magazine, Nov 2002
---
F E A T U R E S
THE COOL SELLOUT
Last February, Olympic medalists Ross Powers, Danny Kass, and J.J. Thomas—better known as Team Sweep—became the power punks of snowboarding. Now that they're rich, rad, and famous, can the pipe jockeys still subvert the dominant paradigm, or is their sport's image about to go as pop as MTV?
By Eric Hagerman
KNIVES IN THE WATER
The 2003 America's Cup is shaping up to be an unprecedented battle royale, with NASA-caliber boat technology, high-stakes espionage, and enough sponsor cash to make Bill Gates blanch. An inside report on yachting's most predatory race.
By Tim Zimmermann
THE FALL LINE MEETS THE BOTTOM LINE
A veteran journalist argues that the ski industry has sold its soul to Wall Street, turning too many mountain towns into overbuilt, Disneyfied retail hubs. But don't despair—a back-to-basics counterrevolution is underway.
By Hal Clifford
I POACHED THE WHITE ELEPHANT
Witness now the first (we're pretty sure) harrowing (well, kinda) descent (albeit partial) of Mount Kilimanjaro on mini-skis. Hey, it's harder than you think.
By Eric Hansen
D E P A R T M E N T S
DISPATCHES
The West's terrible drought has lowered Lake Powell by 80 feet, giving new life to an old cause: DRAINING GLEN CANYON . PLUS: Kite skiers sail across Baffin Island, picking off 19 FIRST DESCENTS . A shocking death shakes JANE GOODALL'S WORLD . NOAA weather reports get (a little) livelier . Fire-fighting BLIMPS may soon have their day. A top climbing route gets CLONED . And this month's RADAR .
THE WILD FILE
Does sleep deprivation cause bodily harm? Do mountain goats ever take a spill? Why do you still feel the motion of the ocean after stepping off a boat?
By Brad Wetzler
TASMANIAN REVELS
This south-of-Australia getaway offers temperate rainforests, windswept moors, and nary a living soul in sight. PLUS: Winter's here! Your guide to NORTH AMERICA's FRESHEST SNOW and FROSTIEST DEALS .
OUT THERE
France is blowing hot and cold over Vulcania, a $100 million theme park celebrating mountains that smoke and belch.
By Mark Adams
THE HARD WAY
In Wyoming's Bighorn Mountains, two climbers attempt a marathon of serial summiting—an enchainment—only to find that fitness and experience aren't enough when the groove won't flow.
By Mark Jenkins
REVIEW
DOWNHILL REPORT '03
Allow us to present this year's BEST RIDES , custom-built to dominate your favorite hill. PLUS: Deluxe slopewear essentials for everyone.
BODYWORK
Can you TRAIN YOUR BRAIN like you pump out your reps? Yes, and we've got the plan to do it. PLUS: An ex-soviet launches a low-tech REVOLUTION .