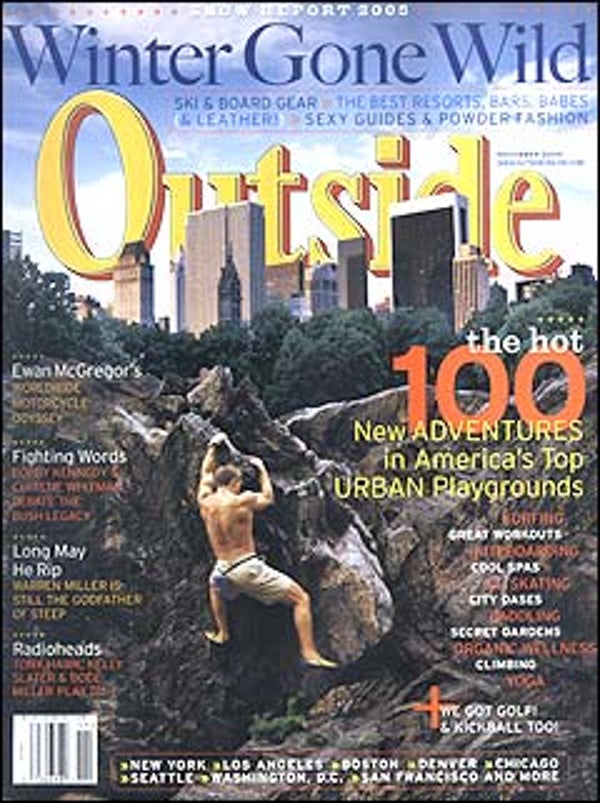 Outside Magazine, Nov 2004
---
F E A T U R E S
THE GODFATHER OF "HOLY SH*T!"
Warren Miller's made more than 50 feature films, shredded snow worldwide, and windsurfed from Maui to Molokai. Now that he's turned 80, is it time to ease off? Hardly. We rip it up with the man who taught millions how to play hard in the mountains.
By Anne Goodwin Sides
2004 ELECTION SPECIAL
THE ENVIRONMENT: A DEBATE
With the election nearing, Outside invited NRDC watchdog Robert F. Kennedy Jr. and former EPA director Christine Todd Whitman on a float down Idaho's Salmon River to duke out what's been missing from the campaign: tough talk on the once and future state of the environment.
CITY WITHOUT LIMITS
Ready for some urban renewal? We've pinpointed 100 in-town activities, from cycling and paddling to decadent dining and cool places to chill out, in eight adventure-ready metro areas.
NEW YORK 's Rad Waterfront By Josh Dean
CHICAGO 's Sexy Shoreline By Michael Austin
LOS ANGELES on Wheels By Lisa Anne Auerbach
DENVER Wet and Rowdy By Jenn Weede
Big Air in SAN FRANCISCO By Amy Marr
Unplugged WASHINGTON, D.C. By Michael Behar
SEATTLE Rocks! By Christopher Solomon
BOSTON 's Back Bays By Jake Halpern
D E P A R T M E N T S
DISPATCHES
EWAN McGREGOR 's 20,000-mile motorcycle odyssey
Outside whips up the ULTIMATE TRAILHEAD TAILGATE PARTY with grillable Italian cuisine from reality-show chef Rocco DiSpirito
Tony Hawk, Bode Miller, and Kelly Slater STOKE THE AIRWAVES on satellite radio's coolest new action-sports channel
SNOW REPORT 2005 : Behold our ski-season HOT LIST —featuring the best planks and boards, terrain parks, lodges, parties, and more;
THE WILD FILE investigates whether New World diseases ever wiped out Europeans, the amazing Spider-Man feats of the common housefly, and how plants hunker down during nature's big freeze
OUT THERE
In the wilds of Panama, our man picks up an uninvited guest—a TINY, TOOTHY HOOKWORM called A. braziliense. Is this creepy crawler worth worrying about? Only if it gets restless.
By Ben Ryder Howe
REVIEW
WINTER PARKAS are getting hot, thanks to design overhauls from the likes of Patagonia and Marmot. Try these five stylish garments for this season's cold-weather romps.
BODYWORK
Urban air quality can sabotage your exercise routine. Learn to BREATHE EASIER with our smart tips for city fitness. PLUS: It's snow time! LIMBER UP just like the U.S. Ski Team.