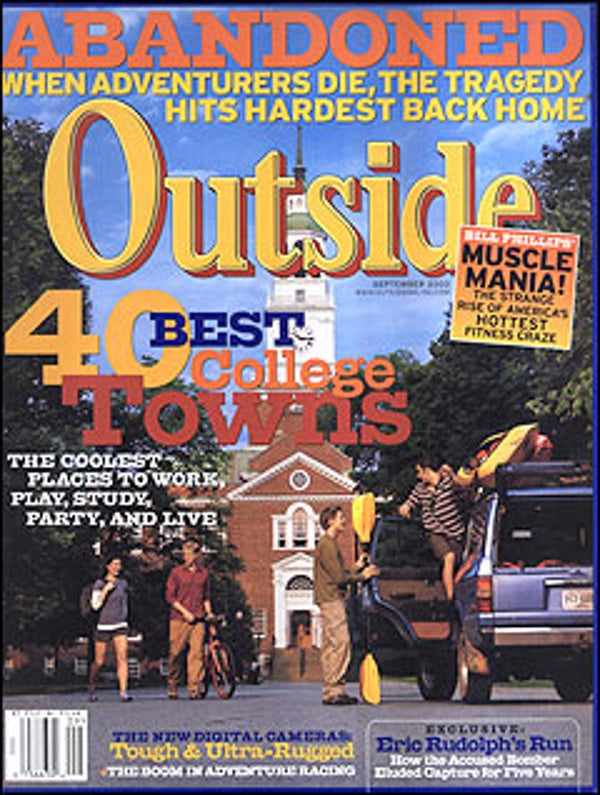 Outside Magazine, Sep 2003
---
F E A T U R E S
TOP 40 COLLEGE TOWNS
OUTSIDE U.
What did we do all summer? We searched the country for the coolest college towns, places where the outdoors and intellectual esprit mingle blissfully. Whether you're seeking a great university experience or just a stimulating place to call home, our guide will get you there. PLUS: study-abroad programs in Spain, Japan, Botswana, and more; military schools at which to earn your outdoor stripes (on belay, sir!); and colleges where extreme fun trumps academics.
ERIC RUDOLPH SLEPT HERE
How did accused domestic terrorist Eric Rudolph elude a massive FBI manhunt for more than five years? We find out by visiting his deep-woods hideouts.
By Bruce Barcott
MR. BIG
Body-for-Life creator Bill Phillips—a former steroid enthusiast turned big-muscle mogul—is riding the wave of the most successful fitness program in history. But is this really the guy we want getting us ripped?
By Nick Heil
THE SURVIVORS
When climbers die in the high peaks, family and friends are left behind to deal with the anguish and loss. In an exclusive excerpt from her groundbreaking new book, Where the Mountain Casts Its Shadow, the author explores the tragic price of risk.
By Maria Coffey
GREASE IS THE WORD
Charris Ford, an eco-crusader in the crunchy mountain hamlet of Telluride, Colorado, is out to show the world that cars run cleaner and greener on fuel made from leftover fast-food oil. The Biodiesel Express is headed your way.
By Florence Williams
D E P A R T M E N T S
DISPATCHES
Once, only the most hardcore athletes would tackle an Ironman. Now, with participation in endurance events exploding, SUFFERING has become the hottest weekend ticket. PLUS: An extreme-skiing diva wants to be the second person—and first woman—to carve down EVEREST ; a one-man revival of the ancient Hawaiian sport of VOLCANO SLEDDING ; and the secret to circumnavigating MANHATTAN BY BIKE . (Bring spares.); and this month's RADAR .
THE WILD FILE
Why are caterpillars still around in September? When did people start hollering "Geronimo!"? Why does the moon look so huge when it's on the horizon?
By Brad Wetzler
DESTINATIONS
The Adrenaline Riviera: Packed to the cliffsides with sport-climbing, mountain-biking, and windsurfing options, Finale Ligure is ITALY'S ADVENTURE GOLD COAST .
REVIEW
We pair the sharpest new DIGITAL CAMERAS with the latest rugged WATERPROOF HOUSINGS and test 'em in the surf and on the turf. PLUS: Classic duds for greeting FALL IN STYLE .
BODYWORK
Want to spend less time training and more time winning? HARDWIRE YOUR BRAIN for high performance—and teach yourself to push through the pain of getting there.