Inside the Cut-Throat World of Toddler Bike Racing
As our writer cheered on his three-year-old at the Strider Cup in Texas—a merciless race replete with tears, anxiety, and elation—he had one question: Is intense competition good for the tiniest of competitors?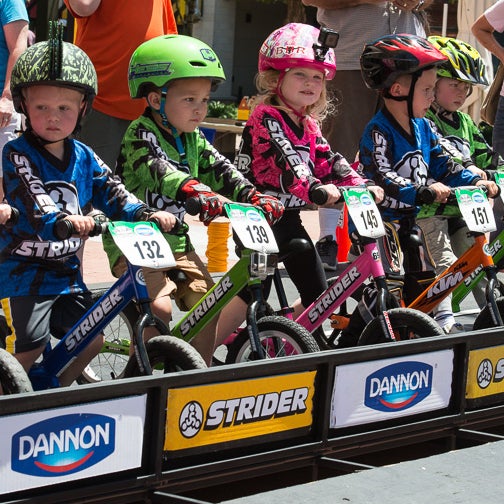 Heading out the door? Read this article on the new Outside+ app available now on iOS devices for members! Download the app.
There's a video going around the Internet of a balance-bike race in Japan. A long row of pre-school-aged kids, aboard low-slung bikes with no brakes or pedals, takes off from a start ramp like a pack of greyhounds. The kids kick their bikes up to speeds that would make most adults uncomfortable, and carve through the course's maze of sharp corners with tenacity and grace.
A few kids don't make it. They splay out across the track in a pile of elbow and kneepads and full-face helmets. And then, there's one kid, coming from behind, who executes a perfect pass on his recently potty-trained competitors and crosses the line first, his chest forward in an elated victory celebration. 
When I first learned of the Strider Cup balance bike race in Fort Worth, Texas, and considered taking my own three-year-old son, August, to the event, this was the gulp-inducing scene I envisioned. A national series of four races, the Strider Cup is organized by the Strider balance-bike company and culminates in September with the World Championships in Salt Lake City. Strider bills its race series as an all-inclusive event, a festival that exposes your child to the positive aspects of competition at an early age. Yet, the thought of my own son lining up against Strider prodigies from Japan (who swept Worlds in 2016) made my palms sweat.
I've been an avid bike racer for more than 20 years, but August has yet to inherit any of my competitive instinct or passion for unadulterated speed. It's not that he doesn't like lining up. At a Thursday-night criterium race where we live in Austin, August eagerly awaits the kids' race, then hurries to the start line ahead of everyone else. But when the announcer shouts, "Go!" he's quickly left behind, more intent on stopping to push over all the orange cones than on beating his competitors. His record is impeccable: out of a half dozen or so kids races started, he has finished last in every one.
Still, the siren song of such a high-caliber event was too good to pass up. "A World Cup!" I kept telling my wife. I recruited my parents as support staff, August's Grandpa (photography) and his Nana (team snack dispenser), and on a sunny weekend in early May, we headed up to the big race.
I knew I'd need to shelve my desire to win so that August could develop his own. But there were other elements that I worried about, too: that I was pushing August into something that was my thing, not his; that he might become overwhelmed by the immensity of the event, and permanently scarred by bike racing; that he might fail.
As we traveled to Fort Worth, I'd never been more nervous.
---
Modern balance bikes for kids, as we know them, were invented by a man named Ryan McFarland, the founder of Strider. The origin story goes like this: McFarland, who hales from South Dakota's Black Hills, was an avid mountain biker who wanted to share his passion for riding with his then two-year-old son, Bode. But he found that cumbersome tricycles and training wheels limited the things he loved about riding—going off-road, adventuring, sending sweet jumps. 
So, as a long time tinkerer with a couple of patents to his name already, McFarland hacked up a standard kids' bike and blow torched it back together without pedals or a chain. "Everything that was adding weight or complexity, I pulled off the bike," McFarland says. 
I knew I'd need to shelve my desire to win so that August could develop his own. But there were other elements that I worried about, too.
He got so many inquiries about the unique bike from people who saw Bode ripping around on it, that in 2007 he started Strider. The company boomed, and now its name is synonymous with balance bikes. To date, Strider has sold more than 1.6 million bikes, which are distributed in over 75 countries. (McFarland credits his Strider distributor in Japan for the popularity of balance bike racing in that country.)
Today, anyone who's serious about teaching a kid to ride at an early age will likely eschew training wheels in favor of a balance bike. Dozens of different companies now sell them, including every major bike brand. This transformation in kids' bike technology has led to an entire generation of toddlers who rip on two wheels.
Among my group of dad friends in Austin—roadies and mountain bikers who might pull up their Strava feed over a pint of beer—the kids who start out on balance bikes often master cycling at a mind-bogglingly early age. One buddy's kid switched to a pedal bike at just two years old, and was churning out 20-mile rides by three. Another friend's preschool-aged son started out riding his balance bike at Austin's famous 9th Street BMX trails, and only a year or so later, could drop in on a quarter pipe.
---
On the day of the race, we arrived at Fort Worth's Sundance Square to a scene worthy of the title "Cup." The roughly 600-foot-long course had been laid out across an expansive brick-lined square, encircled by downtown skyscrapers. The course featured a faux tunnel and small ramps (on which kids who gained enough speed could catch air), as well as a water obstacle—built-in fountains that would intermittently bubble up from the bricks, causing some kids to splash in glee and others to swerve widely off-course.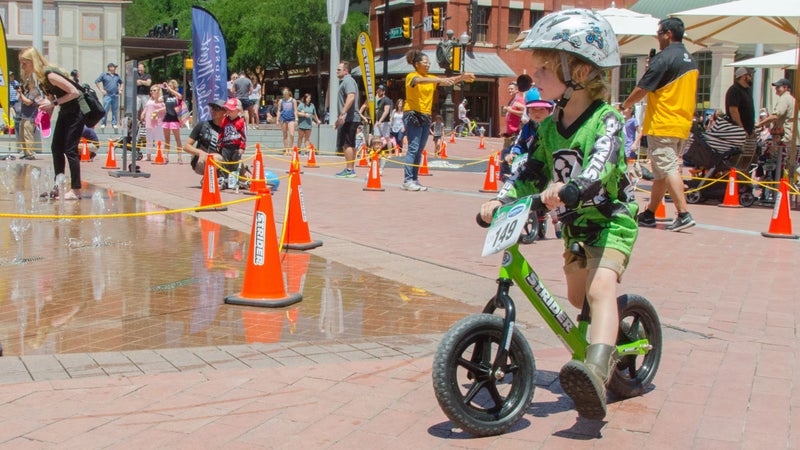 August approached the venue with hesitation. Adding to my race-day anxiety, the 1 p.m. start-time for the three-year-old class coincided with his naptime. But after a series of practice laps during the noontime lunch break, he gradually warmed up.
"When you see someone in front of you, go faster and try to pass them," I heard one dad explain to his son, a kid adorned with a full-face helmet and GoPro. Though we were all here to race (a relative term), among the 200-plus competitors, plus their parents and grandparents and friends, a communal spirit prevailed over a competitive rivalry. A grandmother wearing a Fox Racing shirt let me borrow some wet wipes. 
Today, anyone who's serious about teaching a kid to ride at an early age will likely eschew training wheels in favor of a balance bike.
The three-year-old race began with a parade lap for all the participants, a heart-melting horde of gleeful kids making, "Vroom, vroom" noises and pin balling off one another. Then, lane assignments for the opening heats appeared on a large monitor. August was in the sixth heat, next to a red-faced little boy named Lane. Lane's dad, decked out in NASCAR gear, told me Lane had gotten his first ever trophy in a soccer game earlier that morning, "Maybe he'll get another this afternoon?" He also conceded a complete meltdown was an equally likely possibility.
The Strider Cup staffers amazingly managed the chaos and got the kids lined up on the wooden start ramp. August rolled past a longhaired little boy fighting back tears, and took his place near a girl in a pink polka-dot skirt at the start gate. "When they say 'Go!' You go," I reminded him. A kid with dinosaur spikes adorning his helmet began clacking his bike's front wheel against the foot-high starting gate, and all the other kids followed suit, "CLACK, CLACK, CLACK, CLACK."
I spotted the founder of Strider bikes, McFarland, leaning over the course railing amid the proud parents, holding his camera phone aloft in eager anticipation. The start gate dropped, and the kids took off at a pace just slightly above walking speed. This was not Japan. 
August trotted around the course with a look of amused intent, over the ramps, across the gurgling fountain, and through the tunnel. An exuberant announcer gave a play-by-play and read off nearly every child's name, booming, "Here come's August…Dill!" as my son crossed the line. A monitor displayed his placing not long after the finish, eighth out of eleven in his heat—finally breaking his streak of last places. 
Between heats, our team coalesced, August's Nana doted over him, saying, "Here, boo," as she helped him guzzle a few yogurt smoothie samples. "Sugar doping," we joked. His Grandpa contorted his body and his DSLR to capture August in action. As August lined up for his second and final race of the day (slated in the slowest group of the championship heats), I asked him, "Are you going to go fast?" 
This time, he answered, "Yes! I'm going to go soooo fast!" 
---
In the final championship race, a three-year-old from Topeka, Kansas, named Brayson Yingling took off like a bowling ball from the start ramp, establishing an early lead and ultimately defending a Strider Cup title he'd previously won as a two-year-old.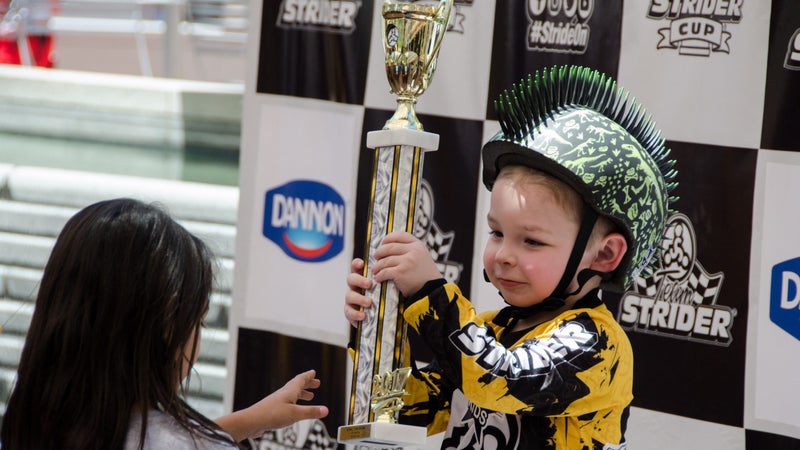 Pasha Ali, the son of a professional racecar driver who'd been promoted as a top contender preceding the race, recovered from a poor start, passed a boy who overcooked the final turn and finished on the podium. On the podium as the cameras flashed, Pasha took his sippy cup, shook it up, and sprayed water everywhere, just like he'd seen racecar drivers do with champagne bottles. 
August, exuberant and exhausted, chased a roly poly across Sundance Square while I chatted with McFarland. I told him I'd seen him recording the races, and asked if all these years later, this scene still excites him. He said he remained mesmerized by, "all the tiny dramas playing out across the racecourse. The little defeats, and victories." He divulged the purpose in the exaggerated importance of the event—to give little kids a chance to do something big. Here, the only failure was not trying, he said. 
As I stood there, watching August try to make shapes out of lines on the paper of a notebook he'd pilfered from me, I decided to stop worrying whether or not he would share my love of riding, or if the experiences I was exposing him to were the right ones. I decided that when it comes to be being a dad, I'd approach it the same as I do any bike race. 
I'd line up and do the best I could.
Trending on Outside Online