Boilover
After years of sounding the climate-change alarm, writer Bill McKibben realized that gentle persuasion wasn't cutting it. So he got mad. Then he got busy: tweeting, organizing, protesting, getting arrested, and becoming Big Oil's biggest threat.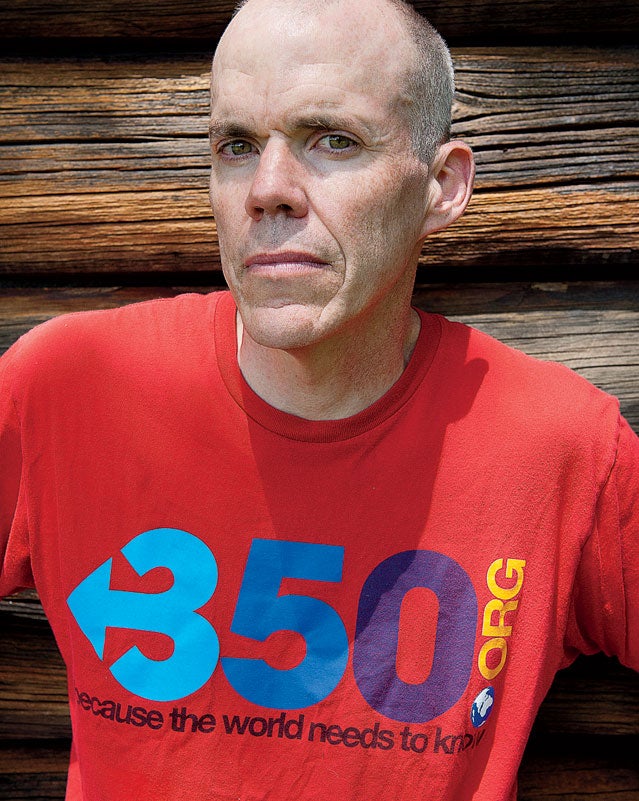 Bobby Fisher
Heading out the door? Read this article on the new Outside+ app available now on iOS devices for members! Download the app.
On the afternoon of May 4, in a Stowe, Vermont, coffee shop, William Ernest McKibben sat hunched over his MacBook Air, blogging like a madman. May 5 was Climate Impacts Day, the fourth annual effort by 350.org, McKibben's environmental-action organization, to unite people around the planet in a global protest against climate change. The theme this year was Connect the Dots: groups were supposed to take photos of themselves in scenes documenting the extreme weather they were experiencing and upload them to 350.org's Flickr account. From there, the 350.org leadership team—51-year-old McKibben and the seven Middlebury College graduates who started working with him in 2006, when they were still seniors—would post the photos on the site's blog. The first picture to arrive was of the sun rising on a group of men donning scuba gear. "And We're Off!" McKibben blogged, his long fingers flying over the keyboard. "It's sunrise in Majuro, the Marshall Islands—first place on earth. These guys took a shot on the beach before heading underwater to their threatened reef—watch for pictures as the day goes on."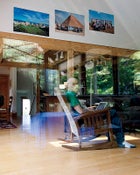 McKibben at home in Vermont in July.

Connecting the dots: Bahia, Brazil.

Dana Glacier, California.

Tofino, British Columbia.

Keystone protestors encircling the White House last November.
McKibben was pulsing with excitement. "The first time we did this," he said, "it was, aside from when my daughter was born, the most remarkable couple of days of my life. Watching the pictures come in from all over the planet—it just blew my mind." Now he posted a stunning photo of sand art from Orissa, India. It featured a city, three grieving faces, and the words CLIMATE CHANGE = EXTREME HEAT. CONNECT THE DOTS … 350.
Without pause he banged out "An Open Letter to the Heartland Institute." That morning, the Chicago-based libertarian group, sponsor of the main conference for climate deniers, had launched a digital billboard in Chicago with a photo of Ted Kaczynski, the Unabomber, and the words I still believe in Global Warming. Do you? A press release explained that the goal was "to 'delegitimize' belief in global warming by identifying some of the crazy people who believe in it," and announced that future billboards would feature such "global warming alarmists" as Charles Manson and Fidel Castro.
"I think this time they may have jumped the shark," McKibben exulted as he typed the letter to Heartland president Joe Bast. "I'd like to thank you," he wrote. "The billboards are ugly, but they convey with graphic intensity the desperation of those who have fought on the side of the fossil fuel companies for a quarter century." Then he linked to the post with a tweet reading, "On the off chance that you care about the environment and are not a serial killer."
"Now, thanks to our very good Web team," McKibben told me, "it's gone out to 400,000 people."
"Hell of a mailing list," I said.
"We didn't buy a single name. It's a real list of people who have taken action." He paused to sip on a can of San Pellegrino orange soda, his price of admission for the Wi-Fi. "I don't drink coffee," he said. "I think I'm one of maybe two writers in the world who doesn't. I'm afraid I have too much nervous energy as it is."
THAT NERVOUS ENERGY HAD already powered McKibben through two speaking gigs that day, and soon he'd be doing a third in Stowe, at the world premiere of A New Eaarth, a classical-music composition inspired by his 2010 bestseller Eaarth: Making a Life on a Tough New Planet. He'd follow that up with a full plate of Connect the Dots gigs, then three commencement addresses in four days, a speech at the Scripps Oceanographic Institute in San Diego, and an appearance at Pennsylvania's Dickinson College, to receive its inaugural $100,000 Prize for Global Environmental Activism. That's the new normal for McKibben, whose unlikely career arc has taken him from award-winning author of 14 books—including the landmark 1989 bestseller The End of Nature, the first mainstream book about global warming—to his new role as the firebrand of climate change, the guy who stepped over the prostrate form of Al Gore to become Big Oil's biggest threat.
Ever since last winter—when plans for the Keystone XL Pipeline to move tar-sands oil from Canada through the United States collapsed under pressure applied by McKibben and the social-media savants at 350.org—he has become the Great Green Hope. "I get about 10 speaking invites per day," he told me. "Even if I turn down 90 percent, that means I'm still speaking every day." One afternoon he's on Pennsylvania Avenue, telling a crowd of 12,000, "We don't really know how many people it takes to surround the White House, but we're about to find out!" The next night he's on the Late Show, so sincere that Letterman doesn't crack a joke in 11 minutes of airtime. He has coordinated photo ops with the president of the Maldives and candlelight vigils with Archbishop Desmond Tutu. And while old-school environmental groups struggle with apathetic members and evaporating influence, McKibben can harness legions of 20-year-olds with a few keystrokes. A friend of mine calls him Climate Bunny.
Perhaps because he has a teenage daughter, McKibben takes young people very seriously, and they respond. We had just spent several hours at a public high school in Morrisville, Vermont, because the invite had come from a senior there. "Anytime it's from a young person, I try extra hard," McKibben told me.
Seventeen-year-old Molly Duda found out about 350.org in her environmental-science class. "Molly was learning about global warming, and she was feeling overwhelmed," her science teacher, Sheila Tymon, said. "Like, 'Oh my gosh, what can I do?' So I decided to turn her on to 350.org. And she was so inspired."
Impressed by the site's earth art—overhead images of crowds in the shape of polar bears and other climate-change symbols—Molly had decided to initiate her own. For months she had organized, educated, and cajoled, which is why hundreds of us—grades 1–12, plus a smattering of community members—had braved the rain and goose turds to stand on the high school soccer field, holding 300 white umbrellas deployed in the shape of a snowflake while a camera on a 60-foot telescoping pole snapped our photo. McKibben, who at six foot three towered over everyone else, raced around handing out umbrellas. "You guys are looking great! Hold 'em up high!"
I am the kind of guy who prefers wonky facts to earth art, so I turned to a group of fifth-graders behind me and asked, "Do you guys know why you're out here?" A freckled girl dressed in snowy white clothing shot back, "It's for an organization called 350.org. They're trying to get the carbon dioxide levels in our atmosphere down from 390 parts per million to 350, which is safe."
OK, score one for Molly, who'd made sure that lesson plans preceded the rally. Later, McKibben elaborated on the method to his madness. "Environmentalists have traditionally done a better job of appealing to the hemisphere of the brain that really digs bar graphs and not a good job of appealing to the side that's viscerally connected. And that's the part that we're increasingly gonna have to reach, because that's the part where the motivation for change comes from."
Change, of course, is the issue: McKibben's entire career can be seen as one failed attempt after another to get the world to change from a suicidal course of action.
Which is the irony of being Bill McKibben. As we sat in that coffee shop watching the global snapshots pour in, I asked myself how many other people have managed to organize so many rallies in so many different countries. The answer is: none. Not Lenin, not Gandhi, not Martin Luther King.
Then again, Gandhi didn't have Twitter. "I don't think anybody could have done this kind of stuff five years ago," McKibben admitted. "We were right at the moment where it became possible." On 350.org's first International Day of Climate Action, on October 24, 2009, citizens held an amazing 5,200 rallies in 181 countries—what Foreign Policy called "the largest-ever coordinated global rally of any kind."
And yet at the same time, McKibben has been Zero Impact Man, as he's well aware. When I asked him what strategies work best to get people to change their carboniferous ways, he replied, "At some level nothing's worked, because we're still dumping carbon into the air." Indeed, if the Ghost of Christmas Future could have whisked the young author of The End of Nature into 2012, to show him the unfathomable amount of fossil fuels we'd be burning 23 years later, would he have bothered writing it?
MCKIBBEN WAS JUST 27 when he wrote The End of Nature. It gave him a reputation as a sort of eco-Scrooge, but it's not the screed people tend to remember. "Its heart is a philosophical essay," says McKibben, "and its dominant emotion is sadness, not outrage."
The book asks, "What will the end of nature as we have known it mean to our understanding of God and of man?" McKibben doesn't talk much about his religious beliefs, but he describes himself in the book as "a reasonably orthodox Methodist," and he clearly sees standing up for Creation as his spiritual calling. "The greenhouse effect is a more apt name than those who coined it imagined," he writes. "We have built a greenhouse, a human creation, where once there bloomed a sweet and wild garden."
When he wrote the book, McKibben was in the midst of his great awakening. After a childhood in the Boston suburb of Lexington, where his father was business editor of the Boston Globe, he attended Harvard and became president of the Harvard Crimson. He made the leap from the Crimson to The New Yorker when, famously, editor William Shawn called and offered him a job. McKibben assumed it was some joker at the Harvard Lampoon, fired off an expletive, and hung up. Lucky for him, Shawn called back three months later.
McKibben spent five happy years in New York City. He was not a nature boy. "I was fairly urban," he says. "I ran a homeless shelter in my church basement. That's about as urban as it gets." He started the shelter at Riverside Church, which has been famous for its activism since the 1930s. "He's always been other directed," says the film critic David Edelstein, who shared an apartment with him. "Almost as if it would be unseemly to dwell on his own problems." Edelstein remembers McKibben getting teargassed during a protest at the Seabrook Station nuclear power plant in New Hampshire. "He was attracted to non-violent resistance. He used to hand out pamphlets outside the theater where Gandhi was showing. He thought it was the best movie he'd ever seen."
Then, in 1987, a visit to the Blue Mountain Center writers colony in the Adirondacks changed McKibben's life. "I had no idea what the Adirondacks was, but I quite loved it. I loved the winter. I cross-country skied for hour after hour. I think everybody has a landscape that they're designed for, and if you're lucky you find it, just like if you're lucky you find the right woman."
For McKibben, that woman was Sue Halpern, a fellow journalist and former Rhodes scholar whose own writing career has since earned her a Guggenheim Fellowship. The couple moved to tiny Johnsburg, New York, in the midst of the greatest wilderness in the East. They wrote and hiked and paddled and skied. McKibben embraced the northern climate and his own ascetic tendencies, refusing to heat their bedroom until one morning Halpern showed him that her water glass had frozen overnight.
At the same time, McKibben says, "I was reading some people I'd never heard of before who completely got under my skin": writers like Wendell Berry, Gary Snyder, and Edward Abbey, whom McKibben visited in Utah. Then, in 1988, came a six-week heat wave that killed 5,000 to 10,000 people around the country. Climate scientist James Hansen was testifying before Congress, and McKibben soaked up his testimony along with the stifling humidity. He cranked out The End of Nature in a few months of manic activity.
The book has been translated into more than 20 languages and is still robustly in print. But its message didn't take. "My theory of change when I was 27 was 'I will write a book and people will read it and they will change,' " McKibben says. "So I wrote the book, and people actually did read it. But it turns out that's not how change really happens."
So how does it happen? McKibben has made suggestions: stop watching so much television and reconnect with the outdoors (The Age of Missing Information, 1992); stop having so many kids (Maybe One, 1998); stop buying so many Christmas presents (Hundred Dollar Holiday, also 1998); and stop tinkering with genetics (Enough, 2004). He even tried giving us positive models to emulate (Hope, Human and Wild, 1995; Wandering Home, 2005; and Deep Economy, 2007).
Nothing worked. Somehow, over the protests of McKibben and many others, the world has outpaced even the experts' worst-case scenarios for carbon emissions. In Eaarth, McKibben acknowledges the moment when he decided that books weren't going to solve anything. "Something in me snapped. Nothing concrete had come of my work or anybody else's; Washington had done absolutely nothing to slow down climate change. I wanted to try and make something happen politically—but what?"
THE LIFE OF BILL McKibben, activist, began to take over the life of Bill McKibben, author, after he and Halpern moved to the mountain town of Ripton, Vermont, in 2001. The schools were better for their eight-year-old daughter, Sophie, and Middlebury College offered him a position as scholar in residence.
The move could have been seen as a retreat to the academic echo chamber. Gore had just been defeated by Bush, and a decade's worth of environmental gains were withering in the heat of post–9/11 politics. By 2004 things were so dark that Ted Nordhaus and Michael Shellenberger, two young environmentalists, published "The Death of Environmentalism," an explosive paper arguing that the movement had failed to offer any compelling vision for the future.
McKibben was unimpressed by the paper ("Tempest, teapot, etc."), but in 2006, he made his first foray into activism, leading a five-day march across Vermont to get state politicians to commit to an 80 percent reduction in carbon emissions by midcentury. The Sunday Night Group, a Middlebury student activist organization, joined the effort, working social media that McKibben had never tried. A thousand people converged on Burlington, and Vermont's politicians fell all over themselves to sign on. With a few days of sore feet, McKibben had achieved more concrete results than in 18 years of writing.
What impressed him was how fast a movement could grow in the digital realm, and it gave him the idea for a new model, a sort of non-organization. Instead of the hierarchical tree, with a central trunk and smaller branches, he aimed for something more rhizomatic, with "10,000 local things going on"—and no trunk that can be chopped down.
In 2007, the leaders of the Sunday Night Group were nearing graduation. "Our idea was to move to Montana and live in a house together and fight coal plants," Jamie Henn, now 350.org's communications director, told me. But McKibben "convinced us to stay and work on a national day of action on climate change for a few months." Dubbing the effort Step It Up, the students organized 1,400 rallies on April 14, 2008, calling for the same 80 percent reduction. Within a week, presidential candidates Barack Obama, Hillary Clinton, and John Edwards had signed on. "It completely blew us away," Henn says. "I think it blew Bill away, too. Then we were off and running. I've still never been to Montana."
The following year, the Middlebury team—Henn, along with May Boeve (now 350's executive director), Phil Aroneanu, Will Bates, Kelly Blynn, Jeremy Osborn, and Jon Warnow—went global. New science indicated that 350 parts per million of atmospheric CO2 was the most that Earth could sustain and still be recognizable, so that became the name. The group aimed high, pressuring world governments to commit at the 2009 Copenhagen Climate Change Conference to a path that would return the world's atmosphere to 350 ppm.
The rapid growth was exciting, but some questioned the concept. In The New York Times in October 2009, Andrew Revkin quoted the MIT economist John Reilly's assertion that 350 was an impossible goal that would only lead to pessimism. Revkin recently told me he considers McKibben "an incredible organizer and motivator, particularly for young people. But we've drawn different conclusions about several important aspects of the science and approaches to getting traction on related energy issues. I prefer 350's days of action to its focus on a number, which I think doesn't have sufficient meaning unless it's accompanied by '350 when' and '350 how.'"
In the months leading up to Copenhagen, however, momentum looked unstoppable. Barack Obama had rolled into office promising that his tenure would mark "the moment when the rise of the oceans began to slow and our planet began to heal." Senators John Kerry and Lindsey Graham were working across the aisle on a breakthrough emissions bill. As world leaders gathered in Copenhagen, the city's church bells pealed 350 times in support of 350.org's goal.
"If the movie had gone the way it was supposed to go, Copenhagen would have been the point where humanity came together," McKibben told me. "And the utter failure of it was … very depressing. I didn't know quite how badly it was going to go, but by the time we got close to it, I knew that there was no real appetite in the Obama administration for pressing it and no real prospect in Congress even if he did." The low point arrived when a leaked document from the UN Secretariat—with McKibben's name mysteriously scrawled across the top—revealed that the U.S. and other industrial nations knew that they were headed for a world with more than 550 ppm of CO2 and at least three degrees Celsius of warming, rather than the 450 ppm they claimed as a target. (New data suggests that we may actually be on target for a six-degree Celsius rise—close to 11 degrees Fahrenheit.) The whole meeting, McKibben declared in Mother Jones, was an "elaborate sham."
"I was very bummed out," he admits, "but all these kids kept coming up and saying, 'You know, we didn't really expect to win right away. We're up against the biggest industry in the world. We have to go back and work harder.' I said, 'Okay, let's do it.'"
Given his low-key mannerisms and bookish career, McKibben would never have been pegged as a tough guy, but he has turned out to be quite a fighter. In July 2010, a few months after getting his bell rung in Copenhagen, he was flattened again as Democratic senators bailed on Kerry's emissions bill, despite holding a 59–41 majority and despite the House having already passed a climate bill. McKibben summed up the result: "Total defeat, no moral victories."
McKibben receives a fair number of death threats. After it became clear that the emissions bill was doomed, he got a message titled "Now What, McMonkey Shit?" It read, "You cocksucking, motherfucking, assfucking, Harvard Nazi scumbag moron climatebicile! Your fucking insane bullshit Sorosian carbon tax is now DEAD!"
No one would have blamed McKibben for staying down. Instead he changed tactics, announcing on the liberal website TomDispatch, in a rather un-McKibbenesque post: "I'm a mild-mannered guy, a Methodist Sunday School teacher. Not quick to anger. So what I want to say is: this is fucked up. The time has come to get mad, and then to get busy."
It was then that the skinny fighter from Vermont landed one of the most stunning lefts in the history of the environmental movement. 
MCKIBBEN AND I ARRIVED early at the Stowe concert hall so he could rehearse his narration of A New Eaarth. He hid in the dressing room, blogging, talking to his wife on his iPhone, and pulling on a suit. The Heartland Institute had announced that it was taking down its Kaczynski billboard and canceling the campaign. But McKibben had no time to gloat. In fact, he looked miserable. "It's funny, I can speak in front of 15,000 people and not get butterflies. But this makes me really nervous. I'm hopelessly unmusical. I can barely hum."
Eventually, the crowd filed in and McKibben took the stage. He had to read more than 100 lines of text, delivered precisely when the conductor pointed at him. But the conductor was gesticulating wildly, and it was hard to tell when he was pointing at McKibben and when he was pointing past him at the violins. Sometimes he seemed close to poking McKibben's eye out. McKibben squeaked through without a flub, then raced backstage and yanked off his tie. "Well, that was fucking terrifying!" he said. "I really need a beer."
McKibben is a regular guy. He likes beer and the Red Sox. We drank a cold one and then tuned in the game as we made the midnight drive to his house, along a road shredded by Hurricane Irene. McKibben spends most of his time on the road, an irony not lost on him. "Since all of us are in some way the beneficiaries of cheap fossil fuel," he wrote in an August Rolling Stone article, "tackling climate change has been like trying to build a movement against yourself." Indeed, when he appeared on The Colbert Report last November, Stephen Colbert asked him, "You're from Vermont? Did you ride your bike down here, or do you have a vehicle that runs on hypocrisy?"
In fact, he drives a dented silver Honda Civic hybrid with 158,000 miles on it and the detritus of life on the go inside: maps, chip bags, pens, CDs. I had to excavate a layer of cookie crumbs to make the passenger seat livable. It was the end of a very long day. Much had been accomplished, and yet nothing had, and the Sox were losing again and we were picking our way through the riprapped remains of Irene, which had zeroed in on McKibben's house as if hunting him. For the first time he sounded tired. "There are times when I think, Well, I'm not at all convinced we're going to prevent this," he said.
McKibben calls the world's climate situation "almost-but-not-quite-totally hopeless." Yet somehow this has not plunged him into despair. "There were a couple of years around The End of Nature when I was pretty blue," he said. "But, just like anything else, eventually the grieving heals. I don't know if I've gotten any more optimistic, but I find that work is a great antidote to despair. The more I work, the better."
MCKIBBEN RESPONDED TO THE debacle in Congress by turning his energies in a surprising direction: the proposed Keystone XL Pipeline. He had given up on Congress, which he viewed as junkies hooked on campaign contributions from Big Oil. The industry, he says, is "very good at holding up politicians like pillows and letting us punch ourselves out while never landing a blow."
But Keystone didn't involve Congress. It was up to the president to either sign the permit or deny it. Canada's tar sands are the planet's second-largest carbon deposit after Saudi Arabia. Here was a single decision with a potentially huge impact, and McKibben decided to cast it as the linchpin that could either reenergize or alienate Obama's base.
So the 350.org team arranged for an act of civil disobedience in front of the White House on August 20, 2011. McKibben's model was Martin Luther King. "In a way, the pipeline thing came out of a course I taught last spring on social movements," he told me. "It was while the Arab Spring was under way. And we were reading that amazing Taylor Branch three-volume biography of King, which is one of the greatest pieces of American history ever. But it also turns out to be a handbook for organizers. You can just read it and go, 'Here's how this guy did it.'"
U.S. Park Police usually just fine protesters $100 and release them. But when 65 people showed up, the police decided to deter others by taking everyone to jail. The group spent two nights in D.C. Metro's Central Cell Block, sleeping on steel slabs and singing church hymns. When McKibben issued a note to the media that said, "We don't need sympathy, we need company," 100 more people came to get arrested.
Eventually, 1,253 protesters were arrested, and Keystone went from being an obscure pipeline to a central referendum on Obama's record. Not everyone thought this was a good idea. "McKibben is arguably the best organizer the environmental movement has, and I don't want him to stop," says liberal blogger and radio host Bill Scher. But Scher believes that most environmental gains are made by working with Big Business, not alienating it. "You need a really broad coalition to tackle a problem as complex—scientifically and politically—as the climate. And you're not going to get broad with a movement-only approach."
Tom Butler, editorial-projects director of the Foundation for Deep Ecology, disagrees. "The creative coalition-building—from conservative Midwestern ranchers to liberal college kids—was brilliant. They took an environmental issue that nobody had heard of and made it a household word. Whether the thing eventually gets built or not, Bill's a hero."
Keystone was considered a done deal. But on November 6, a year to the day before the 2012 presidential election, 12,000 people gathered in D.C. Standing four deep in places, they ringed the White House in what McKibben called "a big O-shaped hug," chanting "Stop the pipeline! Yes we can!" McKibben walked the perimeter in a kind of victory lap, exchanging high fives. "It's been decades since there's been a crowd like this outside the White House about something to do with the environment," he told the cheering mob. "This is the definition of a grassroots movement…. And dammit, we are going to win this thing if we do it right!"
Four days later, the Obama administration announced that it would delay the pipeline decision. "A done deal has come spectacularly undone!" McKibben tweeted. Sure enough, on January 17, Obama formally denied the permit. It was hardly a knockout blow, but it was just enough to put a chink in Big Oil's defenses. McKibben had shown a new generation of activists that it was possible to win.
AS WE DROVE INTO the mountains around Ripton, McKibben peered into the night. "It can get pretty moosey through here." A full-throttle yawn took hold of him every few seconds. "Oh boy, am I tired."
"I didn't know you ever ran out of energy," I said.
"You should have seen me stagger home from this last battle," he said. "This year has been hard. I've been in over my head a lot. I got an email from Sue at some point in the fall saying, 'You do know that you've spent more nights in jail than at home recently.' I can maybe keep up the pace for another year or two, but at a certain point I can't."
It was a dark-of-night thing to say, and it lasted only a moment. Then Climate Bunny was back on message. "Yeah, I've got lots of energy to the extent that it's wonderful to see how many people around the world are willing to do this."
Plenty, as it turned out. Early the next morning, McKibben was back at his laptop.
"Oooh, great picture from Tel Aviv!"
"Whoa, check it out! The Philippines. This ferryboat sank in a typhoon. These things are like salted peanuts to me. I can't stop."
McKibben's super-insulated house has an array of solar panels, but he is on the grid, and the family lives a two-car, one-kid, mainstream life, on a few acres of land once owned by the poet Robert Frost. Their 10-year-old Labrador mix, Pransky, rules the roost. Books are scattered everywhere. The walls hold framed headlines from the Red Sox's 2004 World Series victory. They have the same pasta, tea, and olive oil as the rest of us, the same Weber grill and Adirondack chairs.
Sophie, now 18, was off completing a year at United World College's Norway campus, but pictures of her filled the house. Growing up the child of eco-Scrooge, having to justify the carbon footprint of your Beanie Baby, sounds like a grim prospect, but by all accounts Sophie lived a classic mountain childhood. "I don't think it's appropriate for little kids to be freaking out about climate change," McKibben told me. "It always struck me as a parent that my first job in this context was to help her fall in love with the natural world. If you do, then I'm absolutely confident that you'll do what's necessary to defend it."
It helps that Halpern—while teaching journalism at Middlebury and writing books about neuroscience—keeps the house playful. She grilled two cheese sandwiches and gave them to us on the kind of hand-drawn plastic plates many of us made as children, but she'd made these for McKibben as Christmas presents. The 2009 plate included a to-do list that read "MONDAY Bale Hay. Tuesday Travel: Rio > Berlin > Sydney > Boulder > Ann Arbor, Stack Wood. Wednesday Save World."
"Now that is a fine grilled-cheese sandwich!" McKibben said. "Look! Jordan, the Dead Sea! The Dead Sea has dropped 26 meters in elevation. That's what those balloons show."
McKibben's new emphasis on extreme weather coincided with a 2012 Yale poll showing a spike in concern about global warming. "People," he says, "were connecting the weather they were seeing around them with climate change." Indeed, McKibben encourages this by tweeting about seemingly every flood, drought, heat wave, and hurricane that hits the planet. And while it's true that the likelihood of these events goes up with higher temperatures, linking specific storms to global warming is a dangerous tactic, because then you have to turn around and explain why next winter's cold snap doesn't disprove it. That was what my brain's left hemisphere kept saying as I saw images of fires in Melbourne and tornadoes in Kentucky, but it was soon drowned out by the cries from my right hemisphere in response to so much suffering. In Haiti there were two boys and a little girl in a pink dress holding signs: YOUR ACTIONS/AFFECT ME/CONNECT THE DOTS. In Pakistan there were four women living in a tent.
"Great picture! Pakistan, 20 million people out of their homes due to floods the past couple of years."
While McKibben blogged, Halpern tried to get Pransky to bark on command. "Pransky, say 'I love you.'"
"Woof," said Pransky.
"I won't put this in the story," I whispered.
"No, go ahead," she said. "Tell everyone that while Bill is saving the world, his wife is teaching their dog to talk. Pransky, say 'I love you.'"
"Why wuv woo," said Pransky.
PRANSKY NEEDED A WALK, and McKibben needed a dose of the woods before climbing into the hybrid for another week on the road. We walked to a trail that ran along a creek, the slopes draped with hemlock and birch. A spring heat wave had triggered a burst of wildflowers, and I spotted tiny, motionless amphibians. "Look," I said, "the red efts are out."
"Early," McKibben muttered.
The trail connects to the 25,000-acre Breadloaf Wilderness and the groomed trails at Middlebury's Breadloaf campus. "You can skate-ski for 25 miles," McKibben said. "It's like flying. Unbelievable. We have a new race trail that just got built at Breadloaf. Olympic quality. It's got this brutal climb and then this descent with these two huge banked turns. Terminal velocity." He laughed. "You can tell I spend a lot of my time thinking about skiing. That hundred days of winter is my favorite part of the year."
But not this year. "Winter was just hideous. I'm such a diehard skier that I still had 90-plus days of cross-country skiing, but it was back and forth on the same 400-yard pitch."
That image made me think of one of McKibben's lesser-known works. In 1998, at age 37, he threw himself into cross-country ski racing. The resulting book, Long Distance, is his funniest, because it allows him to focus on a subject—himself—that he doesn't have to take too seriously. Anyone who thinks of McKibben as a sourpuss should read him writing about admiring his butt muscles in a mirror. Of his first major race, he wrote, "For once in my life I was absolutely present, right there the whole time. The clear fact that I was never going to win any hardware suddenly mattered very little. I'd like another fix of that total absorption, please."
There's no hardware to be won in the climate-change battle, either, but Long Distance made me wonder whether McKibben's ability to ignore the pain and put one foot in front of the other, to just grit it out, was a lesson he'd internalized from ski racing. "There probably is something about delayed gratification," he allowed. "You just realize that part of the pleasure is in the doing, not the results." He was walking fast, long legs pumping, and as I struggled to keep up I got a sense of how miserable this man must be folding himself into endless airplane seats. I was reminded of the ultramarathon guru in Long Distance who told him, "At every endurance event, there comes a time when you'll say, 'What the fuck am I doing here?' And you'll say, 'This is what I do.'"
McKibben is now taking the fight straight to the fossil-fuel industry. His August Rolling Stone piece—which, he told supporters, "may be the most important writing I've done since The End of Nature"—outlined the grisly global-warming math and named Big Oil "Public Enemy Number One to the survival of our planetary civilization." Calling for a divestment movement among college endowment portfolios, like the one that hamstrung apartheid, he wrote, "Pure self-interest probably won't spark a transformative challenge to fossil fuel. But moral outrage just might." He couldn't have picked a tougher challenge, as he knows. "There's very little warrant for believing that we're going to win this fight," he told me, "given the strength of the opposition." But history has turned on figures who won by taking the absolute worst their opponents could dish out, and McKibben has been thinking about those figures his whole life.
"Movements are very odd things," he said as we crossed a quiet brook that, during the long night of Irene, had become an improbable scourge. "They tend to be beneath the surface for a while as they gather strength. Look at the civil-rights movement. We tend to compress history in our minds, but there were basically five years after the Montgomery Bus Boycott when nothing happened. The movement was building all the time, it just wasn't strong enough yet."
A few weeks after our walk, Colorado spontaneously combusted. Midwest corn rolled up its leaves and died. In June alone, 3,282 temperature records were broken or tied across the U.S. A rare megastorm called a derecho tore a 700-mile path from Indiana to Washington, D.C., knocking out the air conditioning of 4.3 million people. McKibben helped everyone connect the dots. "I fear I've been tweeting at a monster pace," he wrote me in an email. "It feels to me like one of those moments when public perception is shifting."
If, miraculously, that moment comes, and the rhizomatic tendrils that McKibben has sent creeping around the planet decided to pop up and leaf out, and the world makes a sudden and shocking turn away from fossil fuels, McKibben will win the Nobel Peace Prize, will get his hardware at last. More important, he will have nudged Eaarth back toward Earth. If, as is far more likely, he has zero impact, and we become Venus 2, and all those pixels of snowflakes and sand castles and little girls holding signs are nothing but melting chips of silicon on a dead server, then it won't be because William Ernest McKibben didn't give it a shot.
Trending on Outside Online