COVID-19 Put My Climate Anxiety Over the Top
We were already worried enough about the climate. So with COVID-19, how do we cope with a brand-new feeling of helplessness?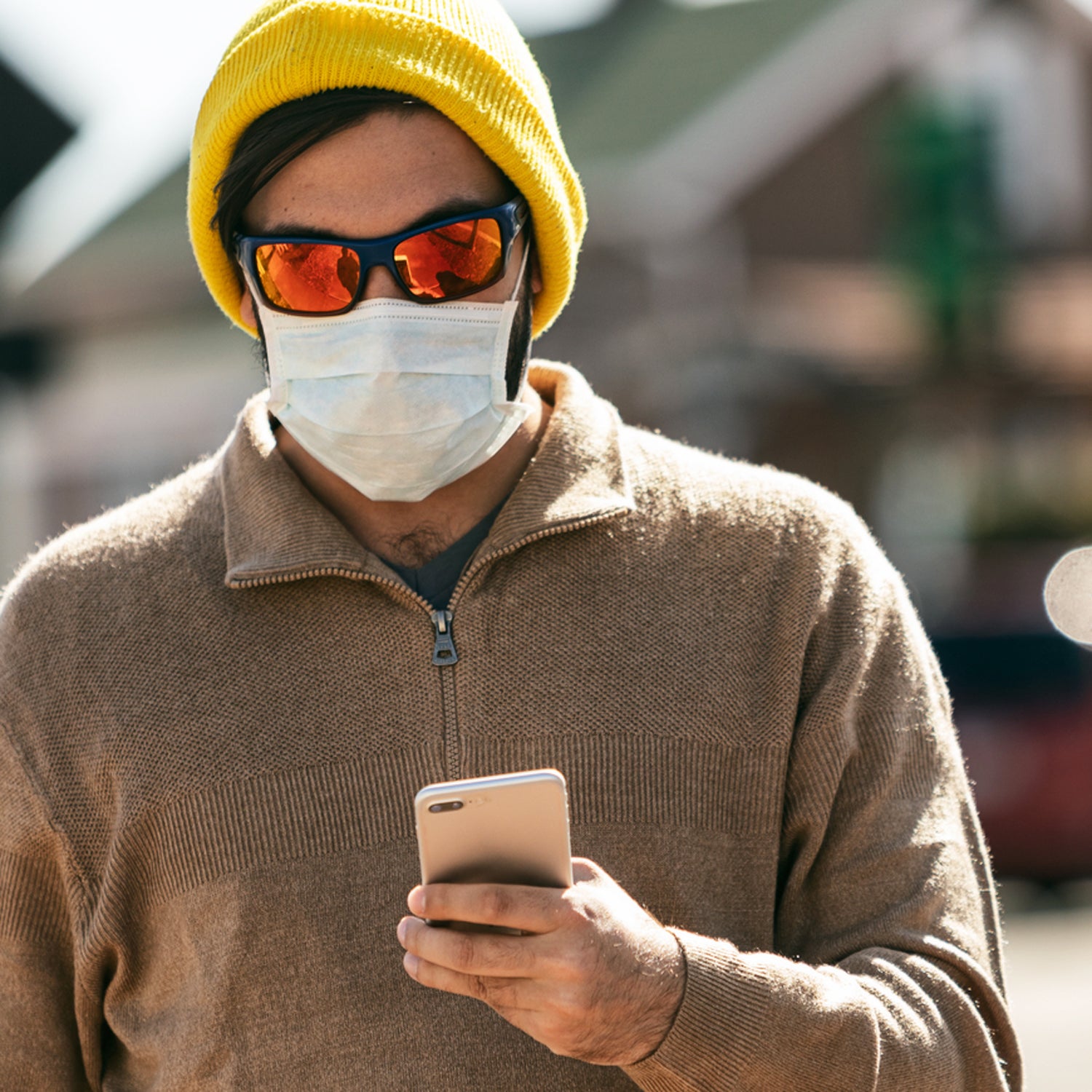 Sean Locke/Stocksy(Photo)
Heading out the door? Read this article on the new Outside+ app available now on iOS devices for members! Download the app.
Last weekend while backcountry skiing—my normal form of socially distant, brain-clearing motion—I took the worst slam I've had in a while.
The light was flat, and what I thought was a patch of smooth snow was really a wind-loaded cornice over the lip of a micro gully. When I blindly dropped off it, I was in the air long enough to think, Ohhhh, this is going to be bad, before I landed, my right cheek and left hand slamming into the snow as my knees buckled.
My face was fine, albeit graupel-scratched, but my wrist was throbbing hard enough to make holding a pole painful. Every turn sent electricity up my arm as I gingerly made my way back down to the parking lot. Wincing as I took my boots off, I wondered if I should go to urgent care for an X-ray. And then I realized that of course I shouldn't. My dumb, self-induced maybe injury wasn't worth the crowds or the risk. I wasn't urgent, compared to anyone experiencing COVID-19 symptoms. I went home to ice alone. 
Coronavirus has changed so many parts of how we gauge risk and how our choices impact other people. Decisions that I've previously considered safe—like ski touring on mellow, low-angle terrain—suddenly aren't anymore. The calculations are different now that public health is our only priority. The last thing search and rescue wants is to potentially expose first responders to the disease because your dumb ass got into a bad backcountry situation. 
We're in a fast-moving point of precarity, where we have to reconsider how all of our choices impact the systems that have previously sustained us. Sustainability means a lot of different things at once right now. Before the coronavirus hit, we might have been trying to live lighter by changing our eating habits or flying less to cut our carbon impacts. Now those choices are a matter of life and death.
If you're someone who is used to calculating your own nonstandard sense of risk, or having the freedom to roam and travel, that abrupt transition is hard. Things I was excited about, like the rest of the ski season and a planned mountain-bike trip for my dad's birthday, have instantly evaporated. I am both frustrated and antsy without my coping mechanisms and the things that keep my body and brain occupied. 
So what do we do to try to find joy and levity and awe and connection, not to mention exercise? For now, access to the outdoors is a silver lining. But in the face of so many unknowns, how do we avoid going down anxiety wormholes about the shape of the COVID-19 curve, on top of our already heightened anxiety about the persistent threats to our planet's viability?
Because I am a highly professional reporter, I asked the people of the internet what they were doing to cope. The first two answers I got were "anti-anxiety meds" and "mainlining Girl Scout cookies." I'm not a doctor, but those seem like totally normal coping responses for normal times. And right now, everything feels far from normal, so here's what else came up.
First, motion. Go the heck outside, like every Instagram influencer seems to be urging us to do. Safe, socially distant walks, rides, and runs are still options, just take it easy and keep your eyes out for CDC updates before heading out the door. Get creative. One of Outside's editors has committed to running 19 miles a week—because COVID-19—but you don't have to embrace the virus as literally as she has. 
If we learn to take care of ourselves and others in this crisis, maybe we'll have better tools to address other big, global concerns once the virus is contained.
If you're sheltering in place, my personal favorite form of indoor workout, Dance Church, offers streaming sessions, as do a lot of yoga and fitness studios. If you want to go old-school, there's always Jane Fonda.
Being alone and inside, even with Jane, is mentally taxing. Part of what we're losing by social distancing is human connection, even just the low-touch kind, like office jokes and trailhead hellos. Those connections are so important, and right now it feels like the single best thing technology has given us is the video chat. Don't discount virtual happy hours, art lessons, or board games. Invent funny new rituals that you can do with others, alone. For instance, two coworkers who are also roommates have been playing Semisonic's "Closing Time" when they both log offline for the evening, and my mom is sending daily one-minute plank videos to her 60-person office, so they can take a workout break "together."
If you're an adrenaline-focused outdoorsperson, the novelty factor (or lack thereof) is actually really important to your brain. Research has shown that people who are more inclined toward risk-taking activities exhibit more of what's called antisocial behavior. That means we need novelty, and we don't play by the rules well, so a top-down mandate to keep it close to home is particularly rough. You might as well channel that frustration toward figuring out something new. Plant a garden, film your own coronavirus-themed reality show, learn to bake bread—a form of stress relief that might also take some stress off grocery stores. 
It's also crucial to give yourself breaks from the mayhem. Just because you're working from home, with the whole internet of viral virus updates in front of you, doesn't mean you have to track every news blip. Now is the time for soothing aquarium livestreams and other excellent animal content. Now might also be the time for legal weed gummies. My best friend has committed to watching every single movie with the Rock in it, a project I commend. Raise your hand if you want her to start a blog about it. 
It's also a powerful time to find some meaning, to think about the long game and the environmental issues that continue to be crucial as COVID-19 moves through the world. Groups like the Environmental Defense Fund are encouraging online advocacy, and many environmental nonprofits that depend on in-person fundraising are struggling. If you have the means, it's a good time to support them. 
The anxiety and the feeling of being out of control, both during a pandemic and as the climate heats up, are slightly analogous. And while climate anxiety is a global crisis with a long timeline and dispersed action plans, coronavirus is immediate. If we learn to take care of ourselves and others in this crisis, maybe we'll have better tools to address other big, global concerns once the virus is contained. For now, thinking about issues more long-term than the current one at hand, and trying to address them in any small way you can, feels strangely purposeful and soothing. 
That distraction is a form of self-care, which is crucial on every front. So sleep, move your body, do not launch yourself off blind cornices if you can avoid it. Drink some water, call your person, take your meds. To deal with the big-picture threats ahead of us, we're going to have to be healthy and strong as a society. It's a long game.
Lead Photo: Sean Locke/Stocksy