A Sunshine Day with the Secretary of Energy
Ernest Moniz talks to Outside about radioactive waste, SuperTrucks, dazzling solar arrays, southwestern breakfasts, and a trout stream that has to remain top secret.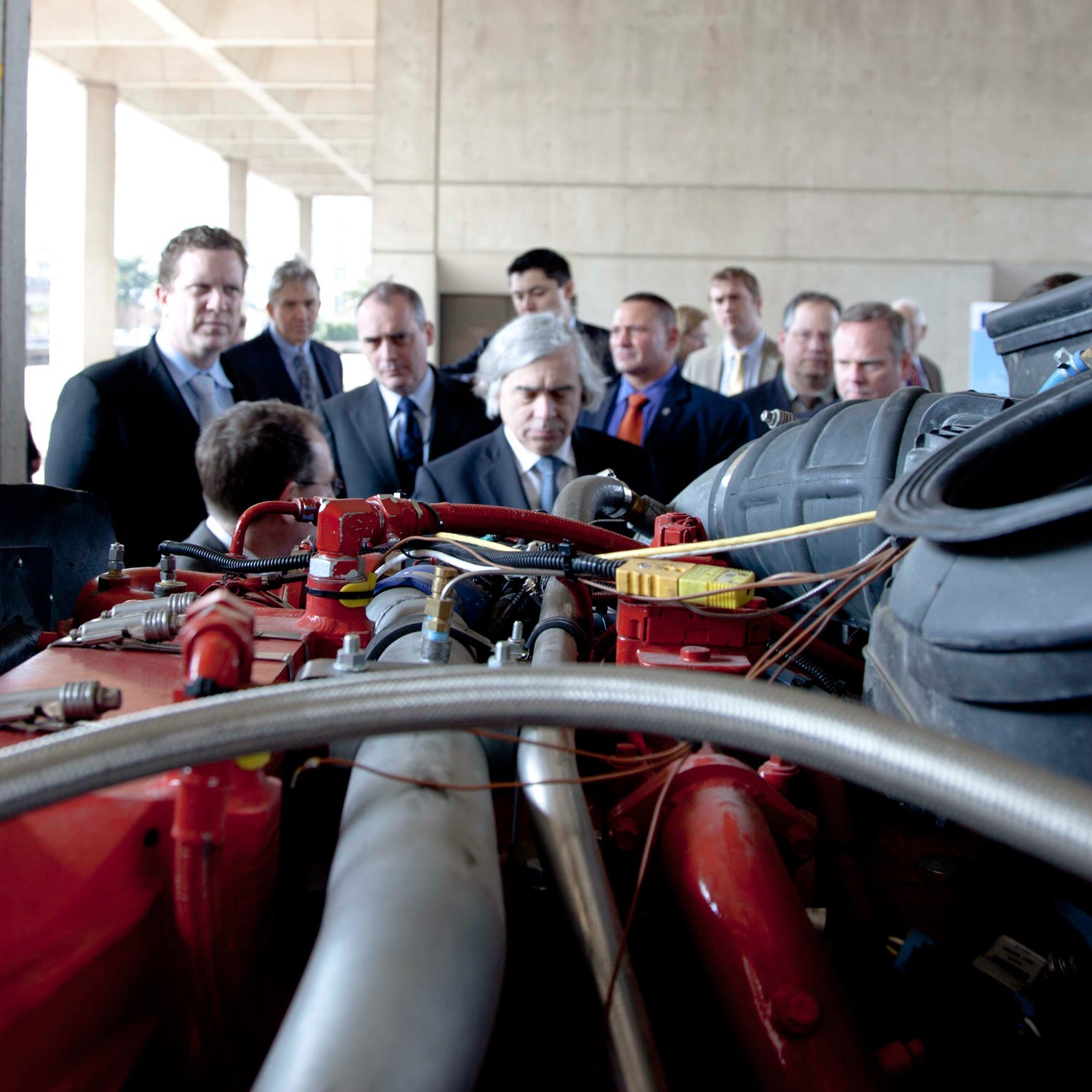 Heading out the door? Read this article on the new Outside+ app available now on iOS devices for members! Download the app.
Dr. Ernest Moniz, the current U.S. Secretary of Energy, is a highly accomplished physicist who has been a faculty member at MIT since the early 1970s and has served in the Department of Energy (DOE) once before, as Under Secretary during the Clinton Administration. Moniz traveled to New Mexico this week to attend a hearing in Santa Fe—part of the Obama Administration's Quadrennial Energy Review—after which he headed south to Carlsbad, N.M., home to the controversial Waste Isolation Pilot Plant (WIPP). This important storage site for radioactive waste has been shuttered since February because of two on-site accidents that have raised serious safety concerns.
While in Santa Fe, Moniz sat down with Outside editorial director Alex Heard (@alexheard) and features editor Elizabeth Hightower Allen (@ehightowerallen) for a wide-ranging discussion of energy policy, technology, the environment, outdoor recreation, and food. Here are five things that clearly earned his stamp of approval, along with (where applicable) useful sources for alternative views.
1. Breakfast at Tia Sophia's, Santa Fe, New Mexico
Secretary Moniz and his handlers met us at 10 a.m. on the back patio of a downtown restaurant called the Burro Alley Café. He declined to look at a menu, which made sense: Earlier that morning, he had enjoyed a full breakfast at Tia Sophia's, a go-to spot for locals and tourists, and a great place to fuel up before ski days. We asked Moniz how Tia Sophia's food had worked out for him. He indicated that it had worked out pretty well. We didn't ask what he ordered, but a dependable plate there is the chorizo-and-potatoes-stuffed burrito, topped with chile (red, green, or, as Walter White once put it, "Christmas!") and cheese.
Second Opinions
Heard, who is finicky, points out: "Tia Sophia's can be a little heavy sometimes. If you're a cabinet secretary visiting Santa Fe, consider trying the Tree House. Don't be put off by the fact that it's inside a shopping mall. The woman who runs it is like that great hippie cook who fed you at whitewater camp." Hightower Allen: "I'm a fan of the Guadalupe Cafe's smokey red chile. But try to avoid eating the 'toast' served at Burro Alley—which consisted of scorched slices of styrofoam French bread—in front of a top government official."
2. WIPP, 26 miles southeast of Carlsbad, New Mexico.
Things have not gone well this year at WIPP, the only U.S. repository for what's called transuranic (TRU) waste. (Which means clothing, tools, dirt, rags, and other things contaminated with man-made radioactive elements, like plutonium, at U.S. weapons-making facilities.) WIPP's storage caverns are carved out of ancient salt beds, 2,150 feet down, but even that is not always deep enough. Two accidents in February—in particular, a heat-releasing chemical reaction inside a waste drum from Los Alamos, which resulted in a radiation leak that was detected a half-mile from the accident site—have shuttered the plant for the past six months. This is a major problem for the DOE and the city of Carlsbad, where WIPP is a major employer.
"We are still in the process of trying to fully understand what happened," Moniz told us, describing the work of a DOE team that's studying what caused a reaction that was hot enough to crack a drum lid. "We are beginning to see what is probably going to be the solution, an unfortunate perfect storm of things in that one drum." The details of what went wrong will be made public, he said, and a plan for bringing WIPP back online is expected in a month or so.
Moniz flew to Carlsbad on Monday, August 11, to speak to federal, state, and local political officials, scientists, WIPP employees, and town boosters. His message—"Let me make no bones about it: WIPP has to come all the way back"—was well-received, and Moniz was met at the local airport by that rarest of things for many public officials, demonstrators who were on hand to cheer him. Moniz said DOE is hoping to have WIPP up and running again within 12 to 18 months.
Second Opinions
In April, the DOE's Office of Environmental Management released a report on the radiological-release accident that criticized WIPP's current "site safety culture," saying that it has been marked by a "lack of a questioning attitude, reluctance to bring up and document issues, and an acceptance and normalization of degraded equipment and conditions."
3. Solar Power
Moniz pointed out that DOE has spent and will continue to spend billons on the kinds of "all of the above" energy strategies that the Obama Administration has strongly backed—"for renewables, efficiency, nuclear, fossil fuels with lower emissions, across the board," he said—as it strives to react to climate change.
He focused our attention particularly on solar, pointing out that, in 2009, there were no utility-scale photovoltaic plants in the U.S. Now there are several that began with federal backing, and the private sector has stepped in to get behind others. Last February, Moniz dedicated the Ivanpah Solar Electric Generating System, a huge, futuristic array set up on 3,500 acres of desert near Ivanpah Dry Lake, California. At Ivanpah, more than 300,000 computer-controlled mirrors direct sunbeams to boilers that sit atop three 459-foot-tall towers, generating steam that drives a turbine. Owned by NRG Energy, Google, and BrightSource Energy, the system is designed to deliver solar-produced electricity to nearly 100,000 average American homes.
Second Opinions
As Moniz readily acknowledged, facilities like Ivanpah raise concerns among environmentalists, usually involving birds and ground species like the desert tortoise. See, for example, this news report: "Ivanpah Solar Project Has a Bad Burned Bird Problem." Another serious issue is glare. On a more positive note, here is BrightSource's guide to the elaborate measures being taken to protect tortoises. 
4. SuperTrucks!
In speeches, like this one before the League of Conservation Voters, Moniz has talked about how smart, not-always-sexy technology-driven efficiencies can add up to tremendous real-world energy savings. A good example is a DOE project called the SuperTruck initiative, an effort—carried out in conjunction with manufacturers like Cummins and Peterbilt—to develop an 18-wheeler that's 50 percent more efficient than baseline models, with the potential to save hundreds of millions of barrels of oil annually.
Like kids clutching a Tonka truck in one hand and Popular Mechanics in the other, we asked Moniz when the first SuperTrucks would hit highways, but he explained that it doesn't really work that way. Instead, specific advances in areas like aerodynamic design and engine efficiency will start getting integrated into commercial vehicles. When? "In this decade," Moniz said.
Bonus: Moniz did thrill us by adding that he got to sit inside the cab of a SuperTruck, but "they wouldn't let me drive it."
Second Opinions
Heard and Hightower Allen both wondered (after Moniz left) whether the SuperTruck could be used to revive a once-proud motion-picture franchise. Yeah, we're thinking Smokey and the Bandit IV: SuperSemi!
5. The Great Outdoors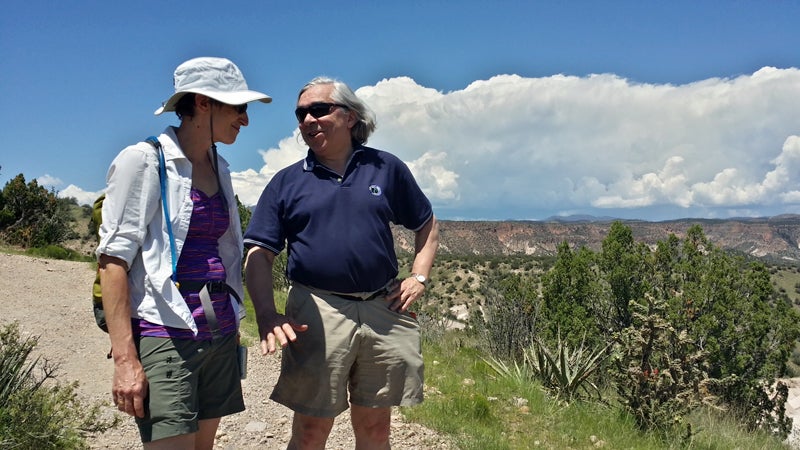 Moniz is an avid hiker and fly-fisherman—his sunglasses were attached to a rainbow trout-patterned Croakie—and after saying goodbye to us at Burro Alley, he went on an excursion with Interior Secretary Sally Jewell to Kasha-Katuwe Tent Rocks National Monument, which features spectacular formations produced by volcanic eruptions that happened millions of years ago. Here are directions for getting there.
He also told us about a great trout stream in southern Colorado. Here aren't any directions for getting there…Sorry. Some of this information needs to remain classified.
Second Opinions
Heard told Moniz that it's OK to collect a few of the naturally formed beads of obsidian that turn up at Tent Rocks, which are informally known as "Apache Tears." That is incorrect. Outside regrets and decries his error.