Top 10 Enviro Stories of 2011
Harold Camping was wrong—twice—about 2011 ushering in the end of days, but the year certainly had its share of environmental catastrophes. Thankfully, there were a few glimmers of hope, as well.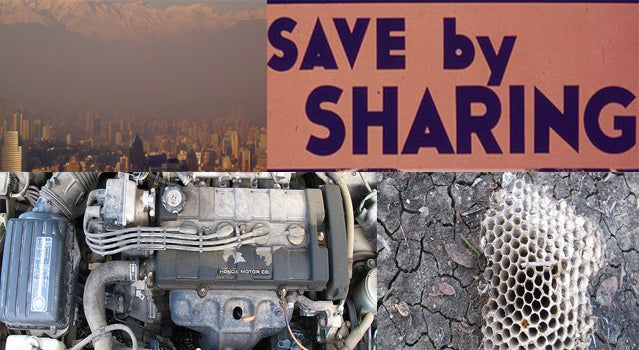 Heading out the door? Read this article on the new Outside+ app available now on iOS devices for members! Download the app.
Top 10 Environmental Stories of 2011
From the sentencing of civil disobedient Tim DeChristopher to the arrests of public protesters like Bill McKibben, 2011 turned out to be one of the most contentious years for environmental issues in recent memory. The college co-eds of 350.org joined forces with the Occupy Wall Street movement in New York City. Farmers joined rallies in rural towns in Nebraska to stand against a pipeline. Landowners in Pennsylvania broke their vows of silence after they found that the energy companies taking gas from beneath their farms had also polluted water supplies. None of those stories will go away in 2012, so we'll catch you up on the things you should know heading into the New Year.
10. Murdered Environmentalists
9. Extreme Connection
8. Standard Change
7. EPA Gets Smoked
6. Climbing Collaborative
5. Acid Drip
4. What Price?
3. The Meltdown
2. All Fracked Up
1. Pipe Dreams
10. Murdered Environmentalists
Around the world, activists risk much more than an arrest for civil disobedience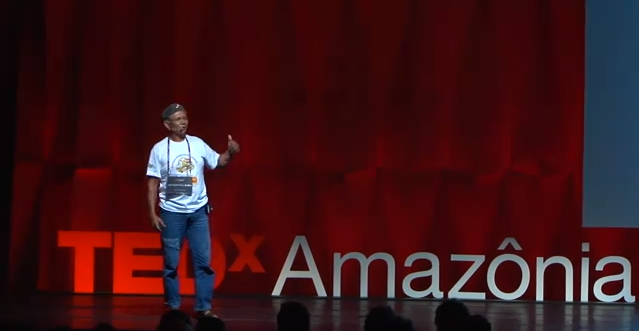 In 2005, Dorothy Stang, a 73-year-old American nun and environmental activists, was murdered in Brazil for her attempts to protect the Amazon rainforest and aid poor families in rural Anapu. This made international news, but in general the murders of environmentalists and reporters who investigate environmental issues around the world go unnoticed. This year, the news picked up on at least nine murders, from Thailand to India, where Shehla Masood, an activist who protested illegal diamond mining and worked to protect tigers and leopards from poachers was shot in August. In Brazil, three activists—Adelino Ramos, and married conservationists José Cláudio Ribeiro da Silva and Maria do Espírito Santo—were murdered within a week in May. Marking a glimmer of hope for those brave enough to pick up where these slain activists left off, Brazil said that it will provide government protection for those who receive death threats. Whether those protections are stronger than the interests of lawless loggers and miners remains to be seen. Da Silva and his wife had already received death threats when he said during a 2010 TED talk: "I will protect the forest at all costs. That is why I could get a bullet in my head at any moment—because I denounce the loggers and charcoal producers."
Read more at The Guardian and Environmental History
9. Scientists Confirm Links Between Extreme Weather and Climate Change
No longer if or when, it's now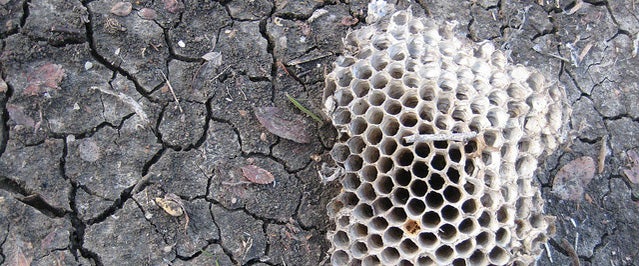 The ground was so dry in some parts of Texas last summer that the tightening clay soils were popping water-main pipes like they were toothpicks, and wildfires skirted Austin as some parts of the state experienced the driest year on record. Hurricane Irene led to Vermont's worst flooding since 1927, and a tornado annihilated Joplin, Missouri. In 2011, the U.S. was hit with 12 natural disasters that caused at least $1 billion in damages. Each. That's, not to mention catastrophic events unfolding elsewhere, i.e. the further loss of sea ice. What's up? Climate change, says a report by the Intergovernmental Panel on Climate Change that was released last month. More precisely: "It is virtually certain that increases in the frequency of warm daily temperature extremes and decreases in cold extremes will occur throughout the 21st century on a global scale."
While it's been talked about for years, the link between severe weather and climate change is now solidified. The conversation is turning from mitigation to adaptation. Insurance companies are factoring the climate into how—and whether—they offer coverage.
Read more at The Wall Street Journal, NOAA, and NRDC
8. Fuel Standards to Force Change in Big Auto
Every MPG helps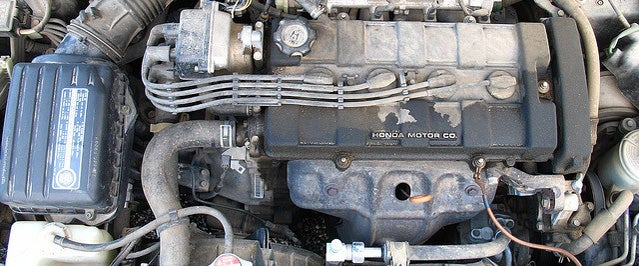 Even though auto shows pimp futuristic concept cars and whiz-bang features each year, the auto industry moves at a glacial pace. That's why President Obama's approval of new standards that will double the average fuel economy of vehicles to 54.5 miles per gallon by 2025 is big news. Even though the electrification of the American automobile grabs a lot of headlines, the number of Nissan Leafs and Chevy Volts sold in 2011 isn't likely to break 20,000. As a whole, Americans bought 10 million new cars in 2010. It took the Prius ten years to gain any real sales momentum in the U.S., and it didn't require an entirely new fuel system (a plug instead of a pump). So for the foreseeable future, most cars on the road will have an internal combustion engine. The technology exists to greatly improve the efficiency of conventional engines, now it's a matter of making it a requirement. That will mean finalizing these new standards, which are likely to get whittled down (maybe as low as around 40 MPG) during political and industry wrangling in 2012.
Read more at This Week in Earth and Bloomberg
7. EPA Gets Smoked Over Attempts to Improve Air Quality
Et tu, Obama?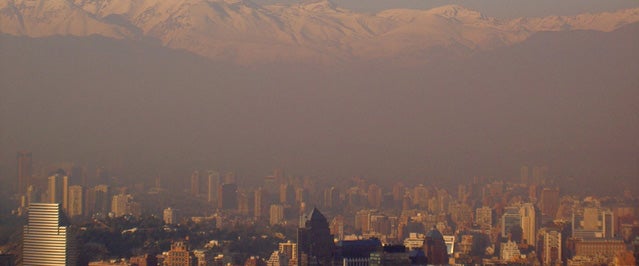 In an effort to avoid up to 8,000 premature deaths and up to 40,000 asthma attacks annually, and more closely align the Clean Air Act with current scientific findings, the EPA wanted to lower the eight-hour National Ambient Air Quality Standards for ozone from 75 parts per billion to at least 70 ppb, or as low at 60. Despite an expected agreement from his Administration, President Obama rejected the revisions. He said he was just putting them off because the standards are set to be revised in two years, anyway, so why trouble state regulators with changes now and then potentially again in two years? But Obama was roundly criticized for this decision. Well, with the exception of Republicans and industry groups that fiercely lobbied against the revisions, calling them job-killers. But this is just one of many attempts—including an effort to dismantle the Clean Air Act—launched by House Republicans, in an apparent effort to weaken the EPA's power.
Read more at Grist, Earth Island, and the EPA
6. Climbing Collaborative Consumption
From bikes to homes to clothing, sharing is caring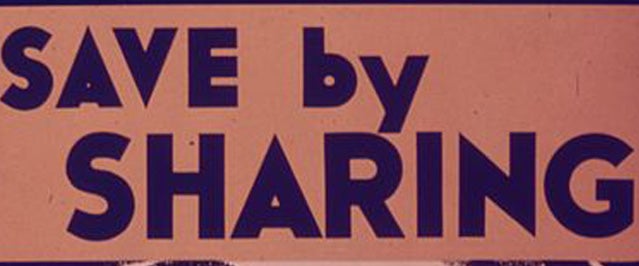 Collaborative Consumption is a system that promotes sharing things over owning things. Rachel Botsman—whose book, What's Mine is Yours, tracks the growth of collaborative consumption—proclaimed at a technology conference in October that the collaborative revolution is going to be as big as the industrial revolution. That's an audacious prediction, but then again, 2011, a car-sharing provider raised $173 million for its initial public offering and bike-sharing programs gained traction in cities across the country. Underwriting these successes is technology that makes sharing and collection of payments easy, convenient and safe. Peer-to-peer systems, where person A shares a thing or service with person B, makes a smaller carbon footprint since no new goods are produced to enable the sharing. RelayRides and GetAround, for example, helps people rent out their own cars when they're not using them. AirBNB, a service that connects travelers with homeowners looking to make some extra cash through very short term rentals, became a close-to-household word this year (although partly because meth addicts started ransacking homes, highlighting the downside of sharing). From an environmental perspective, Patagonia's Common Threads initiative and headline-grabbing Don't Buy This Jacket campaign is an example of collaborative consumption. As is your local Good Will store.
Read more at Fast Coexist and Wired
5. Ocean Acidification
Corrosive waters have arrived early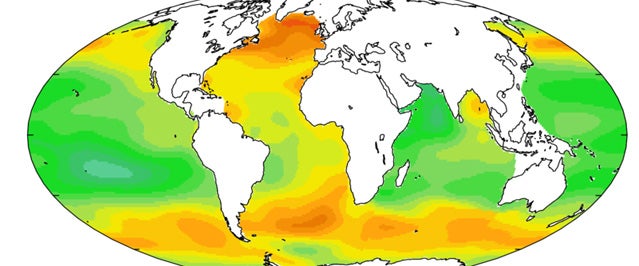 Oceans absorb excess CO2, which we produce in spades, from the air. Scientists have known that this would lead to ocean acidification, but levels are rising faster than expected. In the Pacific Northwest, farmed and wild oyster populations are declining sharply because the high acidity prevents larvae from forming shells. To combat this in farmed shellfish operations, producers in the Northwest are controlling and buffering the intake of seawater to balance the pH level of the water in the oyster beds. Also, Washington State recently launched an initiative to increase oyster beds because the animals are effective at filtering out pollutants, such as fertilizer run-off, from seawater.
But acidification in open oceans, where corals are especially at risk, is a growing concern. Plus, while shellfish, corals and sea urchins were initially seen as the main victims of acidification, researchers from Stony Brook University have published a study showing that acidification is also likely to fish increase mortality of fish, at the egg and larval stages.
Read more at e360, Earthfix, and Science News
4. Australia and California Put Price on Carbon
Countries and states put their own regulations into effect as officials at international consortiums keep on negotiating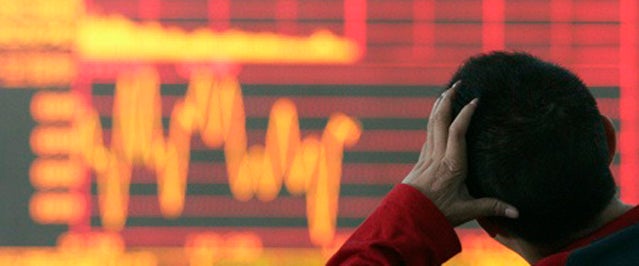 While there are many voluntary emissions trading schemes—that is, mechanisms through which a price is put on each ton of greenhouse gas emissions produced, as part of a trading market—it's generally understood that only regulated emissions markets pack a punch. Which is why Australia's decision to make its 500 largest greenhouse gas-emitting companies pay a carbon tax, thereby laying the groundwork for the largest emissions trading scheme outside of the European Union, caused a stir this year. And California broke ground in the U.S. by approving its own regulated carbon market this year. But some say the only market that will work—since energy exports, such as coal, are generally not covered by national programs—is a global one. Something like that will require international accords that make reducing emissions legally binding, especially for the biggest polluters. The United Nations' yearly convention on climate change tends to fall into arguments over whether and how much developing countries should bear the brunt of responsibilities. In early December, talks in Durban, South Africa, ended with an agreement…to keep negotiating. Nothing ground-breaking there, but delegates did decide to prevent the Kyoto Protocol from expiring next year. And they committed to decide on a new legally binding accord by 2015.
Read more at DotEarth
3. Fukushima Daiichi Meltdown
Nuclear disaster reframes the nuclear debate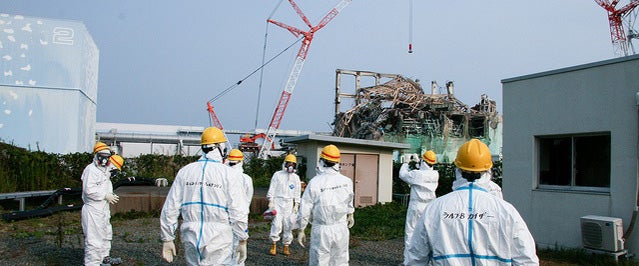 It's hard to overstate the tragedy brought by the 9.0 magnitude earthquake and subsequent tsunami that struck Northern Japan on March 11. Beyond the 20,000 fatalities, the event led to the worst nuclear accident in 25 years, the long-lasting impacts of which we're only beginning to understand. But the fact that the Fukushima Prefecture government launched 30-year program to monitor the health of those exposed to radiation is a good symbol of just how severe a toll it may take on human life. While it released much less radiation than the Chernobyl accident, the fallout spread out over an area about the size of Chicago, and as winds changed direction, the radiation did, too. Snow and rain pulled the airborne radiation into the ecosystem, which scientists are now trying to measure by outfitting monkeys with dosimeter collars and releasing them into evacuation zones.
As the plant officials tried desperately to get control over the reactors during the weeks and months after the tsunami hit, they generated thousands of tons of radioactively contaminated water, which ended up in the ocean. Radioactivity has been detected as far as 25 miles offshore and it will surely be concentrated in fish as it climbs up the marine food chain.
And then there's the political fallout. Germany resolved to phase out its nuclear energy by 2020 and the United States' Nuclear Regulatory Commission found a number of chinks in the emergency preparedness armor of this country's more than 100 commercial reactors. These weaknesses became more glaring after the 5.8 magnitude earthquake that struck Virginia. The quake called the safety of the North Anna nuclear plant—which wasn't built with large earthquakes in mind—into question.
Read more at the New Yorker and e360
2. All Fracked Up
Are the environmental costs higher than the benefits of a domestic energy boom?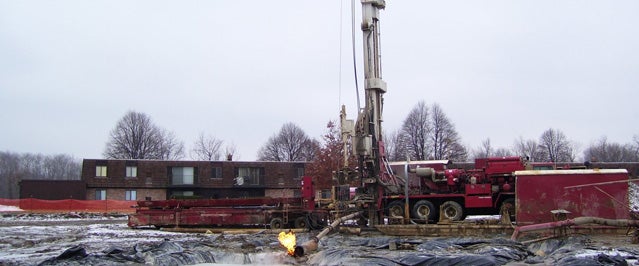 Hydraulic fracturing, a means of natural gas extraction that you might know better by its street name, fracking, started gaining national attention in 2010, with the release of the documentary Gasland. But this year it gushed into headlines. Many landowners who've taken pay-outs in exchange for allowing fracking on their land (and others who just live nearby drill sites) say the practice, which entails drilling deep into the ground and forcing a mix of water and chemicals into the shale deposits to release the gas, has contaminated their water. Scientists have directly linked fracking with increased earthquake activity. The Environmental Protection Agency is proposing revising rules that regulate the oil and gas industry, including adding air pollution standards for fracking, but the bigger regulatory problem is that fracking ultimately falls under the control of state governments. Most recently, the EPA implicated fracking as the source of contaminated groundwater in Wyoming. On the other side of the debate is the promise of thousands of jobs in fracking hotspots from Pennsylvania to Colorado and beyond, plus it's framed as a way to reduce our dependence on foreign energy sources. Look for the controversy over the safety of this extraction method to continue in months and years to come. Despite these concerns, the U.S. Energy Information Agency expects shale gas production to account for half of the total natural gas production in this country in the next 25 years.
Read more at The New Yorker and The New York Times
1. Keystone XL
An environmental issue that has rallied a motley crew of protesters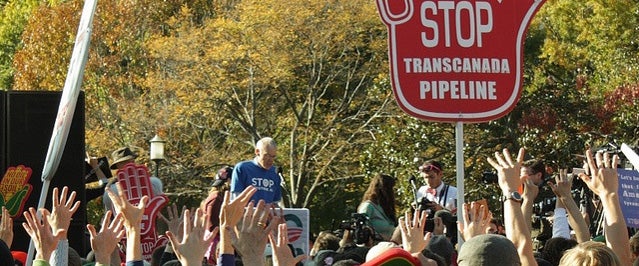 Quick, name an issue that conservative farmers, Native Americans, climate scientists and progressive liberals have all rallied behind—in fact, got arrested over—in the past year. At issue is the Keystone XL, a proposed pipeline that the TransCanada oil company would build to carry oil from the tar sands of Alberta to refineries in the Midwest and Gulf Coast. Touted as a job creator and a might-as-well-be-domestic energy source, the roughly 1700-mile pipeline would travel over the Ogallala Aquifer, a large, shallow source of a third of the ground water used for irrigation in the U.S. If this pipe sprung a leak, it could devastate the agriculture industry or even pollute drinking water sources for residents of the plains and American Indian reservations. That's why farmers and tribes opposed it. And the oil from the tar sands is extracted using an energy-intensive, dirty process that raises environmentalists' hackles and would mark a departure from any semblance of a clean energy agenda.
Bill McKibben, Darryl Hannah and NASA scientists James Hansen were among the more than 1000 pipeline protestors to be arrested this summer, but despite the massive opposition, Obama's decision to postpone his decision on whether to approve the project came as a surprise, given his lackluster environmental track record as President. That said, he really only delayed the decision until after the 2012 election.
Still, some see the decision as a victory. "Today, I feel like I got my president back," a protestor in Wisconsin told a public radio reporter in early November, when Obama announced the postponement. But now, Nebraskan lawmakers are looking favorably at rerouting the pipeline and the GOP is pressuring Obama to make a stand, so the issue is far from resolved.
Read more at Inside Climate News and Reuters