The Stoke Makers of the High Fives Foundation
After a crash, skier Roy Tuscany created the foundation to support other athletes who'd suffered life-changing injuries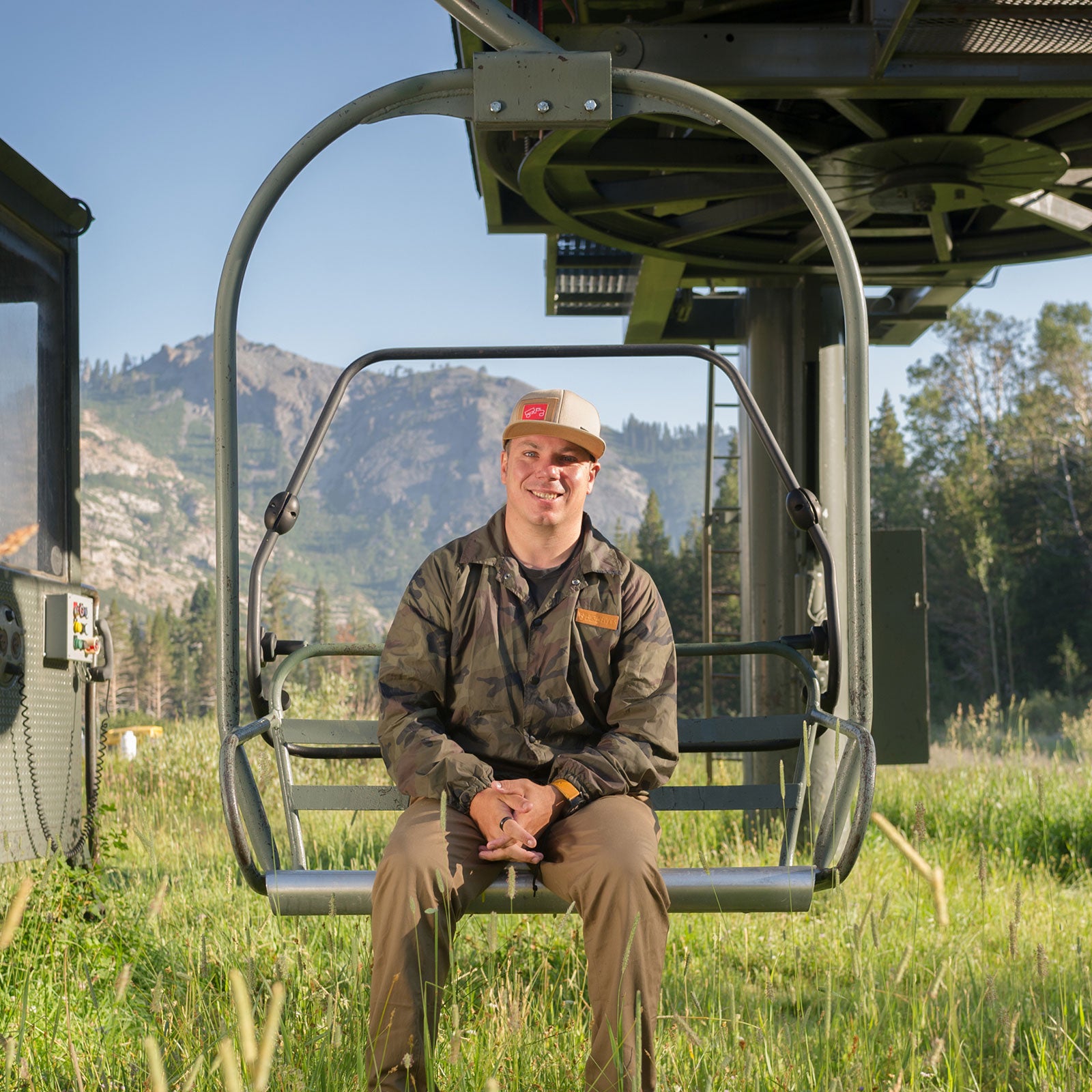 Heading out the door? Read this article on the new Outside+ app available now on iOS devices for members! Download the app.
Roy Tuscany was 24 when, in 2006, he overshot a jump at Mammoth Mountain in California and broke his T12 vertebra. The freestyle coach and aspiring professional skier was paralyzed from the waist down. Suddenly, the sport he'd built his life around was no longer an option.
The injury rattled Tuscany's sense of self and threw his athletic future into question, but it also offered him a chance to see his hometown community near Lake Tahoe rally on his behalf. His ski team at Sugar Bowl raised $85,000 from about 500 people to help pay for his surgery, adaptive equipment, and therapy. After two years, he was able to ski again, with outriggers stabilizing him instead of ski poles, but the experience left him feeling empty. His friends contributed generously to get him back on skis, but his priorities had quietly shifted. He was still a coach at heart and realized that he felt driven to support other injured and disabled athletes.
Tuscany was painfully familiar with the emotional toll and logistical challenges of a major injury: fear, grief, and the frustration of navigating a complicated health care system and astronomical medical bills. So he decided to start a nonprofit whose purpose, he says, was "to create the same opportunity people created for me."
"It primarily helps people with identity, community, and regaining a sense of meaning. Sports camps and monetary grants are just the vectors for that empowerment."
In 2009, Tuscany walked into a bank with a $500 check and told the teller he was going to raise $1 million. Ten years later, the High Fives Foundation has supported 237 athletes and others with life-changing injuries, disbursing $3.2 million for individuals in 32 states. The group operates a training facility in Truckee that provides grants for therapy, recovery, and training, and runs educational programs to promote helmet use and other safety practices.
That first year, High Fives supported a single athlete: skier Steve Wallace, who was paralyzed after a bad fall at Squaw Valley. It contributed $18,750 to Wallace's recovery through grassroots efforts—like arranging for a local bar to donate a dollar for every Pabst Blue Ribbon sold over the course of a month. After his recovery, Wallace began volunteering regularly, and he now works full-time for the organization as its program director. These days the nonprofit isn't skimming the top off of cheap beer: events like its annual Silver Tie Gala have raised more than $250,000 in one night.
Tuscany understands that capability, independence, and social inclusion are critical for injured athletes. "We're hosting adaptive camps to teach athletes skills and sports they can do on their own, so they can bust out and ski for two hours before work instead of having to wait until Saturday to be part of an adaptive program," he says.
"A lot of the work that Roy and High Fives does is about influencing self-perception," says Jim Harris, a High Fives athlete who was paralyzed in a kite-skiing accident in 2014. "It primarily helps people with identity, community, and regaining a sense of meaning. Sports camps and monetary grants are just the vectors for that empowerment."
Tuscany's long-term goal for High Fives athletes, and for himself, is to move on to a life that feels rich and fulfilling, albeit dramatically different. "We're not caretakers," he says. "We're stoke makers."