The Town That Lives with Rattlesnakes
For decades, herpetologist William Brown has studied a thriving population of timber rattlers in upstate New York. And somehow he's convinced locals that having venomous neighbors underfoot can be a glorious thing.
Heading out the door? Read this article on the new Outside+ app available now on iOS devices for members! Download the app.
When I finally met the country's leading timber rattlesnake expert in person, he handed me a file folder. It was old-school manila, with a tab marked "James."
"Read it later," he said.
The negotiations leading to this moment involved some high diplomacy. William Brown, 77, a retired Skidmore College herpetologist, has been researching the same 20-square-mile patch of rattlesnake-rich landscape for 40 years. He has recorded more information about the behavior and longevity of timber rattlers than any other scientist. He also has absolutely zero interest in a magazine story, if the plan is to reveal the location of his work.
Doing so, he assured me, would lead to iPhone-wielding amateur field herpers invading the area and posting titillating videos to YouTube, which would draw more amateurs to this beautiful region, which is heavily forested and filled with lakes. This is Brown's nightmare. "Work such as this must be conducted in strict secrecy," he said, without "invading humans."
And so our deal was brokered: I vowed not to mention the location of Snake Acres—other than to say that it's in northeastern New York State—and Brown would take me into the thicket and show me what can be learned when a scientist has the patience and stamina to study a single community of snakes for decades. He would also reveal how, with proper intervention, a local community, sparse as it may be, can go from fearing and shooting rattlesnakes to understanding and nurturing them. Given Brown's unprecedented fieldwork—"We're all blown away by it," said Chris Howey, a colleague who believes that nobody in the profession has done such extensive research on a single population of rattlers—the trade-off seemed worth it.
---
Back to that file. Surely, I thought, it was just more information about Crotalus horridus, the same litany of facts that Brown uses to educate both his neighbors and fellow biologists. On this front, I'd already done my homework. I knew that timber rattlers can be light yellow or gray, and that they have distinctive dark brown bands on their thick bodies. They are forest-floor predators, rarely more than four feet long, and they mainly eat small mammals. I learned from Howey, an assistant professor of biology at the University of Scranton, in Pennsylvania, that rattler predation might have the positive effect of reducing Lyme disease in humans, because rodents spread ticks. I also knew that timber rattlers hibernate or brumate (achieving a state of deep lethargy) in dens—99 percent of them returning to the same den every year—from October through April in northern areas. When they come out, they'll travel an average of 1.5 miles to seek mates and hunt. And I knew that timber rattlers are relatively mellow. They might travel a few miles for sex, but we're still talking about a lazy clade of pit vipers.
An important question emerged from all this background reading: Would facts be enough to overcome fear? While preparing to visit Brown, I'd learned that Charles Darwin once recounted how he "took a stuffed snake into [a] monkey house, and the hair of several species instantly became erect."
With this in mind, I got back to my Airbnb and finally opened the file. Instead of dry herpetological factoids, I found a page-turning compendium of near disaster. Brown, whose stern face easily breaks into looks of amusement, had typed up true stories about local property owners encountering rattlesnakes in the most harrowing ways.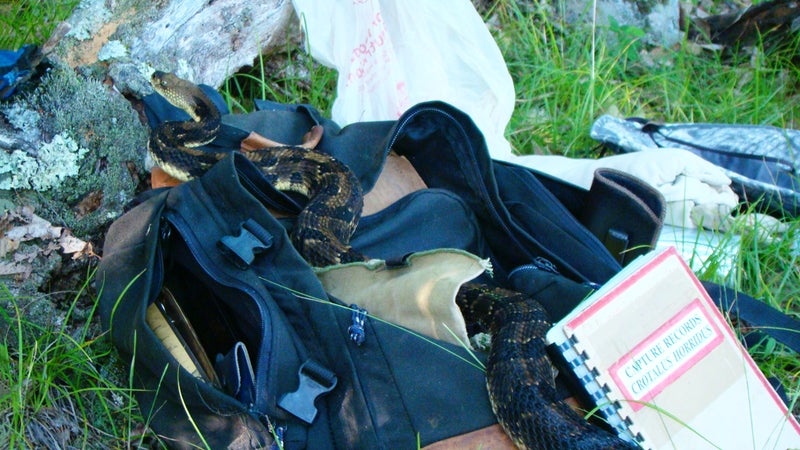 Imagine the shock when, to quote Brown's notes, "A rattlesnake was found by Mr. K inside his pumphouse" or when "campers reported that the snake was actually inside their screen tent-house" or when "a rattlesnake was discovered on a stone wall next to Mr. S's [yard] by an adult Labrador retriever … [who] investigated the snake and was immediately bitten on his forehead." (The dog survived.) Most alarmingly, there was "a young boy, about 8 or 9 years old" whose leg, while "dangling off the side of the tent platform," was bitten by a timber rattler. "Fortunately, symptoms of envenomation failed to appear," Brown wrote.
After reading up on a few dozen encounters, it hit me. Brown gave me this file because he wanted me to know something critical, something I never would have imagined on my own: none of his pioneering research would have been possible without residents—most of whom visited this area in the summer months—agreeing that finding rattlesnakes was not only inevitable but a privilege. As I'd come to understand, this was a community not only accustomed to living beside rattlers but excited to do so.
---
My excursion with Brown and his assistant, Matt Simon, began in the woods behind a summer home that was, for more than 115 years, owned by the same family. Vickery Eckhoff, great-granddaughter of the original owner, clearly remembers her introduction to timber rattlesnakes. When she was a kid, a snake that had been hanging around her front lawn was summarily beheaded. Her mother held it down with an oar while her father dispatched it with the swing of an ax.
The family saw snakes all the time in the summer. Despite a $5 bounty on rattlers that made many residents kill happy, the Eckhoffs generally left them alone. Still, if a snake had the nerve to enter the house, it was fair game. And even when the bounty system ended in 1973 (because the snakes were being overhunted), and even when timber rattlers were declared a threatened species a decade later, it was easy enough to arrange for "problem" rattlers to end up facing the sharp side of an ax.
Or a shotgun. Vickery remembers one afternoon when her father hoisted a rattler out of the kitchen with snake tongs, tossed it into the side yard, and blasted it "Texas style"—straight from the hip. It made for a good story. So good that William Brown heard about it.
Brown, who is tall and lean and wears a trimmed white beard, came to the area in 1974 as a young herpetologist teaching at a local college. Sensing that the regional attitude toward rattlers was less than welcoming, he paid a visit to the Eckhoff home to gather the dead snake and try out his Rattler 101 lecture: They are docile, they only bite if handled or stepped on, they want to get away from you, they are an essential part of the ecosystem, they are protected and should not be killed, I am studying them, you can help me. Please do.
Having never seen a rattlesnake while on foot outside, I found my response to be more aesthetic than Darwinian: Goddamn, what a gorgeous animal.
Vickery remembers Brown leaving behind some educational literature. One pamphlet declared: "It is a privilege to see a timber rattler in the woods." When Vickery read that, she called her sister and said, "This guy is a nut job."
In the 1990s and 2000s, as Vickery and her sisters spent more time at the summer home as adults, rattler encounters became increasingly common. The snakes, which a decade earlier were close to extinction, now hung out in social groups throughout the hilly and rock-strewn forest. They really liked to loll around by a slab of granite under a gazebo near where the sisters swam. They coiled up in a blueberry patch down by the lake. They appeared on two of Vickery's successive birthdays, one snake getting comfortable in the living room.
Only now there was no need for weaponry. Brown might have seemed like a nut job, but the Eckhoff sisters were impressed by his reliable eccentricity and passion, and Vickery started calling him every time she spotted a rattler. One time her sister used a pair of tongs to grab an invading snake and put it in a bucket before calling Brown.
For Brown, every such call was a teaching moment, a chance to remind terrified homeowners how fortunate they were to share their vacation spot with venomous snakes. And each time, as he prepared to return the snake to the wooded area where it came from, he'd leave Eckhoff with this advice: "You should be appreciating them."
---
After three hours of bushwhacking through extremely hilly terrain, I was starting to wonder if the stories of routine snake sightings were exaggerated. It was a clear July day, edging toward 90 degrees—conditions that keep timber rattlers seeking shade under rocks—and we hadn't seen anything.
But about ten minutes after lunch, which we ate on the forest floor, we walked down a craggy hill and saw the day's first rattler. Or, as is often the case, the snake saw us.
The sound of a triggered rattle requires no description. The noise snaps your head downward, and it took less than ten seconds for Simon to find the snake, which was coiled like a garden hose in shin-high grass, with a vibrating tail and an angular head poking up like a periscope.
Having never seen a rattlesnake while on foot outside, I found my response to be more aesthetic than Darwinian: Goddamn, what a gorgeous animal. It was a plump, light yellow and brown beauty. And while I was correct in thinking that it would be a thrill to see a timber rattler, I had no idea that what would really capture my attention was the science that followed.
Simon secured the snake with his tongs as Brown began to unload an arsenal of equipment from his backpack: scale, scissors, acrylic paint, pens, and several notebooks. Brown and Simon quickly ended their chatter and began to process the snake.
Something unappreciated about herpetological fieldwork is the finesse required to grasp, handle, weigh, and mark a rattler. One false move and you're hit—a mishap that has hospitalized Brown four times. Beyond that obvious concern is the need for efficiency when the non-consenting subject is, for obvious reasons, pissed off and unwilling to cooperate.
What followed was a display of choreographed elegance. Brown assembled his snake bag, securing a piece of nylon around an aluminum frame that had to be pieced together on-site. With the bag prepared, Simon dropped the snake in with his tongs while Brown twisted it—like you do with a bag of sliced bread—to secure the top. Brown then attached the writhing canvas container to a hand scale that he lifted to eye level, leaving the secured snake dangling about a foot from his crotch. He turned to Simon and said, "One thousand grams." Big snake.
Brown then lowered the bag to the ground and, with the tongs, pulled the snake's lower half out, with the head and upper body inside the re-cinched enclosure. Brown needed to examine the underside of the snake to see if it had already been marked with his signature coding system—a pattern of tiny square cuts he makes on the skin of the layered belly scales just in front of the vent. This snake, a male, was already marked. Brown read out the four-figure identification number; Simon wrote it down. Then Brown grabbed his capture book to check the snake's history.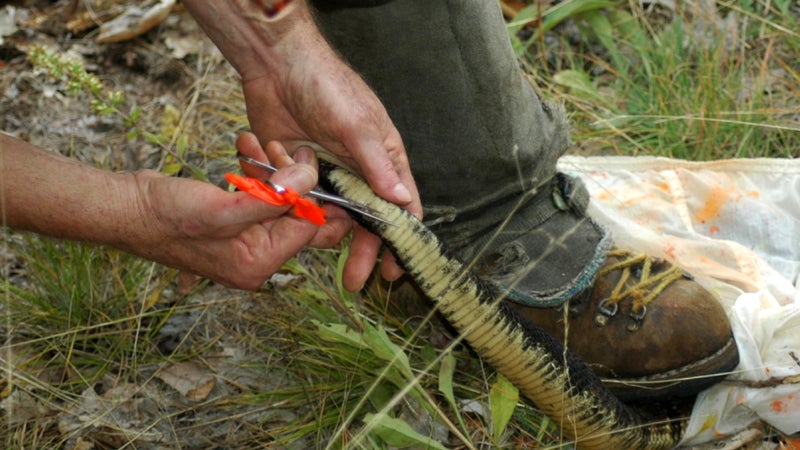 Running his finger down a long list of identifying numbers, he found a match. This snake had first been caught on May 4, 1990. At that time, Brown estimated it to be seven to eight years old. That meant it was now around 36.
When I mentioned my surprise that such a vibrant reptile had been alive since the Reagan era, Brown reminded me that at least two snakes he's caught may be Nixon-era—about 40 to 50 years old. This was a big deal. Rattlesnakes held in captivity live an average of 15 years. Brown has confirmed the reality of long, wild lifespans that hadn't been recorded before.
Before we left, Brown grabbed a small stick, dipped it in yellow paint, and coated the snake's rattle, so he could accurately measure the shedding rate later. As the snake slithered back to the precise spot where we found it, Brown said to Simon, "Good recapture there."
---
By late afternoon, with my phone showing that we'd bushwhacked more than six miles and climbed 83 floors, Brown was breathing heavier than usual as he processed the third and final catch of the day. This time he used a small pair of scissors to snip his signature code onto the rattler's tail. As he bent over, shirtless, to assemble his bag, he said, "I'll be ready for a beer soon—if somebody has one. Richard might."
That would be Richard Watkins, a local resident whose passion for rattlers has become so genuine that he once reported a close friend who killed one with a rock. As we trooped up a flight of wooden steps to his secluded property—a comfortable series of cabins nooked into a hillside and surrounded by an expansive deck—Watkins, a youthful-looking 59, greeted us with ice water and began to recall his early experiences with local rattlers.
"I grew up watching my father kill snakes," he said. When he was a kid, the bounty was still in effect. His own first kill, at 14, was "an unfortunate, nasty affair" that involved a pair of garden shears. "That awful snap still sticks in my ears."
Since meeting Brown in 1980, Watkins has more than atoned for his sin. Brown delivered a pair of snake tongs and showed the family how to capture a rattler. Watkins agreed to participate, but not before purchasing longer tongs, a tool he has since used to capture scores of rattlesnakes, once wrangling three of them into a cooler before calling Brown. "Not easy to do," Brown noted.
Watkins and his wife, Lisa Conrad, have accepted rattlesnakes as part of the ecosystem. "Yeah, I just saw one on the deck the other day," Conrad casually said. They've seen rattlers inside the house and describe these experiences with disarming nonchalance. One of their cats has been bitten (and survived). Another was struck at and missed.
Asked about his biggest fear when it comes to rattlesnakes, Watkins said it's damaging them. "I try to be as gentle as possible," he explained, describing how he always fears tonging them too hard. Conrad agreed, sounding almost apologetic about the time she went into the living room, found a snake there, and "scared the hell out of him." "Isn't it supposed to work the other way around?" I asked. "I'm not scared for myself," she said. "I really only worried about my cats."
Watkins admitted that when he's walking through his property and hears a rattle go off, he still jumps. But he catches and contains every snake he sees. Looking at Simon and Brown, he said, "I want them to get their data."
---
If Watkins has gone from rattler killer to ardent conservationist, his neighbor Donald Kreuzer has gone from tolerating rattlers to admiring and respecting them.
Kreuzer started visiting the region from his hometown on Long Island as a child, later doing construction work for a summer cottage owner. "We saw rattlesnakes all the time," he said. Then the neighbors convinced him that he could do more than just see the snakes. He could call Brown. One day Kreuzer did.
And Brown, as Brown does, came by and danced his dance. He demonstrated to Kreuzer and his friends—using a live "demo snake"—how he caught, marked, and released rattlers. He explained why they mattered to the ecosystem, and he reminded them what it meant to live in the wilderness. "He put on a show and made it a celebration when you caught a snake," Kreuzer recalled.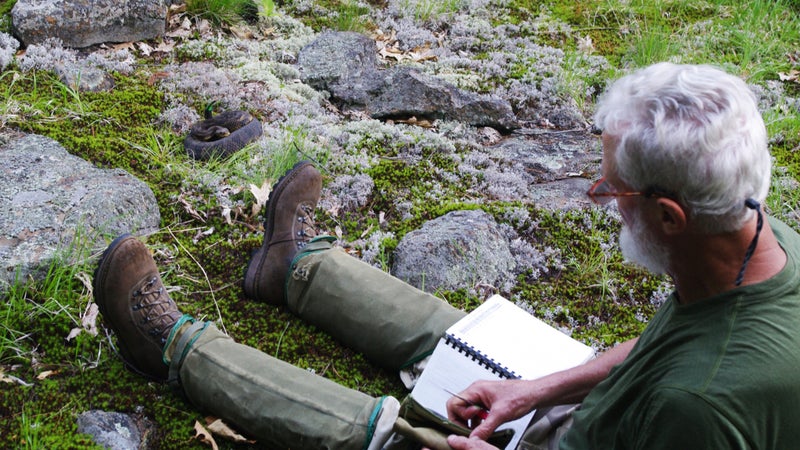 Kreuzer, now a dentist in Washington, D.C., eventually bought a place in the area, still drawn to spending summers in the secluded woods. Today his feelings for rattlesnakes reflect decades of Brown's influence. "I have no fear of them. I respect them," he said. As he sees it, one's reaction is entirely based on exposure. "With the unknown, there's a fear, and no appreciation," he said. "And I guess chaos to a certain extent, because you don't know what to do."
"Brown opened our eyes," Kreuzer said. "He educated us about this other species we were sharing the environment with. And the experience has been fantastic." When it comes to living with snakes, he said, telling me how he saw a four-footer "the size of my arm" just a few days ago, "I can't tell you the joy we have." Scrolling through my own catalogue of photos and videos from my day in the field with Brown and Simon, I realized that he didn't have to tell me. I understood.
---
Of course, my understanding—not to mention that of Watkins and Kreuzer—is rare. Brown is hardly naive about the impact of his outreach, and he acknowledges that he "will never reach, much less persuade, the vast majority of kill-happy, nature-domineering, ignorant, ill-informed, and less-educated segments of society." He knows all about "the entrenched bad reputation" that rattlers have.
Even so, he never gives up. In the fall of 2017, Brown heard that the Eckhoff sisters had sold their camp to a media executive from a nearby city. On hearing this, he looked up, frowned, and wrote in a small notebook he carries: "I need to go see that guy."
Corrections:
(05/31/2023) A previous version of this story misused the word poisonous. Rattlesnakes are venomous, not poisonous.
Lead Photo: Matthew Simon