These Concerts Are for Very Lucky Hikers Only
Violinist-pianist duo Anastasia Allison and Rose Freeman hike into the wilderness and often play for no audience other than nature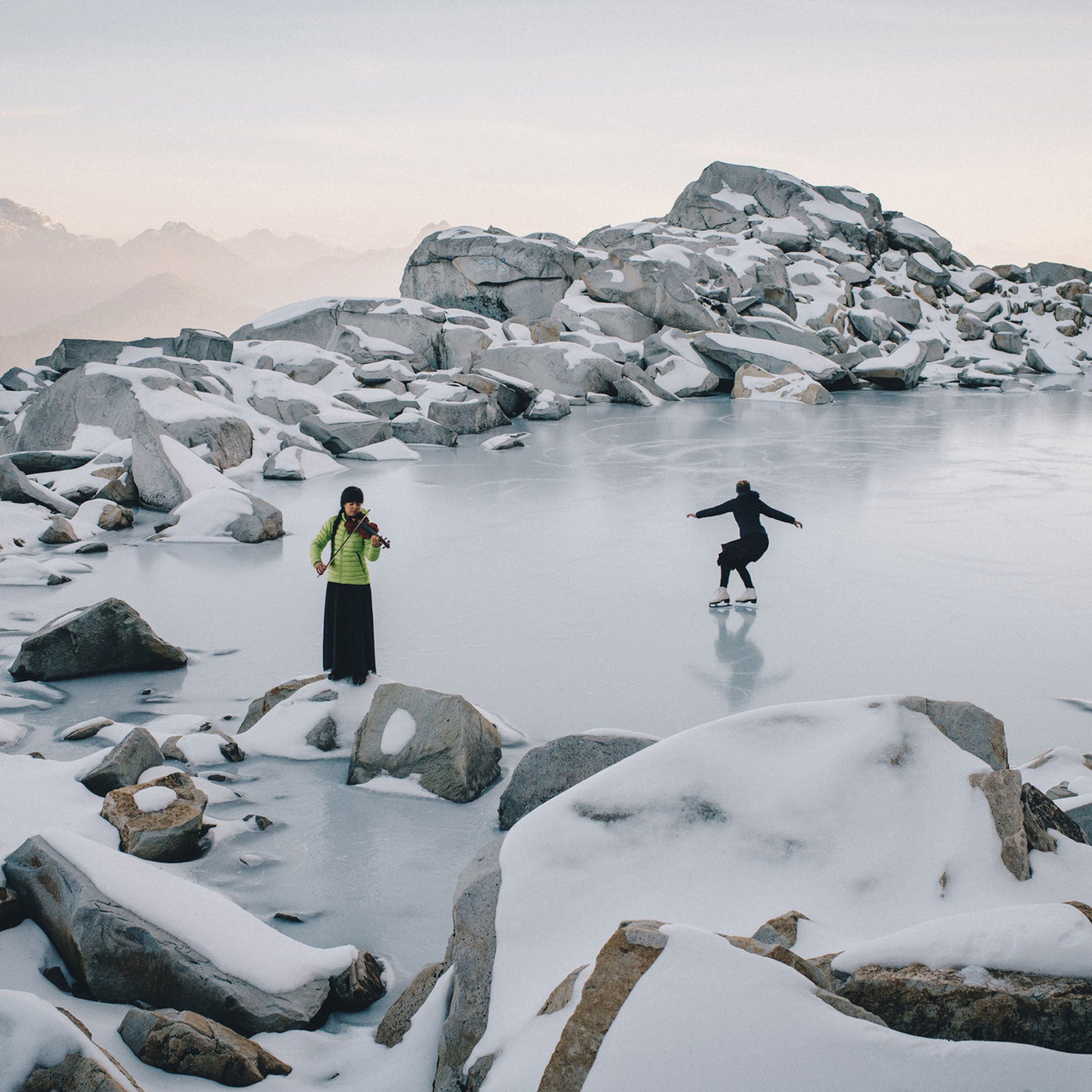 Mitch Pittman(Photo)
Heading out the door? Read this article on the new Outside+ app available now on iOS devices for members! Download the app.
Admiring music is a lot like admiring nature: it's appreciating something ephemeral, as quick to change as light on a landscape. That's the spirit of the music Anastasia Allison plays as the violinist of the Musical Mountaineers, a duo she formed with pianist Rose Freeman in 2017. The women hike with their instruments (Freeman brings a keyboard) into remote wilderness settings, don formal gowns, and play unannounced, most often to no audience.
The point is to create a moment of pure art, small in scale in respect to the mountain settings, says Allison. "We want to make something beautiful and then disappear." The Musical Mountaineers have performed some 40 concerts in the wilds of the Pacific Northwest, and Allison estimates that fewer than 30 people have caught the concerts in person.
But they're slowly gaining a following, thanks to an active YouTube channel where the duo posts videos of most performances. And Allison, a 38-year-old resident of Everett, Washington, is emerging as a quirky icon in the Pacific Northwest outdoor scene. The former park ranger and railroad law-enforcement officer now works as an adventure coach, a podcaster, and the purveyor of a singular piece of women's backpacking gear (more on that later).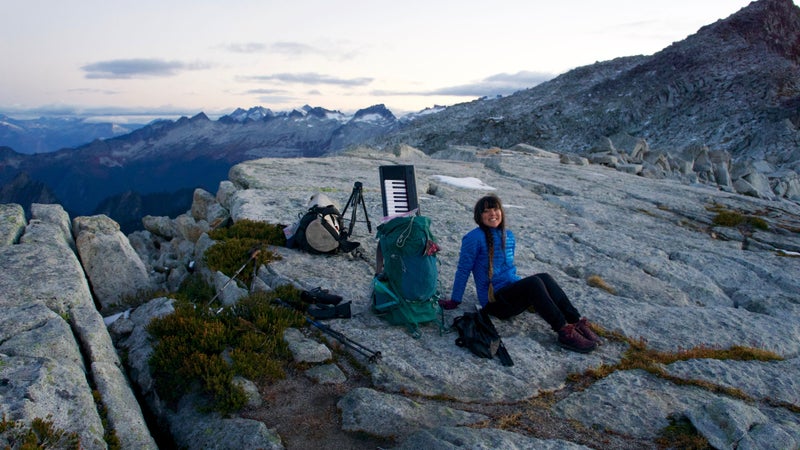 The sparse attendance at Musical Mountaineers performances is by design, says Allison. "If we wanted it to be a show, we could announce it ahead of time, or show up at 11 A.M. at Mount Si," she says, referring to the popular Seattle-area hike. Instead, Allison and Freeman keep their recitals a secret, setting out from a trailhead in the dark, aiming to begin playing at dawn. Staging concerts miles into the woods, on places like Washington's Mount Dikerman or Hidden Lake Peak, and Wheeler Beach on California's Lost Coast, the Musical Mountaineers play traditional standards like "Ashokan Farewell," "Hallelujah," and "Sunrise, Sunset."
For those who do happen to catch their gigs, it can be an overwhelming experience. "I'll look up and see this person with tears streaming down their face," says Allison, thinking of one man in particular who found the duo at Sahale Arm in Washington's North Cascades while hiking with his daughter. "People say it's particularly emotional because they aren't prepared for it. I love that—I live for moments that feel like an unpromised gift."
The gift is a theme for Allison, in music and in life. When she worked as a park ranger at Washington's Twanoh State Park, she saw firsthand how offering live music can build bridges. Allison would sometimes serenade visitors with her violin on her rounds of the campground. If afterward she needed to enforce the campground's quiet time, groups tended to be a lot more cooperative than on days when she hadn't brought her instrument to work. 
More recently, it has also informed her life choices—a close call on Washington's Highway 2 in January 2017 inspired her to make some big life changes. Returning from a winter hike with her mother and husband, Allison's truck went into a 360-degree spin on the ice and ended up in the opposing lane with a semi barreling down upon them. The semi managed to avoid her truck, but the incident shook Allison enough that she soon quit the unfulfilling law-enforcement-officer job with Burlington Northern. "Realizing that every day is an unpromised gift, I had to make a change," she says.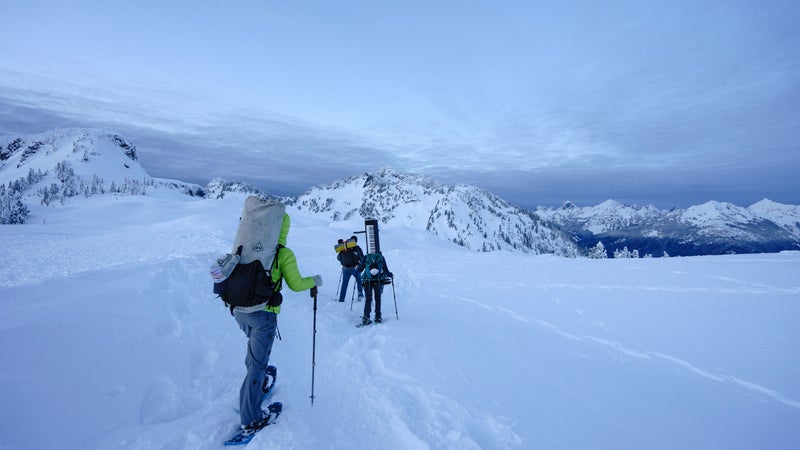 Another change was the small business she began about that time—selling pee cloths. In lieu of the cloth bandanas some women use to maintain hygiene on backpacking trips, Allison's Kula Cloth is antimicrobial, quick drying, and fashioned with snaps to attach it to a pack for quick access. She wanted the $20 pot-holder-size cloth, she says, "to be a legitimate piece of gear. So often women's gear is an afterthought. Gear designed for women by women helps legitimize our place in the outdoors. I deliberately picked a nonjokey name for the cloth for that same reason." It's also a Leave No Trace solution, reducing litter in the backcountry—those tissue blossoms found behind every tree and bush along popular trails. The Kula Cloth business is growing; she fulfilled her thousandth order in December.
Leave No Trace is the same sentiment behind keeping Musical Mountaineers shows hard to find. "We don't want a crowd trampling high-alpine meadows just to watch us play," says Allison. On the other hand, she loves the idea of people heading into the mountains on the off chance of finding them and inadvertently receiving the benefits of being outside. "If they only catch a sunrise they never would have seen, then I feel they have found us," she says. "That is exactly the spirit of the Musical Mountaineers."
Lead Photo: Mitch Pittman
Trending on Outside Online