A Secret Ingredient for 5-Star Trail Meals
Olde Virden's Red Hot pepper flakes turn even the rankest dehydrated meal into mouthwatering fare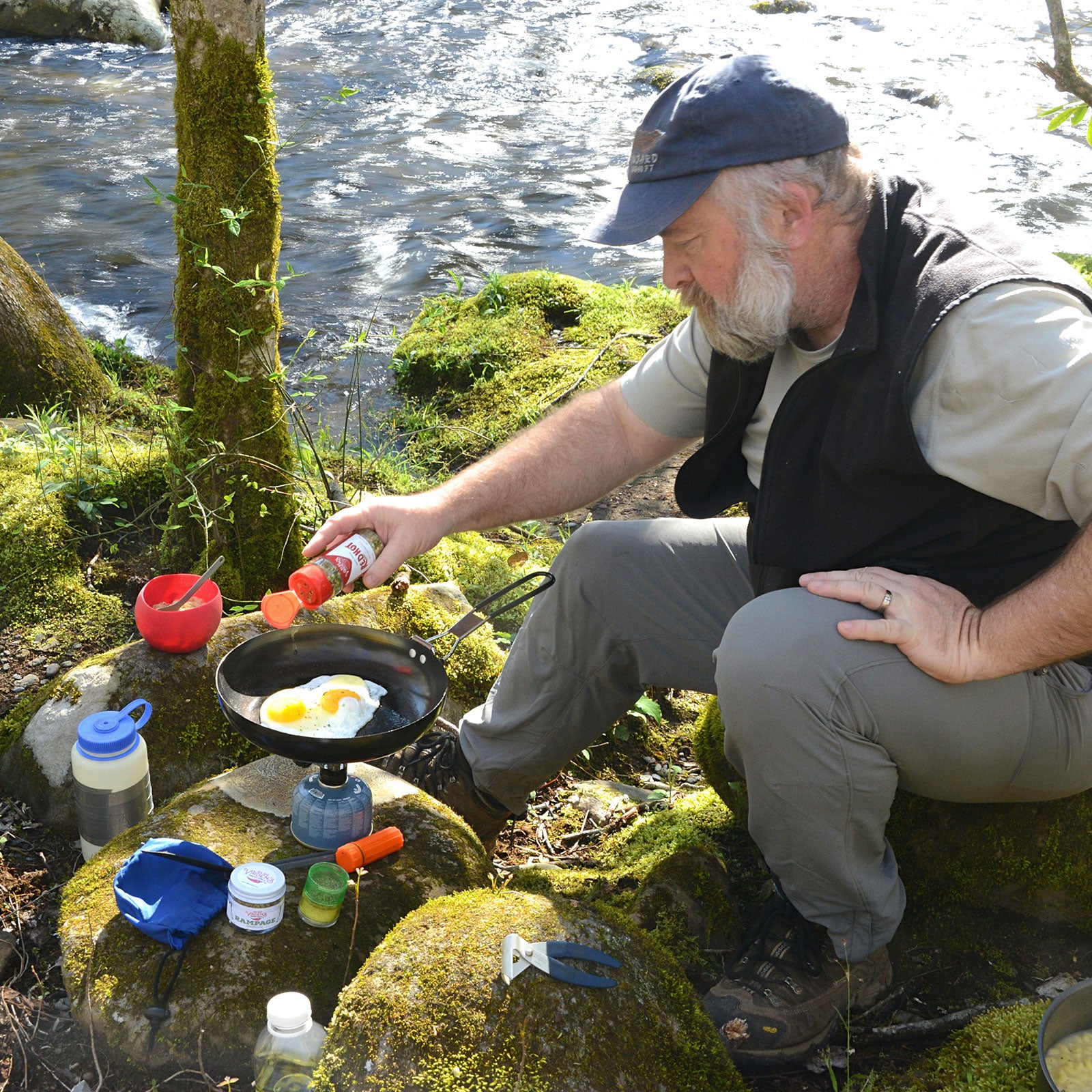 Heading out the door? Read this article on the new Outside+ app available now on iOS devices for members! Download the app.
One August night in 2013, while the setting sun lit up pink and orange contrails across the sky above Tennessee's Mount LeConte, Allyson Virden fired up her pizza oven. As the cook at LeConte Lodge, a hike-to cluster of mountaintop cabins in Great Smoky Mountains National Park, she had already served guests their evening meal of beef with gravy, green beans, and mashed potatoes. But as the hikers walked their weary legs to bed, Allyson still needed to prepare the shift meal for the lodge's crew.
She and her husband, Chris, had worked as LeConte's resident managers since 2003. Chris cared for the grounds, and Allyson cooked. But during their winters off, they chased good food around the world, visiting countries such as Laos, Panama, and Cambodia and later recreating those flavors for LeConte's ten-person crew. On that particular pizza night, the jar of red pepper flakes that everyone shook over their slices seemed disappointingly generic.
"We always had at least ten open bottles of different hot sauces, and it became a kind of running joke at the lodge to argue about which hot sauce paired best with that particular dish," Allyson explains. Chris wondered why there was no such variety in crushed red pepper. "There are a million bottled hot sauces out there, but with red pepper flakes, there's just one," he says.
So the couple began tinkering with their own chile blends. In 2014, they started coming down the mountain to sell their Olde Virden's Red Hot at the Gatlinburg farmers' market. The spice was an instant hit. By the end of that summer, the couple quit as resident managers to launch Olde Virden's full-time.
Today their pepper mix is sold online and at 170 locations across the South. Some local pizza parlors have swapped out standard pepper flakes for Olde Virden's Red Hot—but it has an irritating tendency to disappear. "People steal it, so we've got to find a way to get them to leave it on the table," Allyson says.
What makes their mix so great is the freshness of its peppers. The Virdens source all their chiles from a local farmer in Grainger City, Tennessee. "We pick them up the day they're harvested, and within 24 hours we've got them all dehydrated," Allyson says. The original Red Hot blend combines serrano, habanero, jalapeño, long hot cayenne, and Thai chiles. The couple has also launched a Spicy Verde Southwestern mix of Anaheim, poblano, jalapeño, serrano, and habanero peppers.
Allyson likes to sprinkle it on watermelon, and it's certainly delicious on pizza, but she says the mixes have also transformed her backpacking spice kit. "It really helps to elevate your typical Mountain House pouch meal," she says.
And if you're a gram-counting ultralight junky, there's no need to worry: Olde Virden's comes in easily packed one-ounce containers.
Lead Photo: Courtesy Allyson Virden