How Blair Braverman Trained for the Iditarod
We all know what the dogs do—they run—but the person driving the sled has to get ready for a brutal challenge, too. The labor required to manage and train a team is like CrossFit on ice.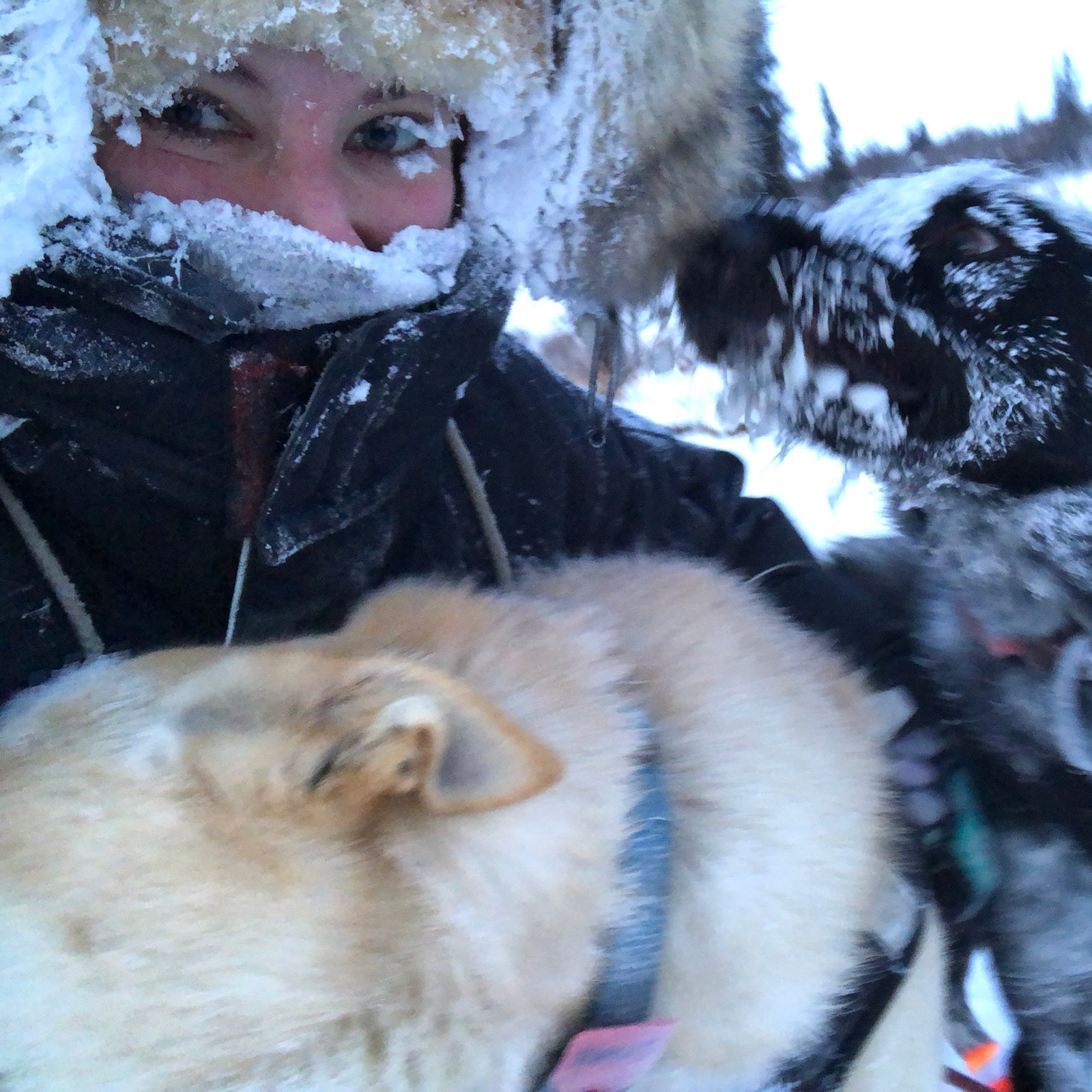 Heading out the door? Read this article on the new Outside+ app available now on iOS devices for members! Download the app.
For dogsledders, our dogs are our bodies; they're our muscles, our engines, the hair that rises on our necks when we sense an animal in the trees. We study their movements like poetry. Without experiencing a dog team firsthand, it's hard to fathom the amount of sheer power that mushers control, the way that we order chaos (usually) into something streamlined and beautiful. Our human bodies are afterthoughts.
But my human body, too, will be crossing a thousand miles of Alaskan wilderness this March when I run my first Iditarod.
So how do I prepare this body for the race? Some mushers train by running marathons in the off-season or come to mushing from various professional sports. Others see their bodies primarily as vehicles for labor. "Ibuprofen," a former Iditarod champ muttered when he overheard me discussing this topic at the Alpine Creek Lodge, the Alaskan wilderness camp where I'm training for the race. "That's all you fucking need to know."
For the most part, I focus on the massive amount of physical work it takes to keep a dog team going. What strength I have is gained from chopping frozen meat with an ax, hauling 40-pound buckets of water and food, muscling the sled around corners, stacking a thousand pounds of dog food in a day. I do exercises while driving the sled, half to build stamina and half to stay warm. I'll do ten squats each time I pass a mile marker or jog beside the dogs on steep uphills, leaping back onto the runners to catch my breath.
If there are genetic blessings that set some mushers apart, chief among them is a need for little sleep.
Sled dogs are runners, but mushers are workers, which might account for the sheer range of body types represented in the sport. Mushing is one of the only sports where men and women compete together at a world-class level, and last year's Iditarod entrants ranged in age from 18 to 77; it's pleasant to know, at age 30, that I could be decades away from my peak. Unlike tall basketball players, or petite gymnasts, our builds are diverse. Dogsledding champions are often small, wiry men, but that's a loose pattern, not a rule. What young mushers have in pure energy, older racers have in experience, instincts, and wisdom; a lighter musher saves weight on the sled, while larger mushers have more physical control over big teams. If there are genetic blessings that set some mushers apart, chief among them is a need for little sleep.
When it comes to races, mid- and long-distance mushers tend to average two or three hours of sleep a night. While the dogs are running, we drive the sled, steering around obstacles and watching for wild animals, changes in the team, and changes in the weather. When we get to checkpoints, the dogs rest while we massage their muscles, melt snow, thaw meat, repair equipment, and otherwise prepare for the next run. In a four-hour stop at a checkpoint, the dogs should get almost four hours of sleep, while the musher might steal an hour-long snooze. Then it's time to get up and continue down the trail.
There is, unfortunately, no great way to train for sleep deprivation, except for the miserable practice of hauling yourself from a toasty sleeping bag into frigid air while camping with your dogs, which is more mental than physical: practice enough discomfort, prove to yourself that you can endure, and you rob that discomfort of its power—or some of it, anyway. We all have our tricks. We tuck bleating alarm clocks into our hats or use thin sleeping bags so that the subzero cold forces us awake after an hour. This fall I cut out caffeine, so I can down coffee at checkpoints as needed but won't have to worry about going through caffeine withdrawal if I can't find any. Some mushers abstain from sugar, wanting to avoid an energy crash, while others swear by frozen Snickers bars for a burst of calories and heat. Most mushers are self-taught, and our methods are as diverse as we are.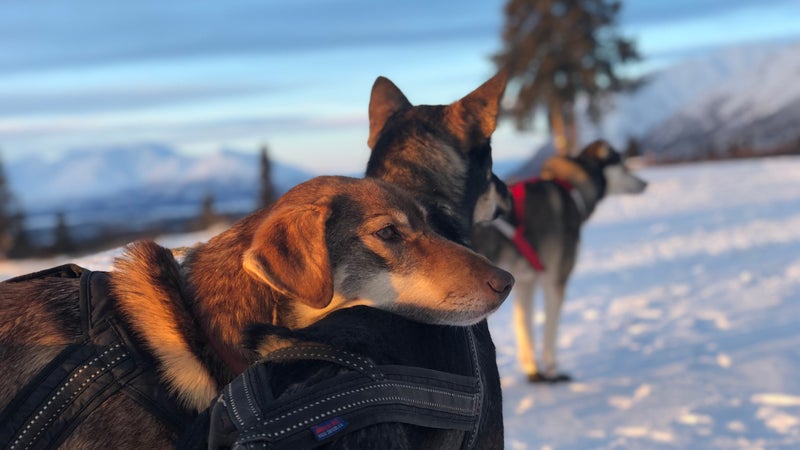 So, too, are the skills needed for long-distance dogsledding. In their pre-Iditarod report cards, which are filled out by judges and veterinarians at qualifying races, rookie mushers are evaluated in categories ranging from fire building and mental perseverance to management of dogs in heat. You need to be cheerful while spending ten hours in driving wind, napping for two hours in a snowbank, and then waking up and doing it again. You have to be capable of lifting 50-pound blocks of meat. You need to know how to drive a sled: to memorize the micromovements and shifts of weight necessary to navigate a sidehill, burst over snowbanks, swing wide around trees. You can train yourself for cold. Temperatures that feel frigid in October are downright balmy in March. Cold tolerance, which nonmushers like to proclaim they either have or don't, is in large part a combination of acclimatization and skill.
You have to know dogs. Know their gaits, their glances, their idiosyncrasies. When my girl Boudica picks at her dinner, it means something different than when Talese does it. When Flame looks over her shoulder, it means she's checking on me; when Anya does the same, it means a wild animal is close by. Nothing a dog does is coincidental, no glance or skip or burp—it's all information to be read and absorbed. The dogs trust you to recognize what they need as both individuals and extreme athletes. In the bush, for as long as it may take for outside help to arrive, you are everything to each other. You are your own doctor and veterinarian. You are coach, nutritionist, physical therapist, and athlete combined.
The dogs trust you to recognize what they need as both individuals and extreme athletes.
For this reason, perhaps the most important skill is wilderness survival: Each day's training run has the potential to be a disaster, a backcountry emergency, but for the knowledge and experience of the musher. It's a sport of problem-solving and snap judgments that represent not just winning or losing but protecting the lives of yourself and your dogs.
In high school, before I took up mushing, I was a competitive figure skater. I used to jog several miles a day, though I never loved it, never got into the rhythm or the joy I noticed in runners I admired. I've thru-hiked, which was as triumphant and painful as you might imagine. But I was not a kid you would have pinned as a future professional athlete. I spent most of my gym classes avoiding exertion in the hot California sun; I hated sweating and felt embarrassed about running more slowly than most of my classmates. I thought that this meant that I didn't like sports and wasn't cut out for them. What it meant was that I was waiting for the right sport: the one that relied on my mind and my wilderness skills as much as muscle memory, that measured my endurance in days more than minutes or hours, and that rewarded strength of will—and love of dogs—more than anything else.
Lead Photo: Blair Braverman