Prewinter Jump Start
Cold-weather battle plans from the nation's top fitness advisors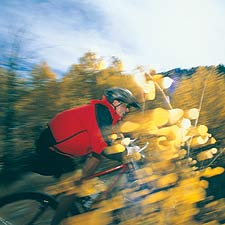 Gary Brettnacher
Heading out the door? Read this article on the new Outside+ app available now on iOS devices for members! Download the app.
CONSIDER THIS sad tale: Last year a friend—we'll call him Steve—had to cancel a ski trip to Whistler after he severely wrenched his neck when his clock-radio alarm went off blaring Guns N' Roses' "Welcome to the Jungle." He was supposed to catch his flight that day.

Steve's story is particularly tragic when you know that he had spent two diligent months preparing himself for winter play. He'd followed an accomplished ski coach's detailed baseline fitness regimen that comprised four core elements: strength, endurance, speed, and flexibility. By its completion, not only was he in great shape, but he had reduced his chances of injury (on the slopes, at least) significantly. Steve had also invested in some decent training clothes to eliminate any excuse not to work out when the weather turned nasty. And to further ensure that he careened into snow season healthy, Steve consulted an immunologist to help him fortify his immune system and keep the army of germs hosted by his phlegm-spewing coworkers at bay.
On the following pages we offer you a similar pre-winter training program. Our one-size-fits-all plan will help you start your winter sport—skiing, snowshoeing, broomball, whatever—in shape, not just finish it that way. The conditioning program has worked for University of Utah skiers; the immune-system advice comes from one of the country's foremost germ experts; and the clothing tips will not only change the way you think about training wear, but will provide much-needed aid to our fashion-challenged friends. And may we offer some final advice? Tune your clock radio to a jazz station.
Pay Now, Shine Later
Want to rule your favorite winter sport? You can, with this eight-week plan.

MOST ADULTS INVEST about as much time fitness training for winter sports as children do for hurling snowballs. Dumb move, says Kevin Sweeney, head ski coach at the University of Utah, where the team has won three NCAA ski championships under his watch. "The enjoyment factor grows exponentially when you're able to do more," he says. "In cross-country, skate-skiing at two miles an hour is not a lot of fun compared to being able to glide along at ten or 12 miles an hour. And in downhill, you just won't be able to take advantage of the new sidecuts and carve solid turns unless you have the leg strength to hold the ski on edge." Our eight-week program (see summaries and chart below) is based on the regimen the Utes use every fall and optimizes four fitness elements central to winter sports: endurance, speed, power, and flexibility.
ENDURANCE Your core endurance workout is 30 to 50 minutes at a moderate level of aerobic effort. "Running, biking, skating, and swimming are all effective forms of endurance training for skiers," says Sweeney. Numbers inside parentheses refer to suggested total minutes for the workout (ditto for speed).
STRENGTH Strength will come from a total-body strength circuit. Do a single set of ten to 15 repetitions at each of eight to ten stations, alternating between lower-body and upper-body movements. Sample circuit: leg press, bench press, forward lunge, lat pulldown, calf raise, dumbbell shoulder press, back extension, triceps pushdown, stomach crunch, biceps curl. Numbers inside parentheses in the schedule refer to suggested repetitions of the complete circuit.
SPEED Turbocharge your core endurance workout by adding half a dozen 90-second speed bursts, separated by two-minute, low-intensity recoveries. Start with a 25-minute warm-up, fold in the intervals, and then cool down for twenty minutes or so.
FLEXIBILITY Improve your flexibility by incorporating it into the strength circuit. Stretch easily before your training session; then, after each exercise, thoroughly stretch the muscle group you just worked.


WORKOUT SCHEDULE
 
Monday
Tuesday
Wednesday
Thursday
Friday
Saturday
Sunday
WEEK 1
(30 min.)
 
(1 rep.)
(30 min.)
 
(1 rep.)
 
WEEK 2
(35 min.)
 
(1 rep.)
(35 min.)
 
(2 reps.)
 
WEEK 3
(40 min.)
 
(2 reps.)
(40 min.)
 
(2 reps.)
(40 min.)
WEEK 4
 
(40 min.)
 
(3 reps.)
 
(40 min.)
 
WEEK 5
(40 min.)
 
(3 reps.)
(40 min.)
 
(3 reps.)
 
WEEK 6
(45 min.)
 
(3 reps.)
(40 min.)
 
(3 reps.)
(45 min.)
WEEK 7
(50 min.)
 
(3 reps.)
(40 min.)
 
(3 reps.)
(50 min.)
WEEK 8
 
(40 min.)
 
(3 reps.)
 
(50 min.)
 
Five Steps to Maximum Immunity
WINTER HEALTH ISN'T just a roll of the dice, says David Nieman, a professor of exercise science at Appalachian State University and co-author of the book
Nutrition and Exercise Immunology. "If you minimize the known risk factors for cold and flu, you can drastically reduce your chances of getting sick," he states. Here are five proven ways to do just that.


1 GET OUT AND PLAY
Exercise strengthens the immune system by increasing the circulation of your natural "killer cells" (relax, they're your friends), part of the battalion of the immune cells that ward off sickness. In one study, a group of subjects who walked 45 minutes a day, five days a week, suffered half the number of infections as a control group that sat around and did nothing.
2 DON'T RELY ON IMMUNE-BOOSTING SUPPLEMENTS

The immune system is dependent on nutrients, including antioxidant vitamins such as C and E and minerals such as zinc. Nieman suggests obtaining these nutrients from natural foods, which contain phytochemicals that also support immunity and are not present in supplements. The effectiveness of herbs like green tea still awaits conclusive evidence, but some studies and testimonies suggest they can be helpful too.


3 GO TO BED
Short-term and long-term sleep deprivation reduce the activity of interleukins, groups of molecules that help buttress the immune system. Let nothing stand in the way of your eight hours.


4 ENGAGE IN GERM WARFARE
Airborne germs are not the leading cause of infection—transmission is most often self-inflicted by touching common objects, like a water fountain, and then touching your face. Try to avoid grabbing a doorknob and then chomping your fingernails. Also, wash your hands frequently. A lot to ask, we know, but
better to be a little anal than a lot ill.


5 GET A FLU SHOT
Here's an immunity boost you can quantify: Flu vaccinations are 85 percent effective, and even when they're not, they tend to result in milder infections. Get one in October.
Cool Threads Need to Breathe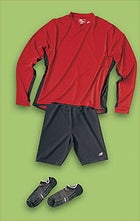 Nippy (45º to 55º Fahrenheit)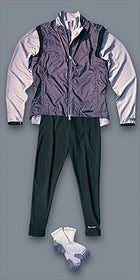 Cold (30º to 45º Fahrenheit)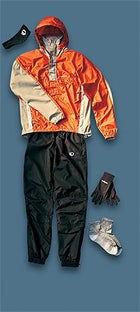 Nasty (30º Fahrenheit and below, in snow, sleet, or freezing rain)
YOU'VE GOT A TRAINING PLAN. Now retire that college sweatshirt to dishtoweldom, get the proper clothes, and use them right. Here are the golden rules, courtesy of Hal Thomson, a member of the product-development team at Patagonia: (1) Always start with a light, breathable, moisture-wicking base layer. (2) Add pieces prudently. If a hat alone helps, leave the gloves at home. (3) Combat wind and wet with wind- and water-resistance, not more thermal layers. (4) Dress light enough that you reach a comfortable temperature a few minutes into the workout, not at the very beginning. (5) Dress even lighter for more intense workouts (or plan to remove and carry layers). Below, high-performance ensembles we recommend for deteriorating weather.

RLX Polo Sport Multisport Long Sleeve Top ($50)
800-875-8347; www.polo.com

New Balance Drylast Short ($24)
800-253-7463; www.newbalance.com

RLX Polo Lightweight Socks ($9)
800-875-8347; www.newbalance.com

THE LOWDOWN:
* In cool conditions, your upper body needs long-sleeve protection, but not at the expense of ventilation. Performance tops are made with a wicking fabric, meaning they'll pull moisture off your skin and transport it outward, where it can evaporate.

* In transitional weather, avoid all-or-nothing clothing options. Consider shorts that wick and hug the thighs (they're warmer than baggy shorts) but leave the lower leg exposed to prevent overheating.

Sporthill Invasion Top ($44)
800-622-8444; www.sporthill.com

Nike Microfiber Vest ($48)
800-344-6453; www.nike.com

Hind DryLite Running Tight ($40)
800-952-4463; www.hind.com

Patagonia Endurance Socks ($13)
800-638-6464; www.patagonia.com

THE LOWDOWN:
* A quality base layer can be worn alone in milder conditions and is light, form-fitting, and moisture-wicking–the perfect undergarment when the mercury drops.

* We love vests. Many offer a great ratio of warmth to weight and bulk. When it's too chilly for a base layer alone but not quite shell time, a fleece vest insulates your core while allowing heat to escape from your upper extremities.

* Worried that tights can be a little too, uh, Baryshnikov? Get over it. Snug-fitting, polyester-based tights transport sweat away from your skin better than loose-fitting pants. And they'll protect your legs from the chill when you stop to heave during intervals.

Pearl Izumi Microsensor headband ($15)
800-877-7080; www.pearlizumi.com

Patagonia Electralight Jacket ($165)
800-638-6464; www.patagonia.com

Sporthill Invasion Top ($44)
800-622-8444; www.sporthill.com

Pearl Izumi Attack Pant ($65)
800-877-7080; www.pearlizumi.com

Hind DryLite Glove ($20)
800-952-4463; www.hind.com

Patagonia Wool Velocity Socks ($16)
800-638-6464; www.patagonia.com

THE LOWDOWN:
*Traditional waterproof-breathable shells work fine in full conditions, but you can easily overwhelm these garments, since they don't breathe well during high-intensity activity. Consider instead a "soft shell," which incorporates textiles that are elastic, wind- and water-resistant, light, and extremely breathable. You'll stay drier and warmer, even when the precip's flying and the temp is plummeting.

*When foul weather forces you to add layers, weight and mobility can become a problem. The latest crop of shell pants are featherweight, bombproof, and cut for freedom of movement. Pull them over your tights for complete protection.