Water Travel Hall of Fame 2010
Because the heat of summer is upon us, we scoured the globe for the greatest sailing, fishing, paddling, diving, floating, surfing—you get the idea—trips out there. And since you can't always pop over to Indonesia, we picked a few close-to-home adventures, too.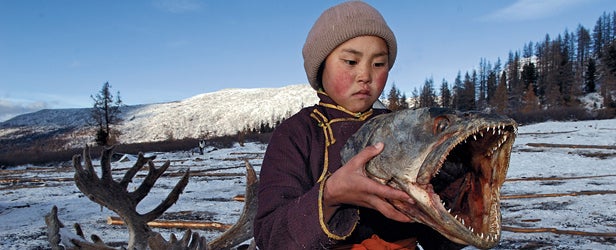 Heading out the door? Read this article on the new Outside+ app available now on iOS devices for members! Download the app.
Fishing Mongolia's Eg-Uur River Basin
Outside Editors' Choice
I fantasize about sight-fishing to brown trout in New Zealand, hooking salmon in Iceland, moving to Patagonia. But when I picture the fish I most want to catch, I think of a wolf. A Mongolian taimen—nicknamed "the river wolf—can reach six feet and eats, among other things, ducks. To catch one, you need to go to a place that's wilder than any bonefishing lodge; northern Mongolia is still populated by nomadic herding communities, meaning you'll be fishing alone. A friend of mine once rode in a jeep 18 hours alongside a freshly removed goatskin to catch a taimen. Luckily, there's a better way. Livingston, Montana–based Sweetwater Travel runs the best operation in the country, based out of two ger camps in the Eg-Uur river basin, where guests can expect to hook at least one taimen a day, plus netloads of lenok, a feisty Mongolian trout. $5,900, one week; sweetwatertravel.com
Fishing Montana's South Fork of the Flathead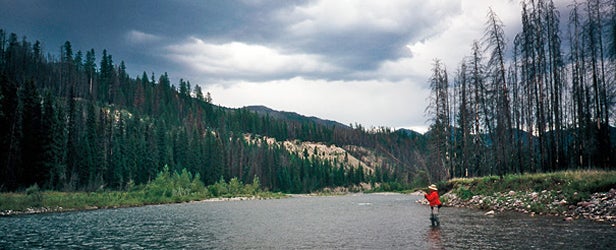 Think of the South Fork of the Flathead as a little slice of Alaska tucked into Montana's northwestern corner: a spectacularly remote river that happens to offer some of the best, easiest dry-fly fishing in the world. Guests horsepack in for two days through the grizzly-rich Bob Marshall Wilderness to the put-in, then float 30 miles of Class II and III water in four days. On the way, you'll camp on the riverside and catch as many wild, native west–slope cutthroats as you wish, as well as a few bull trout. (The South Fork is one of the few places where targeting the threatened, 30-inch beasts is legal.) Go with the guides at Spotted Bear Ranch, near the takeout at Meadow Creek Gorge—they offer a post-float hot shower and cookout at the lodge. $4,600; spottedbear.com
Paddling Chilean Patagonia
Outside Editors' Choice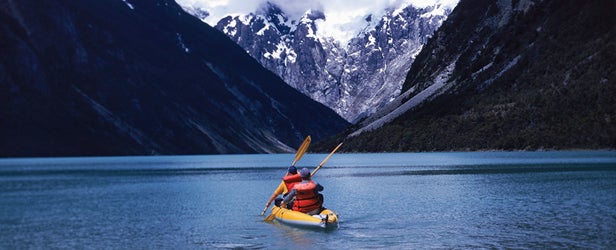 In the fingertips of Patagonia's Southern Ice Cap, you might as well be in another century. There are no people, no cruise ships, no nothing. Just pick a narrow fjord that's guarded by a reef or shallow pass, then it's just you and all that ice piled up on top of the southern Andes. You can see the entire life cycle of a glacier, from peak to calving, all within the span of a mile. Those famous trans-ice-cap crossings by Børge Ousland and the other crazy Norwegians? They happened right above you. Fly to Punta Arenas and meet up with Indomita Patagonia. They'll provide kayaks, food, and a fishing vessel to base out of on a weeklong tour of the area's fjords. From $2,220; indomita­patagonia.com
Paddling Southeast Alaska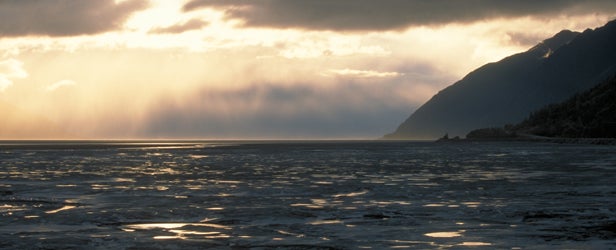 Not because of the grizzlies. Or the humpbacks. Or the bald eagles. Or the otters (though they really are very chatty and fun). But because it's quite likely you'll see all of the above within the span of an hour. Whiplash could be one of your biggest dangers in Alaska's panhandle. That and pruney hands, especially in the southeastern region, which receives about four times the annual rainfall of Seattle. But that's why you're snugged into a kayak. Fly into Ketchikan and get boats and a water shuttle into Misty Fjords National Monument from Southeast Sea Kayaks. You'll be protected from open-ocean swells while paddling along 3,000-foot granite cliffs, then sleeping in Forest Service cabins. Rentals from $45 per day; kayakketchikan.com
Rafting Uganda's White Nile
Outside Editors' Choice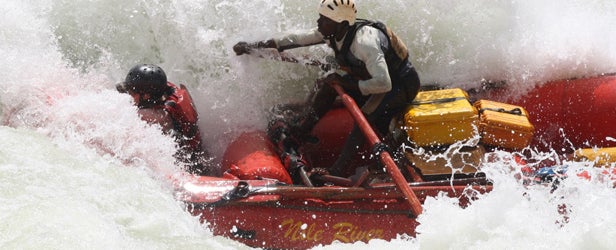 Bujagali Falls, near where the Nile drains Lake Victoria, is the most accessible extreme whitewater in Africa—which is to say it's the best whitewater in the world. The White Nile beats the Zambezi's six-month season (it's open year-round) and the Colorado's dam-controlled volume (the average flow is seven times bigger). Float it on a two-day trip, during which you'll take on freight-car-size holes and nine Class V rapids. Nile River Explorers, the area's veteran rafting company, offers a two-day, 34-mile trip from the put-in below Lake Victoria to the take-out at Hairy Lemon Island. It's split up with a night in safari-style tents at a riverside camp. Book now: Next year, Uganda hopes to finish building a 90-foot dam below Bujagali, which would swamp some of the biggest rapids. $250, including a night for two in a safari tent; raftafrica.com
Rafting Idaho's Middle Fork of the Salmon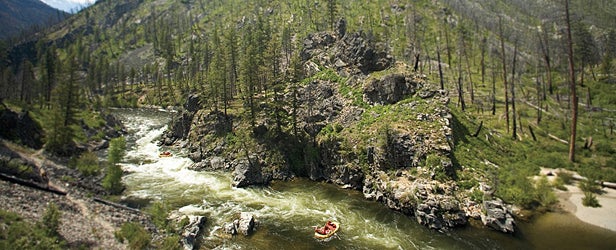 The Grand Canyon is a worthy river trip, though the water is a little cold and turbid. Plus you can't catch any fish. And you'd better like the color of mud. Which is why our pick for the American river you've got to run before you die is Idaho's Middle Fork of the Salmon. The water's so clear you can eyeball straggling steelhead at a hundred yards. Native cutthroat trout will hit just about any dry fly in your box. The rapids ain't bad, either. There are some 100 of them on the 100-mile float, with more than a dozen that rate Class IV. And at night, there are the hot springs. Half a dozen camps have them—the clear, fresh-smelling kind. Six-day trips with Idaho-based Row Adventures, $1,765; rowadventures.com
Surfing Tavarua, Fiji
Outside Editors' Choice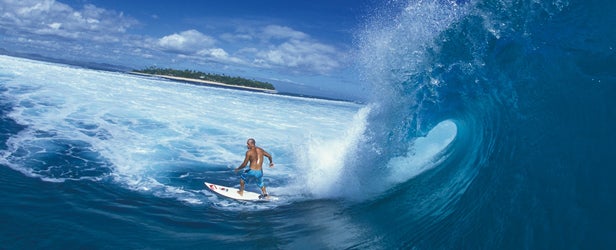 Why is Tavarua Island, in Fiji, the ultimate surf getaway? Because it's an isolated spot containing world-class waves that you can rent for yourself. Sure, the Mentawai Islands had a good run, but new boat outfitters and land camps have made the place a circus. Tavarua's a short boat shuttle from Nadi airport, on Fiji's Viti Levu island. Once you set down, you've got seven days of perfect waves and zero crowds; Tavarua is limited to 36 guests per week. World-class lefts are found on the island's south side at Cloudbreak—accessible four times per day by boat—and just outside your bedroom at Restaurants. If you bring the family, you can slide gentle peelers at the mellower Kiddieland. Plus, when the surfing's done, you can run a tab at the bar. $3,995 per person for seven days, including flights from L.A.; tavarua.com
Surfing Baja, Mexico
Oahu's North Shore is incredible, if a spectacle, and SoCal's beaches are convenient. But if you're looking for the best surf in the Western Hemisphere, head for the border. Since the sixties, Mexico's Baja Peninsula has embodied the classic surf experience—pulling your 4×4 up on the sand and pitching camp for a week of empty barrels and cheap cervezas. And here's the thing: With many SoCal weekend warriors scared off by reports of drug-related violence near the border, the region's lineups are now relatively vacant. So if you're smart about it, you can surf Baja as it was in the sixties. Go with a buddy who knows the region, drive only during the day, and travel a few hours south of the border—once you pass Ensenada, you're set. Then make for the mile-long, crescent-shaped Punta Cabras beach and surf away. The nearest town is Erendira, six miles south, where you'll find cold beer and Coyote Cal's hostel ($15–$60 per night; coyotecals.com) if you don't feel like camping.
Diving Raja Ampat, Indonesia
Outside Editors' Choice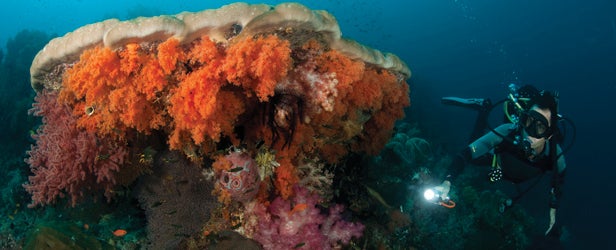 There's an archipelago in the Coral Triangle so dense with sea life it's often called "the epicenter of marine biodiversity," a place where a scientist once discovered 283 new species during a single dive. Welcome to Raja Ampat, a cluster of 600 islands off the northwestern tip of New Guinea and one of the least fished, least populated, least bleached scuba destinations on the planet. You'll find pygmy sea horses, elusive walking sharks, technicolor nudibranchs, and some 1,200 species of fish. Raja Ampat is blessed with more than 600 species of coral; the Caribbean has fewer than 70. If diving is your sole prerogative, go with the Seven Seas liveaboard (from $374 per person per night; thesevenseas.net). For a more relaxed experience, book a week at Misool Eco Resort's private island and take day trips to their 164-square-mile reef. Seven nights, from $2,035; misoolecoresort.com
Diving Saba, Dutch Antilles
A hawksbill off Saba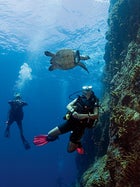 A hawksbill off Saba
Too many Caribbean dive destinations are marred by ailing reef systems, corny resorts, and crowded boats. And to reach big-fish spots like Costa Rica's Cocos Island, expect hundreds of miles on a liveaboard (i.e., lots of strangers). So if you want a serene tropical getaway that happens to offer superlative diving, head to quirky little Saba, a five-square-mile, 2,900-foot dormant volcano in the Dutch Antilles. Landing in a Twin Otter on Saba's tiny, cliff-perched runway is an adventure in its own right, and you'll find deals on lodges like the Hummingbird Villa ($375 per day for two; sabahomesforrent.com), with its private pool. Then there's the diving. Saba's fish-rich marine park was established in 1987 as a preventive measure, not a Band-Aid, so encounters with turtles, sharks, eels, rays, and macro life are common. Be sure to hit Diamond Rock and Eye of the Needle for lava-sculpted formations, then arrange a night dive at Ladder Bay, a sharky spot near shore. Day trips with Sea Saba, $150; seasaba.com
Explore Russia's Lake Baikal
Outside Editors' Choice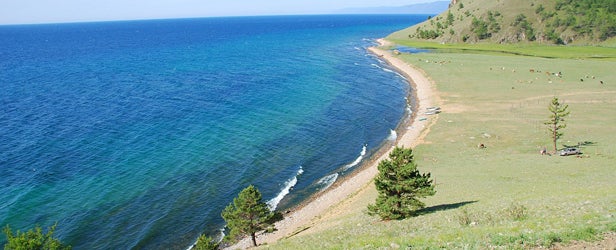 With its desert-plateau-meets-big-mountains scenery, Lake Titicaca is probably as interesting as its name is memorable. And ever since I learned the hypersaline Dead Sea (which, of course, is a lake) was the lowest point on the surface of the earth, I've always wanted to float in it. But neither one has cast a spell on me quite like Russia's Lake Baikal. Whenever I scan a map of Siberia (more often than you might think), my eyes always end up on this blue blotch. Because it's so far away from, well, everything, the vast majority of the plant and animal species found there are endemic. Then there's the unexplored mountain ranges and cave dwellings and the "Siberian Riviera," a stretch of coastline marked by trees with otherworldly exposed roots that reach five feet in height. You can see all this on KE Adventure's 14-day exploratory trip, which concludes with a three-day trek in the nearby Khamar-Daban mountains. $3,845; July 9–22, August 20–September 2; keadventure.com
Explore Lake Superior
Lake Superior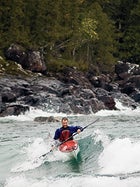 Lake Superior's choppy east coast
In my opinion, the farther west you go along the St. Lawrence Seaway, the greater the lakes get: Lake Huron's Georgian Bay is a sea kayaker's paradise, while Lake Michigan's coastline can be surprisingly rugged. And then there's Superior, the big daddy, without a doubt the greatest of them all. The Ojibwa call it Gichigami—"Big Water"—and the stats have since proven them right: By surface area, it's the world's largest freshwater lake. It's also remarkably deep, cold, and overlooked. Hiking and camping on Michigan's Isle Royale National Park will give you a feel for the scale and sheer wildness of this behemoth. Accessible only by floatplane or ferry, this rocky, 209-square-mile island has moose, wolves, and 165 miles of rugged trails. A more ambitious option is to head to Ontario to explore its craggy northeastern coast, either by foot along the 36-mile Coastal Hiking Trail or by kayak along pebble beaches and granite cliff walls. Naturally Superior Adventures can outfit and arrange either. Eight-day trips, $1,650;
naturallysuperior.com
Sail Turkey's Lycian Coast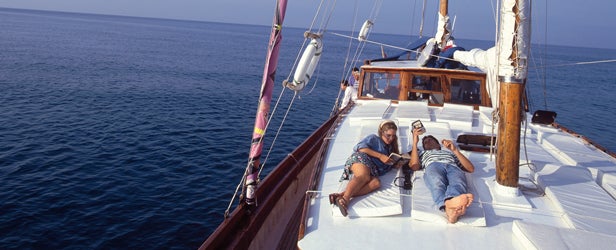 It's not quite as stunning to look at as the Seychelles. The marine wildlife isn't as impressive as what you'll find off Tonga. But you want more on a sailing adventure than pretty views and leaping dolphins. You need to get off the boat. Frequently. "Think about taking a road trip in the Southwest," says Anthony Sandberg, founder and owner of Berkeley-based OCSC Sailing, which offers trips across the planet. "You don't just sit in the car." Go ashore in southern Turkey and you'll be walking into Byzantine churches, chatting with rug makers, and forking into plates of aubergine. And the sailing? About perfect if you hit the ideal weather windows in spring and fall: soft morning breezes, then blowing a steady 15 knots from the northwest in the afternoon. On a two-week OCSC "flotilla" trip—eight to 12 catamarans and single-hull ships following the same rough itinerary, so you have backup if you need it—you start in Orhaniye and cruise east for some 250 miles, wrapping the Datça Peninsula and hugging the crenulated, cliff-lined coast to the forest-backed port of Göcek. From $1,500 per person; ocscsailing.com
Sail the Caribbean's Leeward Islands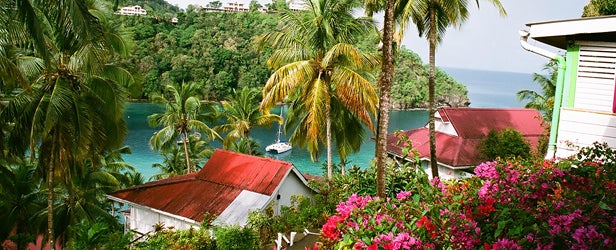 The BVIs are packed with rookies, while the Caribbean's most southern islands, the Windwards, offer minimal land infrastructure and long, trickier crossings. Want a low-maintenance tropical sail that still delivers the rush of navigating open water? Head for St. Martin and the surrounding Leeward Islands, including Statia, St. Kitts, Nevis, and nearby Anguilla and St. Barts. Expect moderate, steady easterly trade winds, gentle currents, and water so transparent that spotting hazards is easy. Map a route from St. Martin, then charter a catamaran or hire one with a skipper from St. Martin–based Moorings. The beauty of this area is its mix of on-land activities (from remote bouldering to gourmet dining) and short-to-midrange crossings—meaning you can literally go where the wind takes you. On a two-week trip, you can snorkel off tiny Ile Fourche, eat steak frites on St. Barts, hike through cloudforests on Nevis, and sip three-dollar beers on St. Kitts' empty beaches. Charters from $650 per day; moorings.com
Expedition Cruising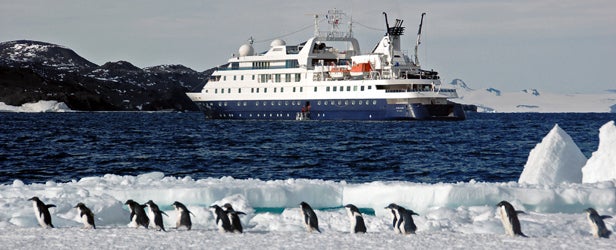 Heli-Fly-Fish Patagonia
On any given day on this weeklong trip with Orvis Travel, you'll be casting a seven-weight rod in crystal trout streams where you might be the first visitor. The 28-passenger MV Atmosphere sails from Puerto Montt, Chile, shuttling in and out of remote fjords. Expect glaciers, blue whales breaching near your 30-foot Zodiac, and impromptu daily helicopter flights to wherever the fish—big, sea-run brown trout—are biting. February 26­March 5, 2011; from $9,850 per person; orvis.com/nomadsjason
See Antarctica's Really Wild Side
Most Antarctica cruises sail from South America, for the shorter crossing, but trips from Down Under, landing in East Antarctica, can take in wildlife-profuse subantarctic islands on the way down. Orion Expedition Cruises' 19-day Commonwealth Bay voyage allows ample time to explore sanctuaries like Macquarie Island, a UNESCO World Heritage site teeming with elephant seals, albatrosses, and four species of penguins. Once on the continent, you'll go ashore for four days exploring Commonwealth Bay, discovered by Sir Douglas Mawson on his 1911–14 Aurora voyage, and set foot in his seldom visited hut. December 28–January 15; from US$16,460 per person; orionexpeditions.com
"Un-Cruise" Alaska's Inner Passage
Southeast Alaska sees its share of behemoth cruise ships, but you can leave them all in your wake and anchor in calm, grizzly-frequented bays on InnerSea Discoveries' eight-day Juneau-to-Ketchikan trips. On this multisport cruise, you'll be off the boat daily, kayaking in the shadow of immense glaciers, watching pods of humpbacks feed, and spelunking in ice caves. The company, targeted to a younger crowd without unlimited budgets, launches in May 2011. Thirty-two departures, May–September; from $1,795 per person; innerseadiscoveries.com