This Gravel Bike Turned a Mountain Biker into a Roadie
The Cannondale Topstone Carbon 1 RLE is a gravel bike for mountain bikers who like to ride roads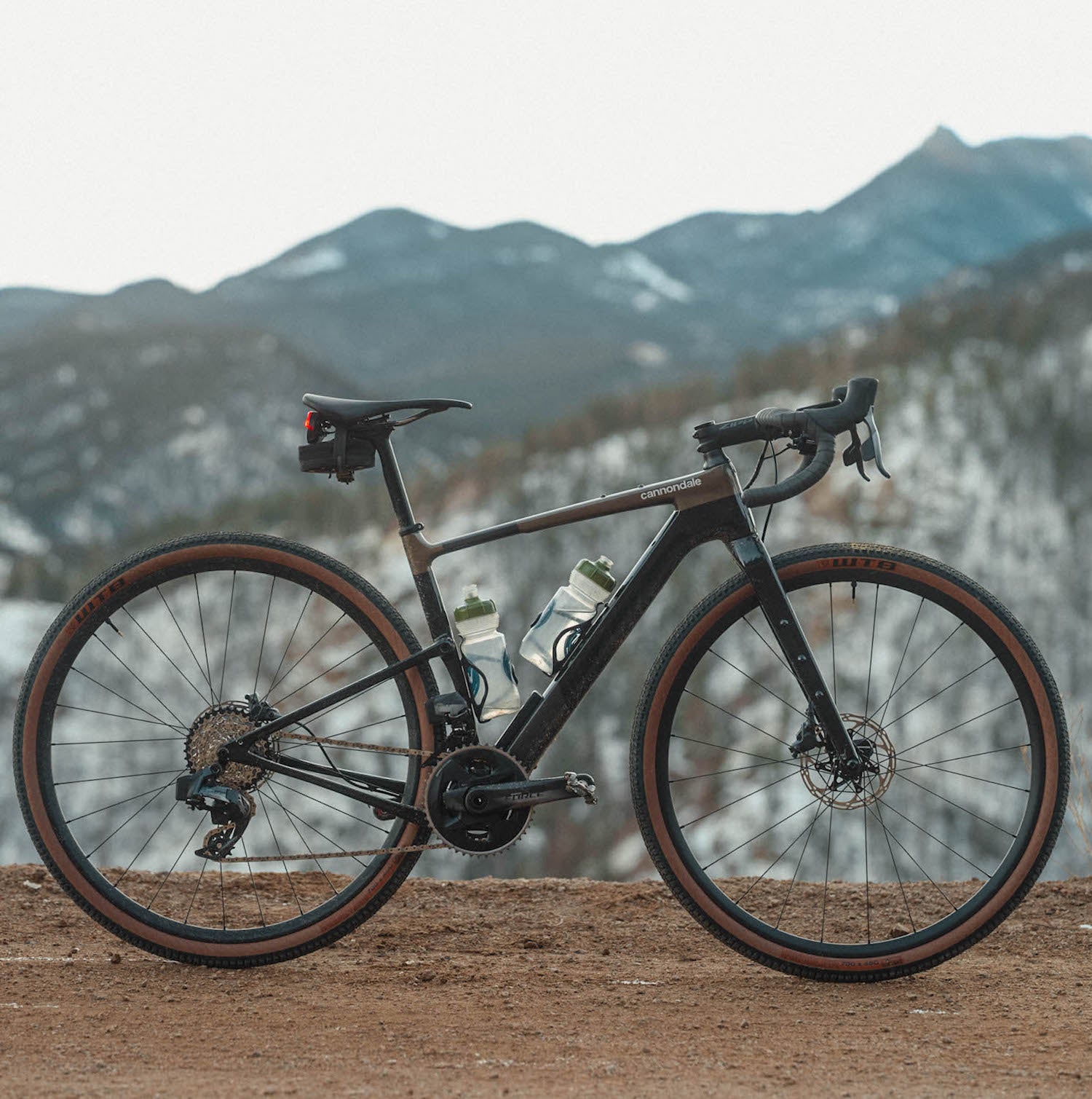 Courtesy Cannondale
Heading out the door? Read this article on the new Outside+ app available now on iOS devices for members! Download the app.
It's safe to say that gravel biking has moved beyond a cycling trend and has grown into its own legitimate cycling discipline. Gravel races are booming and average cyclists like myself are ditching their road bikes for gravel-specific whips. And bike manufacturers are responding by giving  those gravel bikes design tweaks that make them more capable on rough roads and dirt trails.
Cannondale is all in on with the second generation of its incredibly popular Topstone, a gravel bike that borrows some key elements from mountain bikes. I've been riding the hell out of the Topstone Carbon 1 RLE ($7,850), a high-end model kitted out with SRAM Force eTap electronic shifting, a system which integrates front and rear lights and Garmin's Varia radar with a single battery, SRAM Force eTap AXS hydraulic disc brakes, and most notably, the Kingpin, an innovative rear suspension system that adds about 30 millimeters  of travel to the back of the bike. I rode this bike for a weekend of varied terrain in the Rocky Mountains and have spent the last month putting serious miles on it while training for Steamboat Gravel on dirt roads, singletrack, and blacktop throughout the Southern Appalachians near my home in Asheville, North Carolina.
When I first threw my leg over the bike and took it for a spin, my initial instinct was to write about how the bike handled dirt trails. If you believe the marketing hype, this bike was built for roadies who don't want to limit the terrain they ride. While some gravel bikes have become more race focused, there's a growing segment of gravel bikes that are designed to soften the blow of singletrack and sketchy dirt roads; Trek, Specialized, Niner among others have all released gravel bikes with suspension in recent years. Cannondale even makes a full-suspension model of the Topstone with a Lefty Oliver front fork. Even without suspension upfront, the Topstone certainly performs well on sketchy bits of dirt. But I'm here to argue that Cannondale's new Topstone is not a gravel bike for roadies who like to ride dirt. It's a gravel bike for mountain bikers who like to ride roads.
I'm a mountain biker. I like riding bikes on singletrack in the woods. But driving to a trailhead to ride singletrack in the woods is time consuming, so I find myself doing a lot of road and gravel rides from my house instead. On the best days, I can mix in a few miles of trails with those rides, but mostly it's pavement and some gravel climbs or descents. So, even though I identify as a mountain biker, in practice, I'm more of a road rider. But I hate road bikes because their aggressive geometry puts you in an aero position over the front wheel on descents. It's nerve wracking and I feel like I could die when I'm bombing 35 miles per hour down a curvy mountain road. The tires are so skinny. My center of gravity is so high. What if a squirrel darts in front of me? What if I hit a piece of gravel?
But after a month of riding the Topstone around my home and on bucket list roads including the Blue Ridge Parkway, I am a changed man. I used to suffer through the pavement to get to the gravel or singletrack, but now I look forward to the paved roads. I'm actually having fun on the long, sinuous downhills that used to scare the hell out of me. I'm braking less and pushing faster on those descents, and it's all because of how the Topstone was built.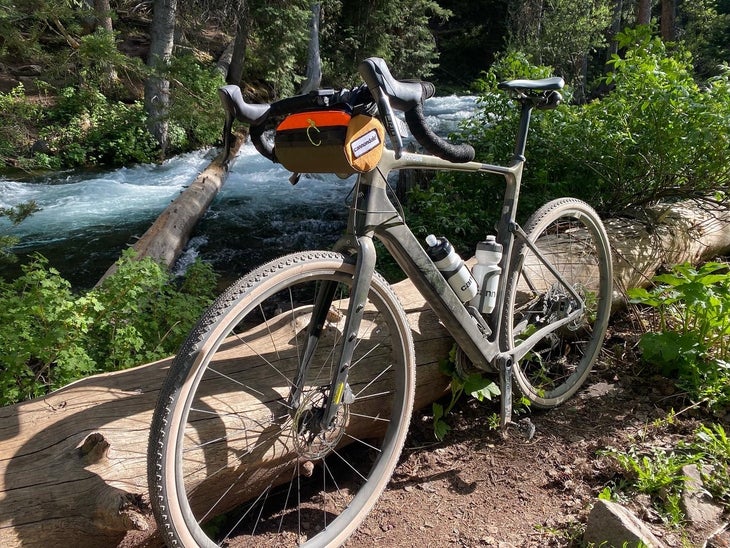 For the latest version of the bike, Canndondale borrowed a couple of key bits of geometry from mountain biking, lowering the bottom bracket (28.5 cm on a medium frame) and giving it a slacker head tube angle (71.2 degrees on a medium frame) that pushes more of the front wheel forward. Both tweaks relax your positioning so you feels less on top of the front wheel on descents. It also has an internal routing option if you want to add a dropper post (some models come with the dropper already installed) to really lower your center of gravity and get comfy on those speedy downhills. And then there's the Kingpin suspension, which adds roughly 30 millimeters of travel to the rear of the bike thanks to a special thru-axle housed in the seat tube and where the seatstays connect. It provides a slight rotation to that connection point, and in conjunction with  varied  types of carbon fiber in the frame, provides no-maintenance, low-weight penalty comfort. Put another way, the entire rear end of the bike flexes and gives when you hit a bump, while still providing a snappy and responsive pedal stroke on the road, so you don't notice any bob like you do with traditional suspension. It also lends traction while climbing loose gravel and cornering fast on the descents.
But the Topstone is not just a mountain bike with drop bars. It has the stack and reach of an endurance road bike (57.4/38.3 on a medium frame, essentially the same as Cannondale's endurance-minded Synapse), so it doesn't put you in an upright cruiser bike position, and instead of the more adventurer-bike minded 1x drivetrain, it has a 2x drivetrain like most road bikes. It is an efficient climber with plenty of gears to handle the steep Southern Appalachians where I've been riding it. Even though it has 45 millimeter tires, it doesn't feel sluggish on road climbs or flat stretches of pavement. In fact, I'm murdering my climbing Strava PRs on this bike. I don't even notice the Kingpin suspension except that the road is just a tad bit softer under my butt, and I'm cornering faster than I would on my road bike.
One of my bike mechanics has the first iteration of the Topstone, which he says is his favorite bike, and the one he rides most often. He's used it for everything from a cyclocross race to multi-day bikepacking trips through Pisgah National Forest. "It's for people who want to ride from their house and hit a variety of different surfaces," he says.
I agree. But I'm not going to call this bike a quiver killer, because I don't believe that there's one bike I'd want to ride in all, or even most, situations. The Topstone is capable on singletrack and I've ridden it on technical trails in the Rockies and Southern Appalachians. I survived. But I wouldn't choose to ride this bike on tough singletrack. There are better tools for that job. And road racers probably aren't going to like this bike as much as I do on pavement. If you're used to a svelte racing machine that weighs the same as a handful of paper clips, you're probably going to feel like the Topstone is a tank.
I see this bike as a transitional piece of gear. It's a gateway bike to help a mountain biker like me transition to road and gravel. The wide tires, braking power, and lower bottom bracket are all  comforting as is the slightly slack geometry which allows me to see a lot of my front tire on fast downhills. It all works to inspire confidence and comfort on the roads, whether those roads are paved or dirt. More importantly, I'm having more fun riding pavement than I ever thought I would. Maybe I've been a roadie all along. I just needed the right gravel bike to enjoy it.
Lead Photo: Courtesy Cannondale