Can a $2,500 E-Bike Replace Your Car?
I tested the Gazelle Medeo electric cruiser to see how many gallons of gas it saved me on my daily commute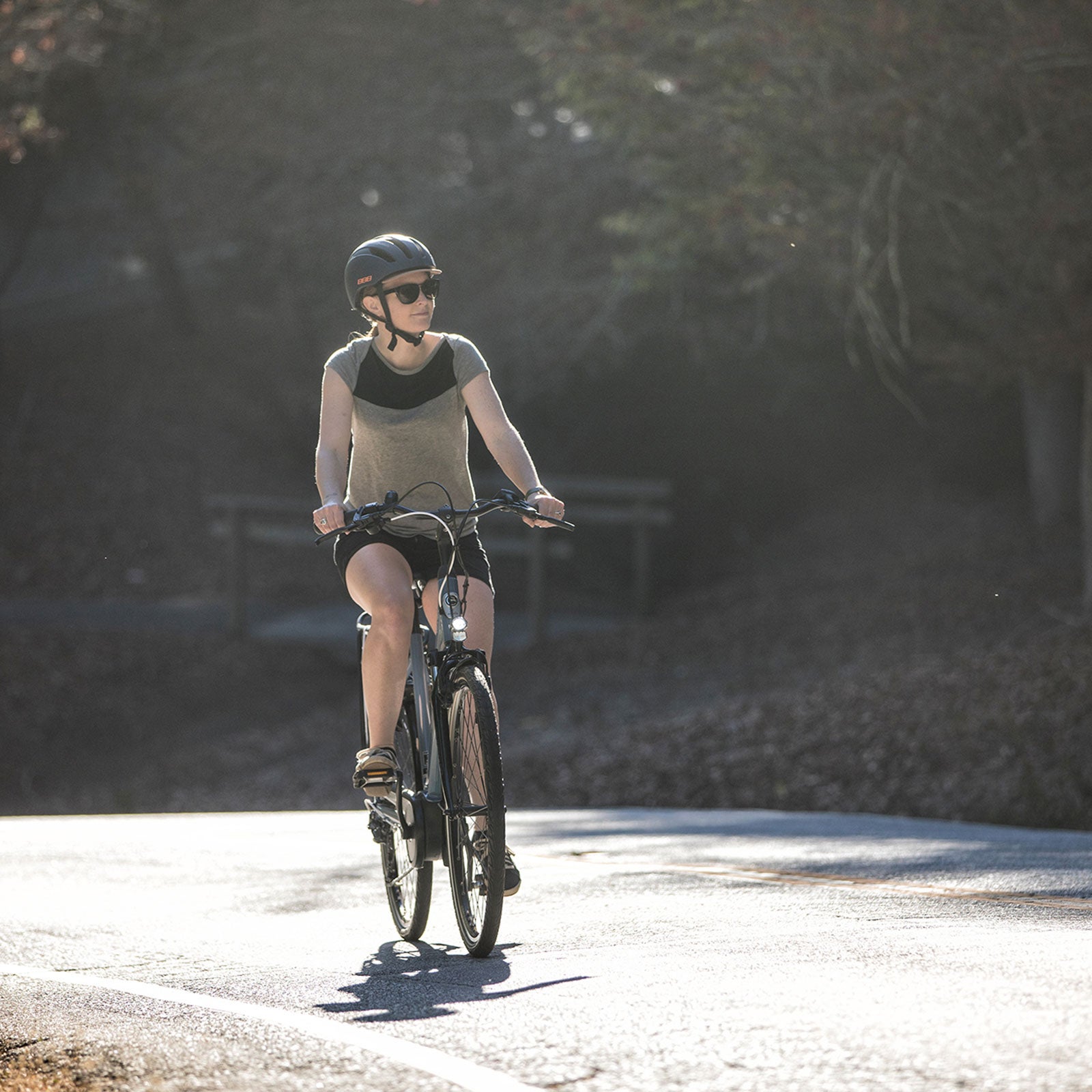 Courtesy Gazelle(Photo)
Heading out the door? Read this article on the new Outside+ app available now on iOS devices for members! Download the app.
I live just over 18 miles from, and 1,345 feet in elevation below, my office in Santa Fe. The drive takes about 20 minutes, but I need a good hour and a half when I'm on my road bike. I don't have that much time to spare most mornings, nor do I have the mental toughness to don spandex for such a slow, grinding sufferfest. 
But the commute seemed perfect for an e-bike like the Gazelle Medeo T9 HMB—a Class 1 pedal-assist machine, which means it has a top speed of 20 miles per hour and there's no throttle, so you get power through pedaling. There's a 400-watt-hour battery tucked neatly behind the saddle, and four modes (eco, tour, sport, and turbo) that correspond to wattage. The lowest, eco, feels like a very slight tailwind, while turbo rockets the bike up to its 20-mile-per-hour max in just a few pedal strokes. Depending on the mode and the terrain, I found that the Medeo had between a 35-to-110-mile range on a full charge. The Medeo weighs just over 49 pounds.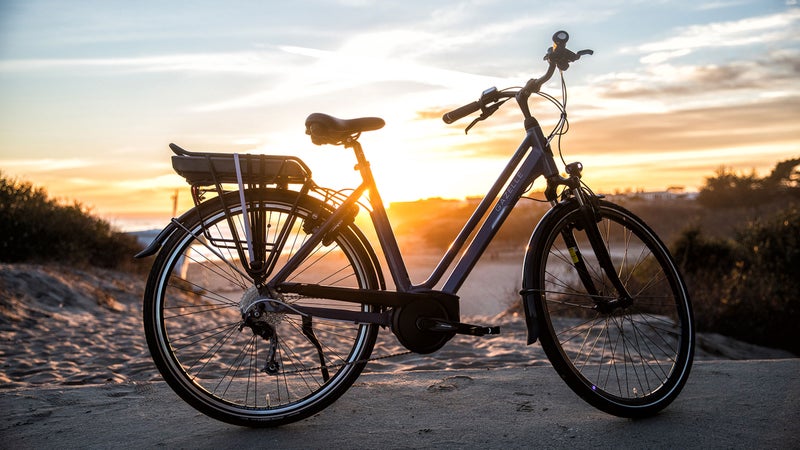 In May, I set out to put this e-commuter through its paces and determine whether it could serve as an effective replacement for my car. How many driving trips would it spare me? How much gas could it save? 
I chose the Medeo for the simple reason that it offers one of the best e-bike values out there. It's well-made and sturdy, with a powerful Bosch motor, and at $2,500, it's on the low end of the e-bike price range—yes, still expensive, especially when compared to regular bikes, though not when compared to cars or all the money we spend on auxiliary auto needs like gas and insurance. The Medeo looks and rides basically like a nice cruiser; it has a step-through frame, upright positioning, rim brakes, and an aluminum build. Without a motor, you could get an equivalent bike for well under $500. But you're not going to find a decent e-bike—and by that, I mean an e-bike with a smartly integrated battery, not just one strapped haphazardly to the frame—for less than about two G's. 
If that $2,500 bike prevents you from having to own a car, well, case for the high price tag closed. If it just prevents a few car trips a week, the math becomes hazier. But you're still saving on gas and wear and tear on your fossil-fuel-guzzling vehicle. I calculated that one round-trip on the Medeo would save me about 1.5 gallons of gas in my 2012 Subaru Outback—about $4.50 at current New Mexico gas prices. At that rate, I'd have to ride the Medeo over 550 times to make it pay for itself. (Obviously, that number would be cut in half if gas prices doubled. It would also go down if I were driving a less fuel-efficient vehicle, like my Toyota Tacoma.) 
I also live in the West, where public transportation is limited in rural areas, and weekends often take me 100 miles from home. In other words, I'm not at the point where I can trade in my car for an e-bike, so on gas savings alone, it would be hard to justify a $2,500 bike. But what about the health and general mental-well-being benefits? 
On my first morning with the Medeo, I quickly realized that it enables laugh-out-loud fun: push the "plus" button to take the bike to its most powerful mode, turbo, and it zooms up hills at a cool 19.7 miles per hour (hit 20 and you can immediately feel the governor take over and slow you down). I felt like a Tour de France rider with a serious tailwind at my back as I started the long climb to Santa Fe. It's a joyful experience, and one that I worry will ruin road biking for me. Here's to never slogging up a climb again! 
The speed didn't last (keeping the bike in turbo up a 1,300-foot hill quickly decimates the bike's range), but I found I could still comfortably cruise in tour mode at about 15 miles per hour—still faster than what I could do on my nonmotorized road bike. By the time I crested the last hill to town, I had a ten-mile range in turbo and a very solid 40 in eco, plenty of charge to get back home, which would be downhill the whole way. The ride to work had taken just over an hour. The ride back was even faster, as I coasted almost the whole time. Note: a 50-pound cruiser descends like a lumbering brontosaurus.  
The Medeo is, at its heart, a cruiser: it's best at flying through city streets and beating cars at green lights with its powerful motor. It relishes smooth bike paths. On the road, at speed, I started to notice some cruiser issues—tire wobble, the positioning gets uncomfortable over a long period of time, it simply doesn't know how to corner. And the ride to work still took me over an hour (about three times longer than if I took the car). 
So what did I learn after riding the 36 miles and 2,690 feet of vert on the Medeo for a week? It certainly made the climb to work much more enjoyable. I'd say I'd ride the thing once or twice a week in the future (something I can't commit to on my regular road bike). The Medeo saved me about 7.5 gallons of gas, or $22 over five days. Not bad, but not astonishing either. At that rate, I'd have to ride it 113 weeks to break even on cost.
If you plan to buy an e-bike like this for a long commute, I suggest upgrading to a racier model; something like the Gear of the Year–winning Orbea would be absolutely ideal. That's the bike I'd buy if I had $6,800 lying around, which, let's be real, is more than a used Civic would run you. But that used Civic expels emissions and does nothing for your mental health, so there's that.  
The other obvious downside to the Medeo is weight. Remember, it comes in at almost 50 pounds. That makes it exceptionally unwieldy and almost impossible to get up more than one flight of stairs. This is the big advantage money will get you: pay $6,800 for that Orbea, and you get a bike most of us can actually carry, at 25.6 pounds.  
Should you get one? If you have a shorter commute through a city (I'd say anything less than ten miles) and you think you will ride this thing 80 percent of the time, then that seems like an easy yes to me.
Lead Photo: Courtesy Gazelle
Trending on Outside Online