Gear Guy
Sorry Haters, I Love My E-Bike
The RadWagon is useful and efficient, and my daughter loves it
Sarah Jackson(Photo)
Heading out the door? Read this article on the new Outside+ app available now on iOS devices for members! Download the app.
Over the past six years, I've built a relatively high tolerance for looking ridiculous while testing gear. One powder day, when I wore a helmet with four action cameras strapped to the top, I officially broke down and embraced that my job would sometimes make me look like a gaper. While it's common for both friends and strangers to give me differing levels of shit for running in rain jackets on a sunny days (to test breathability), ripping GS turns on groomers in a ski kit built to summit Himalayan peaks, and dragging all manner of gear behind my car—none of that shade has compared to what I received testing the Rad Power Bikes RadWagon for the past four months. The e-bike has proven so useful and fun, though, that I couldn't care less.
I got the RadWagon in June and it played a large role in making this the best summer I've ever had. I don't say that flippantly: I spent a third of my life as a raft guide, and I absolutely live for summers. But the 250 miles I rode around Ashland, Oregon, with my now two-year-old daughter, Jojo, in a Thule Yepp seat on the back, delivered a level of freedom and playfulness to my everyday life that I hadn't experienced before. Jojo has never been a fan of the car seat, but she would sprint to the door to get on the bike with me. The 2.3-mile ride to swim practice at the pool on blazing-hot summer afternoons—with mandatory blackberry-picking breaks—proved just as fun as the time cooling down in the water. Most snack times became destination picnics, and nearly every errand Jojo and I ran was on the electric bike.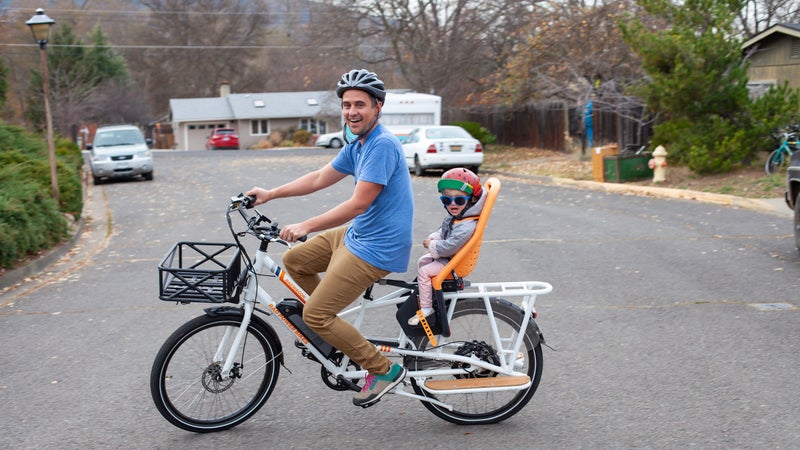 Could I have done all these rides with a bike that depended solely on my leg power? Yes, of course. Would it have been as fun? No. The extra boost in efficiency that the RadWagon's five levels of pedal assist makes riding fast feel leisurely—and you can haul a significant amount of gear in addition to your child. (I had an additional rack on the front for this purpose.) This allowed me to get a majority of my workouts (mainly running) done on my own time and not worry about having enough juice in my legs to get us somewhere on time. I could focus on my daughter and have fun on the ride. 
Another reason I stand by the RadWagon is price. Compared with other e-bikes, it is extremely affordable at $1,499. I could've easily spent that on a nonelectric town bike, except I probably wouldn't have ridden it as much—I used the it in place of my car for a majority of the summer. I loaned it out to three friends who all believed the price and value was just too good to be true. "You just sold at least three of those things," one of them said. While the RadWagon is god-awful heavy—heaven help the rider who runs out of battery with it—I never found it cumbersome, thanks to the electric assist feature. (Rad Power Bikes claims a 45-mile range per charge, but that varies based on pedal-assist levels, hills, etc.)
The only other negative was how differently I was treated by other cyclists we encountered. I greet everyone we pass on our local bike paths, and the majority of those smiley hellos were greeted with either outright displeasure or nothing at all. One particularly egregious admonishment from an older road cyclist got so far under my skin tthat I wanted to yell at him. As I contemplated what crushingly clever line I should have delivered, I looked over my shoulder and saw Jojo flapping her arms as she softly sang, "Fly! Fly! Jojo flyyyyy!" My anger quickly melted away as we flew on.
Lead Photo: Sarah Jackson