Gear Guy
Our Gear Guy's Foolproof Camp Kitchen Tips
A guide to ruling the galley on your next weekend out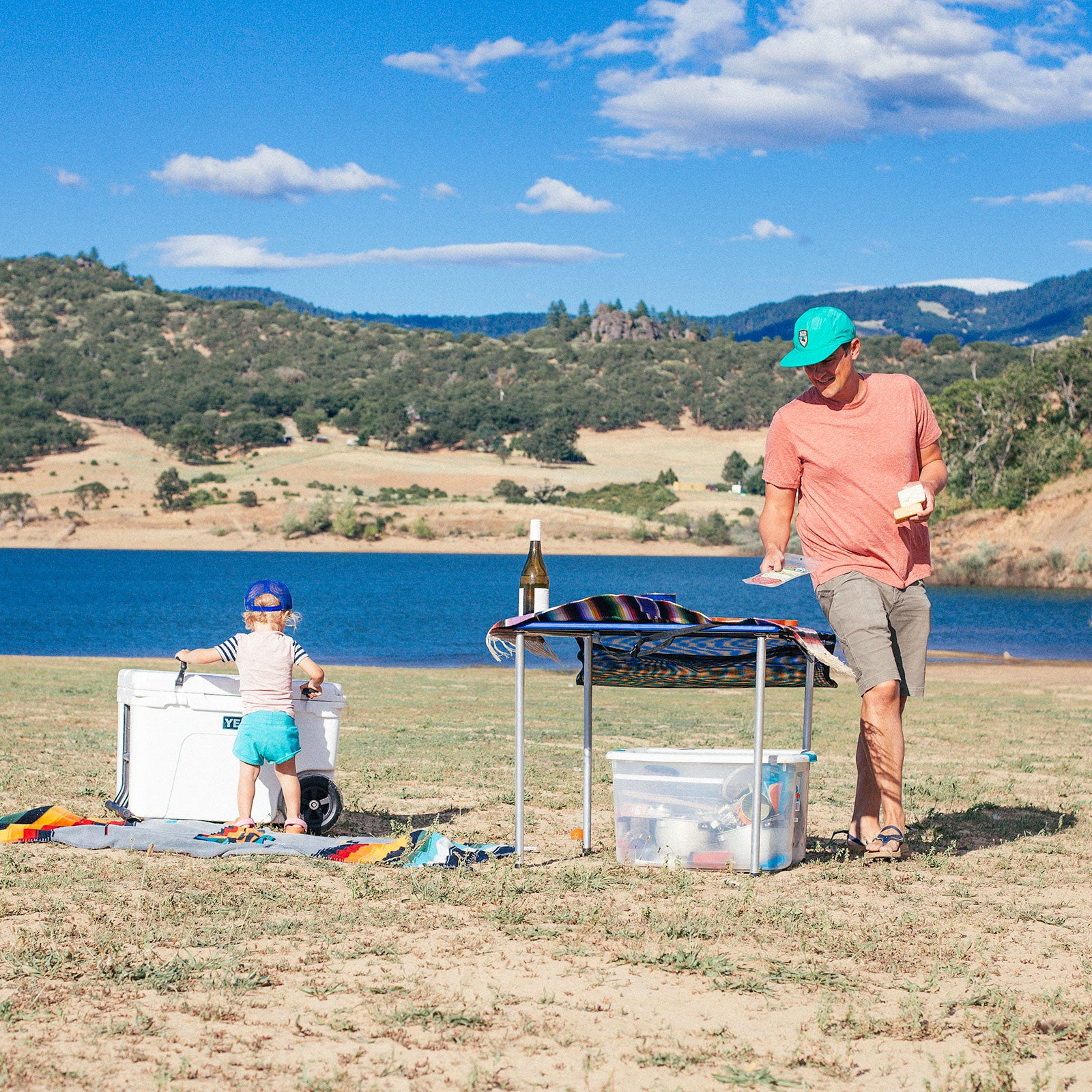 Heading out the door? Read this article on the new Outside+ app available now on iOS devices for members! Download the app.
Putting together a delicious, hearty meal in the woods is a quick way to become a hero on a camping trip. Food tastes better outside, and people are usually hungrier than usual from a day of activities. Be warned, though: if you don't do it right, you may be responsible for your group going hungry—and then you're the villain. Fortunately, the Gear Guy has your back. I've put together the following primer on car-camping kitchens based on my years running one as manager of a whitewater-rafting company. I've also included tips from the dozens of conversations I have had with guides and wilderness educators on the subject over the years. 
Before You Leave for Camping
Make a List
It may seem obvious, but keeping a list of everything you'll need for your camp kitchen, as well as all the ingredients required to cook your planned meals, will significantly lessen the likelihood that you'll forget something. Even if you're not normally a list maker, it's a very good practice to get in the habit of for camping. The stakes are higher when you're cooking in the woods—if you're in the sticks and forget propane at home, your group will go hungry.
Sweat the Small Stuff
While it may be rare to forget big items like a cooler or a stove, I've found that little things, like cooking oils, are the items most often left behind—and these tend to be important when creating an enjoyable meal. Make sure you put your specific cooking oils and spices on your list, and confirm that you have them before you leave. 
Think Used
Car camping is not the venue for high-end titanium cookware. You have a multiton vehicle bringing your gear to your campsite; nothing needs to be lightweight. Nice cookware has a tendency to get trashed when being cleaned by headlamp by a many-beers-deep camper. Bring the old pots, pans, and utensils you want to retire from your kitchen, or go get some from a thrift store.
How to Store Your Camp Kitchen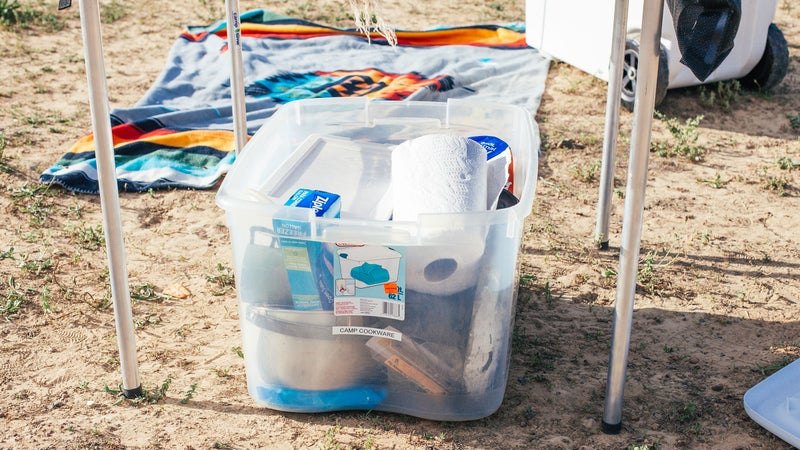 Have a Kitchen Bin
Keep a designated camp-kitchen box that stays packed year-round. If you leave a bin of camping pots, pans, utensils, and cleaning supplies locked and loaded (and you know where it is), you won't have to scramble to put all the pieces together the night before a trip. For most car-camping adventures, any Rubbermaid bin will do, but if you plan to take it on a boat (and if you can swallow the price), I have found Yeti's LoadOut GoBox remarkably usable and durable.
And One for Dry Goods
You can absolutely cope by putting your dry goods in a box or grocery bag, but I've found that placing them in a Rubbermaid bin (ideally the same size as your kitchen bin) makes for a tidier system that packs more easily in a vehicle and helps ensure that items like bread don't get smooshed. Keeping all of your dry goods in one designated home also makes it less likely that those food items will get spread all over a campsite and forgotten, which often leads to critter issues.
And a Mini Bin
Having a mini bin (something smaller than a shoebox) that lives inside your larger Rubbermaid bin and is packed with small necessities like soap, spices, and a lighter will save you all manner of headaches in your camp kitchen. Those little items have a tendency to get swallowed in a big bin—and rummaging around for a lighter in the dark when you need to start a cooking fire can be infuriating.
Setting Up Your Cooking Area
Get a Table
You can balance a plate on your lap or stand to eat, but chopping veggies on the ground just plain sucks. A Roll-a-Table takes up less space in your car than your tent, and it allows you to prep food in a comfortable standing position anywhere. If you class one up with a tablecloth and candle, it also makes a fantastic space to serve food from as well.
Keep Camp Tight
Placing your food-prep area on one end of a campsite and the coolers on the other will result in a lot of shuttling. Setting up your prep, cooking, cleaning, and storage areas close to each other will make all of those tasks go smoothly and quickly, so you can have more time to enjoy your food.
Keep It Social
Cooking alone feels like a punishment. Set up your kitchen near the area where everyone is hanging out, so the folks who are making the food can be in on the conversation and feel like part of the group.
Get Shady
When you arrive at your campsite, reserve the best shade for your kitchen. It creates the dual bonuses of keeping cooks happy in the heat and also giving your coolers a fighting chance at keeping your chicken cold on a brutally hot camping trip.
Keep Your Cooler Maintained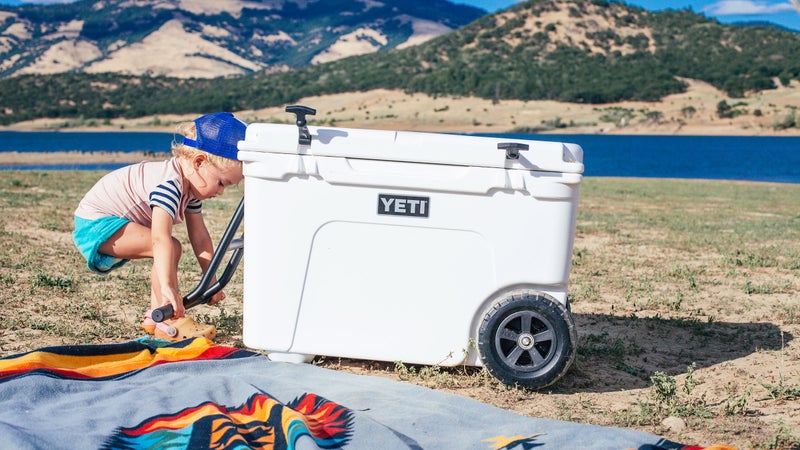 Let Coolers Do Their Jobs
Coolers make excellent chairs in a pinch, but I highly suggest that you don't depend on a cooler as a workspace or chair during mealtime. All the guides at the rafting company I used to work for used coolers as chairs, and constantly asking people to get up was a huge waste of time. It also might be tempting to prep food on the flat top of a cooler, which is another mistake. Having to stop what you're doing every time someone needs to get into the cooler slows everyone down.
Make Your Own Ice
Filling two liter bottles with water and freezing them is an excellent way to keep your cooler cold. It saves you some dough, the lack of stagnant water in the cooler lessens the likelihood of cross contamination of food products, and when it melts, you have the bonus of a few extra liters of cold, potable water. 
Be Vigilant of Cross Contamination
I am always shocked to see folks who keep an extremely tidy kitchen at home let a cooler get disgusting on a camping trip—especially when meat is involved. If you have raw meat openly floating in the same water as lettuce, eating that lettuce is nearly as sketchy as eating the raw meat. Seal raw meats in storage containers, and make sure dairy doesn't creep into the water either.
Bring Multiple Coolers
Two coolers will not be in everyone's budget, but if you can afford to have a drink cooler and a separate food cooler, that's ideal. The more often a cooler is opened, the less effective it is at keeping its contents cold. And no cooler gets opened and closed more than the one containing drinks at a campsite. You will significantly increase the life of the ice in your food chest if you keep it closed except to grab the food you need from it at mealtime.
Preparing Your Food at Camp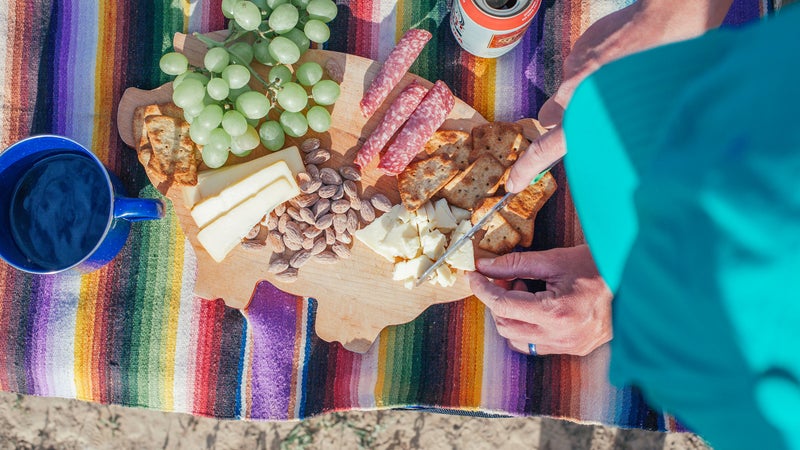 Cool Your Jets
A campsite is not the place to try out that new dish of sous vide chicken breast with capers that you've been eyeing. Delicious, healthy food can be prepared and cooked simply. Your camp kitchen is the place to keep it easy so you can enjoy your location rather than stress about executing time-intensive family meals.
Pre-Prep 
If you chop your veggies in your kitchen at home and throw them into your cooler, that is one less task you'll have to deal with at your campsite, freeing up more time to enjoy the outdoors.
Wash Your Hands
Letting your hair get greasy and armpits get stinky is one of the treats of camping. By all means, don't bathe. But do wash your damned hands if you're preparing food for yourself or others. It's a fantastically easy way to prevent people from getting sick from camp food.
Cleaning It All Up After
Bring Bleach 
I highly suggest setting up a dishwashing station that has both a scrub and a rinse bucket. Throwing a capful of bleach into the latter will significantly cut down on the bugs that can hang on to plates and utensils washed haphazardly by headlamp.
Be Tidy
After a big dinner in the woods, potentially accompanied by a few beers, it's tempting to just leave the mess for a little while—but don't. Be disciplined about getting everything clean and put away in its correct place after each meal. It will cut back on the likelihood of leaving old food out (which could turn into a critter feast), and it will also make breakfast the next morning way easier. 
Wash It Again
Doing dishes that you already cleaned might be the last thing you want to do after getting home at the end of a long camping weekend, but make it happen. Throwing dishes and utensils in a dishwasher and making sure they are totally clean before repacking them into your camp box will hedge your bets against the odd bit of grease spoiling and making your whole bin heinous for your next trip.
(If you'd like a deeper dive on cleaning, look here.)
Lead Photo: Sarah Jackson